Content
Image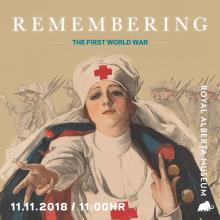 100 years ago, at 11:01 am on November 11, 1918, all fighting stopped. In a second of time, the First World War, which had occupied the world for more than four years, instantly moved from a living experience to a past memory.
100 years later, all who served in the war have passed into history, along with their memories and experiences. What remains are the physical things, the artifacts that are tangible and touchable, providing us a connection to the hundreds of thousands of people who experienced the war first-hand.
Remembering the First World War highlights objects from RAM's Military and Political History collection that act as tangible representations of an intangible thing — memory. They are a bridge to see, touch and encounter the past; a lens through which we remember.
This temporary exhibition ran until October 18, 2020.