Content
Go back in time! Dig for treasure! Be a dinosaur! 
Enjoy the magic of the Children's Gallery at home. The RAM Play Box is a unique box of curated items that promote sensory play and learning for young children. 
For those who know a little explorer, our play boxes are now 50% off! This hands-on sensory activity box is a fun and creative way to encourage children's imaginations to soar. Kids will be inspired to explore and build skills while using the included tools to dig through sand and collect fun surprises along the way.
Quantities are limited, so act fast!
RAM Play Box is only available through local curbside pickup at the museum, Monday–Friday between 10 am–3 pm. Your Play Box will be available one business day after your order is confirmed. More details on picking up your order are included in your confirmation email.
RAM Play Box for ages 3–5 includes:
Image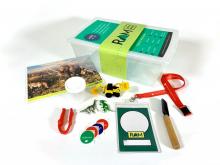 Sand 
Two toy dinosaurs 
Toy vehicle 
Lanyard 
ID badge and holder 
Tweezers 
Mini shovel 
Specimen cup 
Stickers 
Laminated reversible playscape background
Price: $50 $25
 
RAM Play Box for ages 6–8 includes:
Image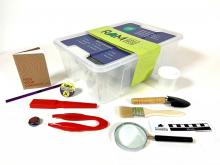 Sand 
Magnifying glass 
Explorer button 
Magnetic wand 
Magnetic rock
Ruler 
Specimen cup 
Small journal 
Pencil 
Brush 
Mini shovel 
Tweezers 
Price: $50 $25