Content
Sixties Scoop: Stories of Loss, Strength, and Hope
By the Sixties Scoop Indigenous Society of Alberta, and Emma Knight, Assistant Curator, Indigenous Studies
June 24, 2020
Last June, we were honoured to co-host the exhibit Bi-Giwen: Coming Home – Truth Telling from the Sixties Scoop with the Sixties Scoop Indigenous Society of Alberta (SSISA). The exhibit, developed by the Legacy of Hope Foundation, has toured around Alberta since 2018, visiting 20 locations across the province – and is still available by request. SSISA works tirelessly to educate Albertans on the long-lasting impacts of the Child Welfare practice of removing thousands of Indigenous children from their families and adopting them out to non-Indigenous homes between the 1950s and the 1990s.
Over the past year, SSISA has been busy delivering an anti-racism program across Alberta called What was Lost: Reflections from the Sixties Scoop with REACH Edmonton and the Public Library Services branch. The facilitated experiential exercise allows participants to walk through the life of a Sixties Scoop survivor. It is designed to open dialogue with non-Indigenous peoples, in an effort to shift racist attitudes towards Indigenous peoples. 
More recently, President of SSISA Adam North Peigan was featured in an episode of Historica Canada's Voices From Here where Adam spoke about his experience as a Sixties Scoop survivor.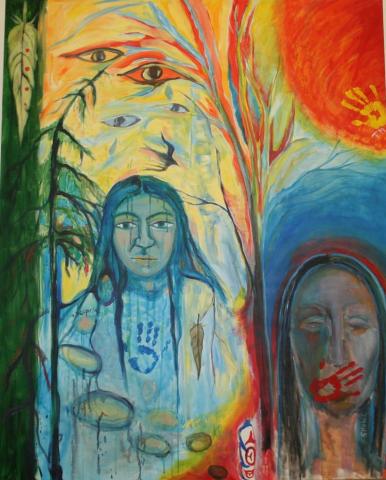 RAM is now the caretaker of eight paintings created by Sixties Scoop survivors during the 2018 engagement sessions facilitated by SSISA and the Government of Alberta. These sessions, driven by survivors, informed the Government of Alberta's apology to Sixties Scoop Survivors which was delivered by former Premier Rachel Notley in the Alberta Legislature on May 18, 2018. This was truly a historic day for Sixties Scoop survivors and all Albertans.
If you would be interested in hosting Bi-Giwen: Coming Home, Truth Telling From the Sixties Scoop or the anti-racism training What was Lost: Reflections from the Sixties Scoop at your organization please contact SSISA directly.
If you'd like to learn more about the Sixties Scoop, check out the following resources:
Follow SSISA on Facebook, and their website to stay up to date on community events
The Legacy of Hope Foundation website has many free downloadable resources about the Sixties Scoop as well as residential schools. 
Tasha Hubbard's film Birth of a Family tells the story of four Dene siblings, all Sixties Scoop survivors, who are reunited later in life. It will be shown on CBC on Sunday June 21st and is available to stream for free on CBC Gem.
CBC's podcast Finding Cleo follows the story of Cleopatra Semaganis Nicotine who was removed from her home in Saskatchewan in the 1970s and adopted out to a family in the USA. Cleo's five siblings were also adopted out and the podcast follows the families search for answers about Cleo. 
In the documentary Sixties Scoop - More Than Sorry, four Sixties Scoop survivors share their stories and speak about the development and impact of the official apology delivered by Rachel Notley in 2018. 
The Sixties Scoop: Understanding the Implications and Contributing Towards Reconciliation is a short video made by SSISA and the Alberta School Boards Association designed to be a resource for educators to use in their classrooms 
Reading for children: Sixties Scoop by Inez Cook, a Sixties Scoop survivor
It was an honour to work with Adam North Peigan, Sharon Gladue, Sandra Reilling, Lorraine Champagne, Richard Moonias, Herb Lehr, Kathy Hamelin, and Lena Wildman when they brought Bi-Giwen to RAM. They are some of the strongest, kindest and most generous people I have had the pleasure of working with and I know I speak for many when I say that I learned so much from them in their short time here. Thank you for your strength and thank you for sharing your stories with us.