Content
Remembering
By Matt Ostapchuk, Curator, Military and Government History, and Anthony Worman, Acting Director, Collections Services
November 11, 2020
On this day, we remember and honour the men and women who have served and sacrificed, and those who continue to serve our country during times of war, conflict, and peace.
Objects can be powerful sources for remembering. They often represent people, experiences, achievements, and loss. Today, we share artifacts from our First World War collection to encourage remembrance. 
Click on the images of the cribbage board, the gas mask, and the poppy to see 3D models of these objects.
Remnants of War 
Over one hundred years after the end of the First World War, the only physical remains from the conflict are artifacts and former battlefields. Although these things are only a fragment of the total material of war, they are a tangible connection to the people who experienced it. They act as a bridge to see, touch, and encounter the past firsthand, and a lens through which we remember people of the past.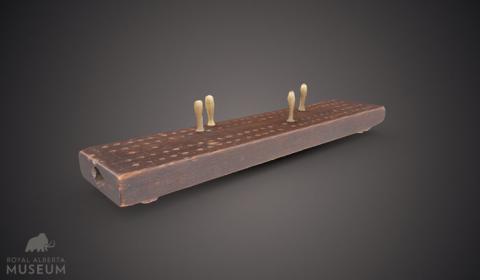 Arnold Betts and another soldier were exploring the ruins of Ypres Cathedral when the Germans started shelling the area. On their way out of the building, Arnold picked up a piece of wood. He marked it as a cribbage board and used it to teach his granddaughter to play.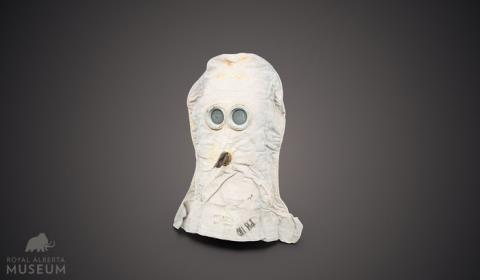 German forces shocked the Allies when they released chlorine gas on the Allied line on April 22, 1915, during the Second Battle of Ypres. The attack devastated the soldiers. Soon after, soldiers were issued gas masks to carry into battle.  
This gas mask belonged to Private Art Hosford of Edmonton, Alberta. Art served with the 1st Canadian Mounted Rifles until he was wounded in September 1918 during the Battle of Canal du Nord. 
A gun for Edmonton
Captured guns were a source of civic pride and a physical reminder of the efforts of Canadian soldiers. Every town and city wanted to display one. The type and number of guns received by a town or city was based on its rate of enlistment. The City of Edmonton was to receive six field guns, four trench mortars, 12 machine guns and 100 rifles.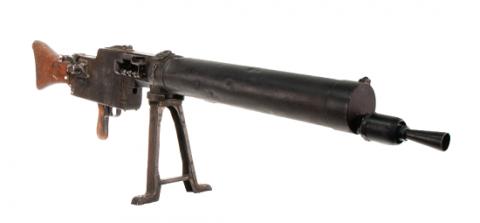 The 49th Battalion (Edmonton Regiment) captured this machine gun on August 8, 1918, during the Battle of Amiens at a place called Cerfs Wood, near the village of Démuin, France. This gun was meant to be sent to Edmonton in 1920 as a war trophy. It was found in New Brunswick and returned to Edmonton in 2016, 98 years later. 
Objects as My Memory
Memory is constructed from one's individual experience. It is often the result of a significant event. Objects have the power to embody these experiences. They are regularly saved as representations of personal memory. 
| | |
| --- | --- |
| Image | Image |
Matchbox cover, 1917 
James Stewart, of Lethbridge, Alberta, marked his initials, regimental number, and field artillery battery number on one side of the matchbox cover. "Lens 1917," where he served, is on the other. Only he knew why. 
| | |
| --- | --- |
| Image | Image |
A mother's memento / Emma Marie Lamoureux's Memorial Cross
During times of conflict, objects are given as gifts for service, symbols for remembering, and to commemorate loss. As time passes, the present object can come to represent physically a missing or lost loved one in the minds of those who are left to remember. 
The Memorial Cross was given as a "memento of personal loss and sacrifice on the part of widows and mothers of Canadian sailors, soldiers and airmen who died for their country." These women carried the symbolic weight of everyone's loss. This Memorial Cross belonged to Emma Marie Lamoureaux of Edmonton. Her son Philippe was killed in action on August 27, 1918, during the Battle of the Scarpe. 
Remembering Together
Canada's understanding of the First World War is as much about how we as a society remember together as it is about what and whom we are remembering. The human cost of the war made private grieving inadequate. Monuments, memorials, and cenotaphs created spaces for public sorrow, where the community's loss could be mourned. Public rituals, such as moments of silence and the wearing of poppies, continue to reinforce this communal act of remembrance.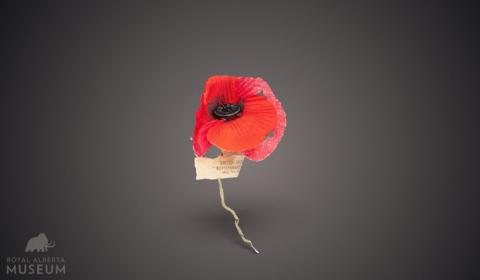 Around the world today, the poppy is recognized as a symbol of remembrance. Its promotion was due in part to the efforts of American Moina Belle Michael, who pledged to always wear a poppy as a sign of remembrance after reading John McCrae's poem "In Flanders Fields." Canada adopted the poppy as its official symbol of remembrance in 1921. This 1921 poppy belonged to Hubert Combe. 
How do you remember?