Content
Meet your new neighbour!
By Matthias Buck, Assistant Curator, Invertebrate Zoology
October 3, 2022
Did you know that a new neighbour moved into your yard this summer? Meet Hippodamia variegata, the Variegated Lady Beetle! It's a small – just 4 mm – yet very handsome member of the lady beetle family that you have encountered many times before.
Image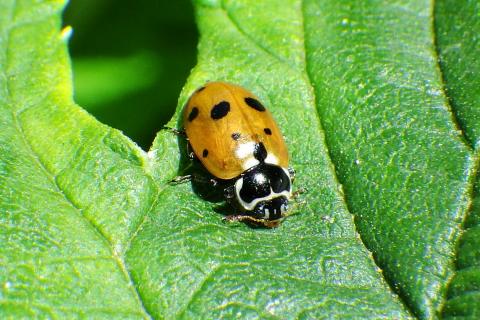 Alberta is home to at least 75 species of lady beetles, many of which share the iconic polka dot pattern on a red or yellow background. However, not all lady beetle species you will find outdoors are native to Alberta. A couple of them have been introduced, one from Europe and one from Asia. Many of these introductions – which happened outside Alberta, mainly in the United States - have been deliberate. Both adult beetles and their larvae feed on aphids, so they have been released to support our battle against these pervasive pest insects. The Variegated Lady Beetle or "H-V" how lady beetle nerds have affectionately nicknamed it, is native to Europe and northern Asia. There have been numerous attempts to establish this species in the United States between the late 1950ies and early 1990ies, all of which apparently failed. The first naturalized North American population was detected in 1994 in the Montreal region, Québec. It likely originated from an accidental introduction (e.g., arriving with cargo ships from Europe). The species has been expanding its range in Canada ever since, it is now common throughout eastern Canada and the northeastern United States. In recent years, it has been expanding its range westward, first by making a giant leap to British Columbia in 2009. Later it was also found in Manitoba (2014), Alberta (2020) and Saskatchewan (2022). In Alberta, H-V has so far only been recorded from the Capital Region. This summer, its population suddenly exploded so that it is now one of the most common species of lady beetles you will find here.
Image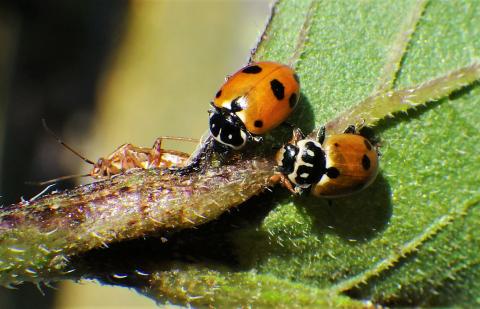 You might ask: What about my yard? Will this cute little beetle wreak havoc on the ecosystem? The answer to gardeners is: You have nothing to fear! These newcomers will do just as good a job removing aphids from your dill and rose bushes as other lady beetles – native or introduced – have done before. As for our native lady beetle species, the impact remains to be seen. The arrival of other non-native species in the past, such as the common Seven-spot Lady Beetle (Coccinella septempunctata) has coincided with a dramatic decline of certain native species such as the Transverse Lady Beetle (Coccinella transversoguttata) that were once common and ubiquitous in temperate regions of Canada. However, the ultimate causes of these declines have never been elucidated. And we have no idea which species - native or non-native - might be affected this time. 
Image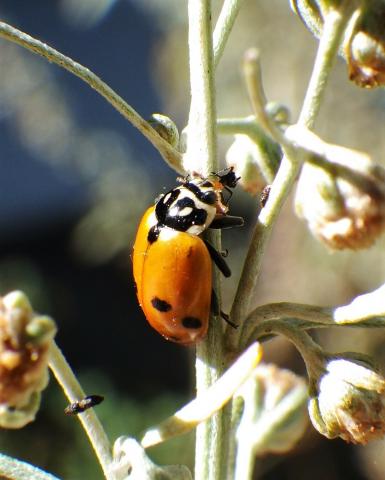 Nonetheless, if that question intrigues you, you can be a part of finding the answer! Citizen scientists have been leading the pack in detecting new introductions of insects and tracking the advance of invasive species. You can observe lady beetles and other insects in your neighbourhood (or anywhere in the world) and upload pictures of them on citizen science platforms like iNaturalist. This vibrant community will help you identify the species you discovered. Their website will aggregate the data into informative maps that provide a real-time picture of what is happening in the natural world around us. These data have become of great value to scientists.
Image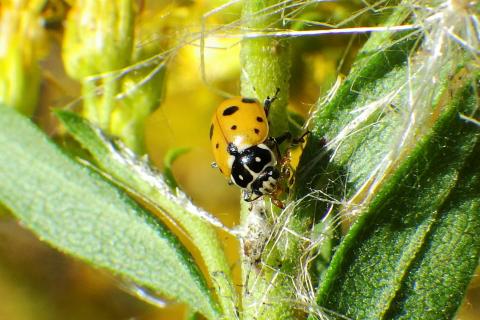 So enjoy your hike around the neighbourhood during these last beautiful days of the season, and share your lady beetle observations!