Content
Ghosts in the Vault - An Intangible Alberta Halloween Special
Image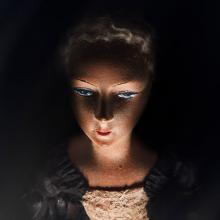 October 29, 2019
With a collection of 5.1 million objects going back millions of years, we're bound to have a few ghosts in our cabinets, right? In today's Halloween episode, we share three spooky stories from the RAM collections – a stairway from a haunted hotel, an exorcism-proof doll, and a military mystery that led to a freaky fire station.
Thank you to Lucie Heins, Julia Petrov, and Anthony Worman for sharing these historically eerie stories.
Listen below, or wherever you get your podcasts.