Content
Curating your ultimate RAM visit
Updated November 2021
As the largest museum in Western Canada, we understand that it may feel a little daunting to visit RAM – where do you start? What are the must-see objects? What if you don't have a lot of time?
Fear not: We've compiled a collection of highlights that will satisfy any visitor, from the casual dabblers to history buffs!
If you're looking for dazzling geodes, wild animals, and ancient creatures, you'll want to head up, up, up to the Natural History Hall.
Take a left to enter the world of gems and minerals. The giant purple geode or holey concretion might capture your attention at first, but don't dismiss the small specimens just yet. Did you know we have a piece of Mars on display?
Image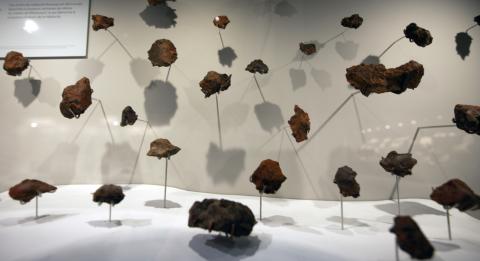 If you've ever wondered what the oldest fossil in the RAM collection is, seek out the stromatolites in the Ancient Alberta section. They're approximately 1.4 billion years old!
Image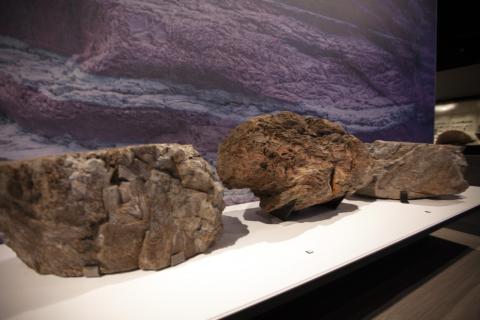 While the massive Ice Age mastodon and mammoths are sure to catch your eye, you may be fascinated to discover the story of the Saiga Antelope. She may look like a Star Wars character or some not-so-distant cousin of ALF, but she's definitely from this planet. Unlike most Ice Age creatures, the saiga antelope didn't go extinct. In fact, you can still see them today in Russia and Central Asia.
Image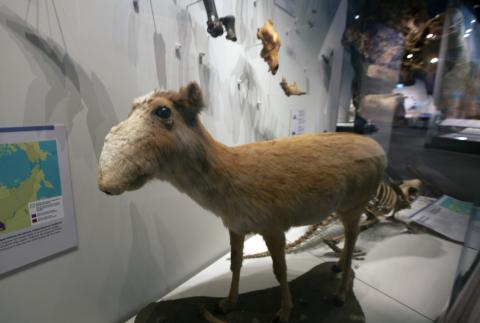 Press on to the Wild Alberta gallery, and see if you can find the living hognose snake in one of the dioramas. Here's a hint – it may be just under your nose… or your feet!
From the earliest people to Alberta today, you won't find your typical textbook history in the Human History Hall. Once you enter through the gallery doors, head clockwise to catch these exhibits.
For Cree communities, winter is the time that you share stories – and certain stories can only be shared in winter! Visit the interactive display of Wîsahkêcâhk, under the second panoramic landscape from the left, to hear storyteller Billy Joe Laboucan recounting one of the Cree trickster's humorous adventures. This story can only be heard in the museum after the first snowfall. Once the snow melts, the story is gone until next year when the snow flies again!
Image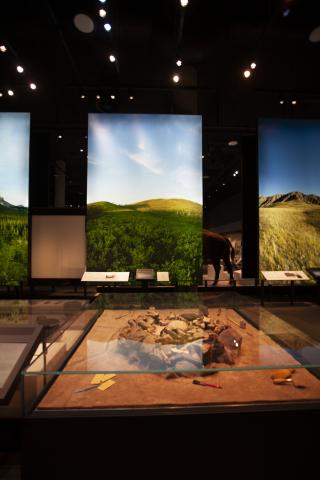 Many First Nations and Métis women gathered together in the winter, sat by the firelight making beadwork, embroideries, quillwork or moose-hair tuftings, while sharing tea and catching up on gossip. Some mothers would coax their children into bead-sorting duties – separating them out into small parcels by colour and size. Seek out the Sewing for a Living exhibit to see examples of Indigenous women's incredible talents with beads, quill, needles and thread.
Image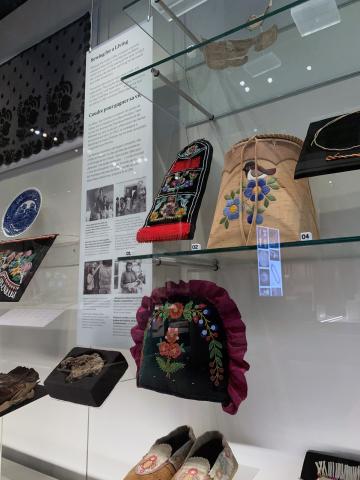 You saw the biplane hanging in the lobby, now see the flight suit of the man that flew it. Wilfrid Reid (Wop) May, First World War flying ace served as a fighter pilot in the First World War. Head to the display case below the yellow airplane to check out how many layers he would wear while flying!
Be sure to take your time in the circular What Makes Us Strong gallery. This space brings together displays from each of the five largest Indigenous nations in Alberta: Nehiyawak (Cree), Niitsitapi (Blackfoot), Dene, Nakoda/Nakota and Métis. Stay to watch the 360-degree video – like the vibrant communities it portrays, there is neither beginning nor end. 
Image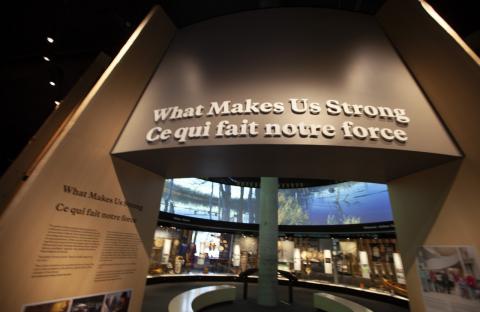 In the Human History Hall, young visitors can learn about how early peoples hunted the extremely speedy pronghorn antelope; travel from Pigeon Lake to Fort Edmonton with a team of "little dogs;" and giddy-up to the Calgary Stampede atop Champion, the mechanical horse. 
Image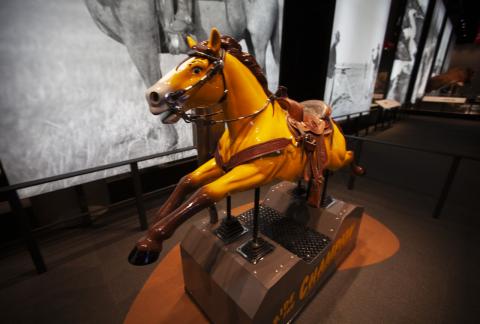 Upstairs in Natural History, kids can walk on the wild side. Feed a baby pelican, don your feathers for a ruffed grouse dance-off, and practice your flirting skills with the humming birds.
Image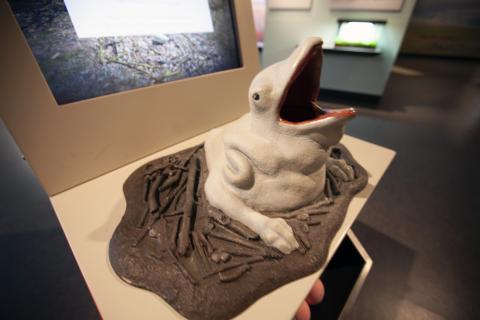 This one is for all you brave visitors who aren't afraid of a few extra legs. 
If you want to start big, head to the right once inside the gallery and seek out the Goliath bird eater tarantula. This species, found in America, is the heaviest spider in the world. Can't see her? Check inside the hollow log.
Image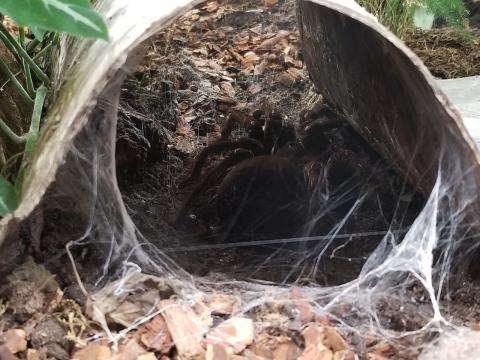 Prefer something a little smaller? See if you can spot the stalk-eyed fly. The males of this tropical insect use their eyestalks to stare down competitors – the biggest span usually wins!
Image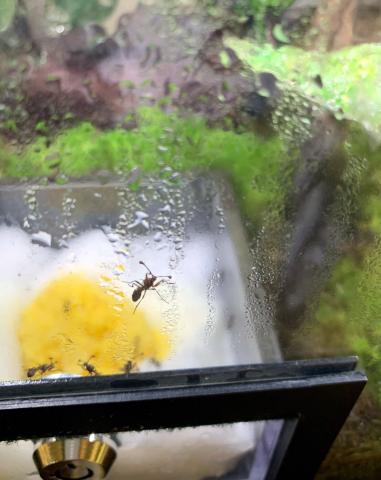 Some people may think the giant African millipede is creepy, but not you! You recognize the important job these many-legged invertebrates play in breaking down plant material and rotting fruit. Thanks, millipedes!
What is the coolest creature in the Bug Gallery, you ask? The peacock mantis shrimp, named Lyle, is certainly a contender! Brilliant colours and an incredibly powerful punch make this crustacean a must-see. 
Image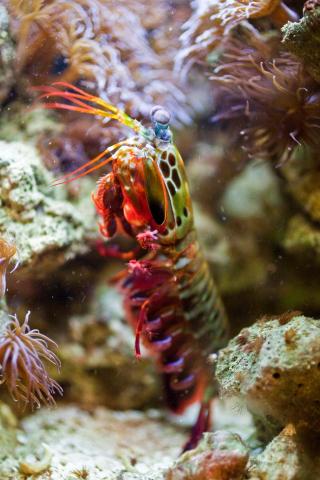 Even if you're just here to "do it for the 'gram," we won't judge. If you're looking for the Instagrammable spots of RAM, look no further.
Before you enter the building, be sure to walk past the Ernestine Tahedl murals on the south side of the museum. These murals previously adorned the former Canada Post building that used to occupy this site. A little #yegdt history, the vibrant pops of red, and that natural light make for a great picture!
Image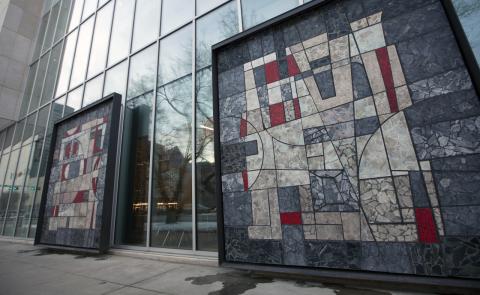 Of course, when you first walk in, you'll want to snap a photo with our two Mammoths in the lobby – you can't get a more iconic "I visited RAM" snap.
Image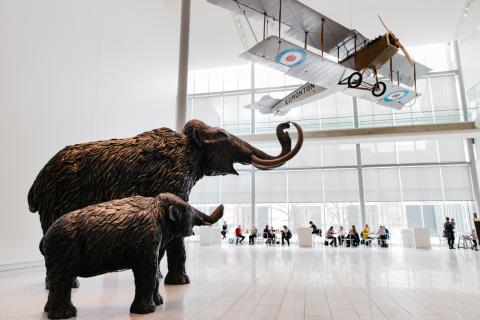 Head up to the Ice Age creatures in the Natural History Hall for some dramatic snaps of megafauna. Yeah, the sloth really was that big. Be sure to include yourself in the photo for scale!
Image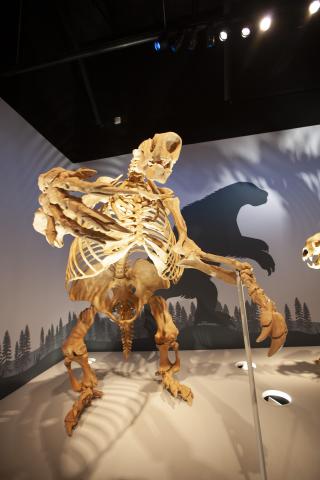 Back downstairs, you'll need to get a shot of Molly the pickup truck in the back corner of the Human History Hall – because you can't get much more "Alberta" than a pickup truck. 
Image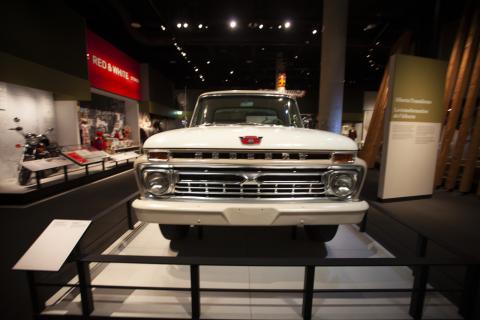 And of course, don't forget to hashtag your snaps with  #RoyalAlbertaMuseum, or tag us so we can see them!
Phew! You've covered a lot of ground in this visit. It's probably time to treat yourself, right?
Don't miss the Museum Shop! With hundreds of unique items from local vendors, including jewellery, home accents, art, food, plus toys your kids will be begging for, and RAM swag to show your museum love, you're sure to find something you'll love. 
If you missed the Shop during your visit, not to worry: you can shop online 24/7 at ramshop.ca and follow @royalalbertamuseumshop on Instagram to see all the latest products. 
Image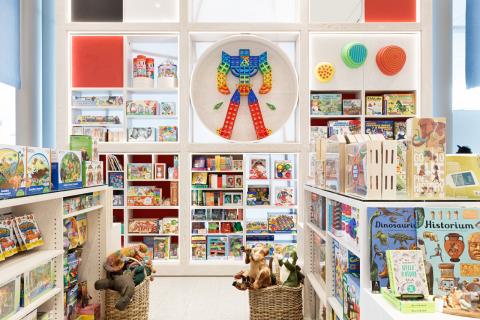 These are just a few ideas. We want to hear from you! What are your go-to stops when you visit RAM?