Content
The artistry of an Octopus Bag
January 12, 2022
By Coral Madge, 2021 ISMI Intern
Octopus bags, named for their eight legs, are a beautiful representation of love. These bags were made by Métis women as gifts for their husbands at the beginning of their marriage. Tucked into a woven sash or suspended from a shoulder strap, these bags were an essential part of a Métis man's outfit. Octopus bags held tobacco, tinder, a personal pipe, and all the essential tools for being on the land. The construction of these bags has ties dating back to 1590, and they were at the height of fashion in the 1840s with the design spreading from the Red River to the Pacific Ocean. Octopus bags are still made and worn today.
Image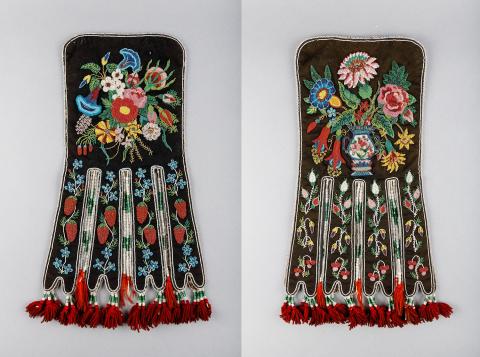 Often made of black velveteen and beaded on both sides, these bags could be decorated with different motifs depending on popular style in the region they are from. This Octopus bag was collected by James Carnegie in 1859, possibly at Fort Garry, and is part of RAM's Southesk collection. What sets this bag apart is the extravagant detail and the use of micro beads that are the size of grains of sand. These tiny beads and their intricate detail is what drew me to highlight and research this item.
Image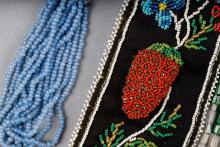 The beads used to decorate this bag are all smaller than size 20/0 meaning that twenty of them laying end to end measures an inch. Sewing with these beads requires special tools, the thinnest needles that can be found, and size 0 thread. Beads this small are now rare and hard to find in modern markets as size 10/0 and 11/0 are popular with beaders across Turtle Island today. I find myself in bead stores and flea markets, eyes searching for tiny hanks in dime bags. If I can find anything smaller than a 15/0, I'm quick to message my family and fellow beaders to celebrate with them. These tiny beads are what allowed the maker of this Octopus bag to create so much detail and depth in their work, using the microbeads like tiny mosaic tiles to add amazing detail.
The beadwork on this bag is a beautiful mix of colonial style and indigenous floral designs. European embroidery patterns that were likely drawn by the maker's mentor mixed with new designs inspired by local plants in Manitoba as regional motifs were starting to be develop. The use of flowers, berries, and buds honours the Anishnabe teaching of showing the beauty of the plant's full life cycle. 
Image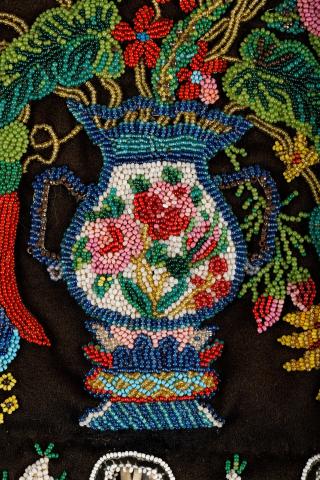 The vase may have been inspired by work of the French painter Soeur Legrave who worked at the St. Francois Xavier mission, Manitoba. In 1851, he decorated the new cathedral at St. Boniface with wall paintings of garlands and vases filled with flowers. The cathedral sat next to a trading post on the shore of the Red River next to the Assiniboine fork. Because of this the area had high traffic of Métis trappers and sewers who would travel there to purchase supplies. Métis woman would come into the cathedral and be inspired by these paintings and started to use the designs in their sewing using beads, silk threads, and porcupine quills. The use of cups and vases became a more common motif in this area during this time.
Image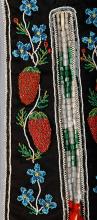 The beadwork and sewing shows immense skill of the maker. They used multiple techniques to create this beautiful piece of art: Applique, stippling, and two different raised techniques. The strawberries are clusters of red white hearts and steel cuts sewn on top of layers of paper and birch bark. The clusters communicate the texture while the layering creates depth and shape, as if you could bite into the juicy heart berry that holds so much admiration in the eastern woodlands. The pointed flowers below the wild rose have a raised technique using over-crowding to make the beads arch over the petal surface. Strips of red bands over the yellow and gold flower, cream, and lavender with a dotted red centre. The leaves on both sides of this Octopus bag are dynamically shaded, shifting between light and dark veins to create an image of light passing through the delicate leaves. Even their position creates an appearance of weight as they lie perched on their stems.
The colours used by the artist show understanding of colour theory, using unexpected and contrasting colours to shade the flowers, buds, leaves, and berries over the whole design. Using deep reds and rich blues while greens and yellows build up details to create this explosion of colour and shape. The designs that branch out of these displays are playful and allow the observer's eye to jump around and enjoy being invested in its complexities. 
Image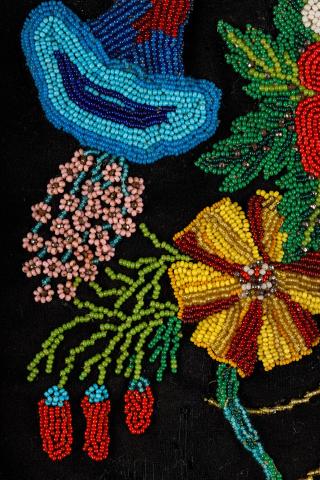 This Octopus bag shows the cultural artistry of Métis women and the great skill that they hold. As an artist with Métis ancestry this bag is a huge inspiration to me. I see the ancestors love and dedication to their work. The teachings and history embedded into the fabric. The investment of time and the patience to create something this masterful. Indigenous art history is often left out of the conversation but it is my hope that we give Indigenous makers and their artistry a place in the discussion. It is well deserved. I encourage you to look more into the beauty of beading and its dynamic history on Turtle Island. The Indigenous artists of the past and present have well earned admiration in this world.
Coral Madge is a traditional artist and RAM's 2021 ISMI Intern from the Deh'Cho Dene and Métis-Cree nation.