Content
Uncovering natural treasures
By Matthias Buck, Assistant Curator, Invertebrate Zoology
June 24, 2022
Have you ever found a treasure in an unexpected place? Recently, Invertebrate Zoology's Assistant Curator Matthias Buck did!
Matthias is working on a checklist of the wasps of Canada, Alaska and Greenland, a large project that has brought together about a dozen wasp experts and enthusiasts across the country. For years, Matthias has diligently studied the fauna of Alberta, and borrowed many wasp specimens from museums in other provinces and Alaska to learn about the species that live outside Alberta.
Many new provincial species records have been found during this study, but this past May, Matthias came across something completely unexpected while looking at a loan from the Royal Saskatchewan Museum: a specimen of the mason wasp Maricopodynerus, collected near Osoyoos, BC. Usually, these small wasps are found in desert areas of the southwestern United States and northern Mexico, but they had never been seen before in Canada. Matthias immediately recognized the wasp, as he previously collected them on a trip to western Texas.
Image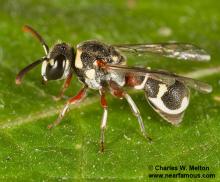 The name is as striking and mythical as the wasps themselves, given more than a century ago in honour of the Indigenous Maricopa people of Arizona.
Matthias is still trying to find out which species the specimen belongs to, as it is possible that it could be a species new to science. In any case, it is an important discovery. The Osoyoos area is home to many rare southern species that aren't found anywhere else in Canada, so this discovery underscores the importance of habitat preservation.
Image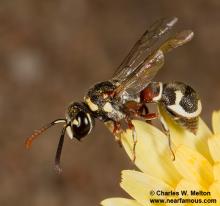 Stay tuned for future updates on this exciting discovery!