Content
Telling the untold; preserving LGBTQ2S+ history in Alberta
Updated October 6, 2022. (Originally posted October 2021)
Today we would like to highlight some of the work done by local historians across Alberta to preserve LGBTQ2S+ history, and share some LGBTQ2S+ blogs you can dig into.
The Calgary Gay History Project has a site with stories, news, and events relating to Calgary. The site springs from a project started by research lead Kevin Allen to explore the history of LGBTQ2S+ folks in Calgary. The project also resulted in a book called "Our Past Matters" (which you may remember from our pride reading list).
In Edmonton, several projects capture its vibrant LGBTQ2S+ history.
The Edmonton Queer History Project (EQHP) is a Community-University partnership that began in 2015 with a multimedia art exhibition at the Art Gallery of Alberta, showcasing 35+ years of Edmonton's 2SLGBTQ+ histories through personal interviews, archival documents, photographs, and artworks.
EQHP initiated a 2SLGBTQ+ community archive and has supported numerous projects, including: The Edmonton Queer History App and The Alberta Foundation for the Arts, Travelling Rural Exhibition, Re-Imaging Normal, that brought stories and artwork by trans and non-binary emerging and established artists to 20 communities in rural Alberta from 2018-2020.
Their website, edmontonqueerhistoryproject.com, is a wealth of resources, including a downtown map of queer history and places of interest, a walking tour, a podcast, a pride timeline, videos, and a news and event section. You can also follow their Instagram, Facebook and Twitter accounts for updates and announcements. 
Image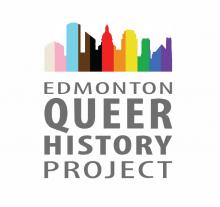 Another group to keep your eye on is the Edmonton Queer History | Rainbow Story Hub. This group of LGBTQ2S+ historians has been collecting and writing stories about the LGBTQ2S+ community in Edmonton. Several of their writers also have stories housed on Edmonton City as Museum website, so there is a lot of history to explore between the two sites.
Image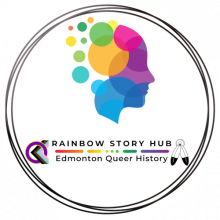 Here are some stories from this group to get your reading started:
When Drag Queens Became Charitable – tells the story about the Imperial Sovereign Court of the Wild Rose and the expansion of their charitable work since 1984.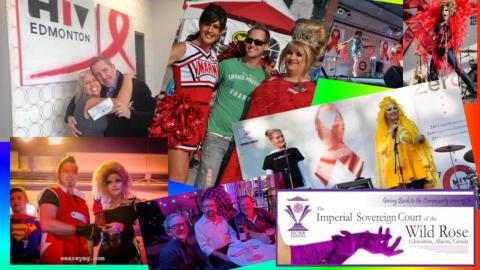 In this video produced by the Edmonton Public Library, Darrin Hagen talks about the Pisces Bathhouse raid that happened in Edmonton in 1981 with devastating impacts on the community.
Hit the link on this page to find the Queer History collection on Edmonton City as a Museum site. Including more on the Pisces Bathhouse raid, a history of gay bars in Edmonton through the ages, a story about Womonspace, and even a history of LGBTQ2S+ activism on the U of A campus.
Do you have stories about the LGBTQ2S+ community in Edmonton? The Rainbow Story Hub is collecting and preserving these stories, so get in touch with them through their site or social media channels: Facebook, Twitter, Instagram.