Content
Stories to Tell: Collecting Alberta's LGBTQ2S+ History
By Pat Myers, Curator, Work, Life, and Industry
October 12, 2021
When Laura Lee brought nine buttons to the Royal Alberta Museum just over 15 years ago, she didn't know that her collection would be one of the first the museum would take in that was connected to the history of the LGBTQ2S+ community in Alberta. She had made the buttons with other women at a workshop in the early 1980s in Edmonton. "It was fun," Laura remembered when I talked to her a couple of weeks ago, "we had a lot of fun making them." 
Each button has a different message. "Lesbians unite in armed snuggle," and "Leave the male death culture," are two examples that identify some of the issues and experiences of lesbians living in Alberta. Living as a lesbian in Edmonton in the 1970s and 1980s was an isolating experience, Laura remembers. She wore the buttons a lot, she said, "They were a conversation opener. People asked questions, and you could start a conversation."
Image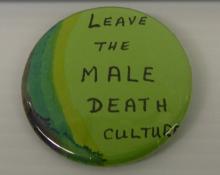 Image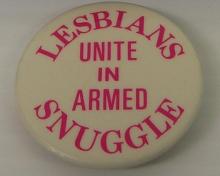 Since that first donation, RAM's collection of LGBTQ2S+ material has continued to grow in gradual but significant ways that are beginning to reflect the diversity of the LGBTQ2S+ community in Alberta and, like Laura's buttons, are revealing of the historical experience.  Michael Phair thought he had no chance of winning when he ran for Edmonton City Council for the first time in 1992. He was gay, and because he had not run before, he had no name recognition. But he did run, and he did win, becoming Edmonton's first openly gay council member. Michael donated items that document his political career on council. And he donated one of his Cariwest costumes, the one he wore to the last parade he took part in while he was a sitting member of council. Collections like Michael's help museums tell stories of change, in this case, a gay man's journey to becoming a popular politician. 
Image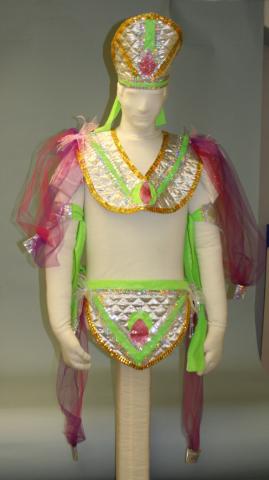 Michael Phair's 2007 Cariwest costume, photographed on a mannequin at the museum.
Image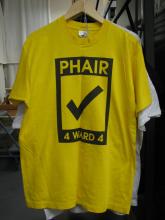 Image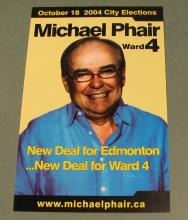 Items documenting Michael Phair's political career in RAM's collection.
Museums look for objects that tell stories. We have two Pride flags in our collection and each tells a very different story. In 2013, the first Pride flag flown at a Canadian Forces Base flew at CFB Edmonton. Sean Moir, Curator of Military and Government History at the time remembers when the flag was brought in. "I felt so good that we were getting it. It makes such an important statement in terms of the Canadian Forces," he said, "and it was so different from most of the items in military collections."  But another flag that came to us is no less important. The donor, Richard Gregory, carried it in Pride parades in Calgary. 
Image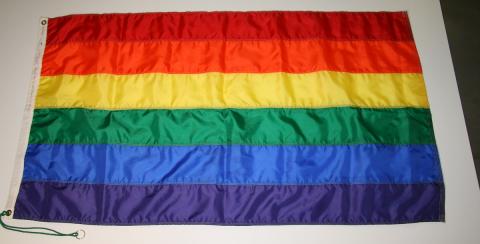 "THIS FLAG FLEW AT CFB EDMONTON 7-13 JUNE 2013!" is printed in black ink along the flag's left edge.
Richard also donated objects that tell part of the story of LGBTQ2S+ history in Calgary, including a poster from Calgary's first Pride Parade and Gay Pride Week in 1990. Volunteers put the posters up at gay-friendly businesses, for example, and on public bulletin boards. And whenever a poster was ripped down, another one went right back up in its place. That object carries a story of community intolerance, and of community resilience.
Stories of change, stories of struggle, stories of joy and everyday life. All of those things come together in The Living Quilt, now part of RAM's collection. In 1998 Gil Charest wanted to change the narrative of HIV from, as he said in an email to the museum, "getting your affairs in order", to "preparing to live a long life." While AIDS had gotten a lot of media attention, living with an HIV diagnosis had not. Gil decided to make a quilt. He enlisted the help of quilter Birnie Smith who said "Yes!" right away. Birnie created an abstract landscape design that incorporated coloured ribbons with the names of people living with HIV, and buttons showing the number of years they have been positive. The quilt hung in the Living Positive through Positive Living Society of Alberta office. "When Living Positive closed it doors [in 2019]," Gil said, "I asked RAM if this project would be something they would be interested in preserving as part of the permanent record of the community's response to the devastating HIV epidemic." Now, when living a long life with an HIV diagnosis is possible, the story of the organization and the quilt lives as history at the Royal Alberta Museum. 
Image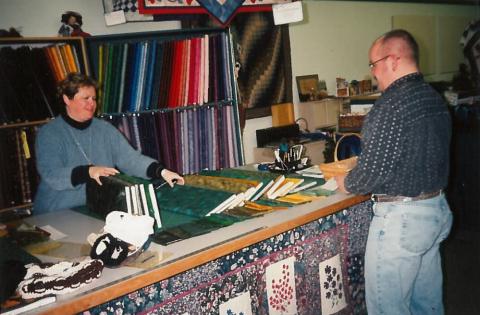 Birnie (right) choosing fabric for the quilt.
Image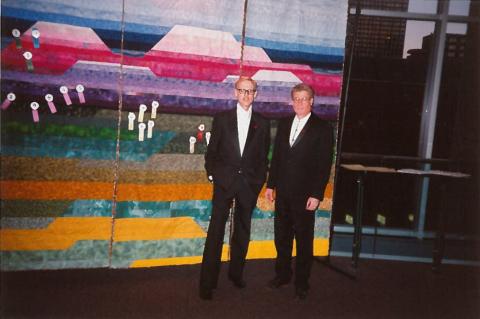 Gil Charest (right), and Brett Fraser with The Living Quilt at the Black and White Affair at the Winspear Centre, 28 March 1998. This was the first time the quilt was displayed.
The museum has conversations with people about objects that are important to them and that carry the meaning or experience they want history to remember. Terje Snow recently donated clothing and a weight from his time as a trainer at Queerflex, a gym established because accessing fitness facilities is often difficult for LGBTQ2S+ people. "People do not feel welcome," Terje noted, "if you're transgender, or gender diverse, for example. The washrooms and change rooms are usually gendered." I asked Terje why he wanted to donate those items. "These spaces are so important," he said. "The LGBTQ2S+ community faces a lot of discrimination. It's important to have spaces, safe spaces, for the community."  The gym closed in February 2020, partly because of online attacks from a hate group.
October is LGBTQ2S+ History Month, and these are some of the objects in RAM's collection connected to that history. Museums collect objects that tell stories that need to be told. Sometimes we reach out first, and sometimes communities, groups, or individuals reach out to us. Collaborating with individuals and communities is an important part of museum work. 
I think Laura said it best. I'm thinking back to our conversation. Even though we were talking on the phone – it is a pandemic after all! – I could hear the twinkle in her voice as she asks "Is the Lavender Menace button there?" It is, I told her, and she laughed. "It's one of my favourites," she said. "It was humourous. A tongue-in cheek joke. Like 'these are the people your parents warned you about'." Then she got serious, reflecting on why she had brought the buttons to the museum. "Because they're important," she said, "They're a part of our history, of Alberta's history."
Image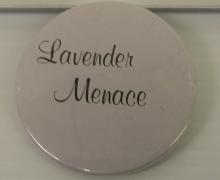 Laura's favourite button, Lavender Menace. Her 'Lesbians Unite in Armed Snuggle' button is on display in the museum's Human History Gallery.
If you have objects you think we should consider for our collection that tell us about LGBTQ2S+ history in Alberta, please get in touch by emailing Pat Myers, Curator, Work Life and Industry.
October is LGBT History Month. For more resources and information, check out: