Content
From Rags, to Ringlets
By Nancy Nickolson, Family Programs Coordinator, and Julia Petrov, Acting Head of History
August 31, 2020
The texture of your hair is down to genetics: the shape of your hair follicles, and the protein bonds in each strand of your hair determines the degree of curl in it. There's not much you can do about your hair follicles, but throughout recorded history, humans have invented ways of curling their hair using heat, moisture, chemicals, or sheer force to tighten or relax the protein structures.
Every decade of the twentieth century had fashionable hairstyles that required some degree of curl, and newspapers featured advice and ads on methods that would protect the hair while providing the desired effects.
In the Collection
Image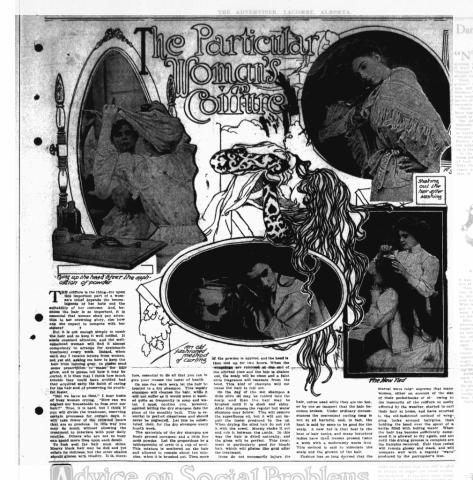 This article suggests some DIY methods for fashionable waves, such as applying an actual iron to the hair, or holding a head full of curlers over a boiling kettle. Both are dangerous, and should never be attempted! Advertiser and Central Alberta News, March 4, 1909, p.7; courtesy of Peel's Prairie Provinces, University of Alberta.
Image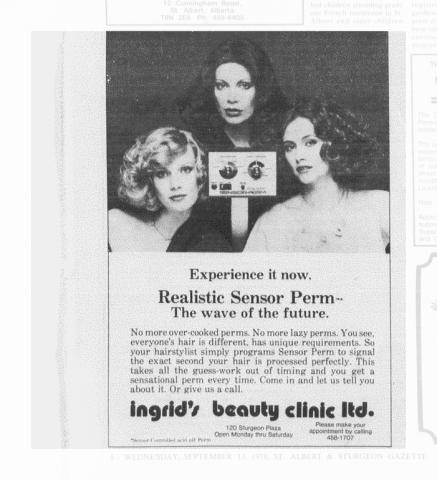 Professional hairstylists had more sophisticated tools at their disposal for curling hair, such as this timer for chemical perms (permanent waves). The Gazette (St. Albert), September 13, 1978, Page 8; courtesy of Peel's Prairie Provinces, University of Alberta.
Our collection houses some of the technologies that were used to create the curled look.
Image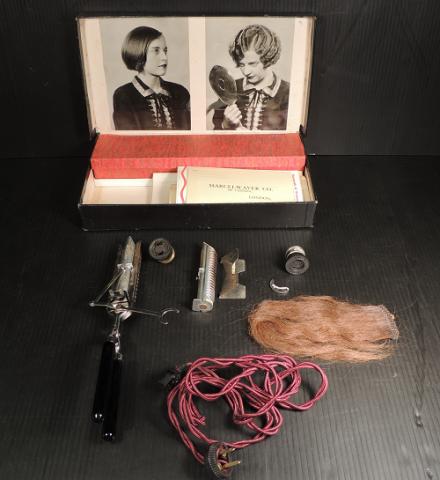 This curling tong set, made by the Marcelwaver Company of Canada, dates from the early 1920s. Named after the French hairdresser Francois Marcel Grateau, who invented the a type of curling tong that pressed indentations into hair in the 1870s, this style of crisp, undulating waves continued to bear his name into the 1930s. These tongs could be heated electrically or on a stove, as not all households had electricity. The swatch of artificial hair was provided to practice the technique. Results can be seen on the photograph that came in the packaging.
Image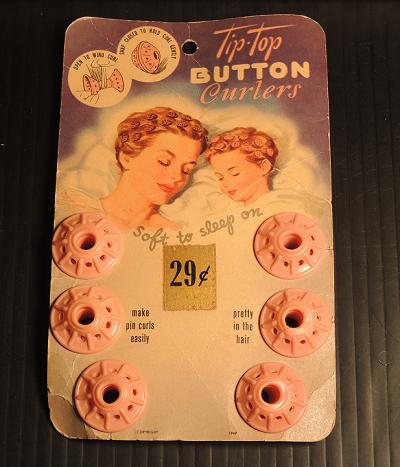 Like mother, like daughter? These 1950s clip-in curlers were advertised as "pretty in the hair", possibly to counteract common criticisms of housewives who were seen as unfeminine because they saw their husbands off to work in the morning while wearing curlers and housecoats. These pink and round curlers certainly look safer than the hard metal mesh ones like these, more commonly found in the Museum's collection.
Image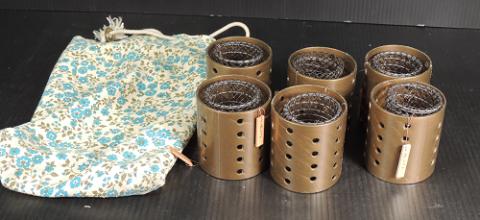 Heat and chemicals can cause damage to hair, so why not try an old-fashioned and safe approach to curling your hair? You can use scraps of fabric for strips to roll up and tie your hair into curls. A small amount of hair for each strip of fabric will create bouncy and bushy curls; a larger amount of hair will create gentle waves. Leave the rag ties in to dry or sleep on them overnight, and you can have a head of ringlets that you can leave as is, or brush out to create a sleeker look. You can reuse the fabric strips, and when you're done with them, you can make a rag rug.
Image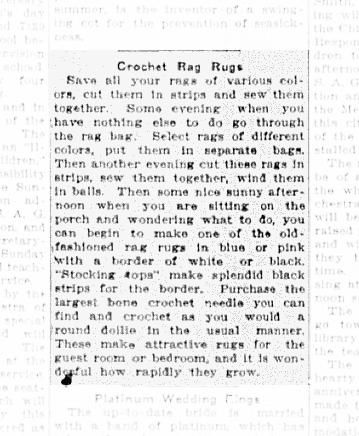 For true thrift, save your curling strips and sew them together for crocheting into a braided rug later! The Edmonton Capital, June 13, 1914, Page 6; courtesy of Peel's Prairie Provinces, University of Alberta.
Image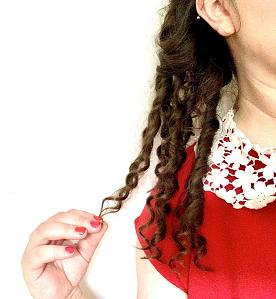 How to: Curl your hair, with rags
Time: overnight (application and drying times vary, depending on hair thickness and texture)
Difficulty: Easy
You will need: cotton rags, cut into 2 inch wide strips (strips should be double the length of the hair)
Cut 2 inch wide strips of cotton that are double the length of your hair. If you have thick or textured hair, you will need more strips.
Wash your hair. Wait until your hair is almost dry (90% of the way). You can speed this step by using a blow dryer.
Separate your hair into sections, clipping extra hair out of the way.
Lay a cotton strip on your head and wrap a segment of hair around the strip. Once you reach the end of your hair strand, wrap the cotton strip up around the hair. Tie the strip at the top with a knot or bow.
Continue wrapping strands of hair until all hair is in rags.
Sleep. When you wake up, your hair should be dry and set!
Carefully take out the rags, being careful not to tangle the hair.
Separate curls until you achieve your desired look.
Tips and tricks when using rag curlers:
Everyone's hair is unique! If your hair is thicker or your hair has more texture, you'll have to put less hair in each rag and/or have a longer drying time.
Be kind to the environment; Find an old cotton sheet or ripped/stained t shirt to make your rags. Once you are done with your rag curlers, consider making a rag rug!
Over the years people have been using rags to transform their hair. There are many different ways to use rags as curlers. Experiment and see what works for you!
Did you give it a try? We'd love to see your new hairdo! Tag us on Facebook, Instagram, or Twitter!