Content
How to Quilt a Mammoth
August 20, 2021
By Nancy Nickolson, Family Programming Coordinator, and Lucie Heins, Assistant Curator, Daily Life and Leisure
Have you been inspired to try your hand at quilting?
If so, we've got you covered (and we threw in a little RAM twist.) 
Read on to learn how you can sew your own signature mammoth quilt block at home using a quilting technique called "paper piecing." This pattern makes a quilted mammoth block that measures 8.5 x 11 inches when printed on standard 8.5 x 11" paper.
What you'll need:
This pattern, printed and cut
½ meter of fabric (cotton preferably) in 2 contrasting colours
Needle and Thread
Iron
Difficulty: Medium
Time: 3-4 hours (varies depending on experience)
Instructions
Print this pattern on 8.5 x 11 paper
Cut all sections out, slightly larger than the dashed line.
Assemble each section, following the order of the numbers (1, 2, 3…). 
Once all sections are assembled, carefully remove paper.
Sew all sections together, in order of lettered sections (A, B, C…)
Did you use this pattern? We'd love to see your creation! Tag us on Facebook, Instagram, or Twitter!
From the Collection
Quilts are much more than a blanket – they are storytellers. The art of quilting has been around a long time. Some quilts, made in a time of need, were made up using scrap material to stay warm on a winter's night. Other quilts have been made to celebrate a special occasion or to bring a community together.
Image
Utility Quilt 
Mary Jane (Little) Morrison (1880-1963) was born in Brampton, ON. At the age of 16, she apprenticed as a seamstress, later achieving a "Master" status. She came to Alberta in 1914 and worked as a seamstress in Vegreville. This utility quilt, like most utility quilts, was probably done out of necessity; heavy wool bed quilts were needed to fend off the cold of winter. Houses were poorly insulated and mostly heated with a wood stove. 
This quilt (c.1920s) appears to have been made quickly considering Mary Jane's master sewing status. Utility quilts were usually made from men's old suits and coats. The thickness of the material made it difficult to stitch the quilt together so the quilt was tied or tufted with yarn. This quilt is tied with red yarn.
Crazy Quilt 
Image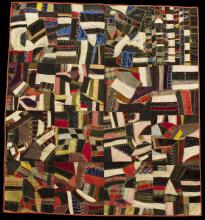 Crazy quilts are believed to be inspired from the Japanese crazed ceramics and asymmetrical art that was on display at the 1876 Philadelphia Centennial Exposition. Making Crazy quilts was very popular from 1880-1910. According to research conducted by Assistant Curator of Daily Life and Leisure, Lucie Heins, crazy quilts were the most popular quilt to make in Alberta. With pre-cut foundation squares, a bag of scraps, needle and embroidery floss, Crazy quilt blocks could be made in a most rudimentary setting. Crazy quilt blocks do not follow a specific pattern. It is simply the sewing of irregular shaped fabric pieces and securing them with a variety of embroidery stitches.
Mr. Laplante received this crazy quilt in 1915, in exchange for carpentry repairs undertaken in the Calder area of Edmonton. The family did not have enough money to pay the carpenter and offered quilts in exchange. Notice the very small scraps, at the top right corner, used to finish the quilt. The quilter used every bit of scraps to make the quilt.
Image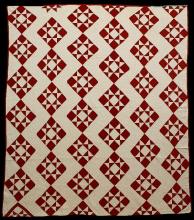 Wedding Quilt 
Red and white were popular colours for wedding quilts between 1880 and 1920. The red dye, known as 'Turkey red', was colourfast. It was stable and did not bleed into the white fabric. Quiltmaker Diana Gagné chose the Eastern Star pattern to make her special quilt prior to her wedding in 1909. It was common for a young girl reaching marriageable age to receive a hope chest. In preparation for getting married one day, she would begin to fill her chest with household items such as towels, table linens, bedding and quilts. Diana married Frédéric Nadeau in Saint-Patrice de Beaurivage in Quebec. In 1918, with four children in tow, they headed west, settling in Pickardville, Alberta. The quilt was among their belongings.
Friendship Quilt 
Image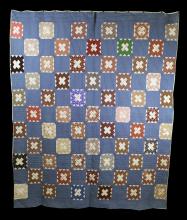 In 1910, Clara (Lightener) Flesher and her husband James left their home in Terre Haute, Indianan, to settle in Carmangay in southern Alberta. Prior to leaving, Clara received a friendship quilt. Each block has the signature of a family member or friend embroidered on it. As a way to remember those that are dear, Friendship quilts were often made as a souvenir for the person leaving.
Do you love quilts as much as we do? Pick up your copy of Alberta Quiltmakers and their Quilts, written by Lucie Heins, our Assistant Curator of Daily Life and Leisure.