Content
Explore our collection – in 3D!
Sometimes, a diorama is so realistic, you feel like you can climb right inside the scene. And now, you can - digitally!
Our Collections staff are working on creating digital, 3D models of dioramas and objects from the collection, and sharing them on Sketchfab. Whether for reference, education, or just for fun, you can now explore the Fletcher Site diorama and Fish Camp dioramas from our old Glenora galleries. Or, get up close and personal with a Sabre-tooth skull, if you dare. Zoom in, click around, and go inside the models here!
Keep an eye out for more digitized objects from our collection in the future!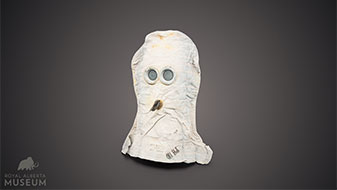 PH (phenate hexamine) anti-gas helmet
This gas mask belonged to Private Art Hosford of Edmonton, Alberta.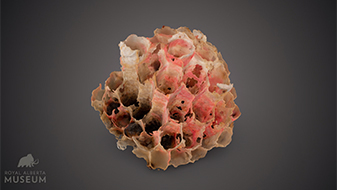 Paper Wasp Nest
Paper wasps (Polistes fuscatus) build their hives by gathering plant matter and dead wood fibers which they mix with their salvia.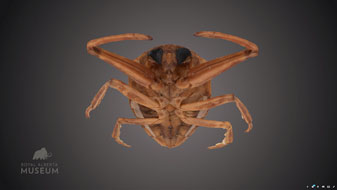 Giant Water Bug
Reaching lengths of up to 60 mm, the giant water bug (Lethocerus americanus) is the largest aquatic insect in Alberta.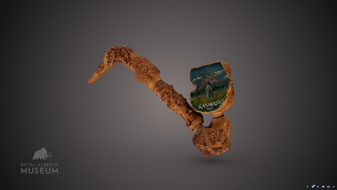 Root Pipe
A civilian internee at Kananaskis Internment Camp No. 130 made this pipe during the Second World War.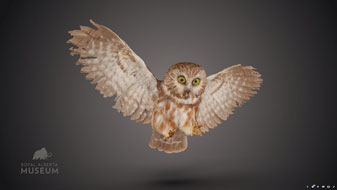 Northern Saw-whet Owl
It is a relatively common denizen of forested areas in the province, but is rarely seen because of its nocturnal habits.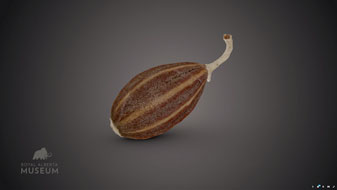 Wolf Willow Seed
This specimen is the striped seed of the wolf-willow (silverberry; Elaeagnus commutata) and is approximately 11 mm long including the stem.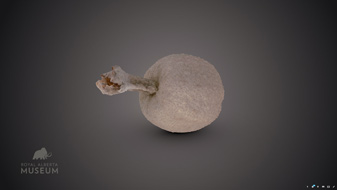 Wolf-Willow Fruit
This specimen is the silver fruit of the wolf-willow (silverberry; Elaeagnus commutata).
Toy Dog
This little toy dog dates to c. 1950s-1960s. It is made of vinyl, short for polyvinyl chloride (PVC).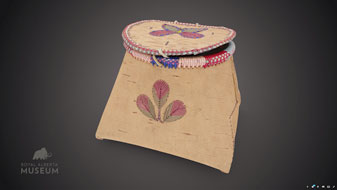 Birch Basket
This small berry basket is made from birch bark with seams perfectly stitched with spruce root.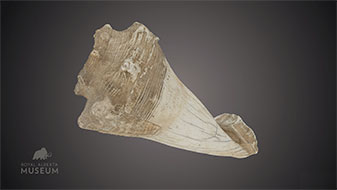 Conch Shell
This large shell is likely from the marine snail the Queen Conch, which is currently distributed along the Caribbean Sea, the Gulf of Mexico, and nearby coastal waters.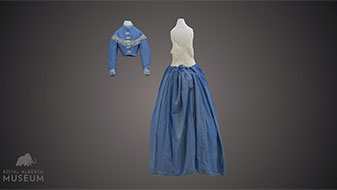 Blue Dress
This dress is made of an electric blue silk, sewn on a sewing machine, and trimmed with white silk fringe and velvet ribbon.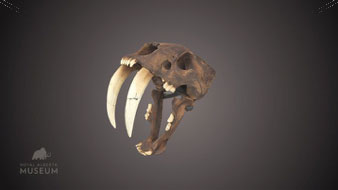 Sabre-tooth Skull
This replica Smilodon fatalis skull can be seen in our Natural History Gallery at Royal Alberta Museum.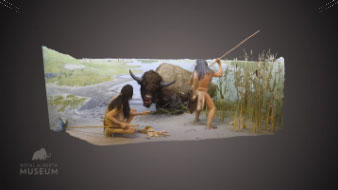 Fletcher Site diorama
This diorama was part of the Syncrude Gallery of Aboriginal Culture at the former Glenora location.