Content
The Chief's Daughter - Creations for the Generations
By Emma Knight, Assistant Curator, Indigenous Studies
May 3, 2020
Join us as we look back at a few of the new acquisitions to the Indigenous Studies collection. Today, this beautiful hat, created by Karli Crowshoe. I had an opportunity to talk on the phone with Karli Crowshoe about her line "The Chief's Daughter" when we commissioned her to make a hat for the Indigenous Studies collection in 2019. Here are some excerpts from our conversation.
Image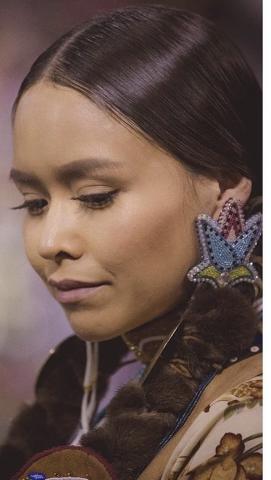 Karli Crowshoe, the owner and artist behind The Chief's Daughter, is a mother and creator from the Piikani Nation. Her passion for design and creating was founded in her love for pow wow dancing. Karli began beading when she was 13 years old, making her own regalia guided by basics she learned from her aunt. Her line, The Chief's Daughter was born soon after Karli beaded her first hat for her sister, utilizing a family design that had been passed through the women in her family. 
Karli told me that the name "The Chief's Daughter" refers to her lineage – all of her grandfathers were chiefs or leaders – but it also refers to the people who wear her hats. She says that if you look at old photographs of beautifully dressed people, you know that they are part of a chief's family. Karli wants everyone who wears her hats to feel this way, to empower her people.
The Chief's Daughter strives to revive the traditional stories and oral culture of the Blackfoot people of the Piikani Nation through precise beadwork. Each design is built upon the principles of tradition and storytelling. Each piece is seen as a unique creation to last for generations. Each piece carries with it a spirit of its own, created with purpose and meaning. Karli credits her grandfather Reg Crowshoe and her family legacy as a guiding force for her creations, marrying Niitsitapii ways of knowing with the modern indigenous lifestyle.Whenever Karli is working on a design she consults with her grandfather before completing the design.
Each hat that Karli makes is unique, she feels that each hat has a story and they all serve to keep culture alive. She believes it is important to bring spirit back with everything she does. When she is asked to make a hat for someone she takes the time to get to know who they are and where they come from, so she can bead that spirit into the hat. For Karli, beading serves as a connection to her people, her culture, and her home. Living in Calgary and attending the U of C for a double major in Business and Economics, Karli picks up her beading whenever she feels she needs that connection. 
The Chief's Daughter was featured in the Otahpiaaki Fashion Week in Calgary in 2018. For Karli, Otahpiaaki was truly a family affair. Her mother Heather Crowshoe of Heather Crowshoe Couture was featured in the show, and her son and grandparents came to support her. Karli danced at the opening which she sees as a strong connection to the beginning of her journey with The Chief's Daughter. In 2019 Karli and her mother Heather were invited back to Otahpiaaki Fashion Week and closed out the show together. 
Image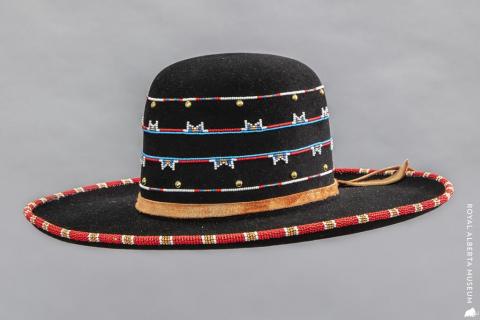 We were lucky enough to be able to commission Karli to make one of her beautiful beaded hats for the collection. Here's what she had to say about her process:
"With this hat I wanted to embrace a few different sides of who I am. My name is Karli Udunna (doll) Crowshoe and I am from the Piikani nation. I am a descendant of Brings-Down-The-Sun and Chief Joseph of the New Perce Tribe, also known as Niimiipu. The design was created from influence of the Blackfoot geometrics and Nez Perce designs that I have seen throughout my life. My grandfather, Reg Crowshoe, has always motivated to me to have a say with everything that I create and it is what my business, The Chief's Daughter stands for. I added a buckskin tie around the crown of the hat that is from my ceremony moccasins my mother made me. I wore these moccasins when I helped my grandparents in their Sundance in 2016 and I believe they have a spirit within them, a spirit that will continue to live on through this hat."   
Thank you Karli, for sharing your knowledge and art with us!