Content
Alberta Artist Spotlight
Explore the Alberta connection to Breathe, a Canada-wide art collective.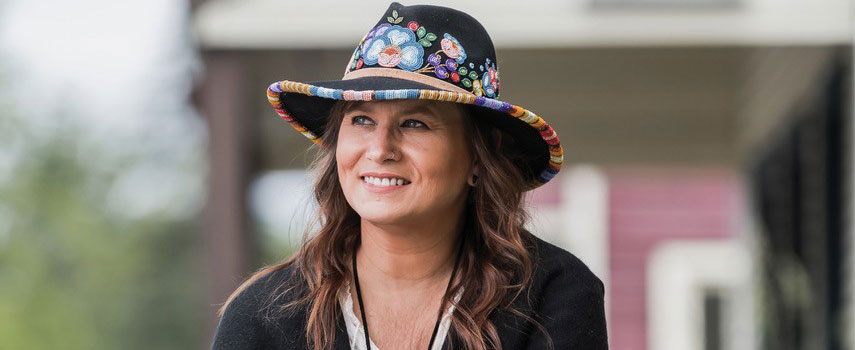 Image credit: In View Images
Lisa Sheperd
Q: Can you tell us about yourself: what is your name and where are you from?
My name is Lisa Shepherd and I'm a born and raised Albertan who is now living in British Columbia. I grew up in Spruce Grove, which is in Treaty Six territory, and I now live, work and play in the unceded, shared territory of the Katzie and Kwantlen First Nations and where Golden Ears Métis Society is grateful to have made its home. The land of both places has formed who I am today and, just like our Ancestors, I continue to travel back and forth between the Rocky Mountains for work, living and connection to family.
Q: What was the inspiration for your Breathe Mask?
I've created nine masks to date, three of which are in the 1st wave Breathe Exhibit at the RAM. Each has its own story but all of them document what was going on for me personally at each stage of the pandemic. I was inspired to lean into art to document the experience of living through a 21st century pandemic. I created the masks for my own wellness and in hope that the masks and their stories might resonate with others and help them during this vulnerable time. As an Artist, I felt responsible to offer up artwork as a way of healing.
Q: How did the creation of your mask help cope with the first lockdown of the pandemic?
When the first lockdown happened, like most, I was trying to process the experience. It happened so fast. One day I was saying, "see you after spring break" to students at the high school where I am artist in residence and the next thing I knew, we were in lockdown and not returning. I worried a lot for the young people in our community that receive important services at school. I'm also Vice President for our Métis chartered community, so I carry responsibility for our people and had to find ways to keep us all connected. These things, the safety of my own family, and the state of the world weighed heavily and I felt immobilized to get my artwork projects done. Working on the pandemic art masks allowed me to process all that was happening - to put that energy into something. As I unpacked the experience, I began to feel lighter and was able to activate myself again. It felt purposeful to be creating as a way to connect people through shared experiences. For me, creating was empowering and I wanted to share that gift so others could feel strong, too.
Q: How has the way you share your art changed since the pandemic?
This is a hot question, and my answer probably isn't the most popular one because it's not easy or instant. I share images of my art and my statements about it online but I believe that knowledge needs to be shared more responsibly than what digital platforms guarantee. I am selective with what I share digitally. My nohkôm, Maria Campbell, taught me that, as a beadwork artist, I have a responsibility in how I carry knowledge.
A long time ago, her Cheechum and her Old Elder Peter O'Chiese taught her the same thing. Responsibility is one of our foundational teachings. Social media might be a good jumping off point to search for information, but social media is not always a safe space. People can get hurt there, listening to the opinions of others that they've not vetted. Online platforms makes it possible to gather information in a way that is surface learning, in which lines are blurred and that which has always made us distinct becomes pan-Indigenized, appropriated and even colonized. For me, the pandemic has made me carefully consider the role I play as an artist, to keep our culture authentic for the next seven generations. Instead of sharing all the "how to" online, I look for the people to personally pass on our old teachings to - the ones that are working hard, digging deep within themselves, and also being responsible in how they carry knowledge. I take advantage of digital platforms as a way to inspire people to do their own work. If my artwork that I share online causes a person to look inward to where their own story lies, then I feel fulfilled. Even with the Breathe project, which started as a Facebook group, the intention was to have artists share images of their masks and their individual stories so that others might recognize a helpful personal connection. We want people to look inward and unpack their own experiences, which are all valid and important. I feel Breathe has been very successful in this.
Q: What is your biggest take away from the Breathe Project?
Look what we created at a grassroots level, with no funding, during a global pandemic! Our communities gathered in an online space so we didn't have to feel as isolated. We faced our vulnerabilities and lifted each other. Breathe grew this into two traveling exhibitions that will tour the country into 2023, with venues paying artists royalties. Breathe launched careers and drew attention to artist works and many artists had their work acquired by collectors, galleries and museums around the globe. We networked and made personal connections that will continue beyond the pandemic. All this was during a time when we didn't know what the future would hold. We don't need to wait for others to make things better for us. We are so empowered.
View masks: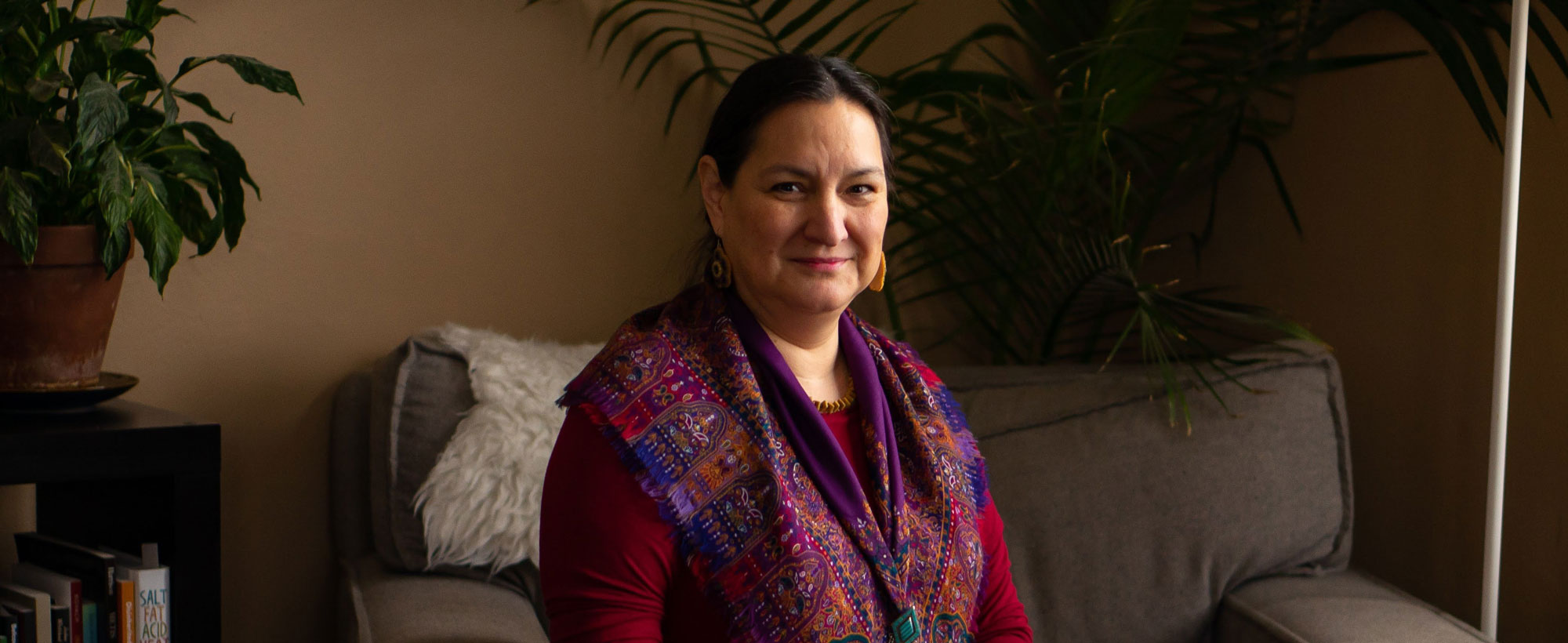 Image provided by artist. Credit: Chris Tse
Celina Loyer
Q: Can you tell us about yourself: what is your name and where are you from?
Tanisi, I am Celina Loyer. I am Cree Métis. My father was Gilbert Anderson and my mother was Kathleen Steinhauer. I have connections to Michel Band and Saddle Lake. I was born in Edmonton and raised in a very culturally rich Métis home. I reside in Calahoo, Alberta.
Q: What was the inspiration for your Breathe Mask?
A friend shared Lisa Shepherd's post on Facebook, asking where are the beaded masks. I joined the Breathe group a bit late, I think because I was shy about sharing my work. All of the beautiful, amazingly crafted masks in the group were a source of joy to me during what was a dark time for everyone. It took me a while to decide how I wanted to contribute. There were already so many different media and styles of masks from all over the world, I didn't want to make just another beaded mask. I was also working on a major beaded project at that time, during the pandemic, so I had a lot of beading going on anyways.
In my work, I rely heavily on the old patterns and styles on traditional pieces as my inspiration. I love to look at old beadwork or other art that our kokums made. Those old ladies were so creative and could make something beautiful out of just about any practical item. I wanted to make something unique that reflected my Cree Métis life within a pandemic.
I thought, "Nobody is doing a sash mask. I know I can make one." I decided to do a fingerwoven sash, in the Assomption style. I had a big bag of left over yarn in my storage room. It was easy to choose colours from the yarn I already had. In my mind's eye, I could already see what I wanted it to look like.
Q: How did the creation of your mask help cope with the first lockdown of the pandemic?
The mask gave me something to focus on besides the overwhelming amount of Covid news. I wanted to know what was happening in the world, but a lot of the media was full of negativity and fear. I sewed a ridiculous number of masks for family and friends because it made me feel like I was helping. Working with my hands helps me think of the process in front of me, rather than worrying about unchangeable things. I try to be very careful with what intention I am putting into my work. Focussing on weaving put me in an entirely different mind space.
The Breathe Group was a safe place to go online and just see what others were doing, what they were creating. Everyone was very supportive of each other and of the work. Lisa and Nathalie made it a comfortable, non-judgemental space. It gave me back a sense of community that was pulled out from under us all when the first lockdown happened.
On the practical side, the technique of fingerweaving made me use my brain. Normally, when you weave a sash, you want it to be flat and an even width all along the length. I had to focus on how to adapt the weaving so that the normally flat, even width would form a cup to fit a person's face. I had the knowledge of how to widen or narrow the width, but it took a couple of tries to get the actual curve I wanted. It took a fair amount of time, which we all had in abundance. It was complicated. I did a lot to weaving, then unweaving, on the parts that sit against the wearer's cheek! It was a good mental exercise.
Q: How has the way you share your art changed since the pandemic?
Wow! Well, for starters, I hadn't really called myself an artist before. Art for me was a fun side thing that I did for myself. I do beadwork, some sewing, a bit of fingerweaving, and dabble in all kinds of other crafts. I might post a progress picture of a current project on Twitter or Facebook, but I don't create large amounts of work for sale. I tend to make things for gifts, or family members and friends. I am a little less shy about sharing what I make now, I think.
Q: What is your biggest take away from the Breathe Project?
My biggest take away was that my work was valued. It has changed how I see myself.
View mask: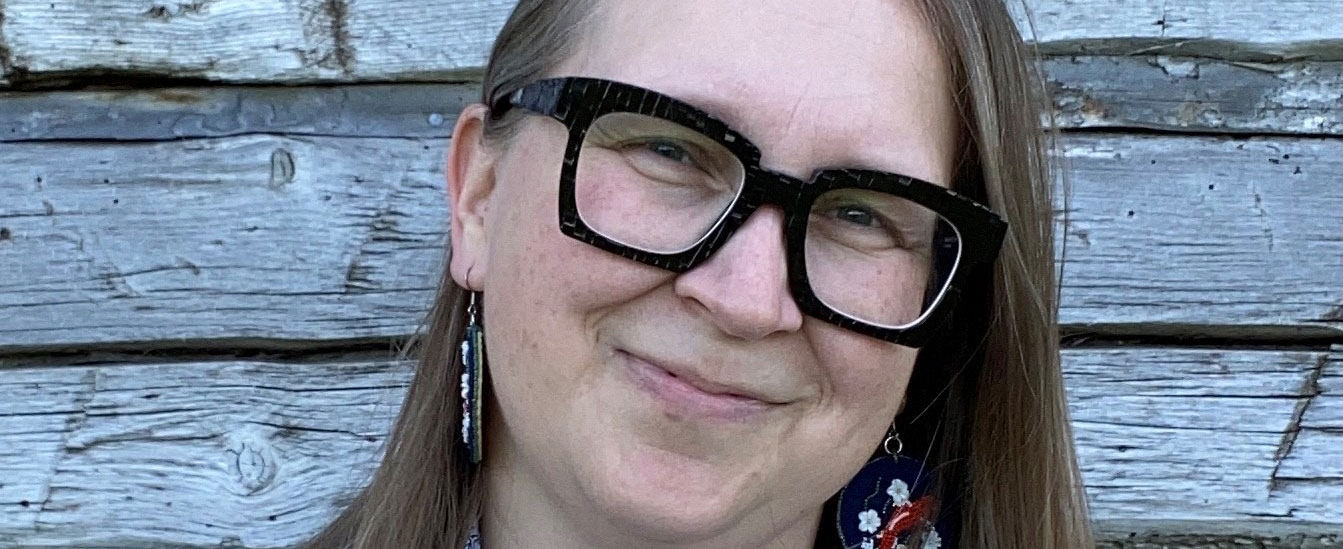 Image provided by artist.
Krista Leddy
Q: Can you tell us about yourself: what is your name and where are you from?
My name is Krista Leddy. My family comes from the Métis communities of St. Albert and Lac St. Anne. I currently call Edmonton and Smoky Lake home.
Q: What was the inspiration for your Breathe Mask?
It really came from just the uncertainty of everything. We didn't know how the virus was going to spread, how it would make us sick, and what would happen to those who lost their jobs or access to resources they need. Throughout all of that, instead of coming together to support each other, people started to hoard. There would have been enough if people took only what they needed, but that didn't happen. The toilet paper situation really angered and amused me at the same time. Seeing people squabble over things reminded me of the chickadees at the bird feeder. There is plenty of seed, yet they battle each other. This is how I started to see people.
Q: How did the creation of your mask help cope with the first lockdown of the pandemic?
First of all, I was able to express that frustration and emotion. I was having trouble beading before that, and having a guided project just encouraged me do the thing that has always helped me cope. Secondly, it offered an opportunity to look at myself and the actions I was taking. It held me accountable.
Q: How has the way you share your art changed since the pandemic?
Asking about that change is a bit premature. I feel like things are still changing so quickly, with the pandemic showing us just how connected we can be digitally and how wide our reach can spread if we want it to. I think if anything, I initially started to share more digitally but now have started to draw back into myself. This might be different in six months or a year.
Q: What is your biggest take away from the Breathe Project?
The most important takeaway is that I am not alone in my experiences. Also that I am in the company of some amazing folk who make amazing art. I hope the stories we tell make it to the ears of those two generations from now, and that they can learn from our masks.
View mask:
Image provided by artist.
Amanda Hageman (Burke)
Q: Can you tell us about yourself: what is your name and where are you from?
My name is Amanda Hageman (Burke) and I am a member of the Muskoday First Nation. My maternal grandmother attended residential school, and my mother and her siblings were part of the 60's scoop. After my mother's death my sister and I went to live with my paternal grandparents in British Columbia. I was raised in a Christian faith that discouraged contact with outsiders as 'bad association' and threatened to 'disfellowship' members who wanted to learn about their traditions as this was seen as promoting 'ancestor worship', which was 'demonized'. I left the organization when I was in my late teens, three kids, a bad marriage, and an interprovincial move later, I was living in Grande Prairie, Alberta. I was 28 years old when I first started to learn about my culture and meet some of my mother's family. The Grande Prairie Friendship Center, Aboriginal Head Start Program, and Traditional Paths Society classes, workshops, teachings, and fellowship have made such a tremendous difference in my life.
Q: What was the inspiration for your Breathe mask?
I've always loved dandelions. To me, they are a sunny yellow beautiful symbol of resilience. One of the first signs of spring after the long winter months. During the first lockdown when the schools closed and we had to go pick up our children's belongings in the school gymnasium, I remember that it felt so surreal. Backpacks in neat rows by grade beside rows of children's shoes in such a somber heavy environment. Everyone was so quiet, hushed and hurried. I collected my kid's things and was walking back to the car, past the playgrounds taped off and the zip tied swings when I saw these small kids delightedly crunching the thin layer of ice on the puddles in the parking lot. It made me smile for the first time in days. It stuck with me as a sign that things were going to get better. Months later when I came across the Breathe project on Facebook, and I thought about resilience the first thing that came to mind was the children playing despite it all, and the sunny yellow flowers that signal the beginning of spring.
Q: How did the creation of your mask help you cope with the first lockdown of the pandemic?
Working on my mask helped give me purpose during the first lockdown. It gave me a creative outlet. Like a lot of people, I was out of work for months during the first pandemic. There were so many people in the same predicament. It was depressing and uncertain, reading about all the things happening all over the world was just horrible. Working on my mask, interacting with the Breathe community on Facebook and being able to share their art and their stories and their hopes and their strength was truly an amazing experience that I will be forever grateful to have been a part of.
Q: How has the way you share your art changed since the pandemic?
The truth is that I never shared my art before the pandemic. I've made things for years for family and friends. I enjoy sewing and beading and many traditional crafts, but I've never felt confident enough to share them with a wider audience. I've tried to learn all I can about my Cree heritage and respect our traditions to the best of my ability, but I still worry about being labeled a 'pretendian' or unwittingly doing something offensive. All of it has been a wonderful learning experience that I feel honored to be included in. It's been an amazing journey so far, and I look forward to the future.
Q: What is your biggest take away from the Breathe project?
My biggest take away from the Breathe project has been the overwhelming sense of community and support. All of it, the Facebook group, the community, the artists, the venues, the people coming to see the masks, everyone has been welcoming and inclusive. There's so many stories to tell, and I'm thankful to Nathalie Bertin and Lisa Shepherd for giving us this opportunity to all be together during such times.
View mask: