Content
breathe
creating resilience through traditional art
July 14 — October 11
Royal Alberta Museum
A multi-platform experience
Meet the artists and explore the incredible masks of Breathe from the comfort of your home. Or, visit in-person to see these artworks up close.
History
The Breathe Project was co-created by two Métis artists, Lisa Shepherd and Nathalie Bertin, with the intention of including people from all walks of life. It is a community of Indigenous and non-Indigenous artists who supported one another through the first pandemic lockdown in March 2020. They shared their disbelief as the world stopped and channeled this experience into these distinctive face masks. Using materials from their diverse cultural traditions, each mask is a personal expression of hope and healing. The Breathe Project provided an outlet for creative expression, helping artists navigate an uncertain future.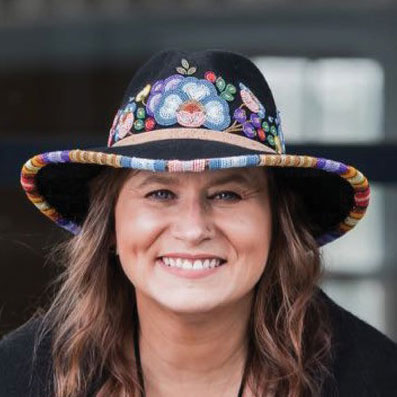 Lisa Shepherd
"The isolation was devastating. Breathe brought Artists together, virtually, and the Artists made a community of healing. We recognized ourselves in each other's stories and felt less alone. Our identities came through our masks as we found connection, hope and humanity. It was humbling. Our greatest strength came from community."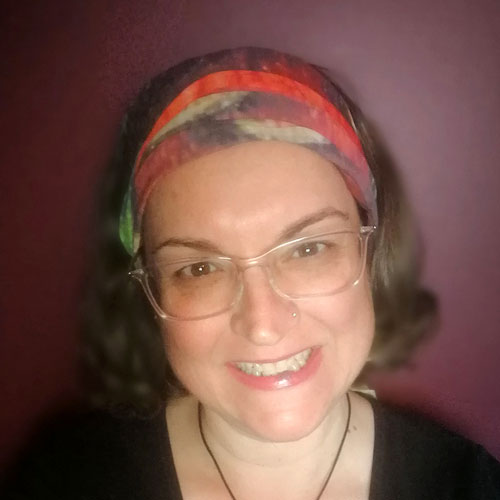 Nathalie Bertin
"Lisa and I laid the foundations for the project based on our teachings. The artists came on board and each one has helped us build a community that is rich in diversity, skill and–best of all–respect and support for one another."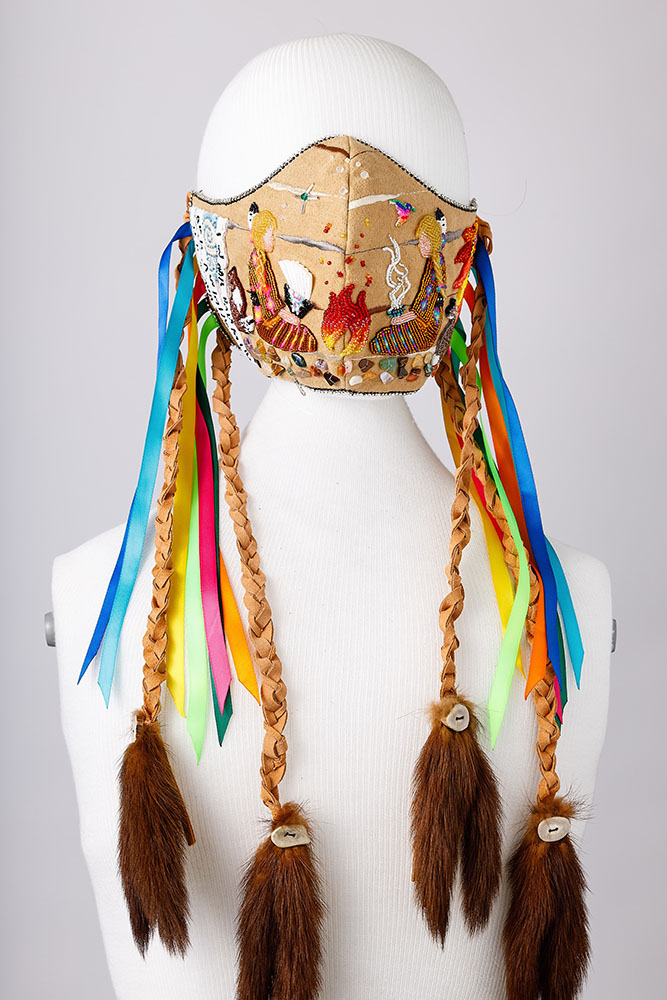 My okomaw
Marlene Kelly
Materials
faux suede, embroidery, deer tan leather, ermine tails, deer antler, beads, dentalium
Tansi, I am 4th generation Cree-Metis beadwork artist. My ancestral home is Ft. Chipewyan and Ft. McMurray, Alberta. I am privileged to live in the unceded territory of the K'omoks First Nation. My okômâw talks to me in my dreams. She speaks of medicines, life lessons, cultural ways, ceremony and gives advice when I pray for guidance. I was only in my 20's when my okômâw first visited me in a dream. We sat beading in front of her tipi on a warm summer evening, the golden prairie grasses blowing in a light breeze. She spoke in Cree. At that time in my life I did not understand our language. For my benefit, her words were translated through subtitles in English. A feeling of enlightenment and pure love brightened in me as I woke from what would be the first of many dreams to come. During the isolation of this pandemic, I had many quiet hours to sit and reflect on my life; my family, my achievements, my failures…. All the good things I have in my life. My mask was created through guidance from my okômâw. "Tell your story", she said, "You are enough. Show all you are thankful for, all you have been through and have overcome". This is my story. The fabric for my mask was pieces of fabric I had left over from my drum bag. I drum and sing with my sacred sisters. My love for them is unconditional and I am very humbled and proud to have each one in my life. The cotton lining inside is patterned with a Metis sash design. The ribbons not only symbolize the colours given to me after my naming ceremony but also the ribbons used on the colourful skirts and shirt that are prominent in our rich Metis heritage. The fire in the middle the first spark and fire that lives within every one of us. The sun and the moon remind me that there is always something to be thankful for at the end of the day and what a blessing it is to wake with the each new dawn. The two blonde women sitting in regalia facing each other represent the young woman I was and the kokum I am today. They symbolize my earth journey through the colonial world and the aboriginal community. A Cree Metis woman with Irish ancestry searching for acceptance on a path of oppression from both worlds. There was a dark time in my life where my life light was almost extinguished voluntarily. The white swan-wing fan was gifted to me the same night my life would have been forfeited. I am humbled and blessed Creator had other plans for me and trusted me with swan medicine. The smudge bowl holds the sage and sweetgrass I use for smudging and thanking Creator for my life. My daughters are represented by the fox and the rabbit. My first born daughter, the fox, brought me the medicine of awareness. I was enlightened to the joys and tears of motherhood. I began to understand what my own mom meant when she said, "you won't understand until you have children of your own." She also taught me about being the protector of my family. There still isn't anything I wouldn't do for my girls. My youngest daughter, the rabbit, taught me to turn my fearful attitude into courage as she fought and beat cancer in her teenage years. I learned not to let myself be overcome by fear over the things that were beyond my control. Cree originated from the stars; we are the Star People. The Seven Sisters star constellation acknowledges my Cree ancestry. All my relatives and ancestors watch and guide me from there. I am here to learn, lowered down on grandmother spider's web. I will return to the Seven Sisters to sit among my relatives again. The green star in the constellation is in remembrance of my dad. He crossed over in 2018. The green represents our proud Irish ancestry on his side. The hummingbird is my mom. She taught me from a young age how to care for others and how to care for myself. She taught me that sometimes life can stop you dead in your track but you can still make the most of your circumstances by taking a step back, going forward, getting fired up or calming down. Lastly, the bottom of the mask has many semi precious stones sewn on. These represent the good red road I try to walk as humbly and softly as I can. I have always said to myself, You are going to be an ancestor someday, what will be your contribution?" This is mine.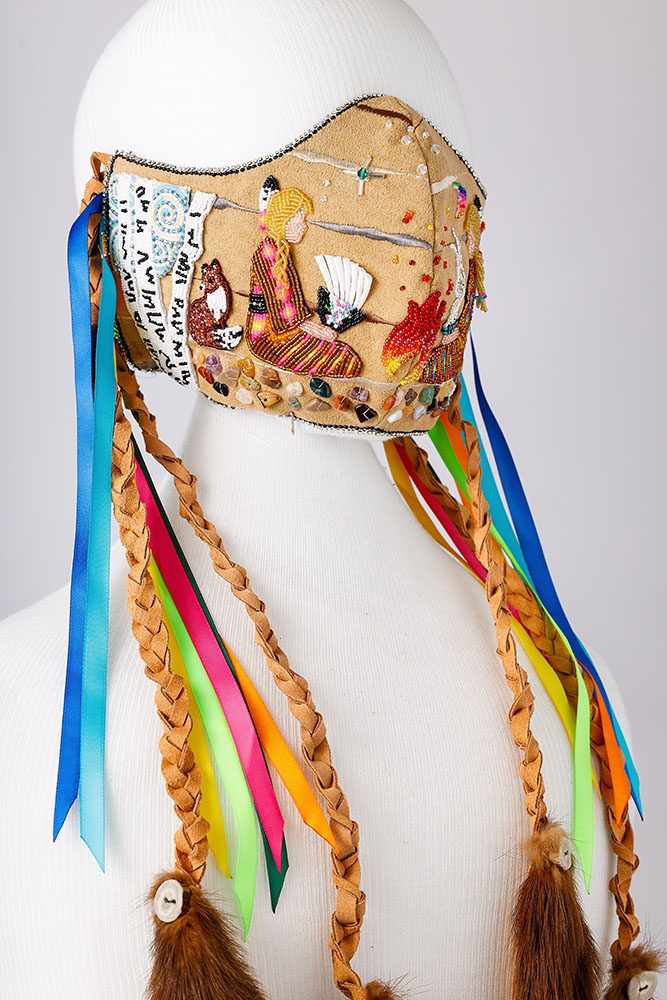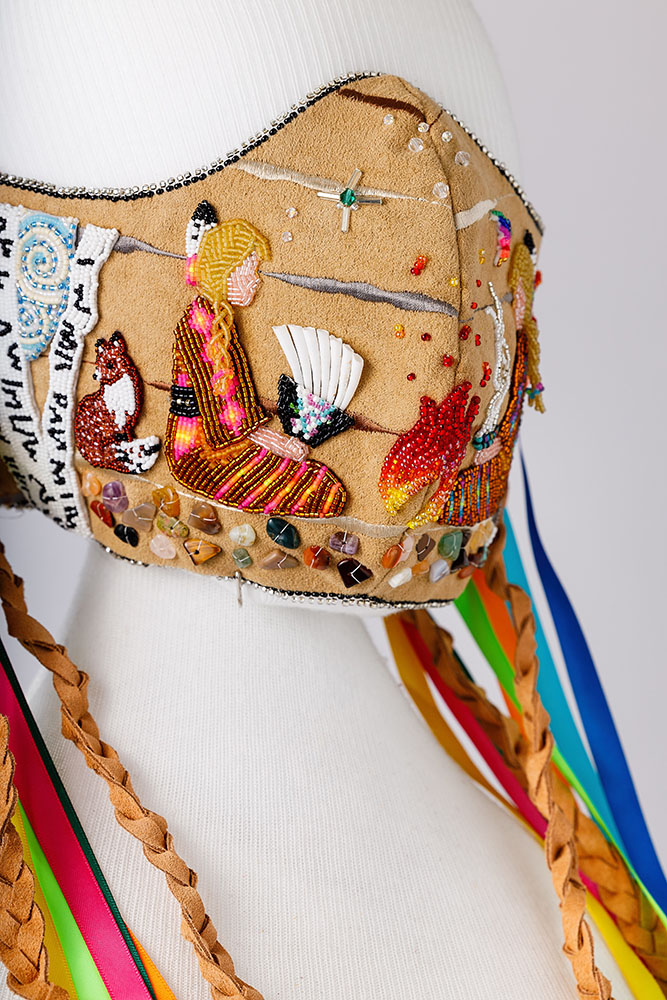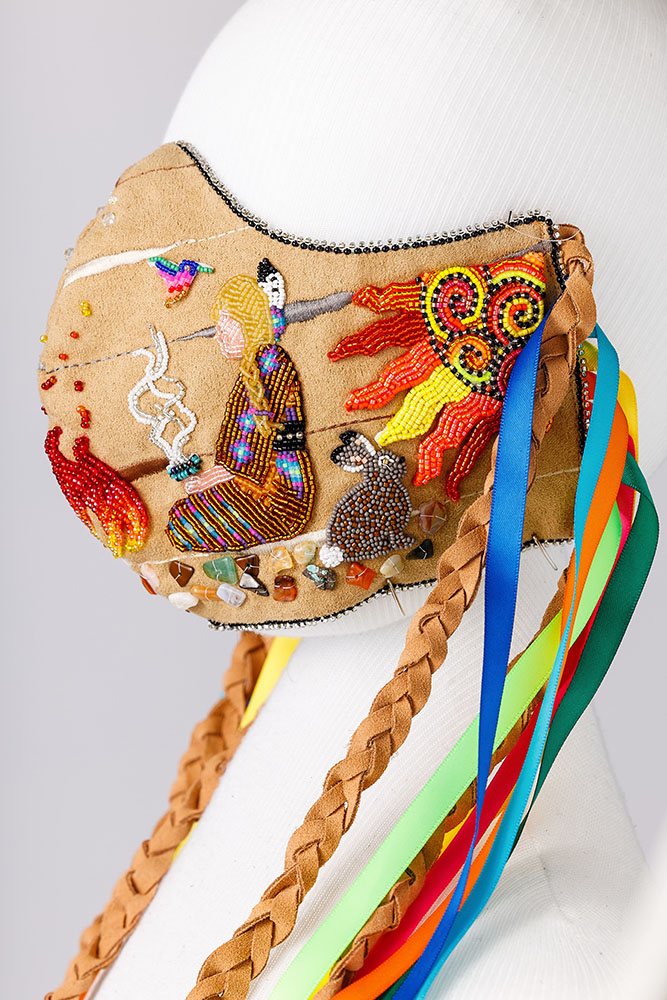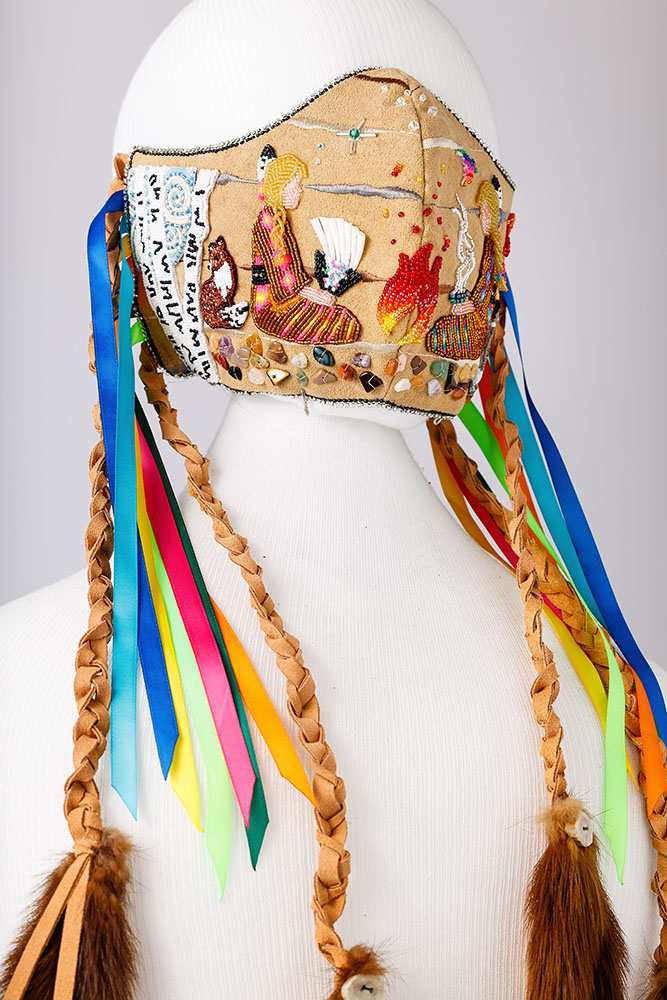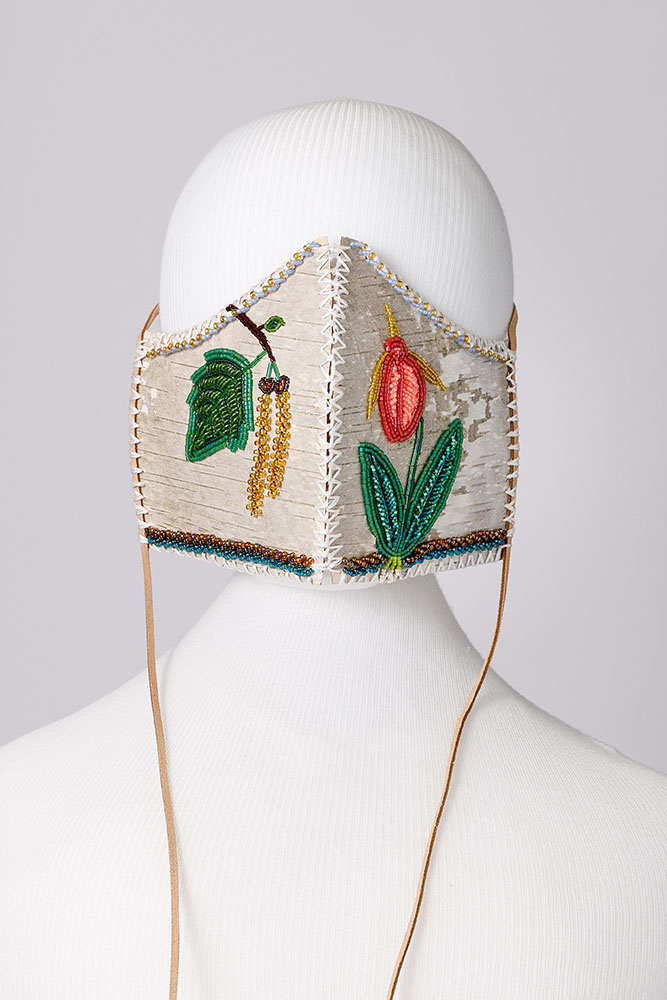 All That We Need
Nathalie Bertin
Materials
Beads, birch bark, leather, cotton twine
At the beginning of May 2020, I spent some time away in the bush for the seasonal, traditional spring food gathering. As a sustenance hunter and forager, this is an important part of my physical and spiritual life. Some of the most profound lessons I have ever learned have occurred while sitting in wait at the base of a tree while watching the life all around me. The connections that provide meaning are palpable and enduring. I hold those connections even when I am away from those natural areas.
On a particular walk, a birch tree showed me its shedding skin. Having been so inspired by traditional basket makers, birch bark biting art and, more recently, some artists in "Breathe" and never having worked with birch except for making the odd pair of earrings, I thought it would be an interesting exploration to see what could be done with birch. I accepted the tree's gift and brought it back to camp not knowing exactly what I would do.
I often look to nature to signal different things. Birch was already telling me that it contained the potential to make something useful out of it (or not – depending on how well I could hone my existing skills). Of course, birch has been used in a multitude of ways by our various communities. At the very least, it would help me build a fire! That very thought reminded me of the story about how Nanabush went to get fire from Thunderbird. After stealing the fire, he changed into rabbit and ran as Thunderbird threw bolts of fire at him while chasing him. Birch offered Nanabush protection but suffered burn scratches from the bolts that can be seen today as dark scars on these trees. This story was also a reminder me of how communities share the transfer of knowledge orally. This is how children learn that Birch is a safe tree to seek shelter from in a storm.
A few days later, another sentinel came to mind. The Moccasin Flower (aka Pink Lady Slipper Orchid) grows in our area for a brief time in spring. The delicate flower requires a special balance in the earth to grow. (I've tried to transplant it but have been unsuccessful.) As a traditional food gatherer, I know that when this flower appears, it is the right time for certain hunting activities.
The Moccasin Flower also reminded me of another story. Briefly, this story is about how a community had fallen ill during a harsh winter but had no medicines left to treat the people. The illness had become so bad that even the Chief and the Messengers were ill. One of the last members still well enough to make the harsh trek to another village to obtain medicines was a young woman whose husband had also fallen ill. Determined and brave, she set off in the winter cold. As time went by, the woman's community began to worry that she had not come back yet. A search party of the few remaining healthy went out to look for her. When they found her frozen body, she was clutching a birch basket filled with medicines. They also saw her tracks in the snow were stained with blood from her bare feet. She had sacrificed her life so that others could live. When spring came, the Moccasin flowers started to grow where her feet had stained the snow.
The story of the Moccasin Flower now has a new significance for me in these days of Covid-19. This is the moment when I decided I would make a mask with the birch bark. I hadn't planned on making a third mask. (Side note: Turns out I was actually still mourning the vandalized destruction of an outdoor public art installation I had made merely a year ago... The idea of putting my soul into another art object for potential public viewing took quite a few days to talk myself into.)
With the very little experience I have with birch bark, I knew that it would be quite delicate to work with. I had to be patient. I had to be in a positive mindset. I had to be focussed. The slightest tug of thread in the wrong direction would certainly cause my work to fall apart. As long as I remained vigilant in how I treated this special material, it gave itself to me. I was amazed at just how much sticking of the needle it could actually take!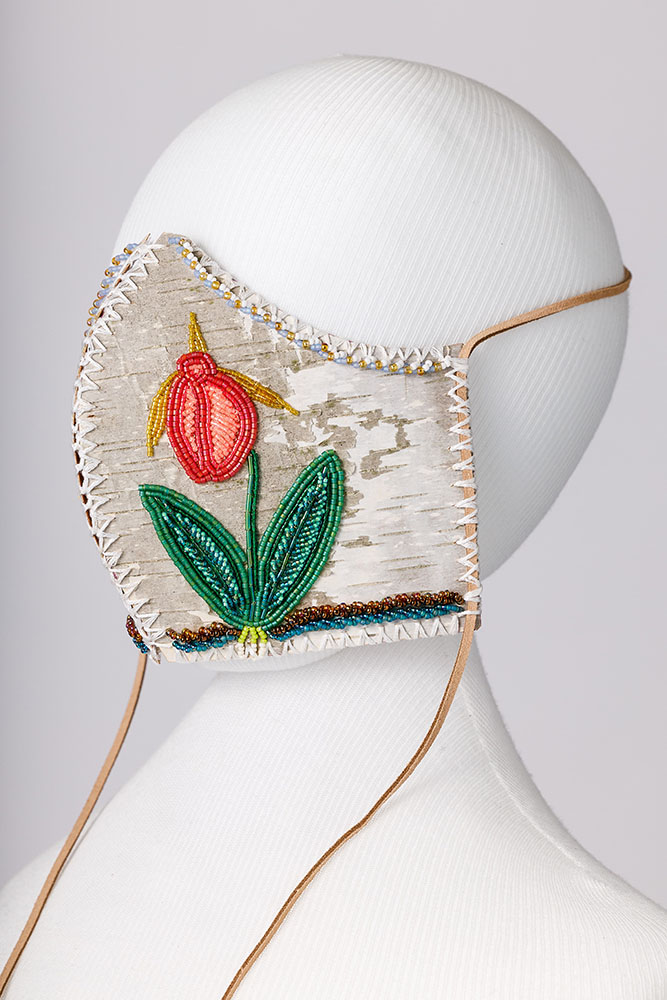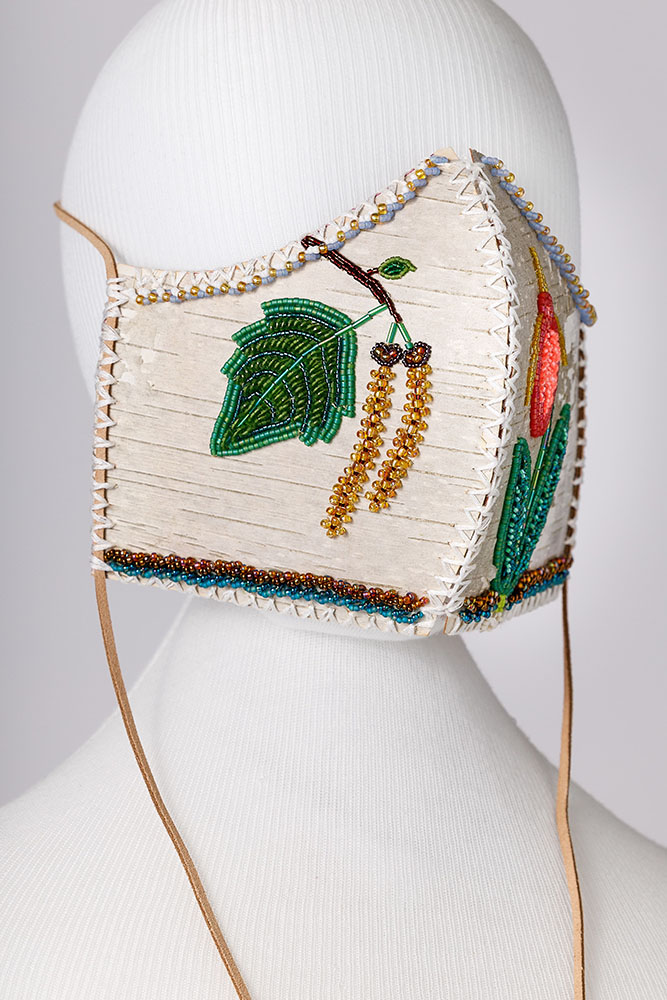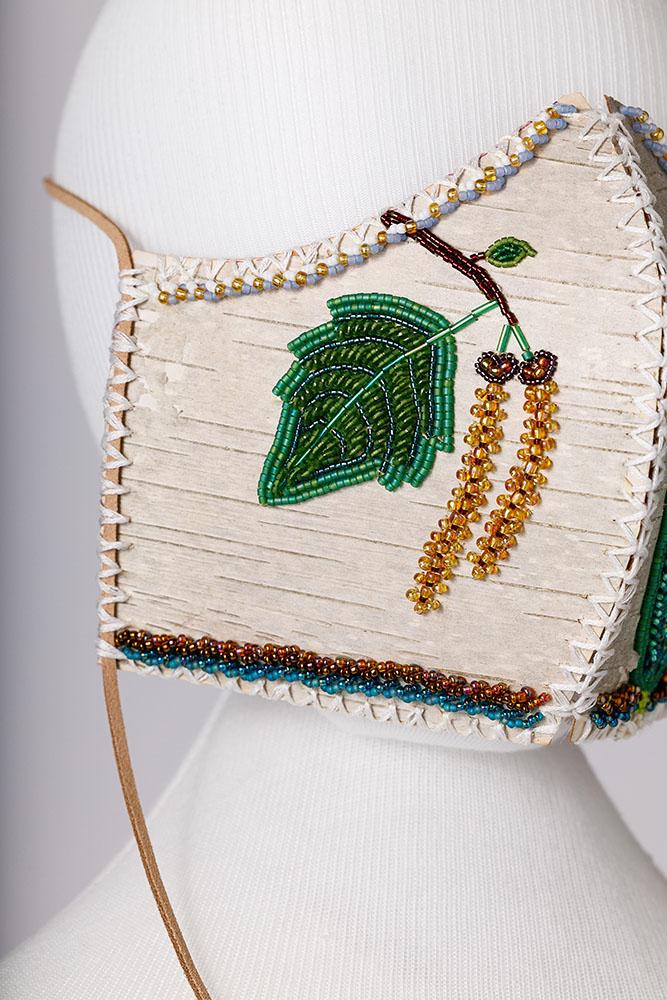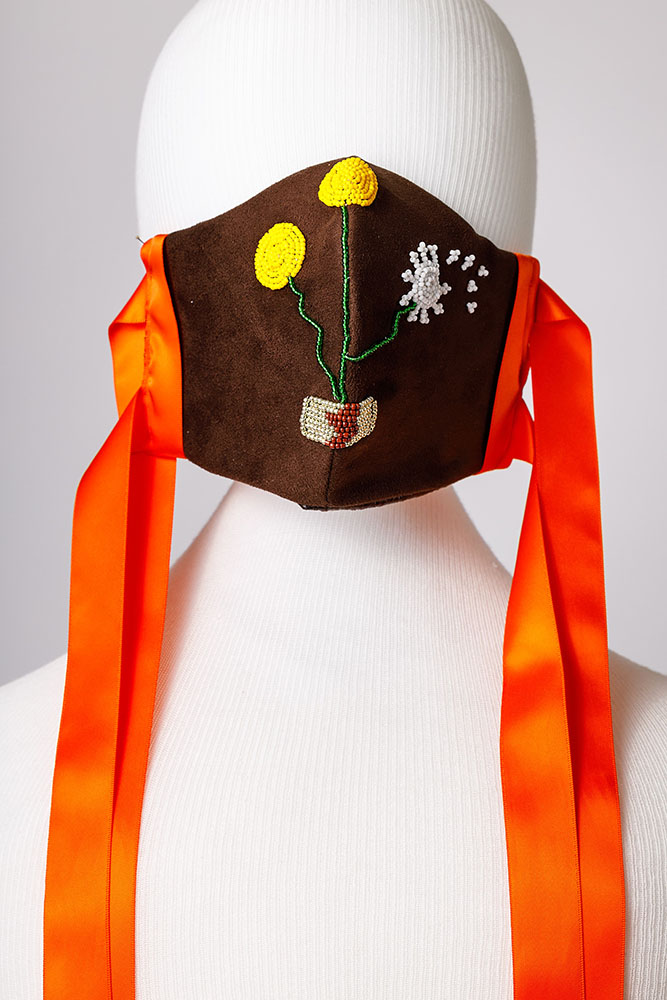 Dandelion
Amanda Hageman-Burke
Materials
Faux suede, ribbon, beads, thread
The dandelion is considered by many to be a plain, ordinary, and entirely unimpressive weed, but it is far from fragile. It's incredibly hard to remove due to its powerful roots. Dandelions can endure almost any living condition. They are a survivor that overcomes every hardship, challenge, and difficulty, to grow almost anywhere. Dandelions are used to treat many illnesses and are a symbol of healing- from emotional as well as physical wounds. To many, and myself personally, they've also always represented hopes, and dreams, and aspirations for a brighter tomorrow. Children close their eyes, blow on dandelion fluff, and make their wish. I chose dandelions growing out of a crack in the concrete, with one of the flowers gone to seed and carrying on the wind hopes and wishes for a better future.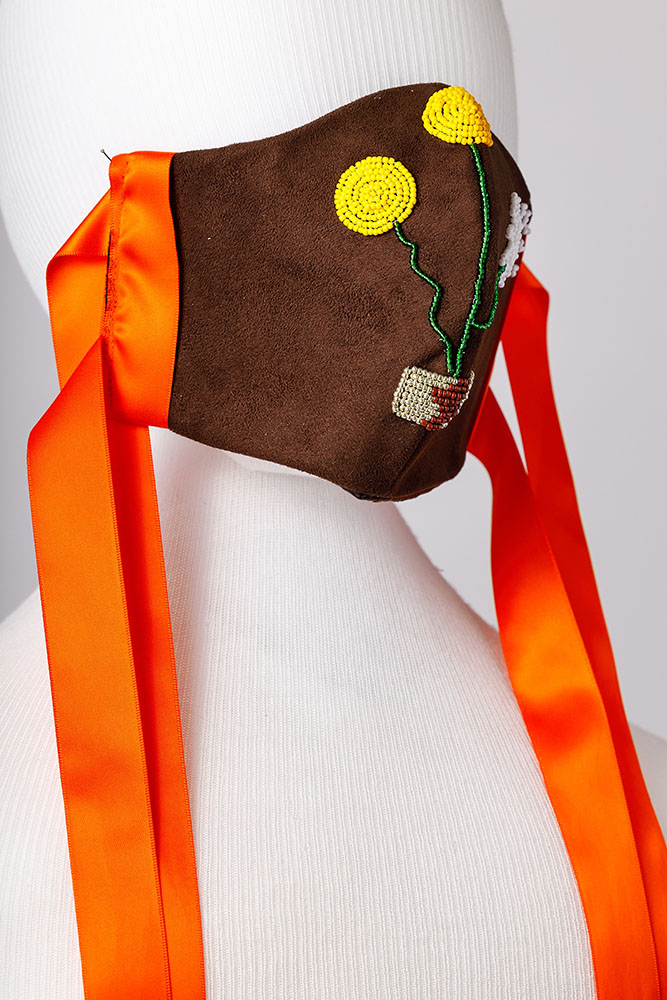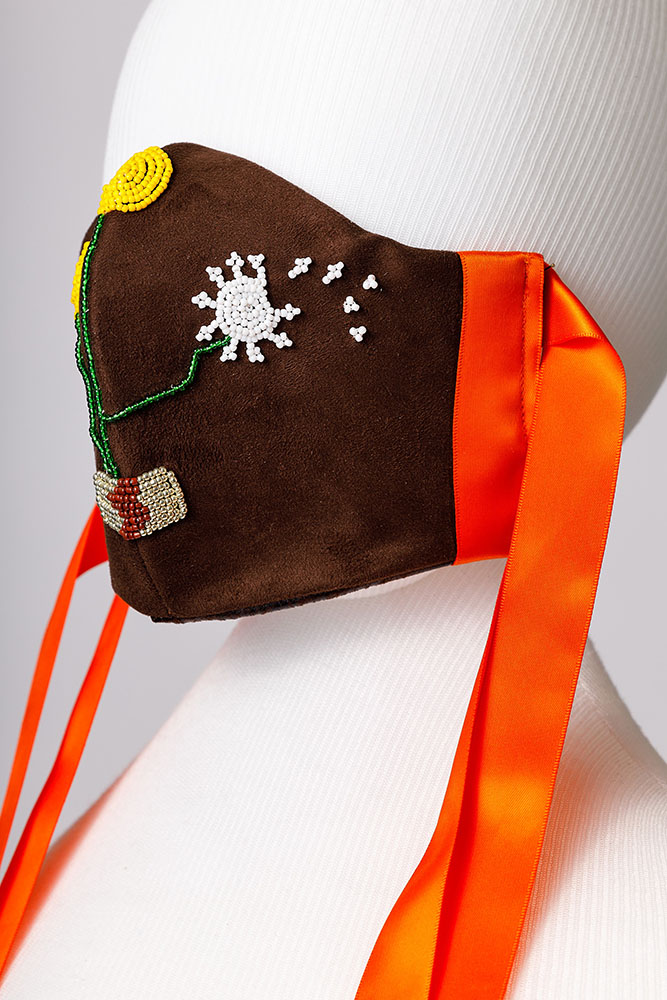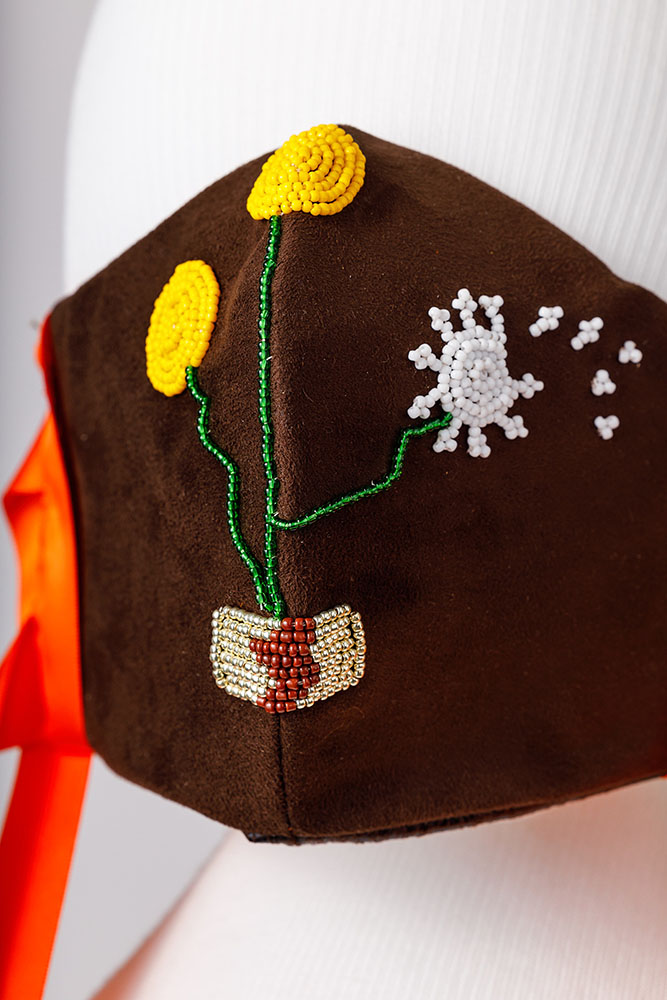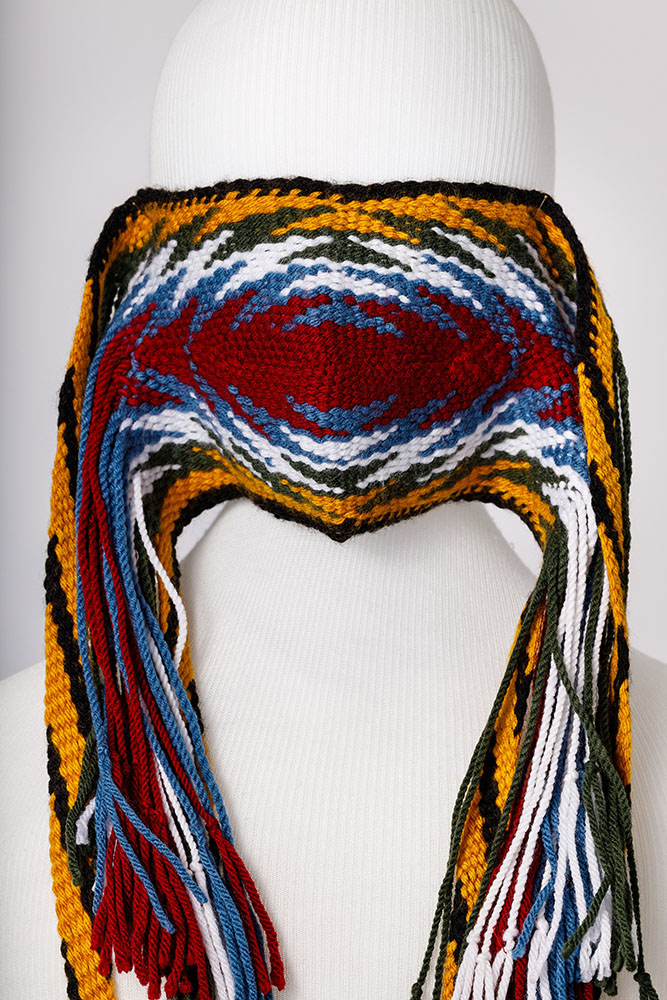 Assomption of Survival
Celina Loyer
Our fur trade ancestors used the sash as a tool: a belt, a rope, a tumpline. With this mask, the sash is transformed into our tool of survival during the pandemic. Based on the ancient Assomption ceinture flechée pattern and colours, the unique shape of this mask springs from creativity and necessity. Completely woven by hand, sashes usually remain the same width. Shaping the sash to fit the face requires ingenuity and perseverance. 
 
The sash is not perfect – changes in thread tension create imperfections in the weave. As we progress through the stages of the pandemic, tension affects people too, revealing flaws and inspiring adaptation of old ways to a new normal. 
 
Our people have faced pandemic before: smallpox, influenza, TB. Yet we persevere. The means to survival can feel heavy or stifling, yet we will continue to do what is necessary to ensure our culture thrives. 
 
Just breathe.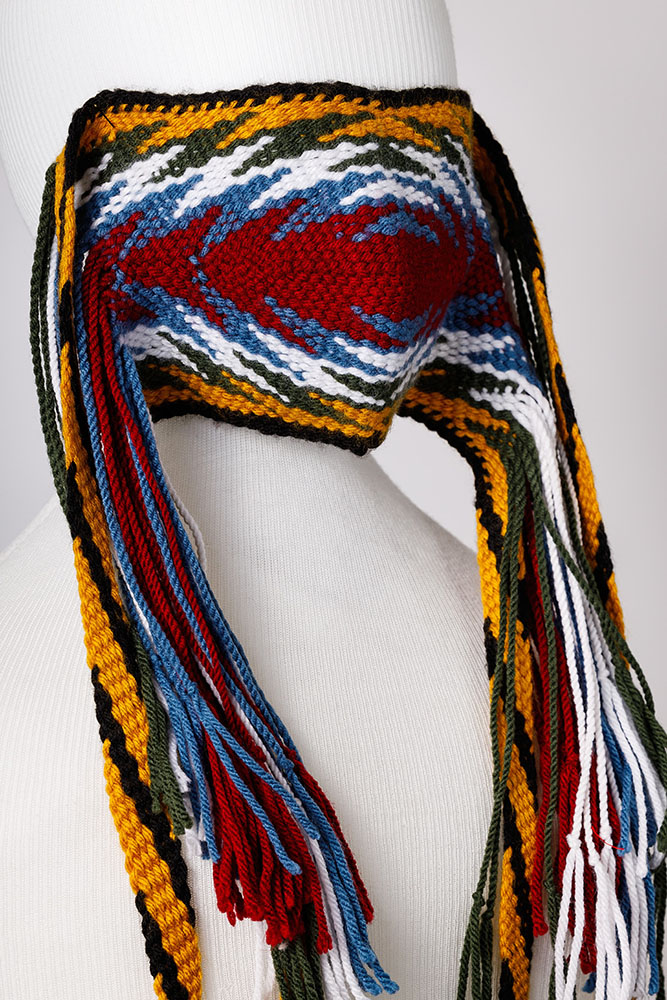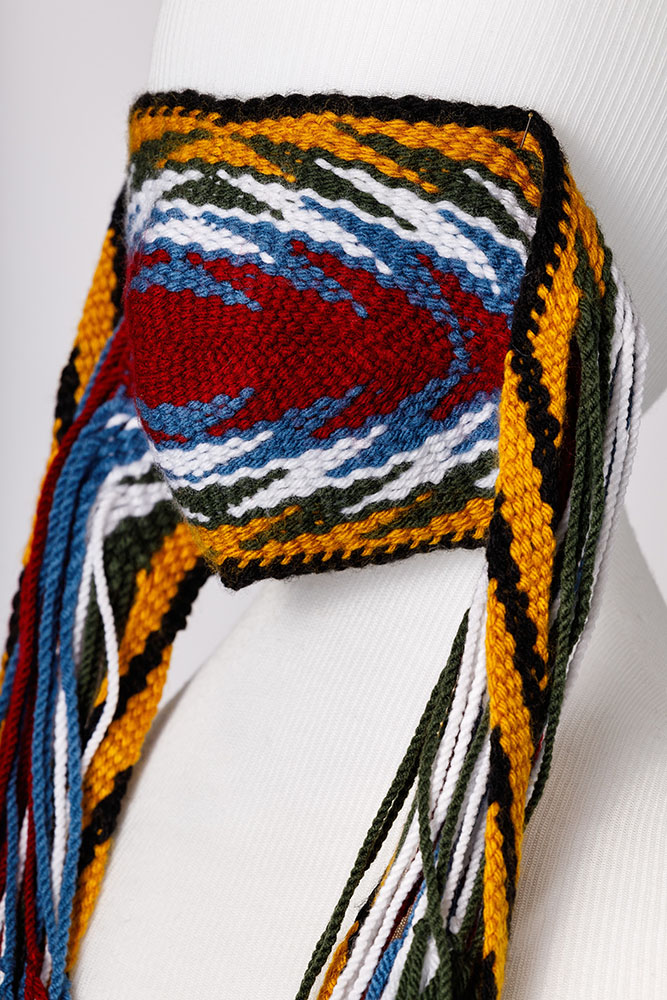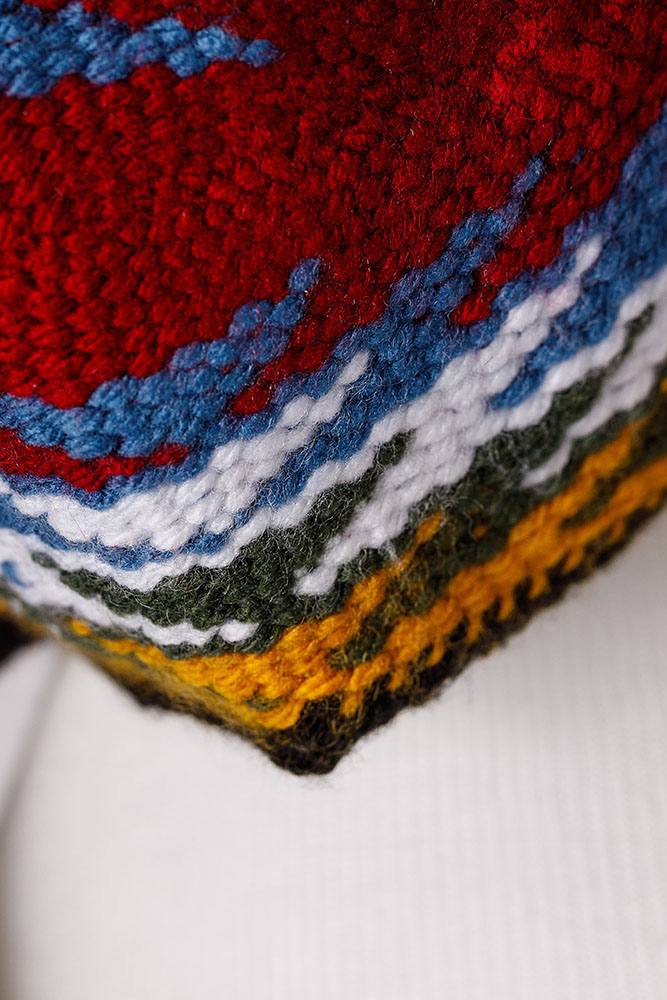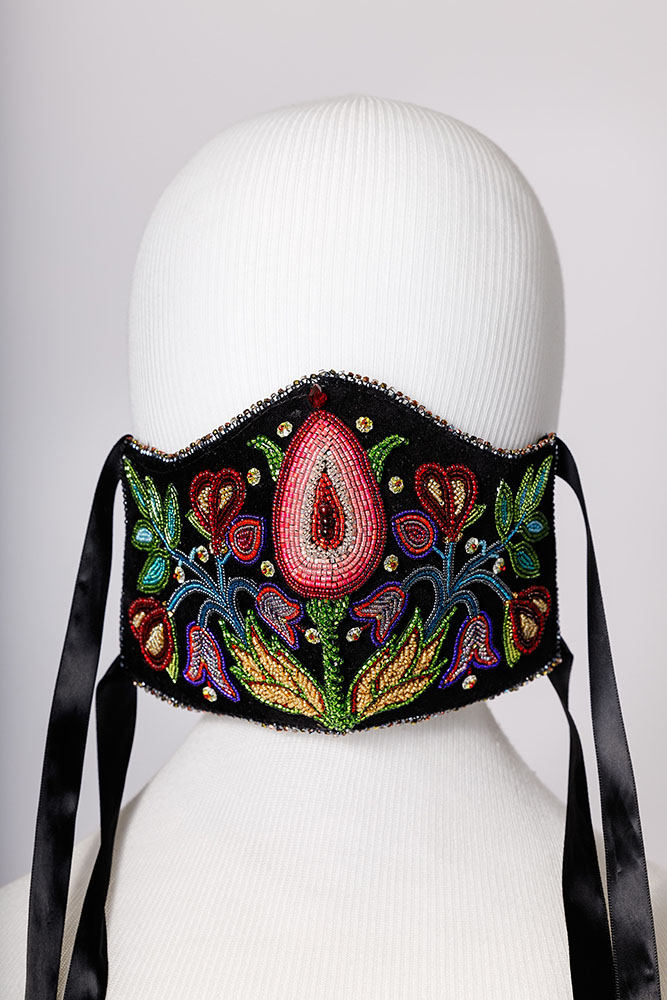 Pandemic Vogue
Nathalie Bertin
Materials
Hematite & glass beads, velveteen, ribbon, cotton fabric
For my second mask, I explored the concept of vanity which ultimately led me to reflect on privilege. This custom-made mask is based on the tattoo designs on my arm. This mask is all about me, to protect me and others from me. The designs on my tattoos are based on traditional beadwork designs. In a sense, the designs have come full circle – from beadwork on a traditional garment, to my tattoos and back to beadwork on a contemporary article for me to wear.
As I worked on the mask, I had heard or read someone asking what it would take to normalize wearing masks so that everyone would finally wear one. I also found it interesting that couturier Yves St Laurent was making masks for the front lines. I wondered if they put their logo on the masks. I also wondered when we might see Dolce & Gabana or Channel ads for masks or models wearing some masks on runways. I chose to create a mock ad for my mask as a way to try to answer the question of how these masks could become normalized.
However, the bigger question is whether it could ever be a normal thing to wear a mask on a day-to-day basis. And normalized for whom? There is often-violent history against women who chose to wear a Niqab, even here in friendly Canada. Many non-Muslim people of colour who might want to wear a mask may not do so for fear that they may be mistaken for a criminal. Therefore, is it really possible for us to normalize the wearing of masks or is it only for a certain group of people?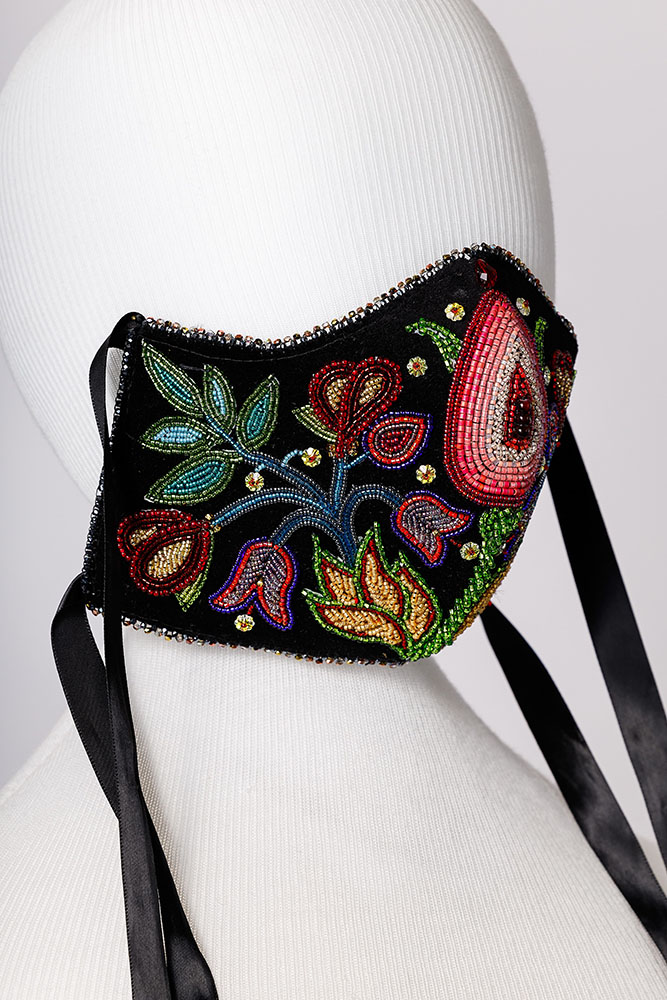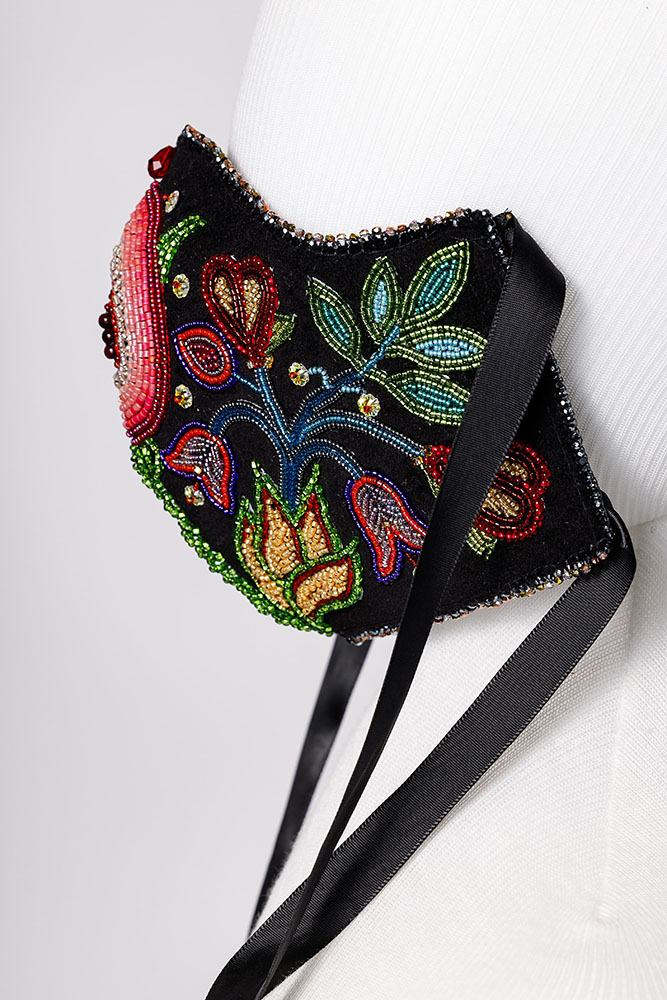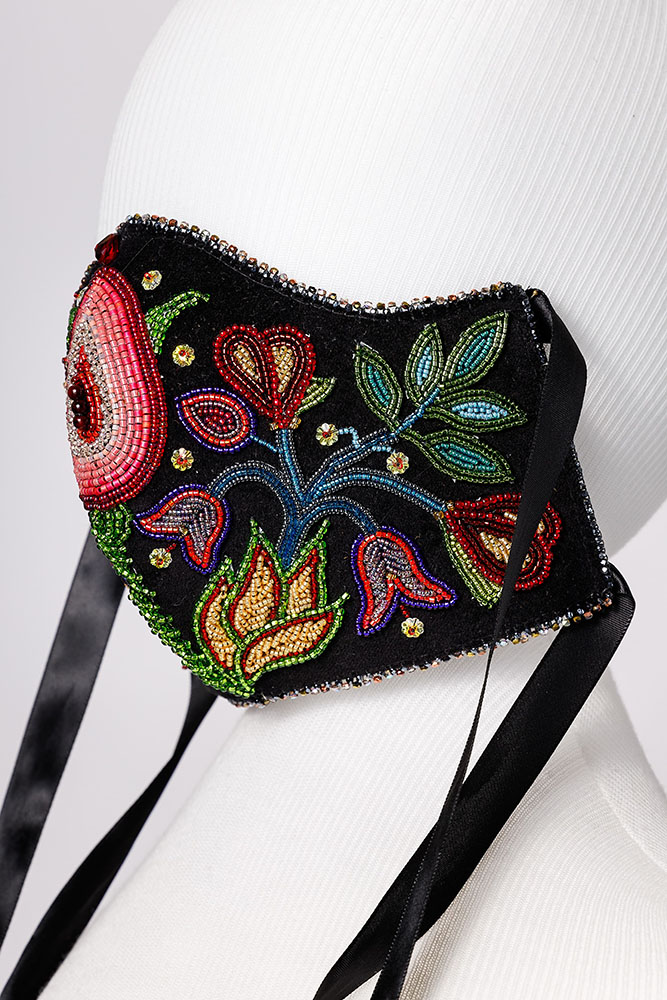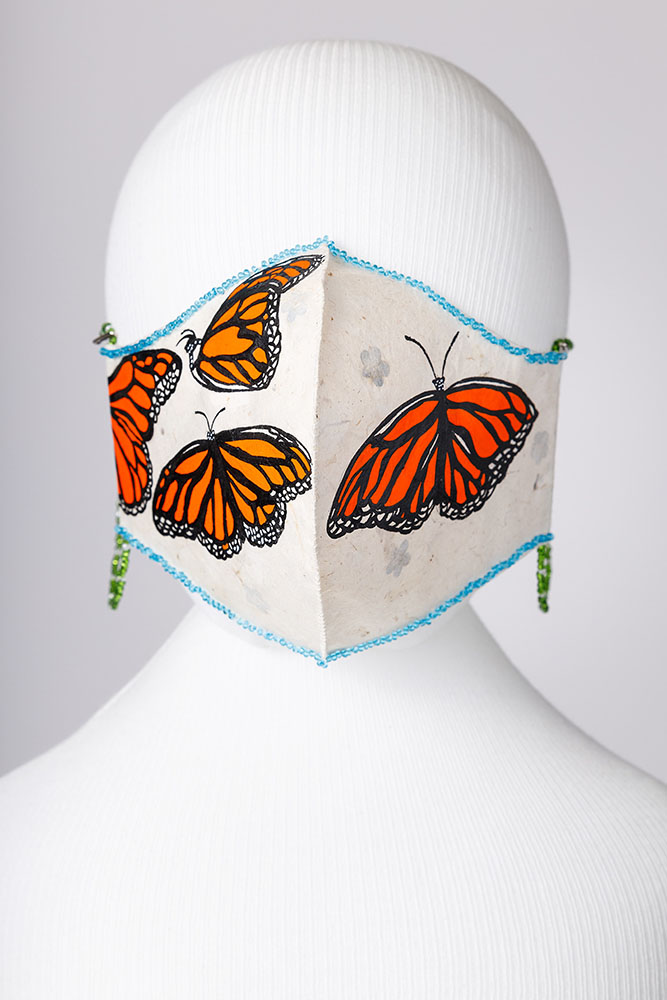 The Journey
Cree Artist Dianne Brown-Green
Materials
handmade milkweed paper, acrylic paint, beads
The inspiration for this creation comes from the Monarch Butterfly, the challenges they face in today's world for survival and how we are currently facing challenges for our own survival. The Monarch must deal with predation, weather conditions, loss of habitat, pesticides, herbicides and other threats to their existence, yet they never give up and continue their battle to survive even when things are dire. They are a testament and example to us all to remain vigilant in our battle for survival against challenges we must face. Their beauty is not diminished, their determination is steadfast, their ability to rise above continues. We learn by example from our Elders, who we respect and who encourage us to learn from the natural world around us. The Monarch is part of the natural world that teaches us a valuable lesson in strength, determination and survival.
My mask is painted on handmade/pressed milkweed paper, the one and only plant Monarchs eat to survive (harvested after last monarch brood) and Forget-Me-Nots, representing those we have lost in their own battles for survival. The beading holds meaning as well, blue for the sky they fly through and water they fly above during their long journeys, green for the milkweed plant that provides food, creamy white for the eggs that the adults lay on the plant. Creating this mask was an exercise in survival while facing my own challenges and the lessons learned from our natural world.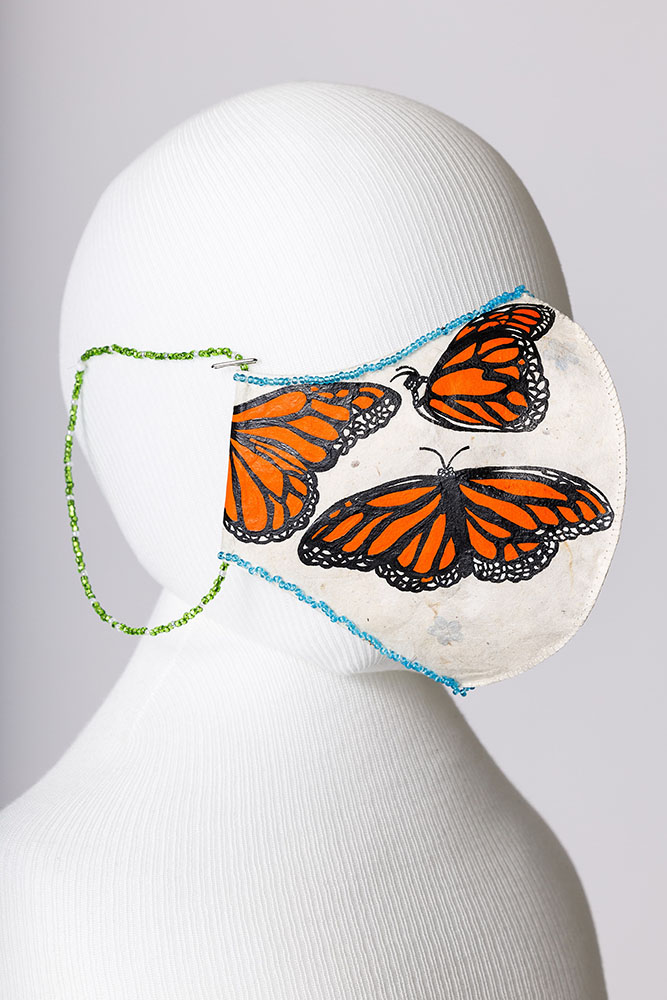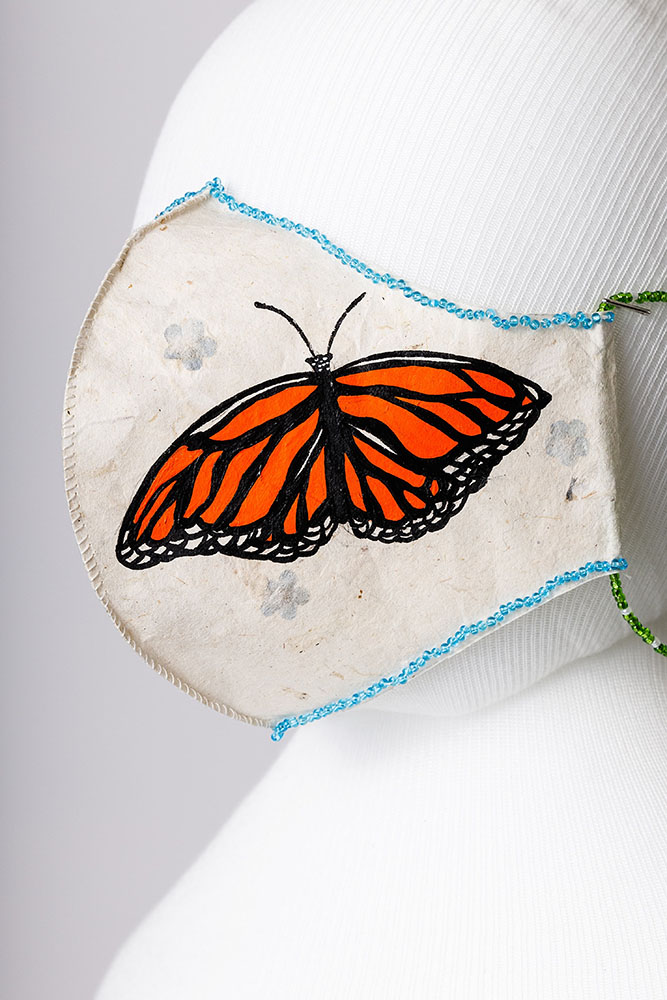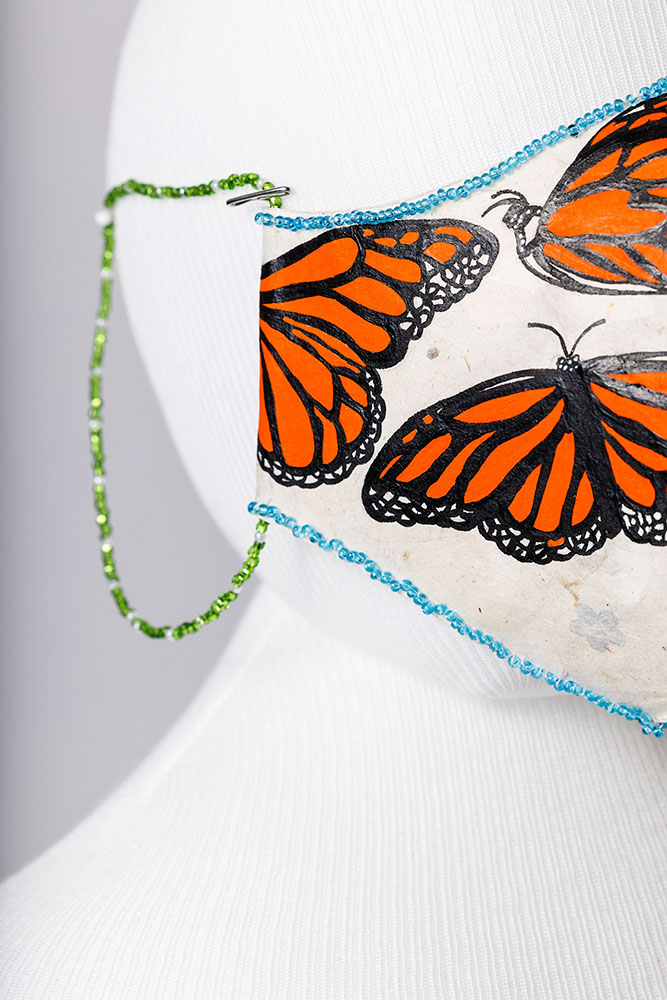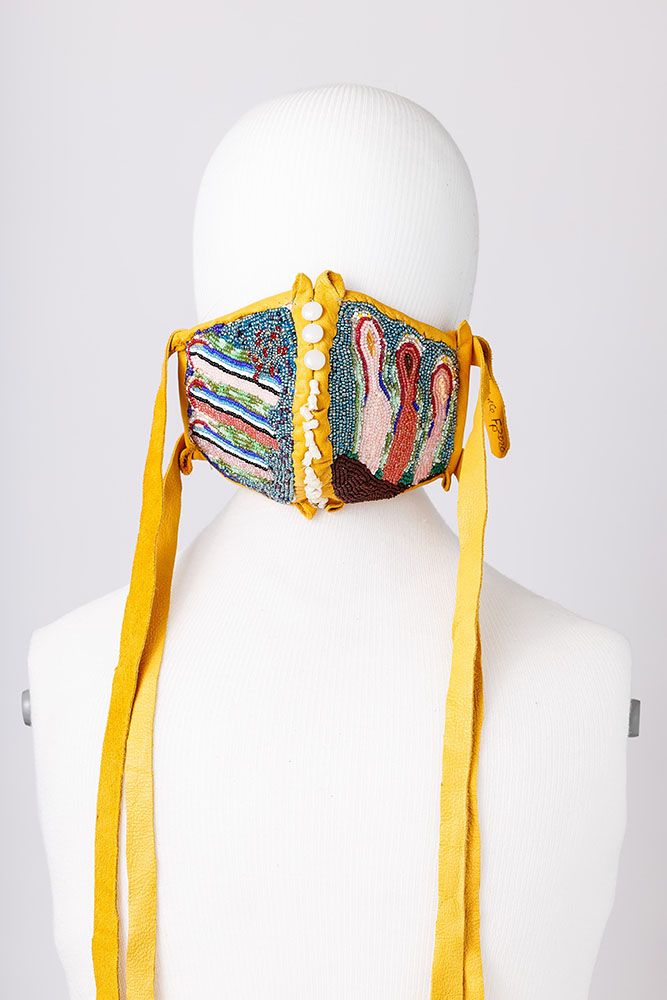 Standing in Line
France Poliquin
Materials
commercial deer hide, beads
I decided to make a mask that tells a story of three women of different nationality who wait in line since everywhere they go there is a line up. This is quite sad to see all these older people waiting in line for their meals, to take their weight and for their medication. Social distancing and waiting in line to die alone with no one by their side. They deserved so much more for their accomplishments. The colours I have use for the beading project is very symbolic to me. Pink represents friendship, affection, harmony, inner peace, and approachability. My ladies are surrounded by the colour green, which symbolizes growth, harmony, freshness, and fertility. To finish we have the colour blue that symbolizes trust, loyalty, wisdom, confidence, intelligence, faith, truth, and heaven. The white beads in the center represent their spines. This mask was made to honour the passing of the old people during the first wave of the Pandemic, especially these woman that worked so hard for us to have a better life and built this nation so it stands tall. Thank you for your Labour and Love. May you have a Safe Journey in the Spiritual World.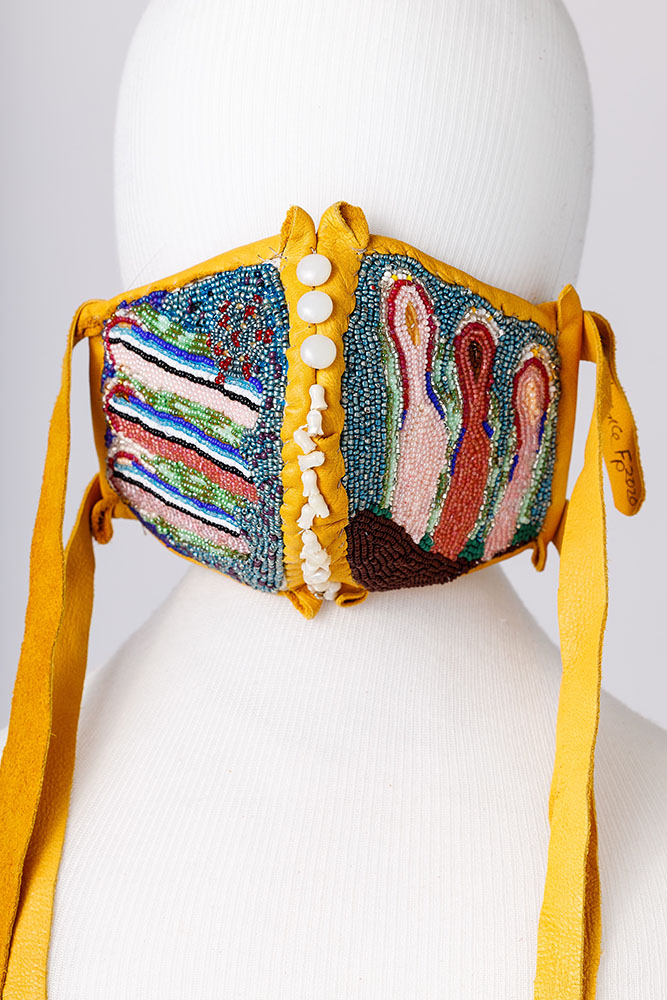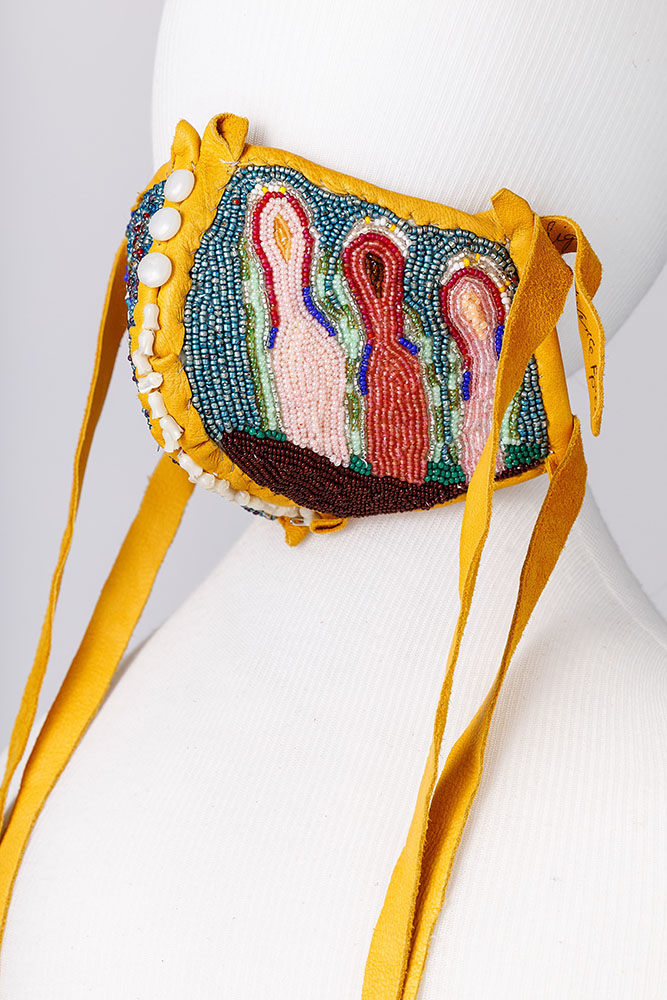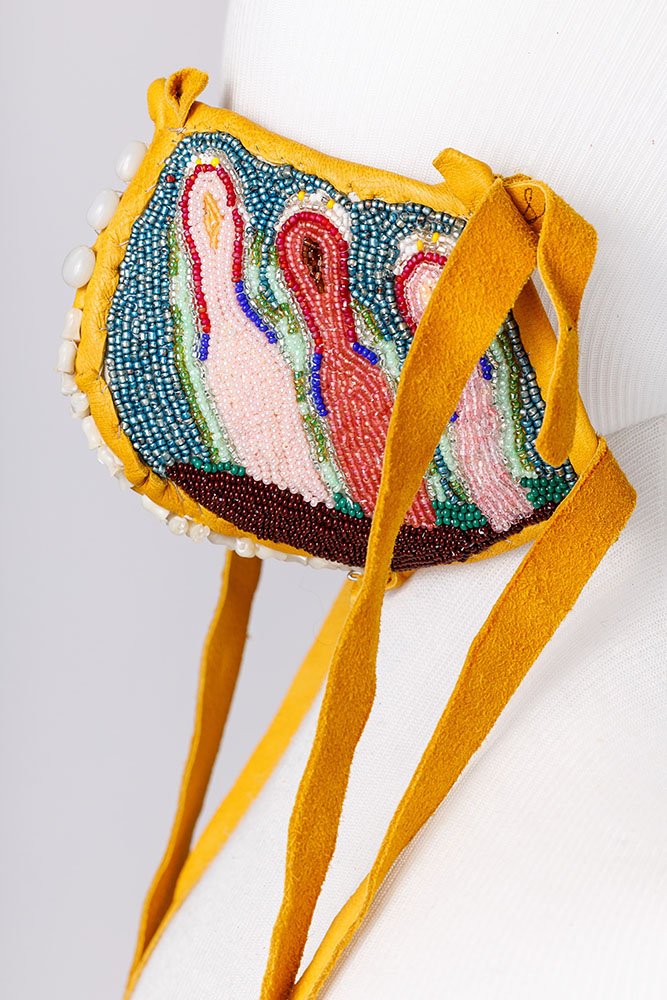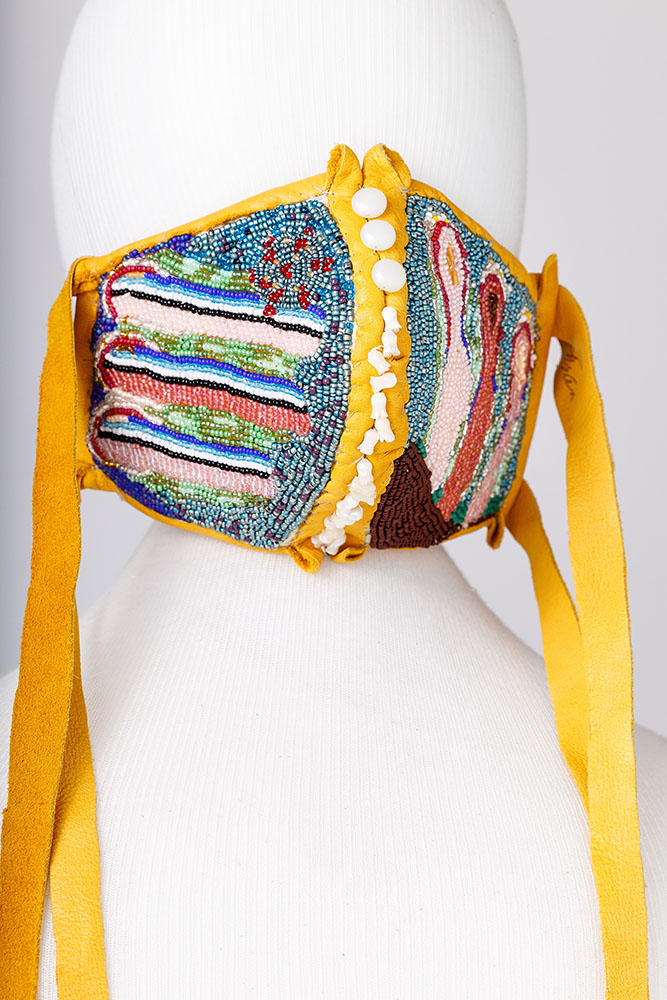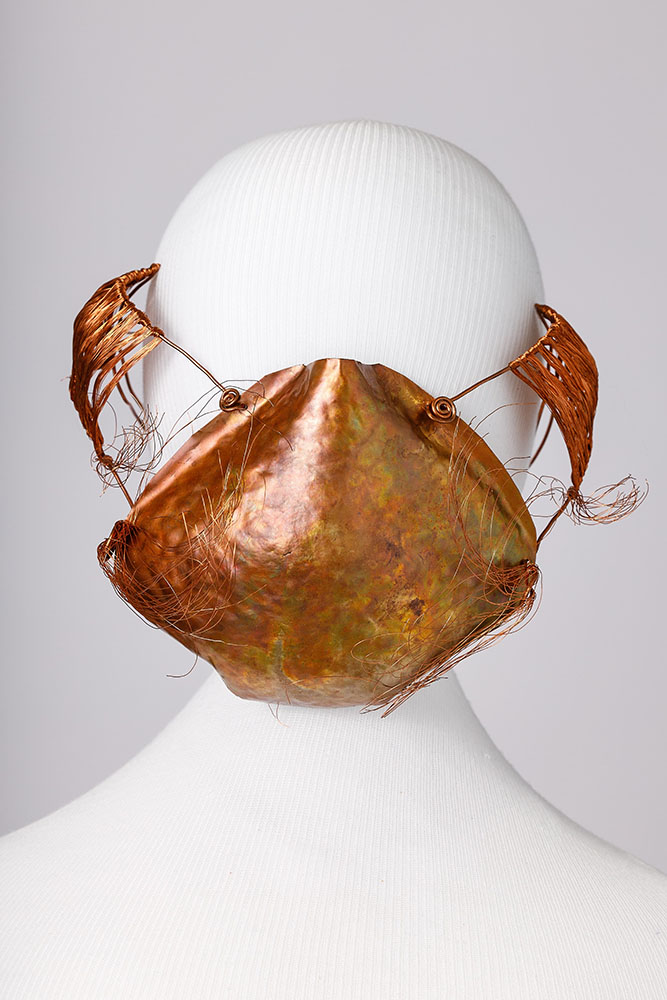 An Appeal to Mishibijiw
Terre Chartrand
Copper has long been known by the Anishinaabe as an antimicrobial metal. In just a couple hours, it kills all virus including COVID-19. This mask started as a tribute to this ancestral knowledge. It's ornamental, it doesn't seal so it isn't a practical mask but saw it's creation to honour copper and all of its sacred and healing properties.  As it was being shaped and wrought from the metal the form became unmistakably similar to panther or lynx like face. My lack of access to tools forced the devising of its form through process. The copper was annealed on my charcoal grill and pounded with an average ball peen hammer.  The panther like appearance completely emerged and I saw what I recognised as Mishibijiw, the underwater panther. Mishibijiw is a great spirit of the Anishinaabe of Great Lakes, bringer of death and destruction, guardian of copper but also bringer of great medicine. Mishibijiw can live in any waterway: the large lakes, especially Huron, Superior where there are troves of copper, but also in small lakes and rivers. Offerings are given for safe passage and the removal of copper. But as a cat like being, Mishibijiw makes their own decisions of who lives and who dies through his own capricious interventions.  It's called An Appeal to Mishibijiw and it's an appeal for safe passage through these times and a show of gratitude for the material used, copper.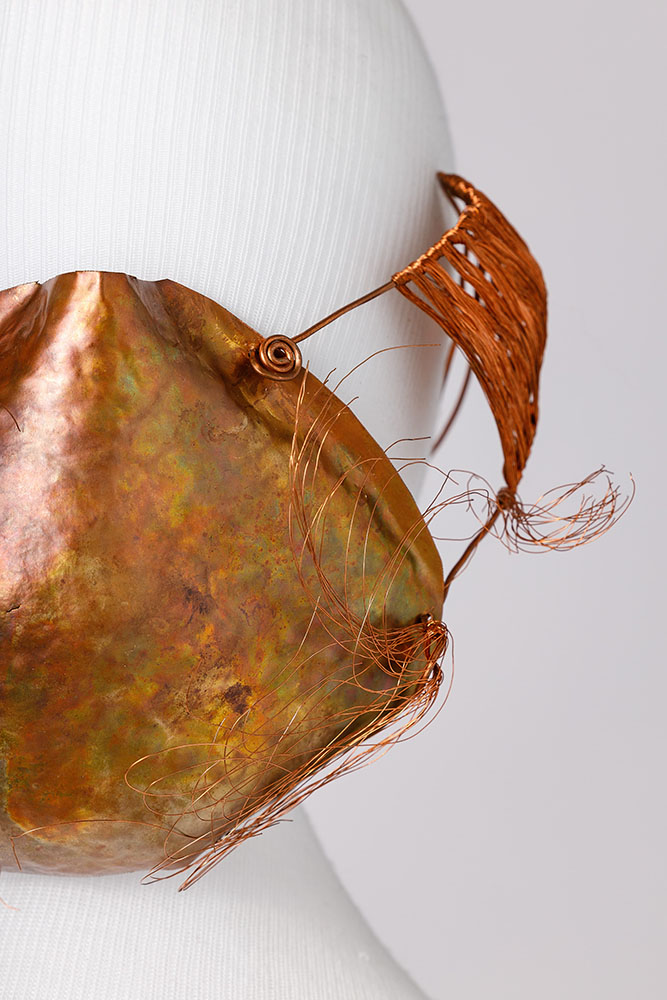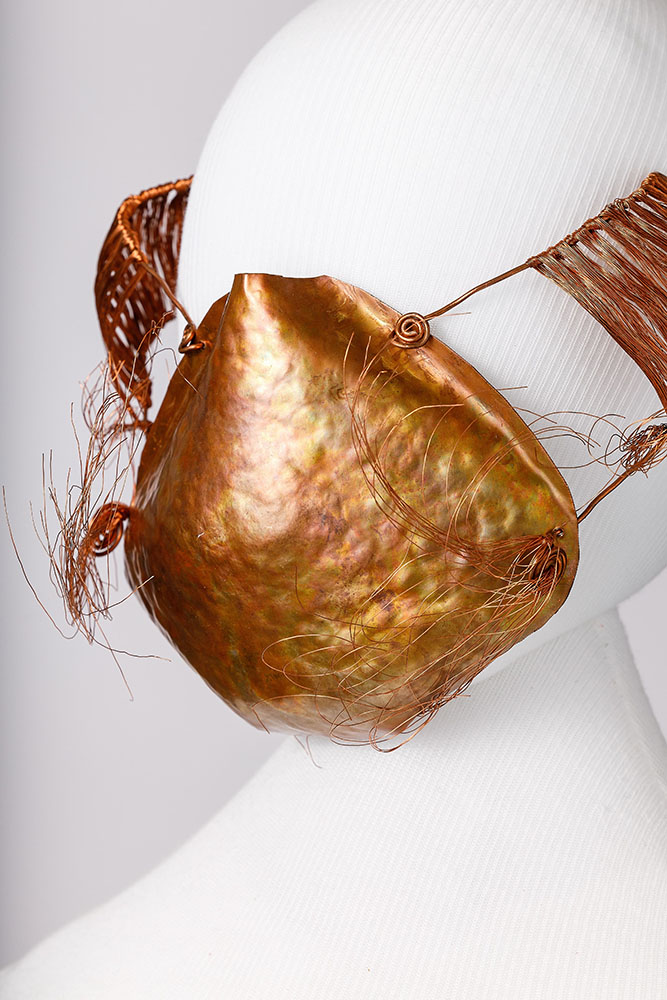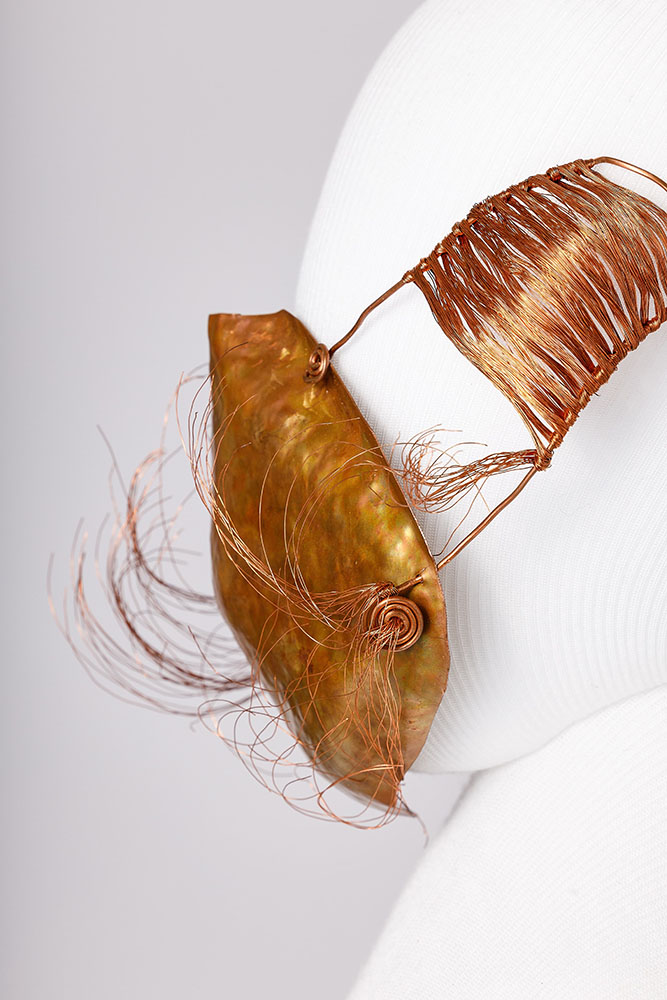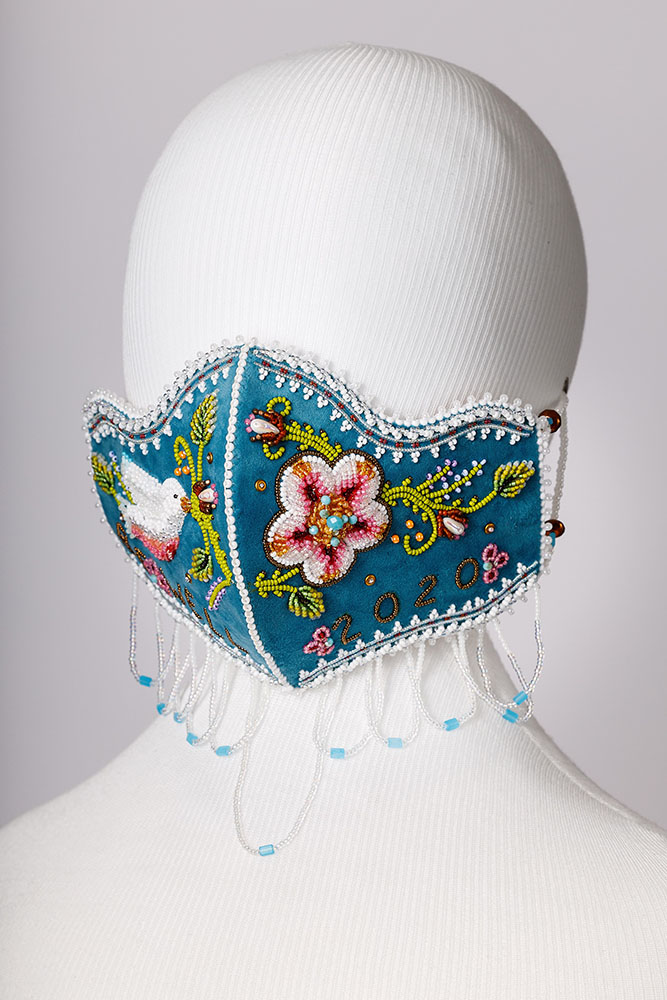 Be Well 2020
Lisa Shepherd
Materials
Velveteen, glass beads, elastic, "kôhkom" print cotton lining
When I visited the lands of my great grandmothers, a few years ago, I learned about the beaded whimsies that the Haudenosaunee women created to sell to the tourists around Niagara Falls. My favourite pieces were the three dimensional canoes with "Fast Boat" beaded on their sides. I imagined they might have been designed with the idea of the tourists purchasing them to take home to their children. The whimsies often had the date and place beaded on them. As I turned over a whimsy in my hand, reading the place and date, I thought about the message through time that our Ancestors had left us. How they had marked their place in time.
As I created this mask, I thought about this place and time that we are in today. What story will our masks tell 100 years from now? My hope is it will be a story not just of self-preservation but preservation of each other. When we wear a mask, it doesn't protect us from getting sick but reduces the risk of breathing out sickness onto others.
Everything changes this year. The air is clearer and the animals get a rest from so many people milling about, but at what cost? There is too much loss of life and suffering alone.
How will this time and place be remembered?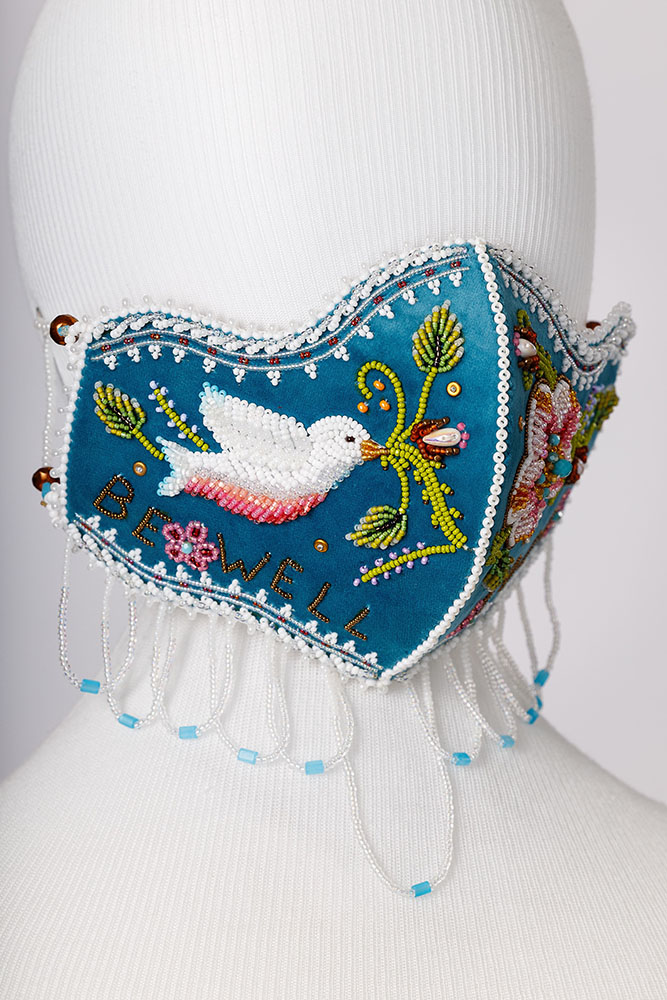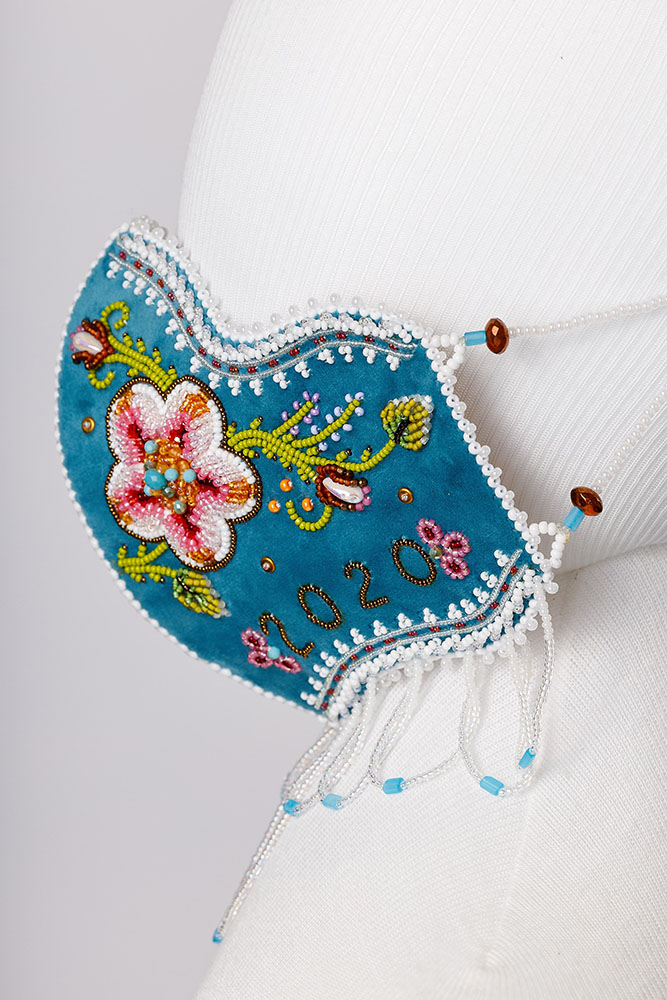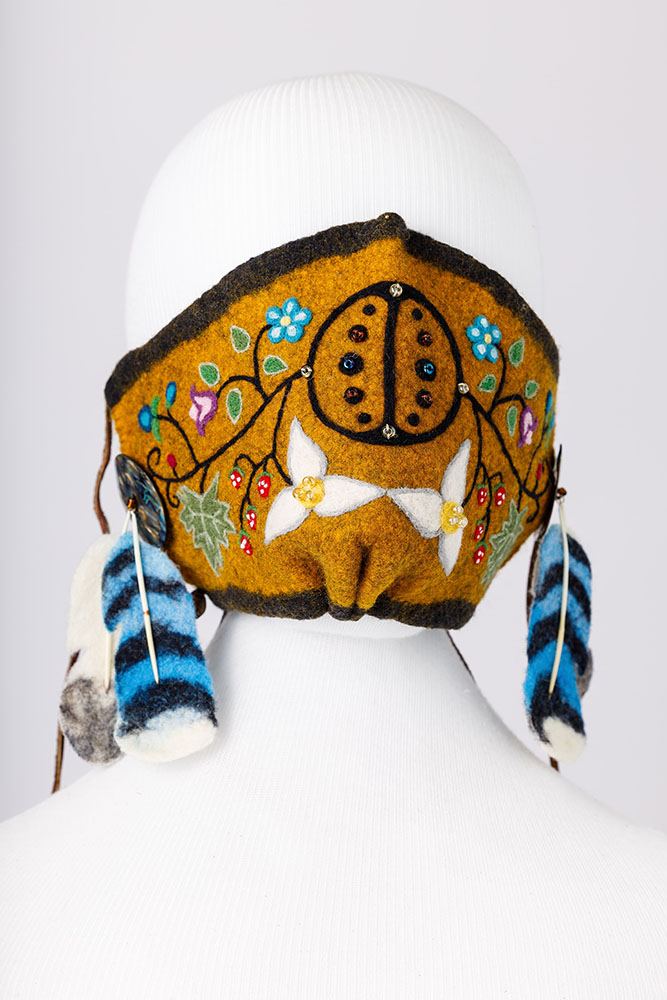 Ombaashi (She is Lifted By the Wind)
Adrienne Assinewai
Materials
Wool, shell, porcupine quill, glass beads, leather
I chose to create my piece out of wool for its versatility, durability, and naturalness. This medium is one I use often but I wanted to explore preparing it in a different way. I wanted this uncertainty and newness to accompany me while making this mask as it is something most of us felt when faced with the new reality that the Pandemic brought to us.  
  
I decided to showcase our delicate but resilient and beautiful first family members on my mask to celebrate our interconnections during this time of distancing. For me they also represent that wish for the return to normalcy and the outside world when the shut-down first began and everyone began tucking away inside their homes. I included the sun at the front of my mask not only because it serves as a mimic in shape to the filtered portion of a medical grade mask but also because as a life giving force I wanted that powerful sun to be out in front protecting the wearer. Finally, I incorporated blue jay feathers to help the wearer hear the vast mosaic of what is happening in the world and eagle feathers to help the wearer understand the truth in what they hear.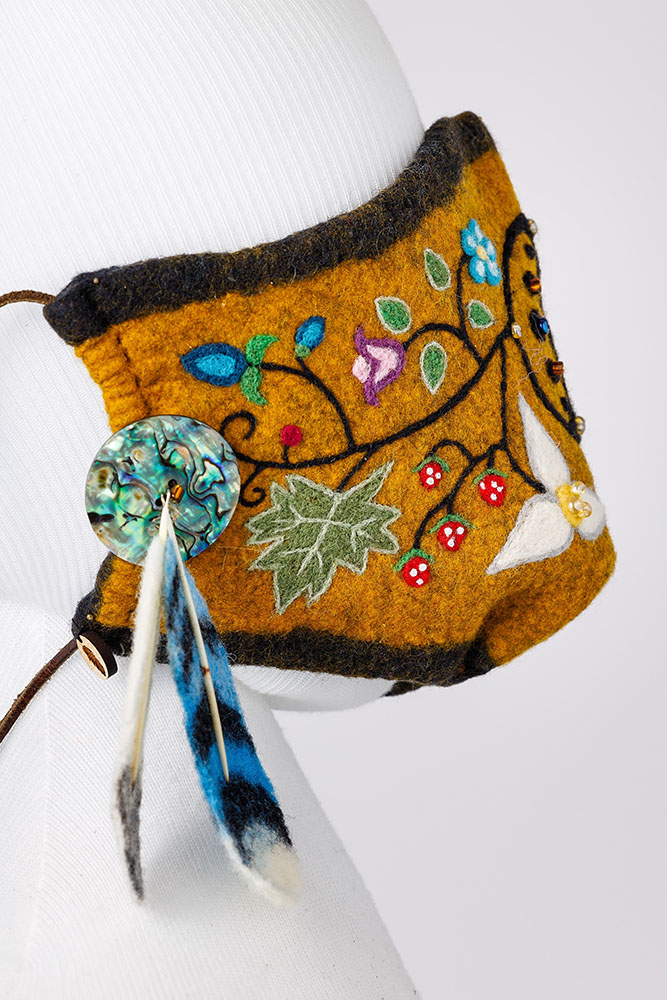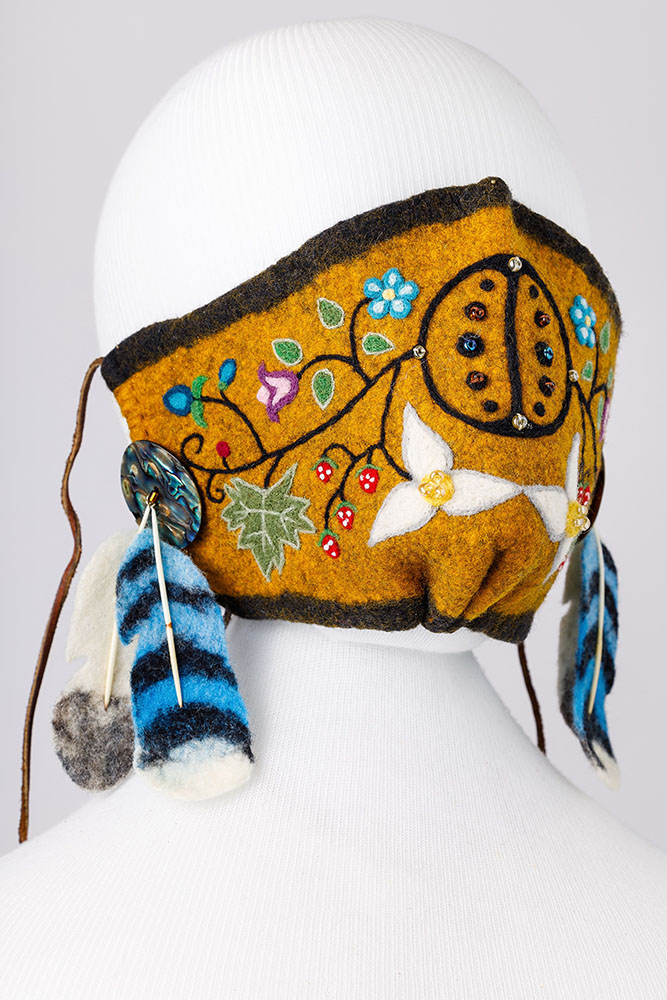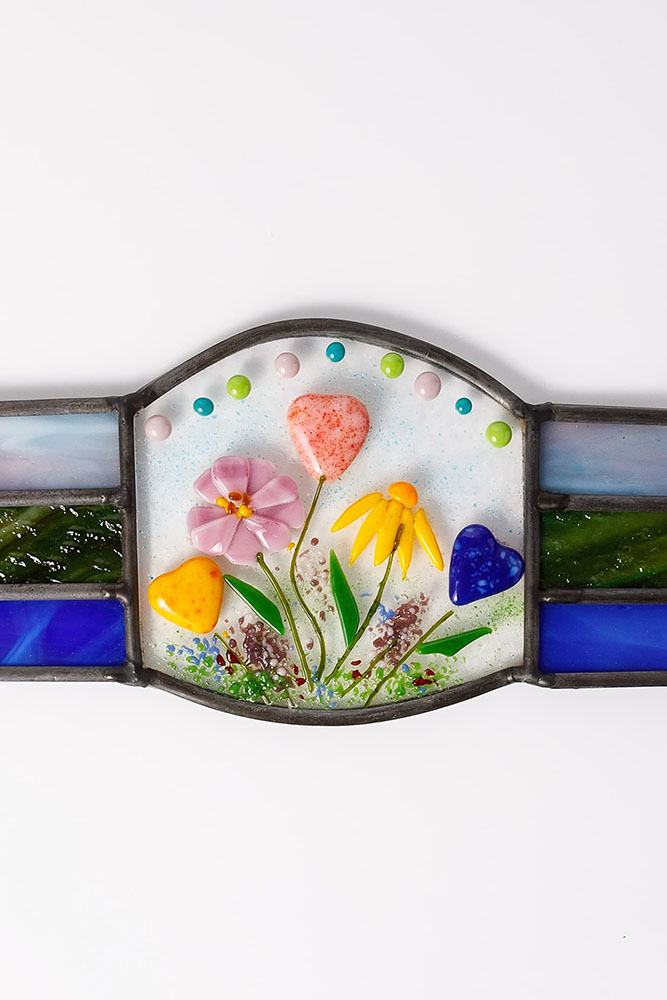 Grow Love
Cheryl Broschell
Materials
Glass, lead, solder, chain
After my first attempt at a fused glass mask it was suggested I try incorporating traditional stained glass into one. I was still stuck on the idea that we are all in this together, so I fused the front garden panel. The first fear of COVID-19 and separation from family caused a lot of anxiety for me. My reaction to subsequent newscasts was that we needed more love and kindness. I wanted to build a garden that would "Grow Love". The sides of the mask are traditional lead stained glass, the colours of water, earth and sky. Walking each day I find the air and land brighter and healthier, perhaps a positive result of everyone staying home!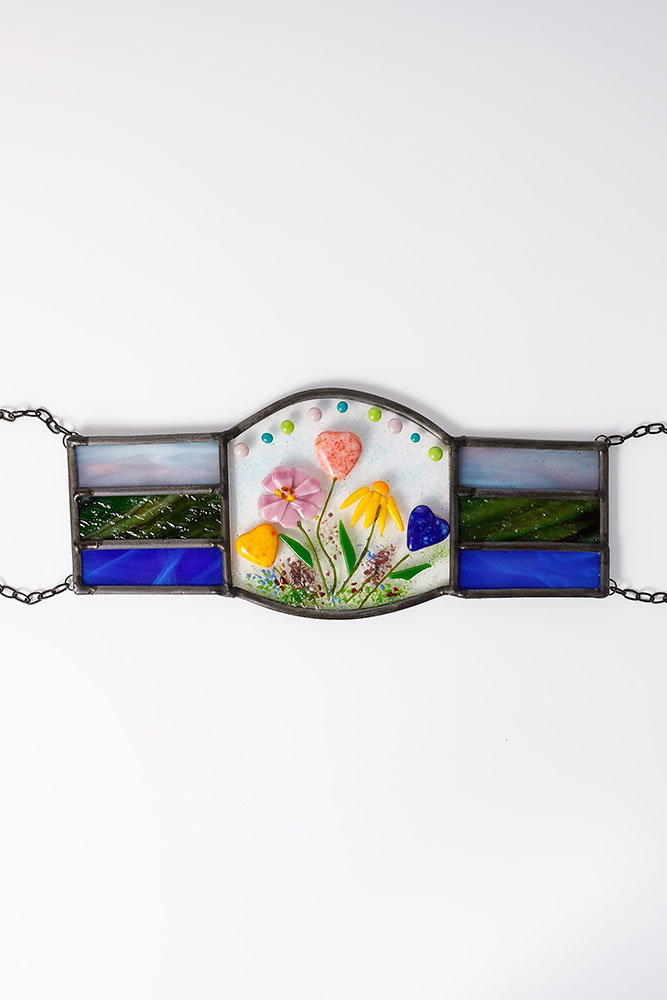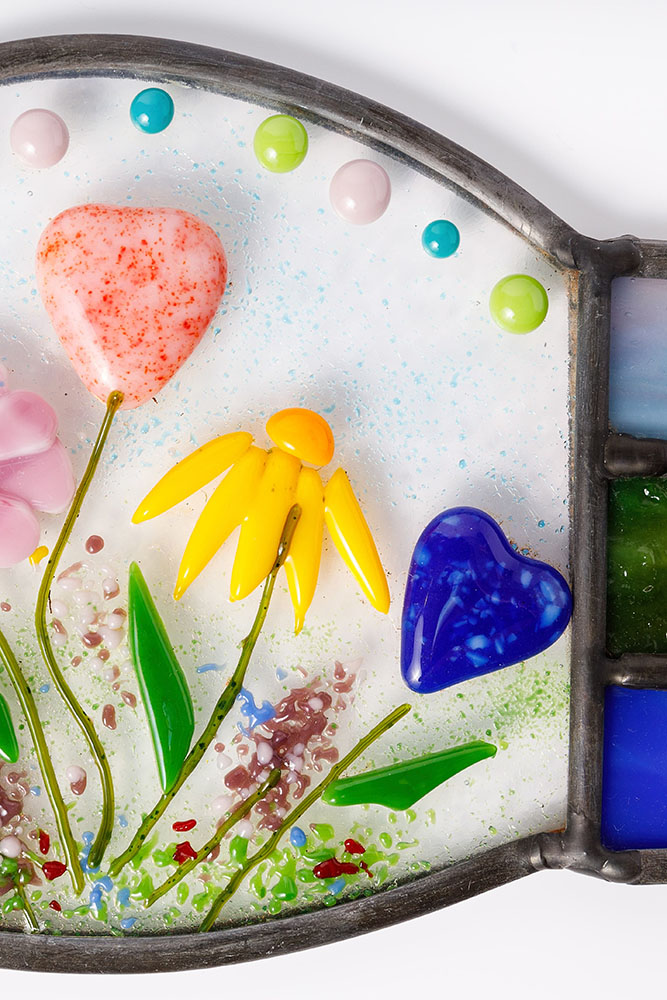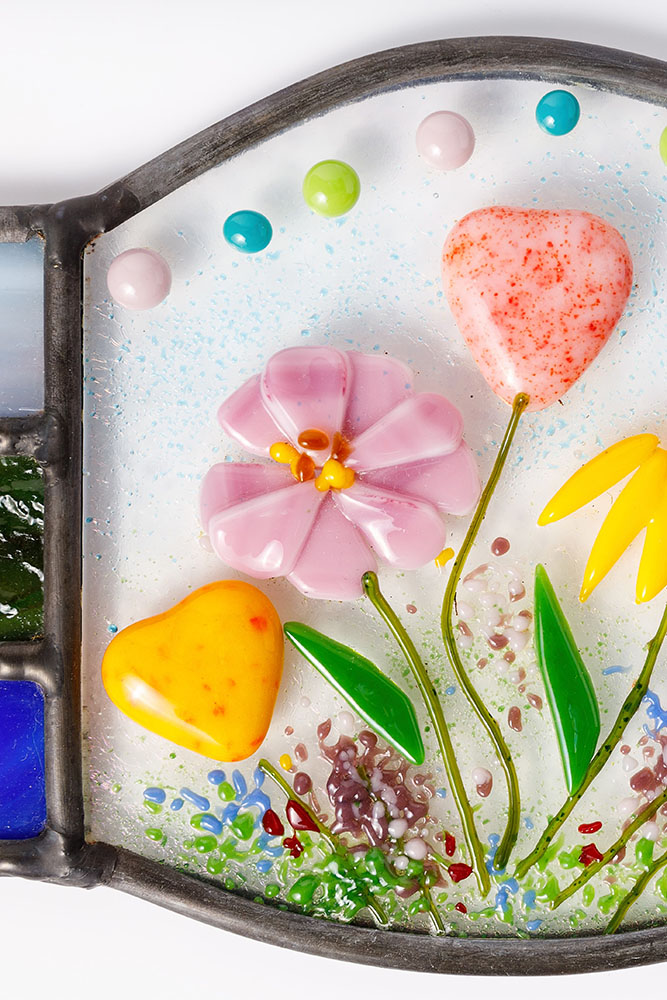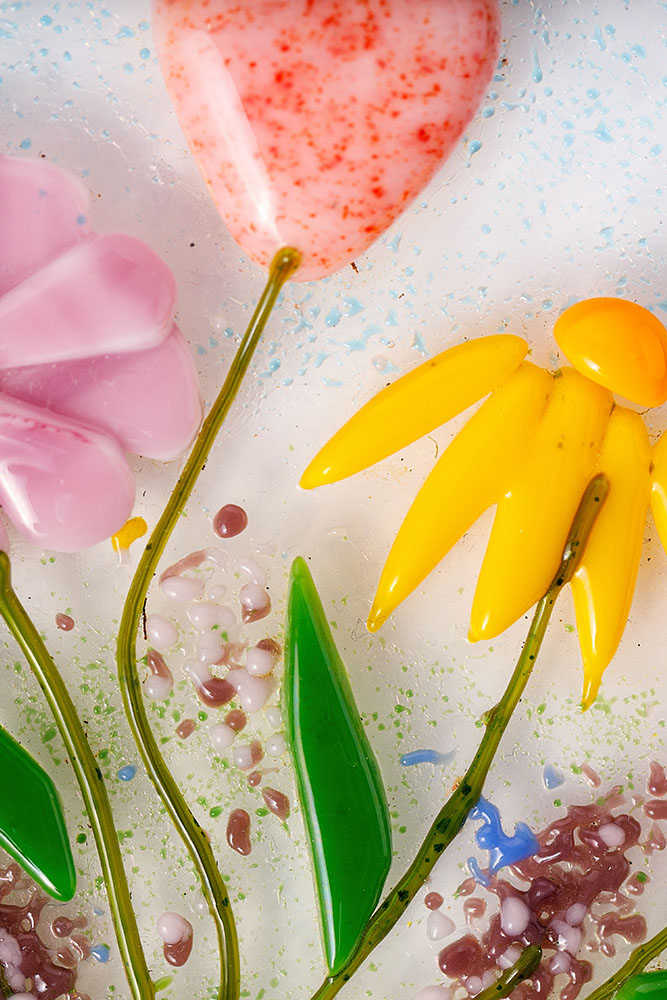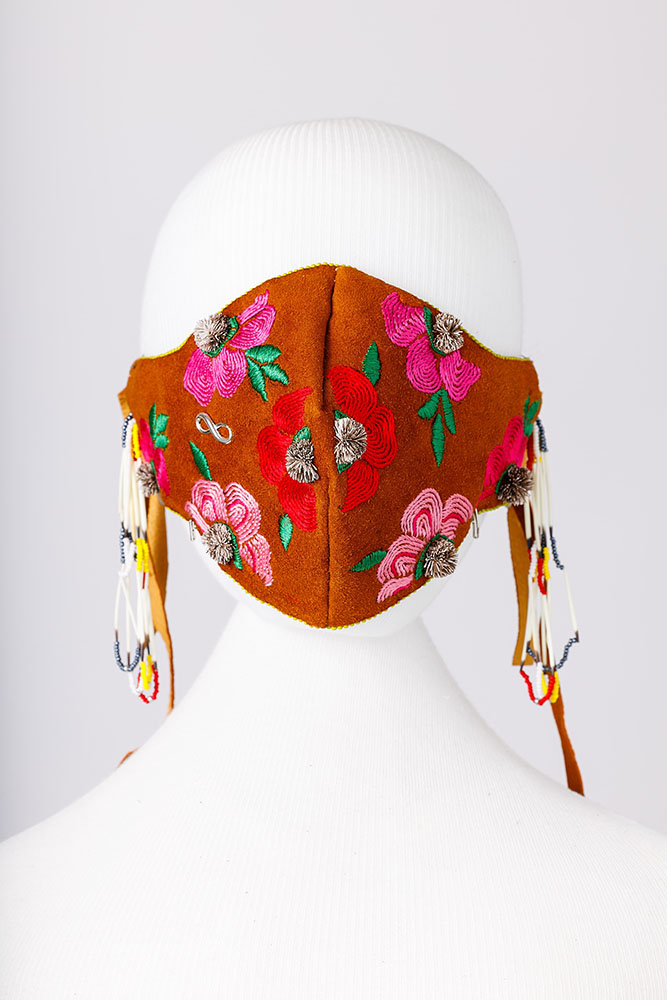 Delta Rose
Eliza Firth
Materials
deer hide, silk, moose hair, beads, porcupine quills, silver infinity symbol, cotton lining
I hand-made this tanned hide mask adorned with embroidered and tufted flowers, beads and a silver tribute to my Metis heritage. The ear hangings, made of porcupine quills, have colours representing solidarity with all peoples.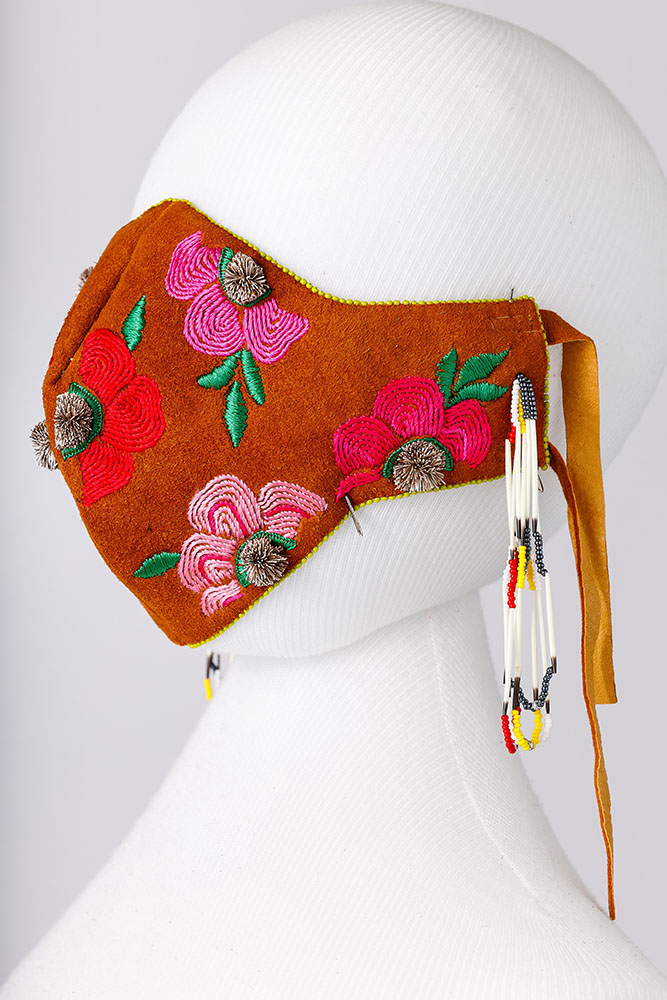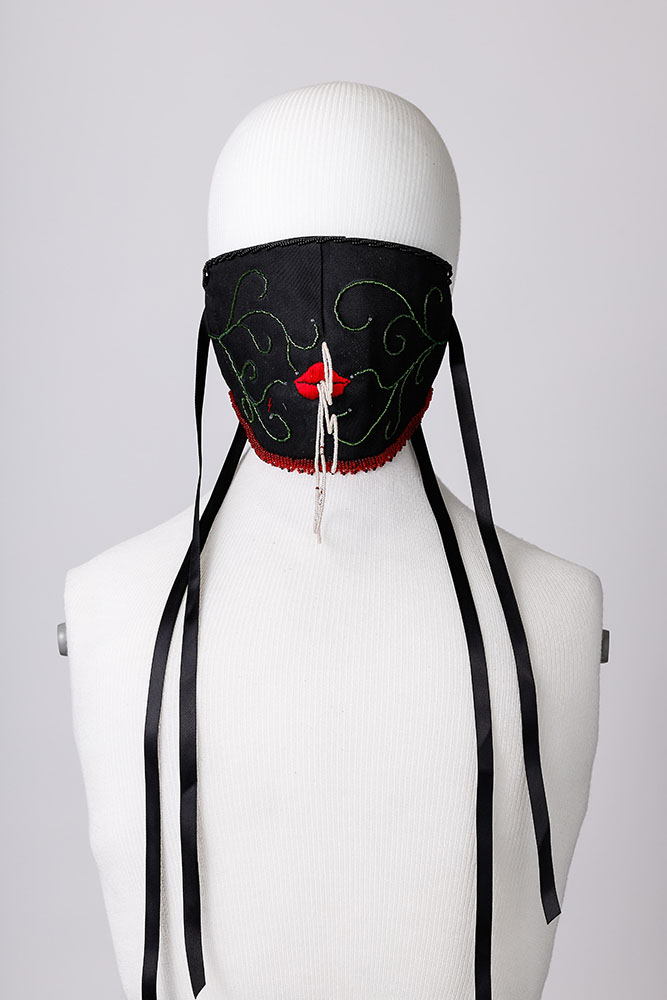 Breathe: A Mask for Pandemic Times
Joeann Argue
Materials
Broad cloth, embroidery floss, beads, wire, ribbon
Having survived, so far, the three Cs - cancer, cardiac, and now covid-19 - I have been thought a lot about breathing. I've been thinking about how often I have to tell myself to breathe through anxiety and how, in these pandemic days, we have to worry about doing just that. The green represents that good clean air we breathe in, but even that comes with tiny bits of danger - the pale green beads close to the mouth. Having had covid-19, I am aware of how much my own breath could be a danger to others - the red beads in the breath. Yet through it all, we still have to breathe.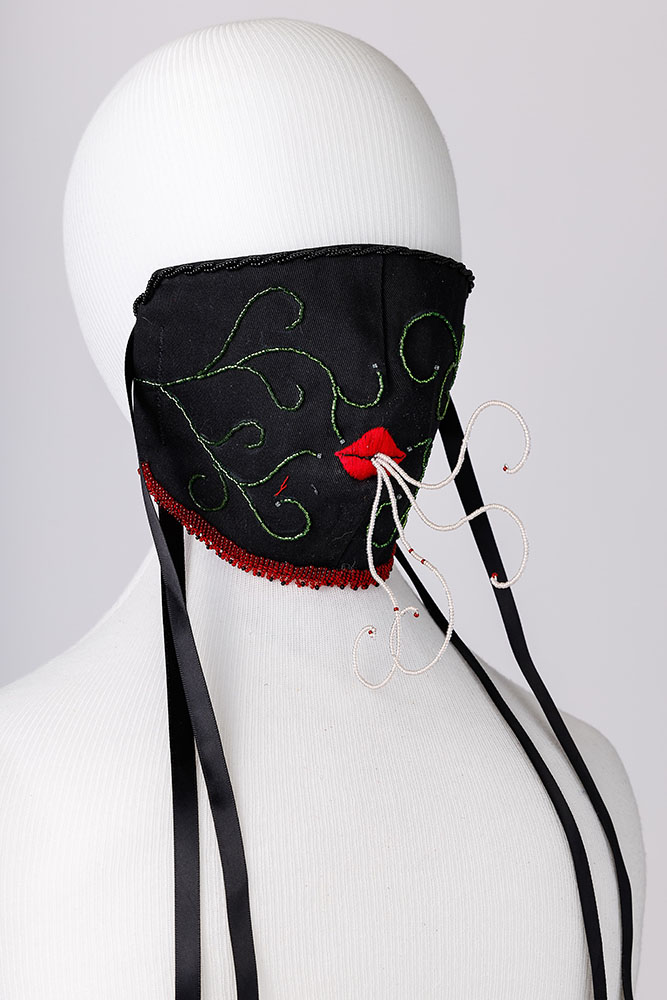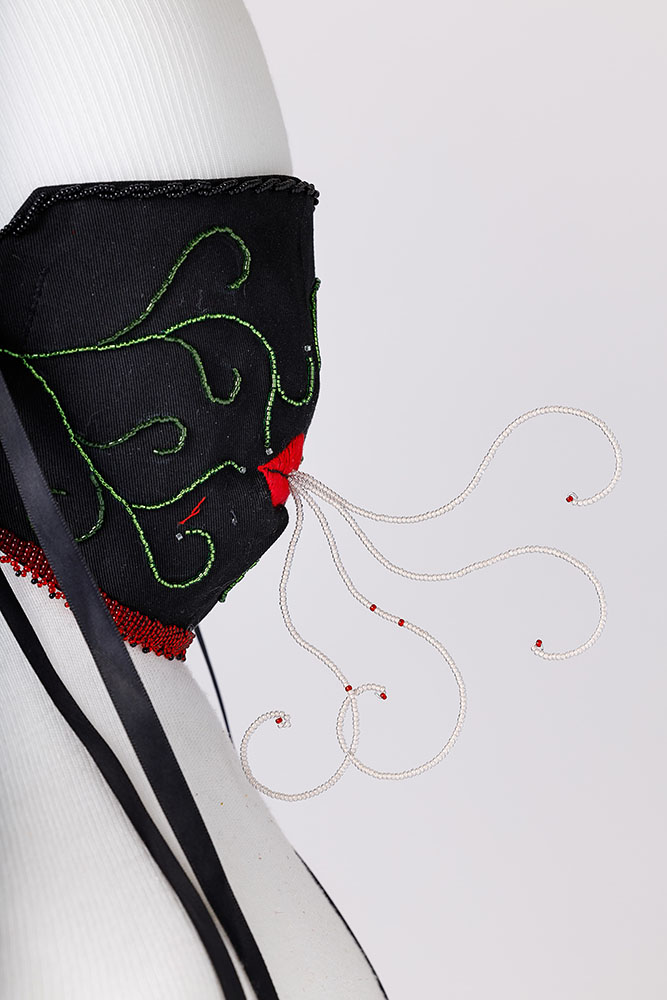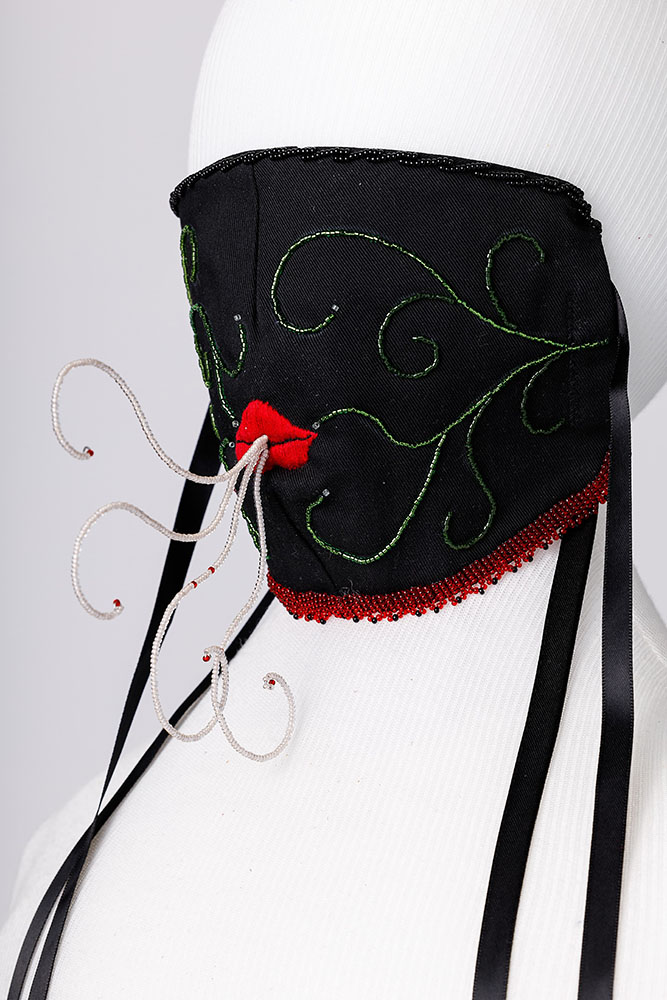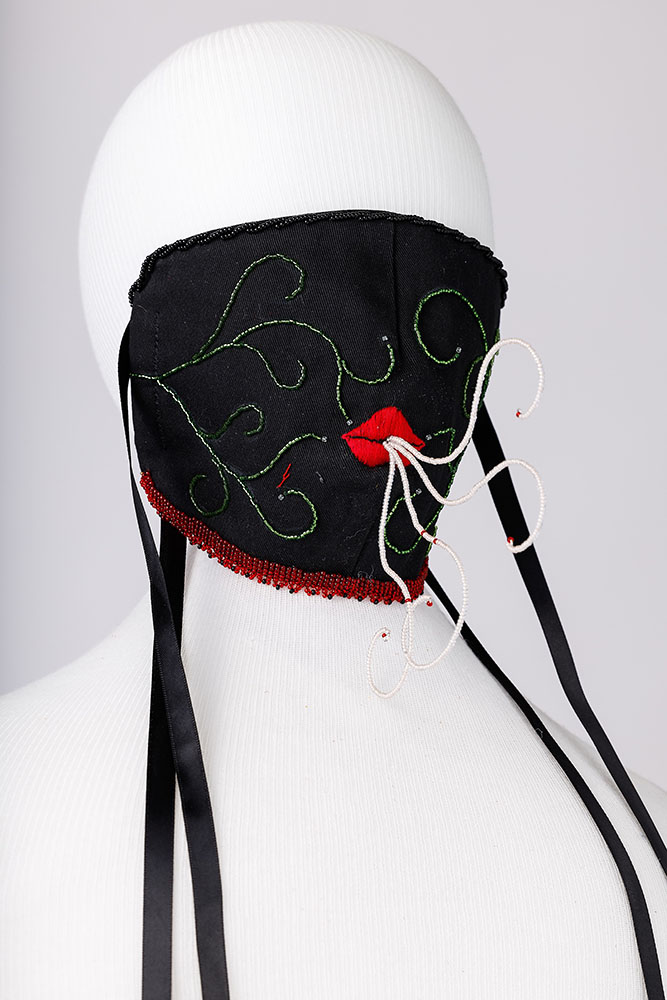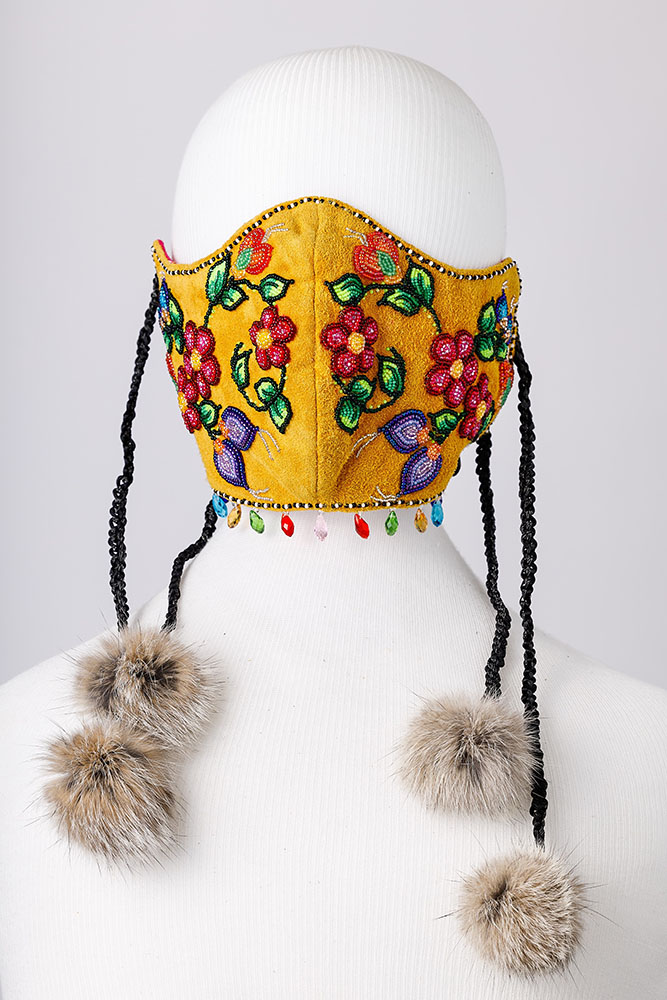 Generations – My Story
Marlene Kelly
Materials
Tanned deer hide, cotton fabric, silk-elastic paracord, rabbit fur, beads
Tansi, I am 4th generation Cree-Metis beadwork artist. My ancestral home is Ft. Chipewyan and Ft. McMurray, Alberta. I am privileged to live in the unceded territory of the K'omoks First Nation. As I sat drawing the design for my pandemic mask, I took comfort in the ease the pattern formed from my mind's eye to paper. The flowers, the curves of the vines, the shapes of the leaves, every colour I saw transformed with a familiarity of generational knowledge. These are the patterns that my nikâwiy, nokôm and okômâw used and were now passed down to me. 
As I started beading, thoughts of convenience, even during this pandemic, floated through my mind. Thoughts of the struggles and hardships of the strong women who came before me. Women who persevered and survived with a lot less than I am blessed with today. Thoughts of the doctors orders to keep my 87 year old mom safe inside because she won't survive this Coronavirus. I will protect her fiercely, lovingly, diligently, patiently until her last breath. One day I will be the matriarch in my family but not today. Beading this mask connected me to these strong women. It awakened my soul memory, reminding me that I have the gifts, knowledge and resilience to overcome just as they did but with a lot more conveniences and resources.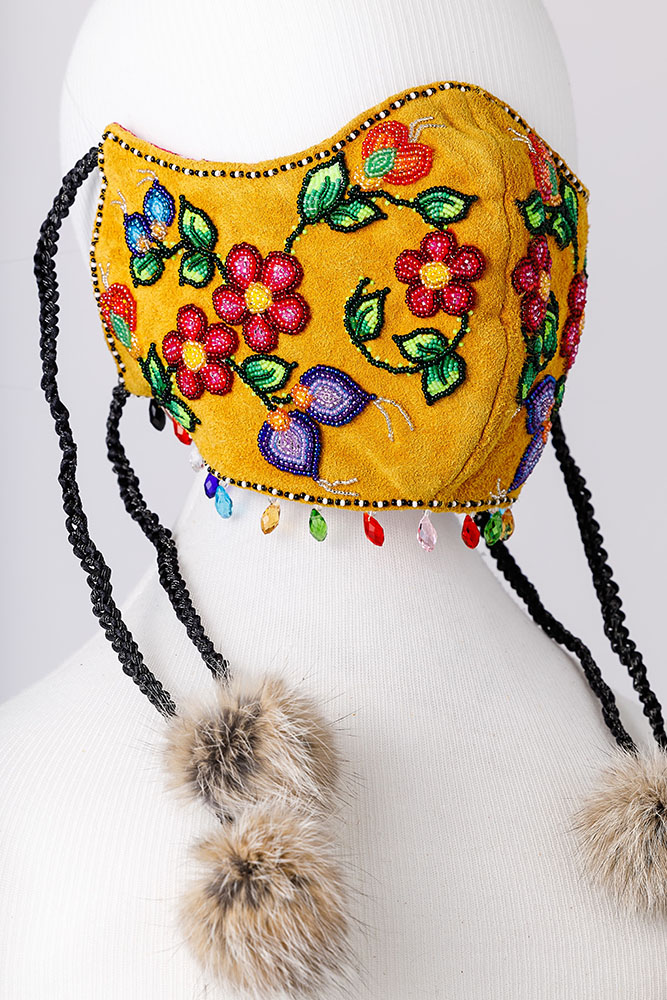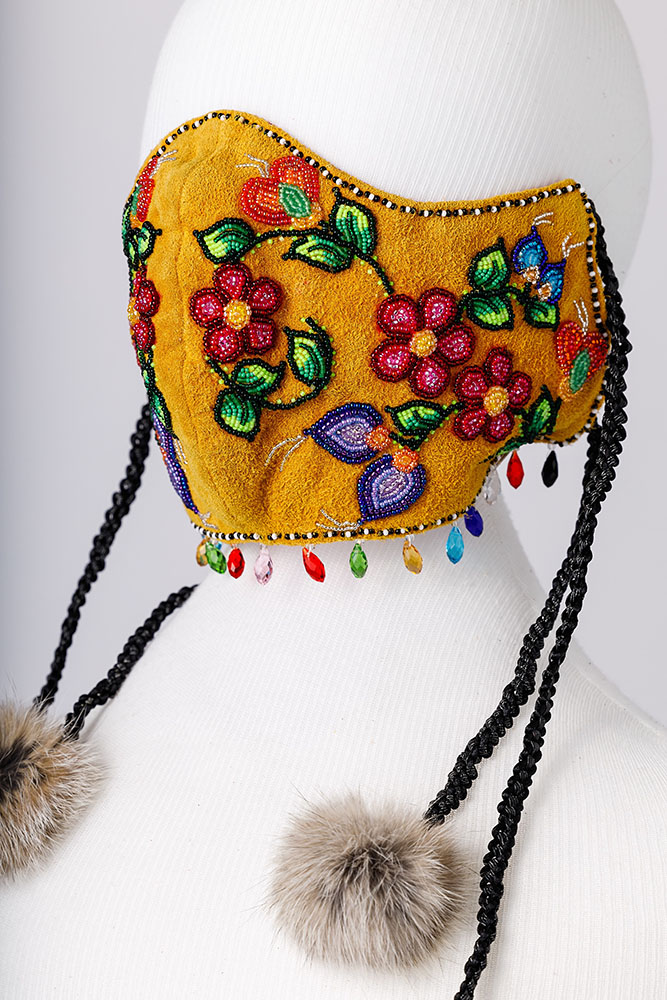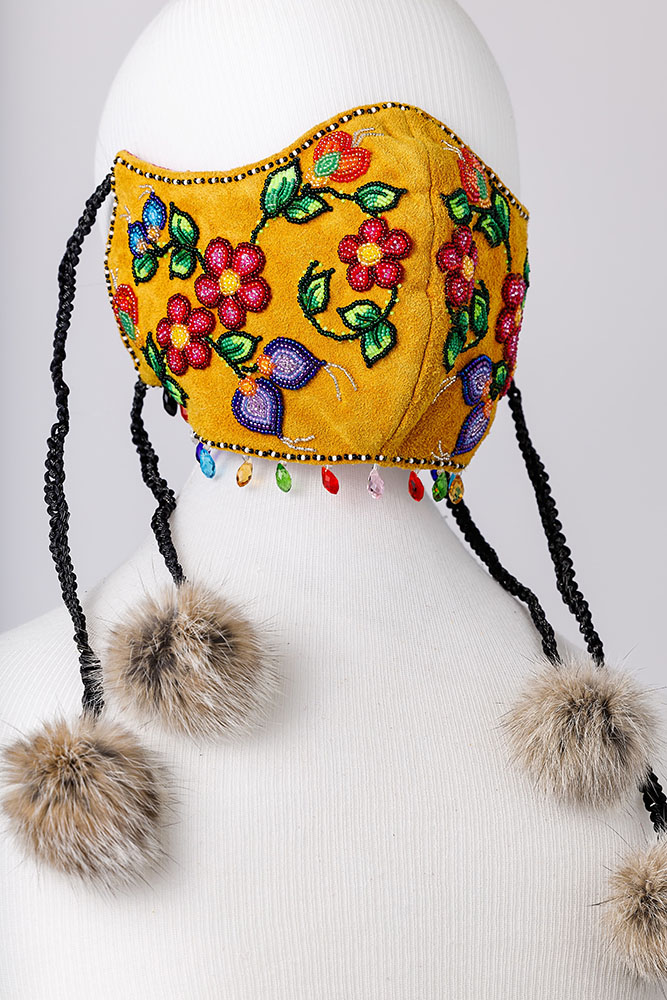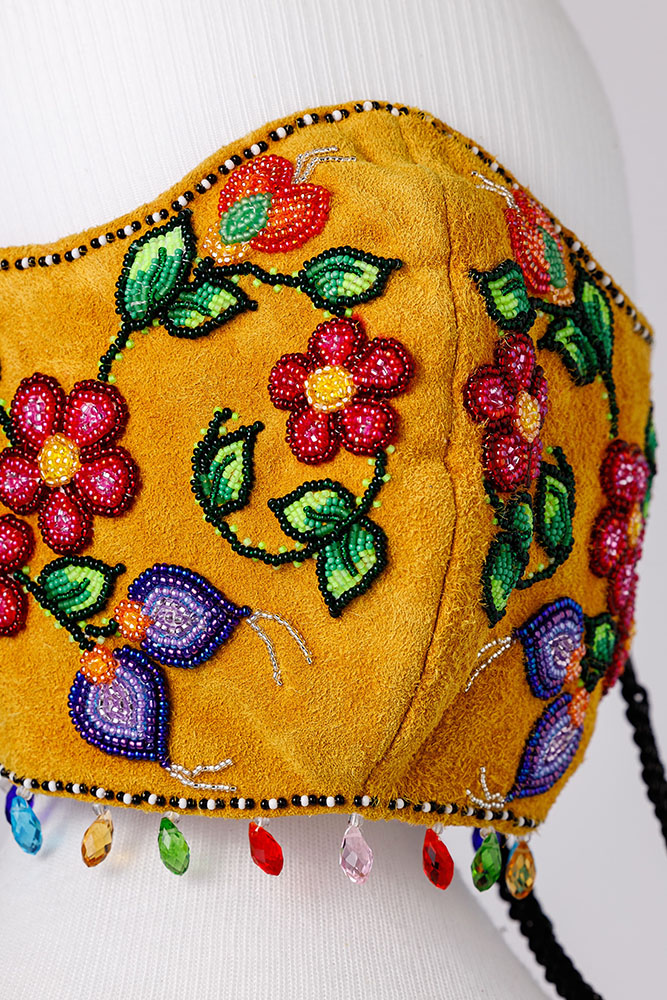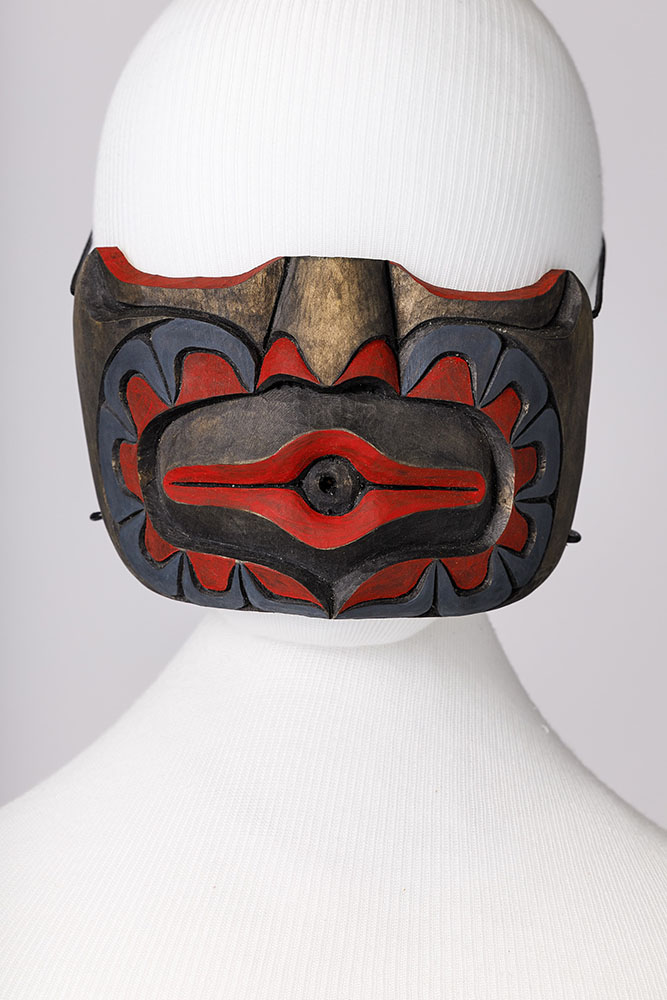 Wildman
Howard Lafortune
Materials
yellow cedar, acrylic paint, lemon oil
Been carving for 40 years and started these half masks out old yellow cedar and 2 almost 3 months ago but this one is the first I have done. Usually do a bear or an eagle. Thought I may change it up a bit. Took me about 20 hrs or more to do, it weighs 90 grams and starts out at about 900 grams. It is the wildman and I do like the way it turned out. Fits nicely with acrylic paint and oiled.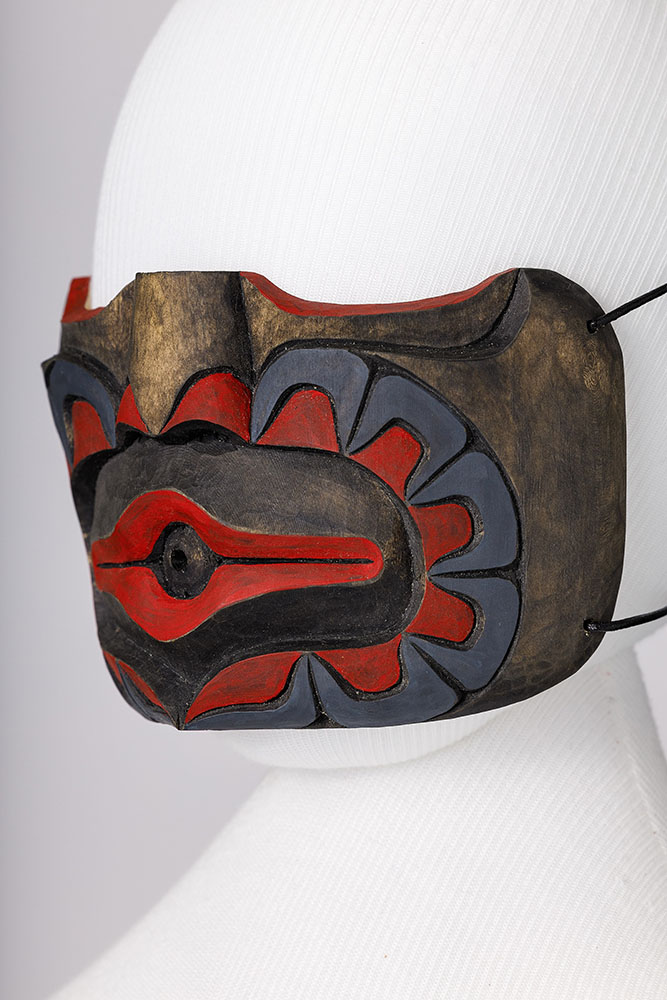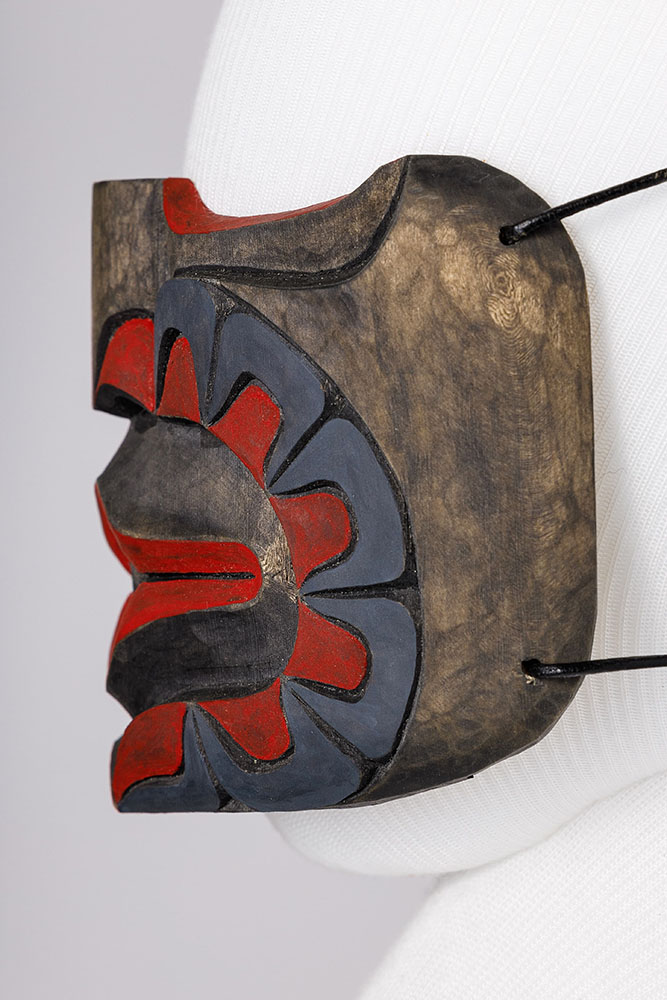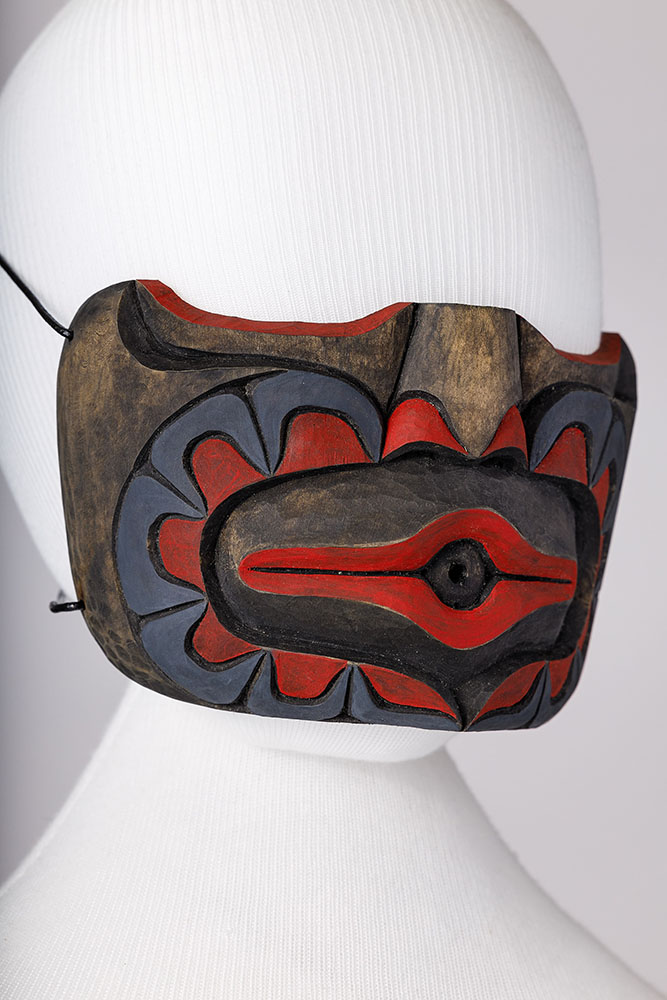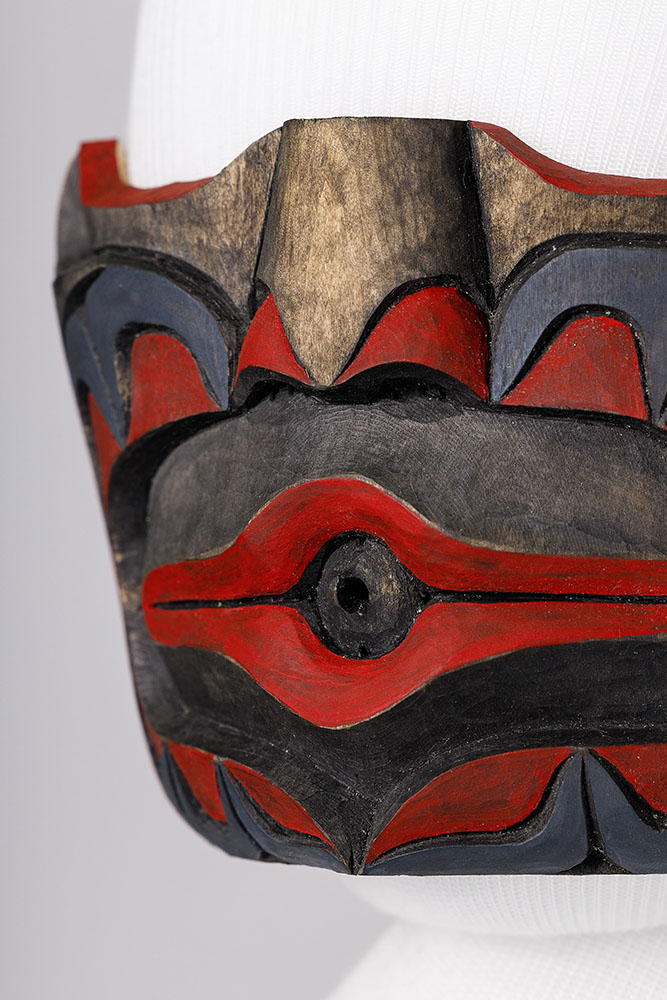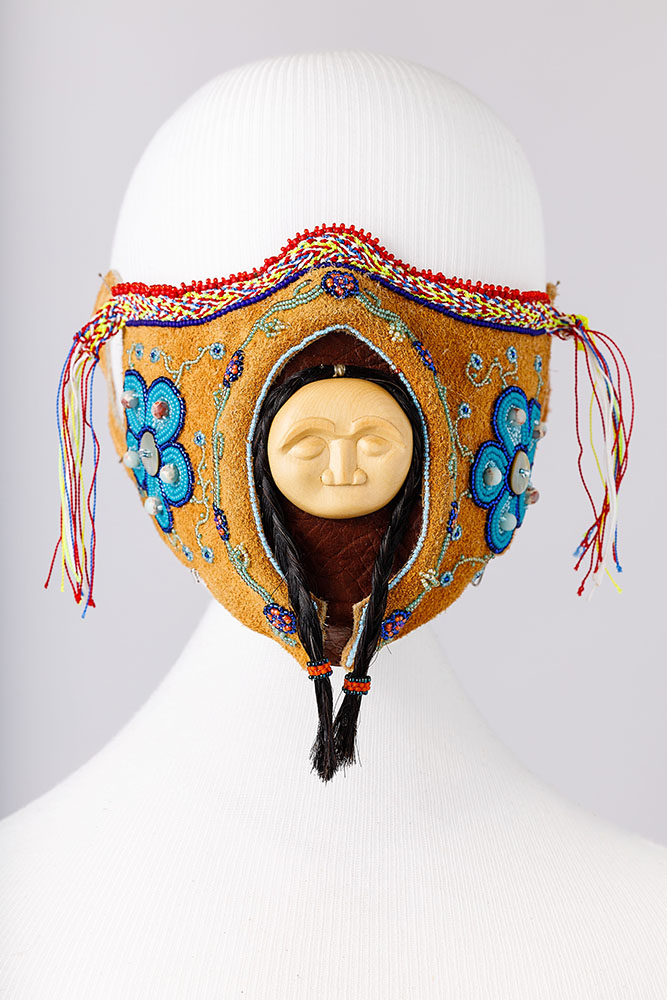 Every Bead a Breath
Adele ᒪᐢᑿᓽᐃᐢᑵᐤ Arseneau
Materials
Moosehide, buffalo hide, hand carved yellow cedar, horsehair, antique abalone buttons, antique charlottes, miyuki beads, ocean jasper, hand woven arrow sash
As an indigenous woman, I've largely passed through this existence feeling like I have no voice. Most of my art has been focused on creating around the endangered stories of others, to put them up on the proverbial soapbox, making them personable and real. It never occurred to me to tell my own story, with its roots so intertwined with this land now called Canada. All of my portrait carvings reflect this journey, with most of them only having the suggestion of a mouth. My hands do the speaking as they create the pieces I make. Using everything I am given, like nohkôms before me. Appreciating the materials, and the memories they bring. Each piece is like a reflection, capturing a moment in my life. Beading my anxiety away, each bead a breath. Each stitch sewing me back into my culture, bringing with it remembering, intertwining me with my roots, making me stronger and more whole. Everything has a place in this world, like beads - we do best when we are put where we can shine. It's all part of a larger picture, this is how something small can impact something larger than ourselves. We all need to tell our stories, because someone out there needs to hear them. 
Adele maskwasowiskwew Arseneau, is an emerging disabled nehiyaw (Cree) - Métis visual artist. Creating traditional and contemporary beadwork, along with cedar carving and graphic art - she tells stories to engage audiences around current social and environmental issues. This is her language and these are her stories.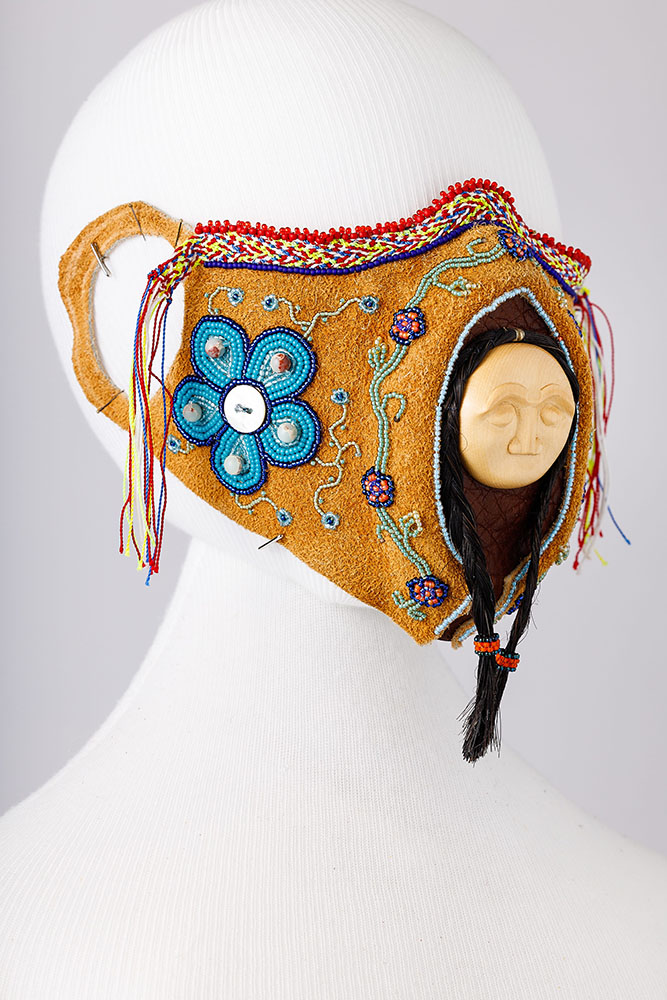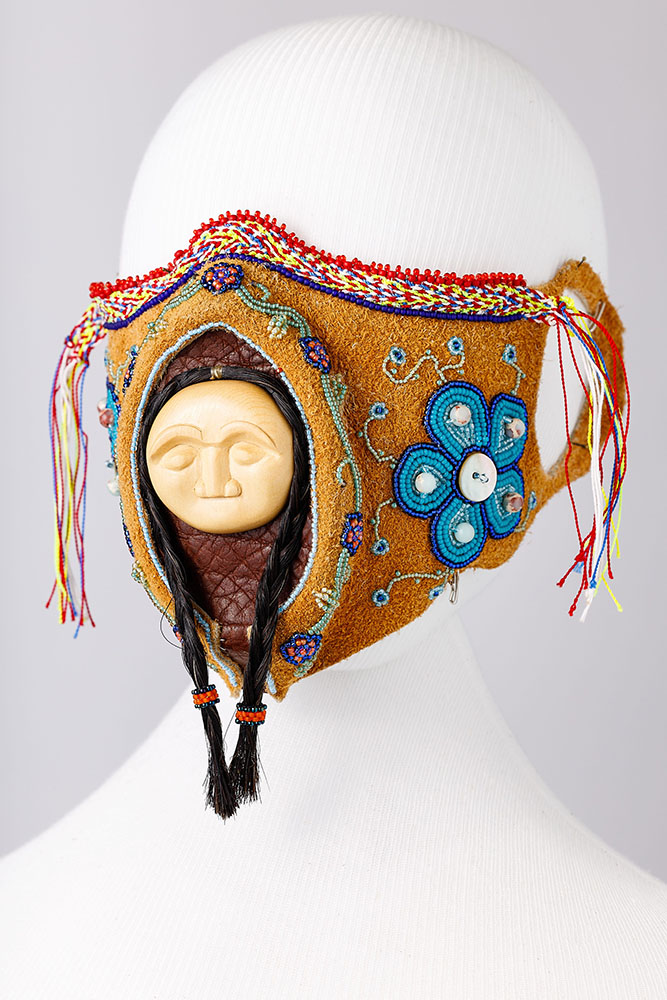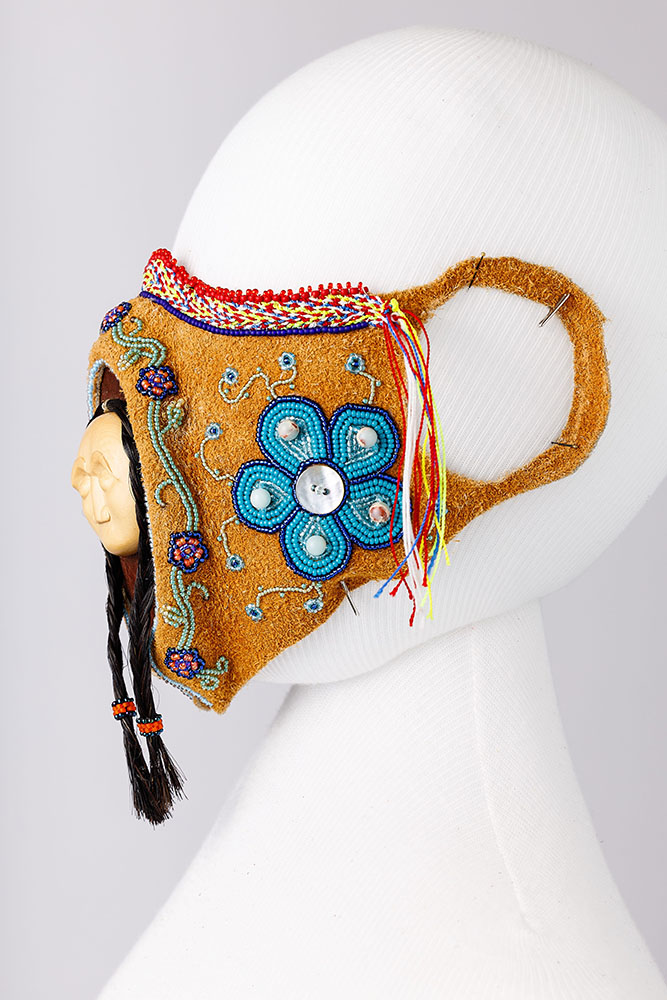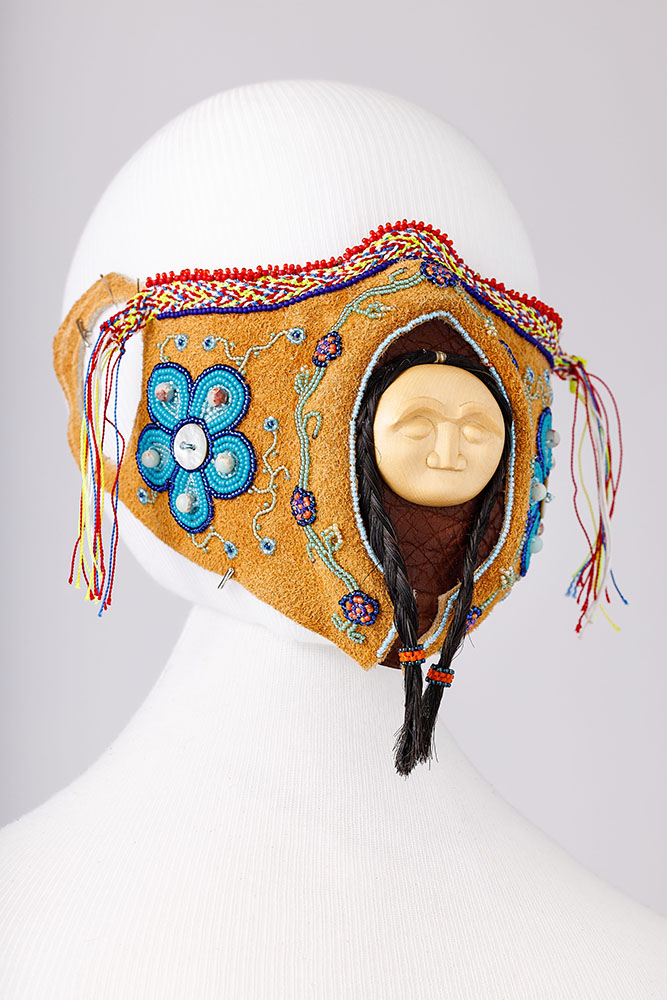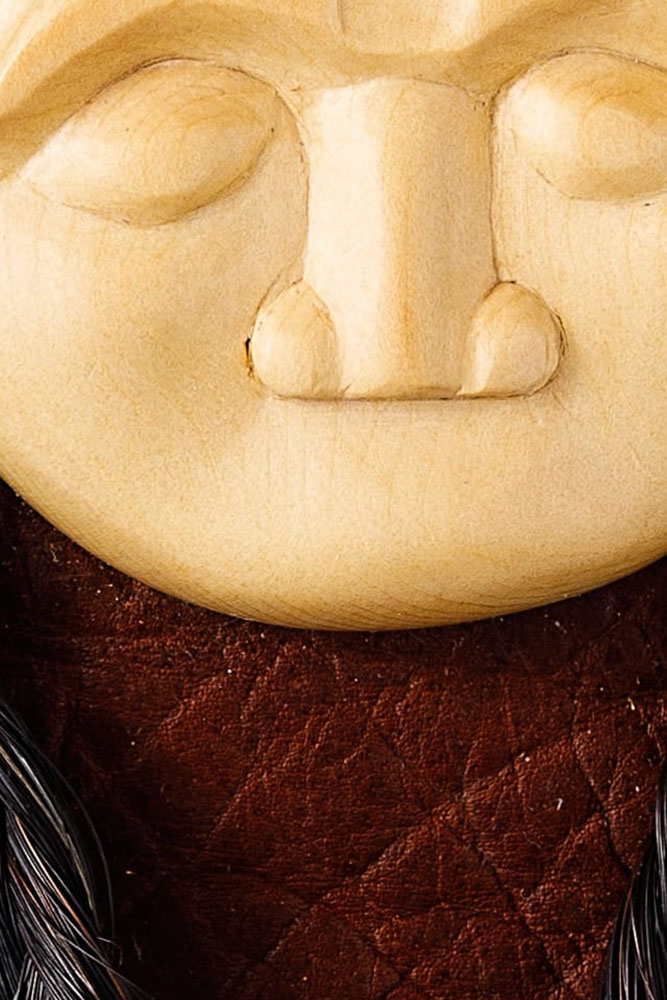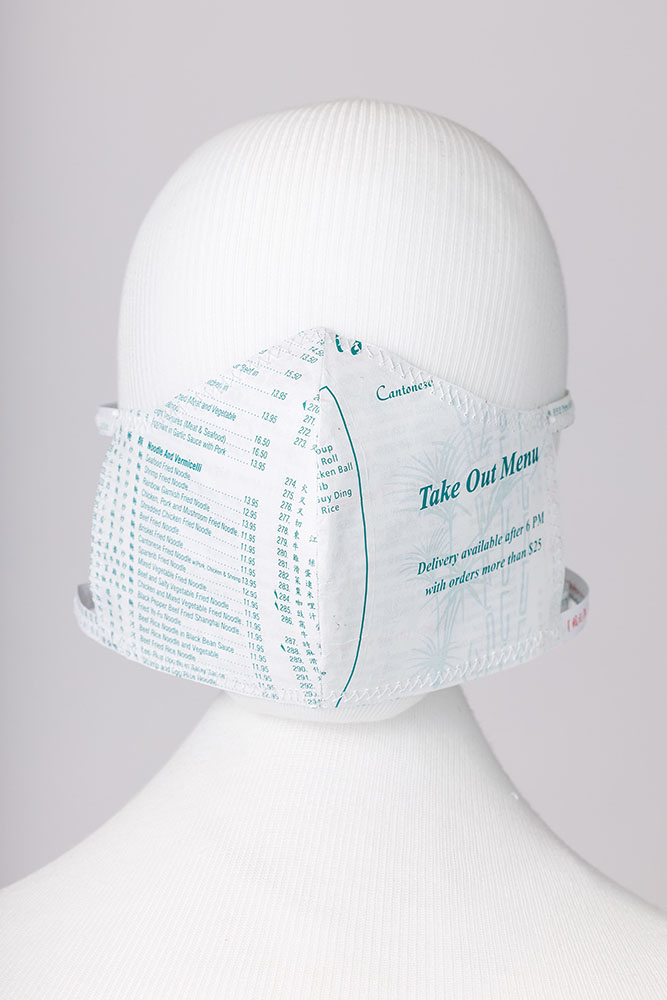 Chinese Take Out Menu Mask
Don Kwan
Materials
Chinese take out menus, thread, glue
I am in Ottawa based interdisciplinary artist with a studio in the Ottawa Valley. My work examines identity and memory using mixed media, found objects, sourced personal text and images. This collection of work is my response as an isolated artist during this time of COVID-19 and the global pandemic crisis. The work explores ideas of isolation, racism, fear, grief, transformation, protection, health, safety and community.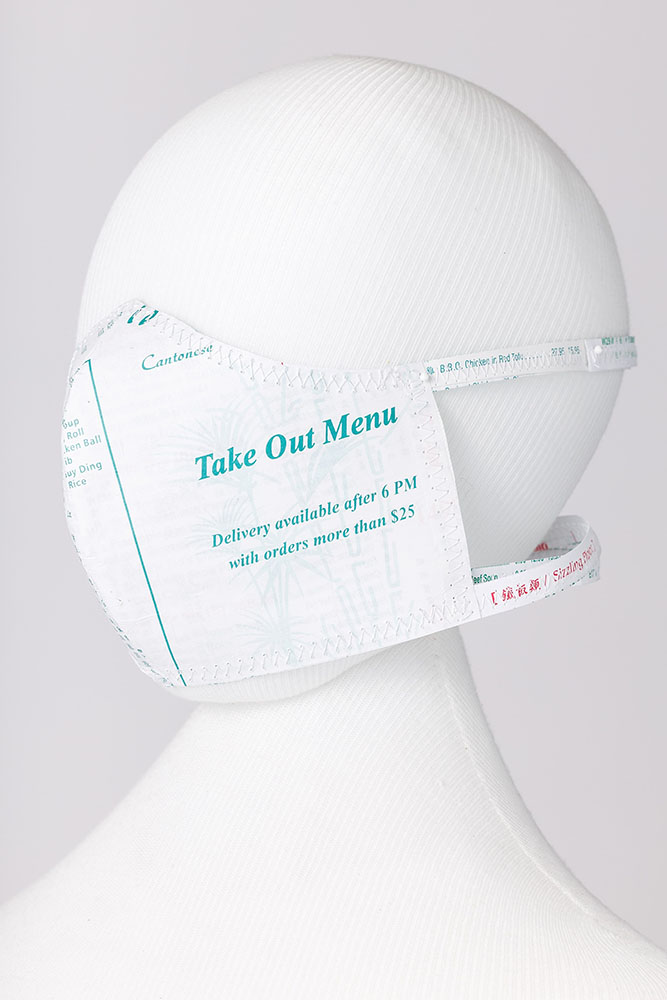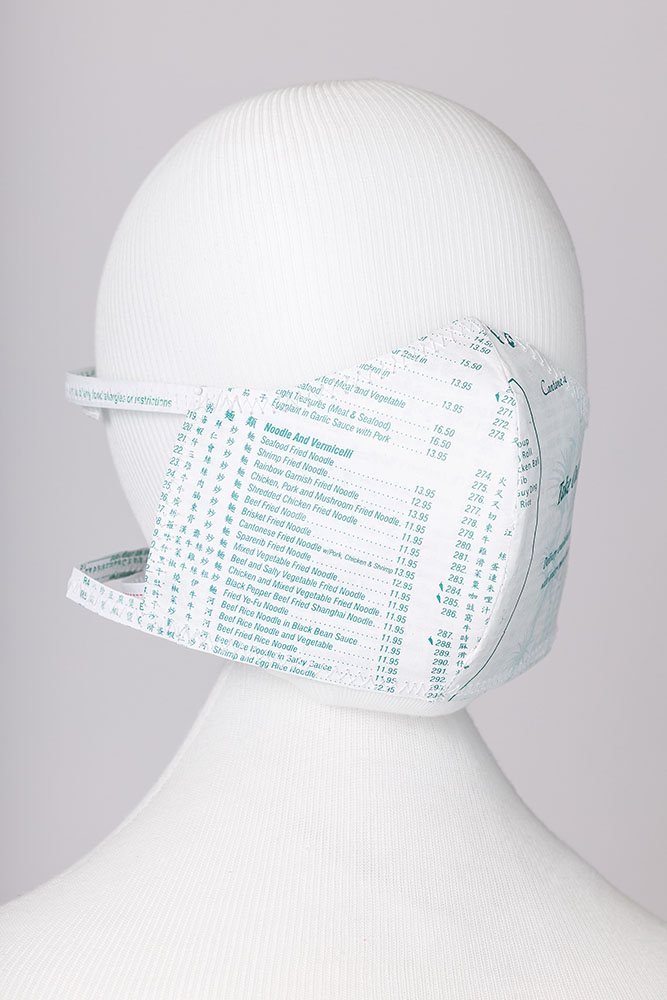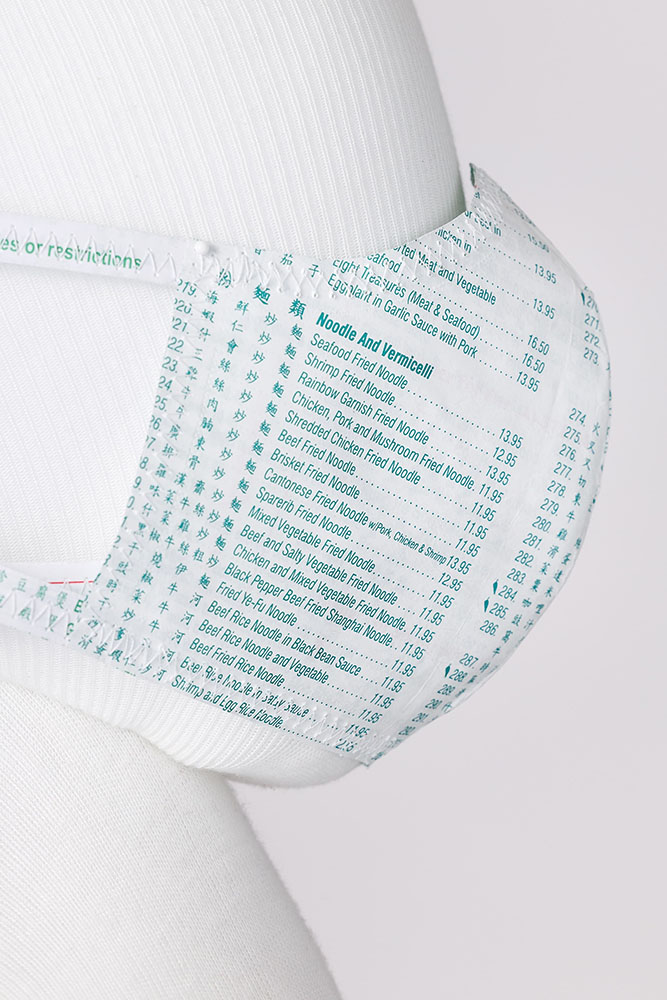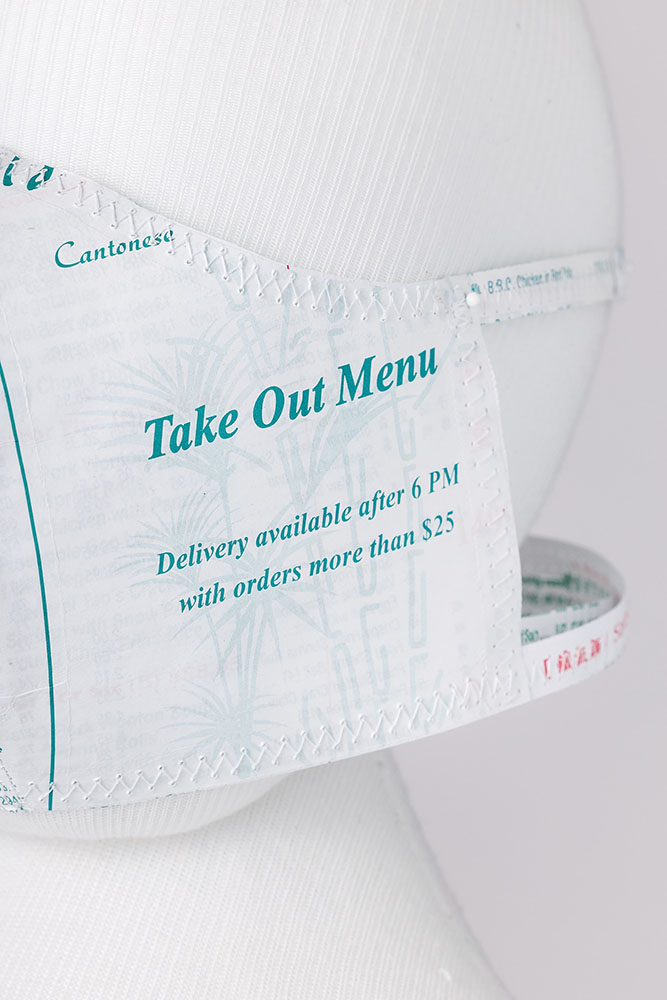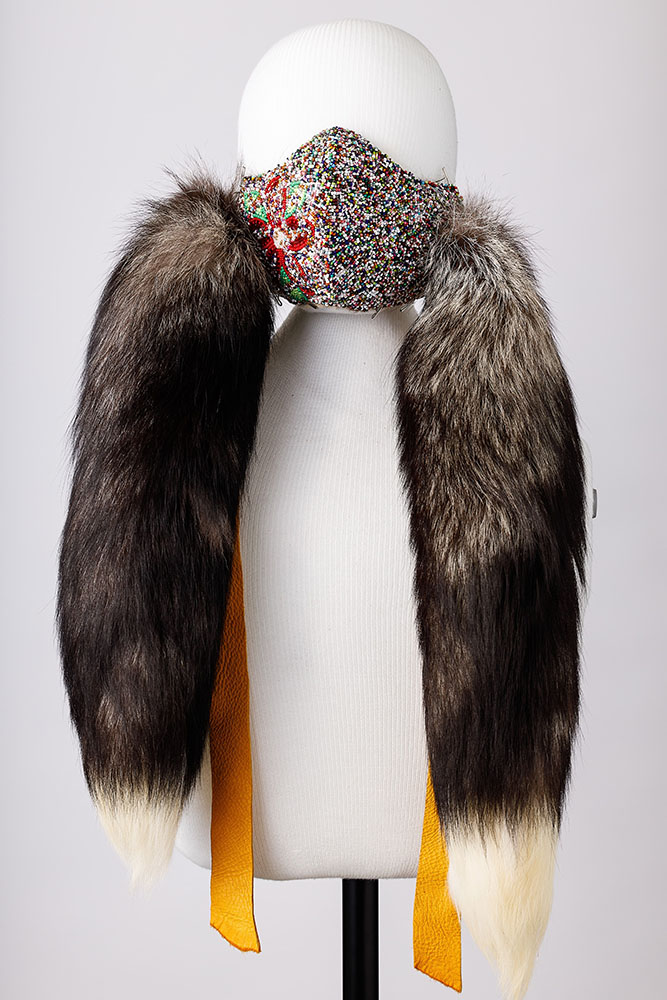 Unashsamed
Marcy Friesen
Materials
Beads, silver fox tails, skunk pelt, moose hide straps
This is a mental health mask. The effects of covid 19 has brought out so many emotions in me. I chose to bead a five petal flower exploding as I have previously beaded on my mental health moccasin. I have been aware of mental health issues my whole life in one form or another. I feel it is still something we don't feel comfortable talking about. I chose to use bead soup and each bead represents a feeling or emotion that I have felt these past few months to varying degrees. I also beaded in a couple hidden images as people suffering with mental health issues can be so private so if we don't know what to look for or what to ask, we wont know and won't be able to open up discussions. I've backed the mask with a skunk pelt simply because mental health issues and depression really stinks!! And the silver fox ties are so soft reminding me to be gentle and kind with myself and everyone around me because we are all going through this together. I hope you love it and that it helps in some way.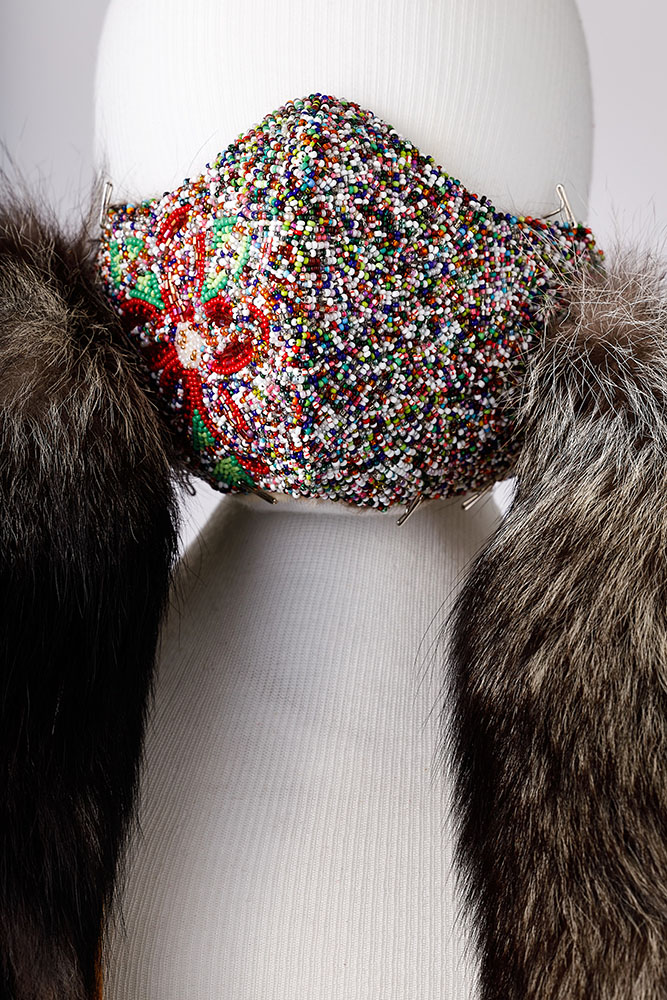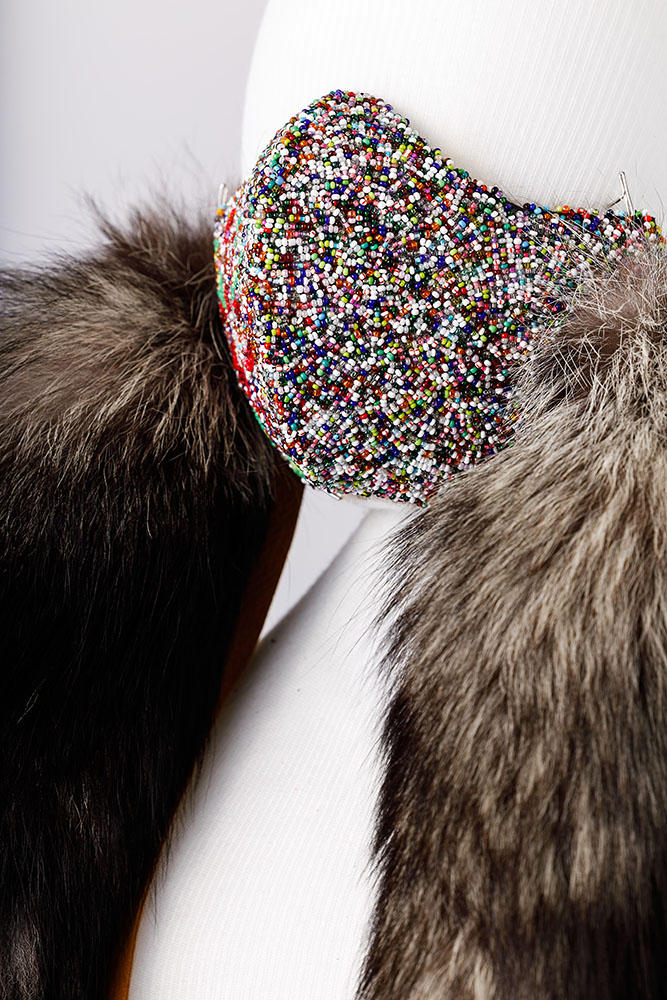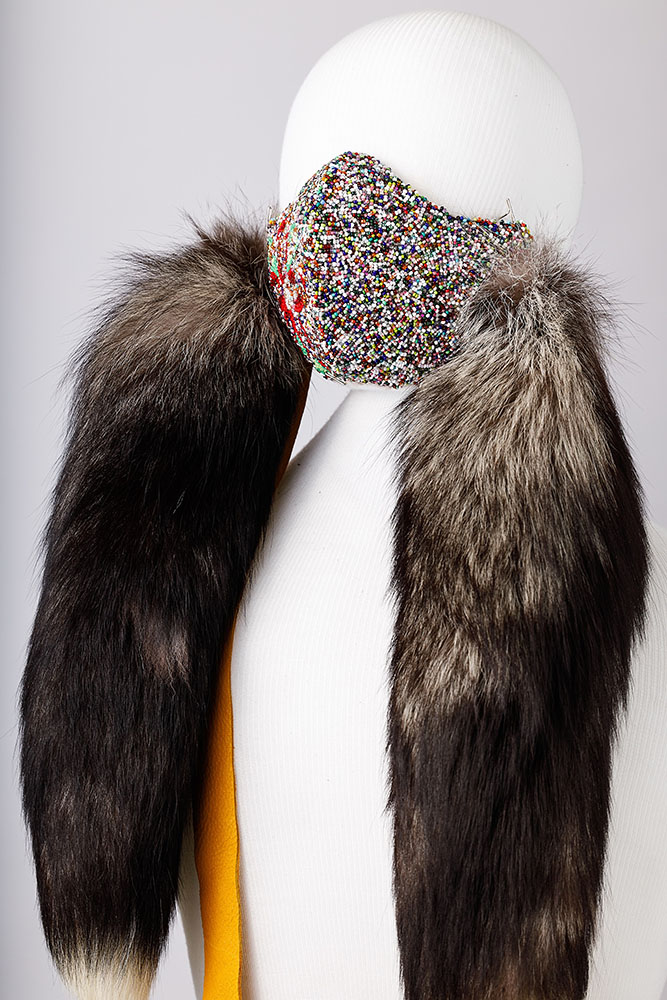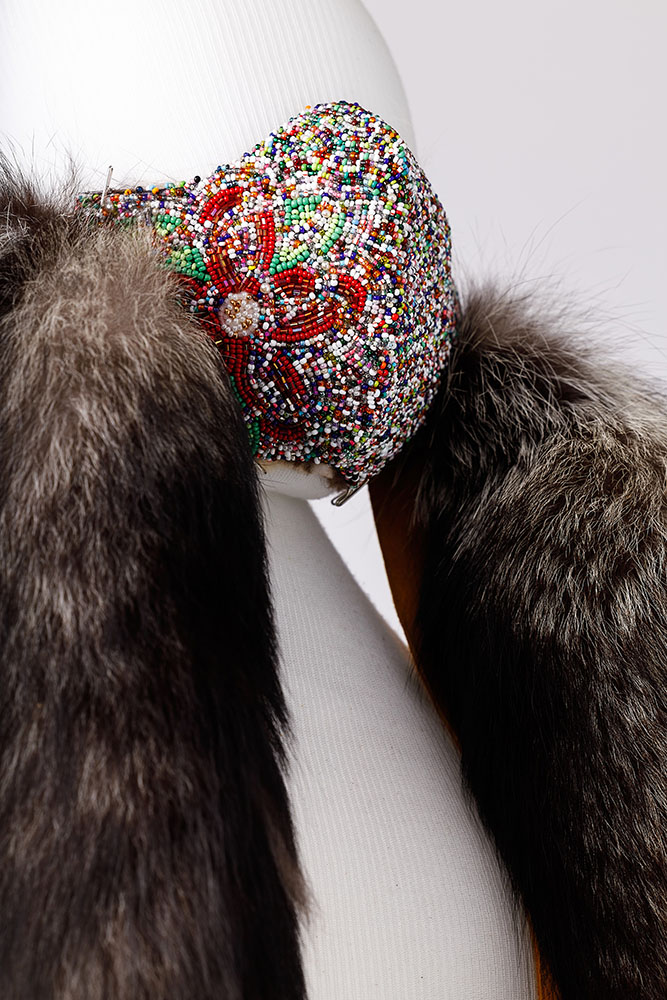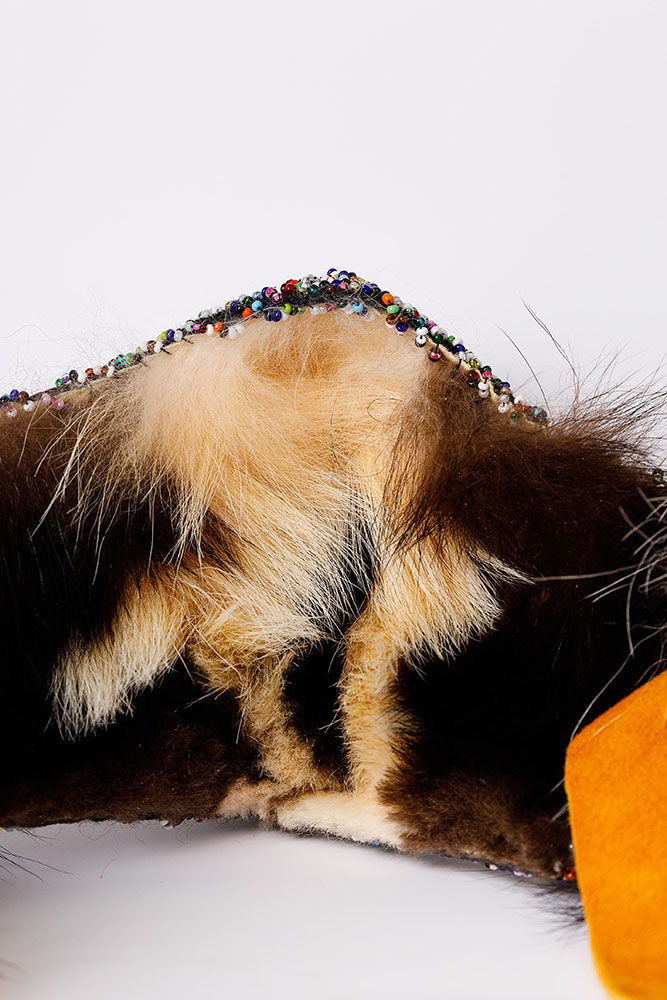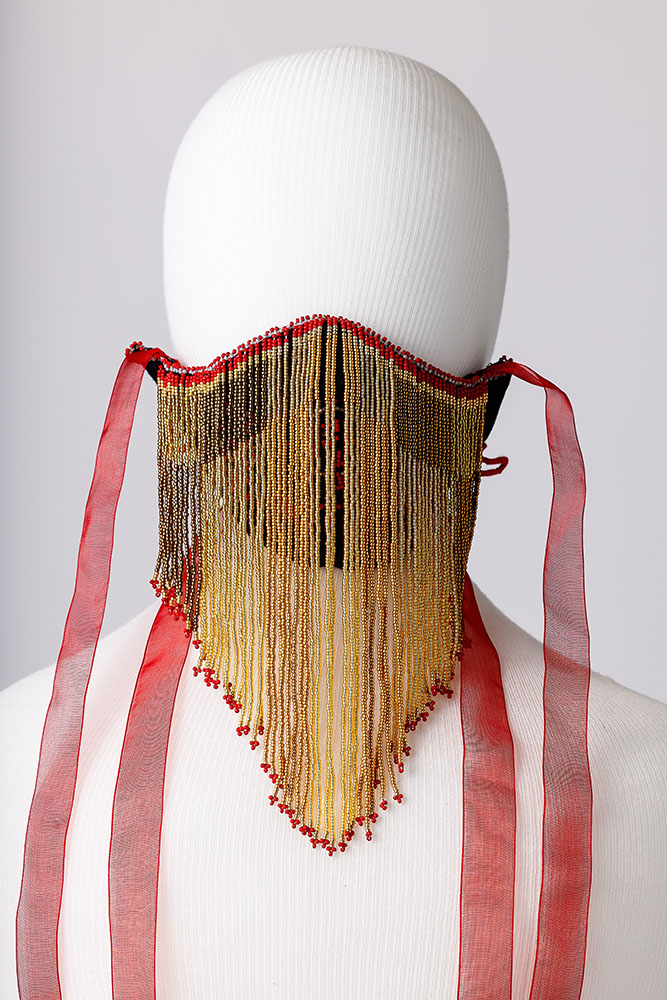 Beware the Next Shiny Thing
Kathleen (Kats) Klein
Materials
Melton wool, glass beads, thread, cotton backing, metal wire, ribbon
Beware the Next Shiny Thing Covid-19 Project - Breathe. May/June 2020 Métis beaded mask by Kathleen (Kats) Klein This Mask represents my fear that humans have become addicted to new and shiny objects at the expense of their own safety. Like all addictions, those afflicted with Next Shiny Thing addictions will do anything for a fix. Even risk exposure to life threatening circumstances, or in this case, Covid-19. This addiction leaves us in a superficial state of needing to stimulate or soothe our souls with shiny new things. Seeking a false sense of power, we take whatever thing we desire from dollar store plastics to gold trimmed SUV's. We blindly accumulate debt and turn away from our interconnectedness to nature and humanity in the pursuit of the fix. Beware the Next Shiny Thing questions the current state of anxiety that I feel over this disconnected and addicted time we live in. The gold fringe/tassels form a curtain that beckons with shine and glamour and can be pulled back to reveal the warning, Do Not Enter, Covid-19 is present.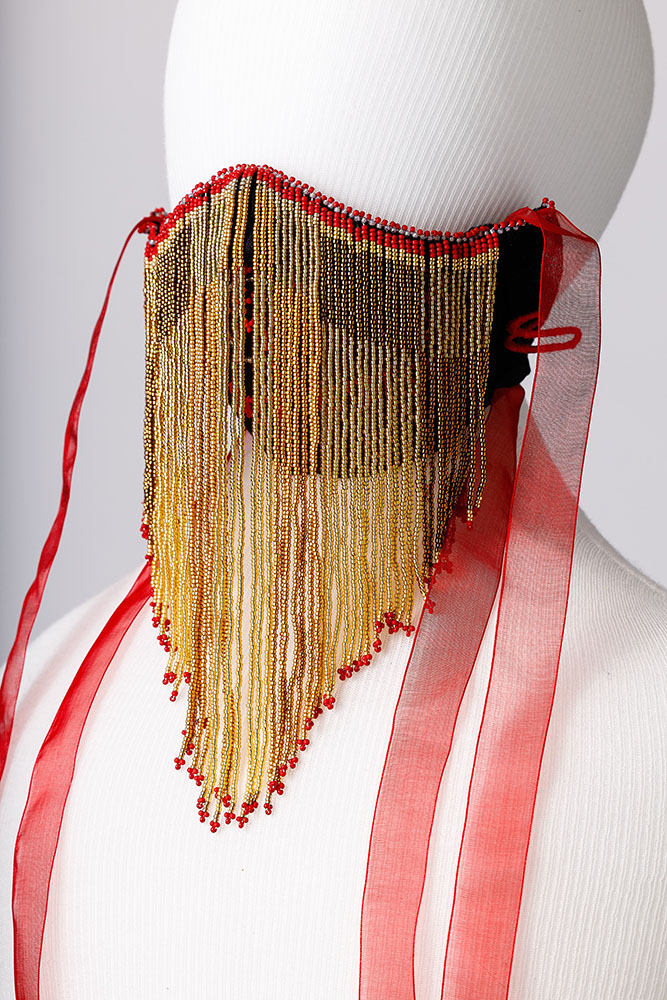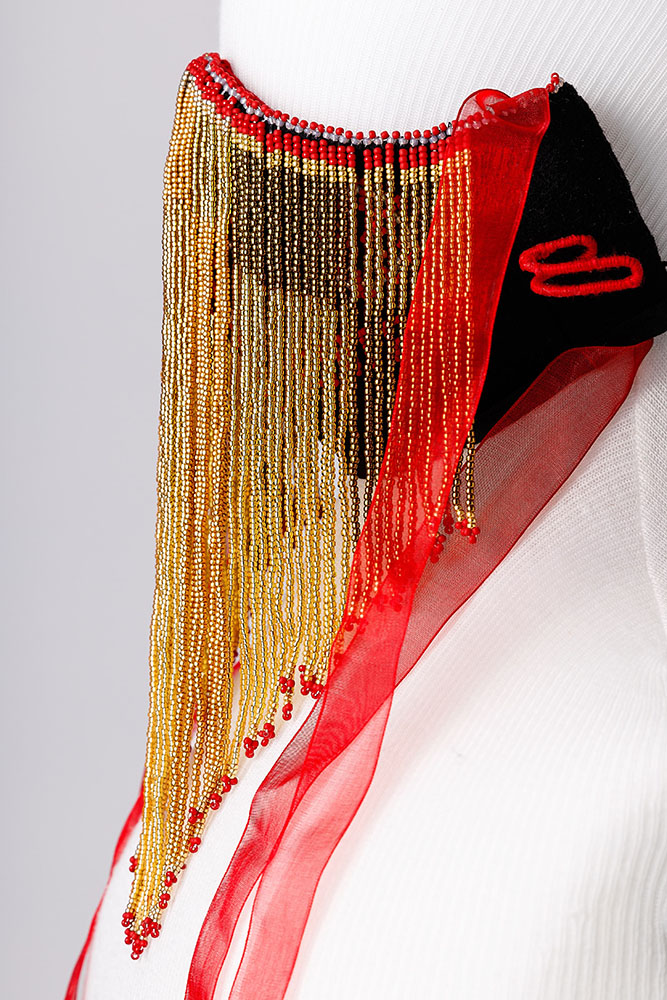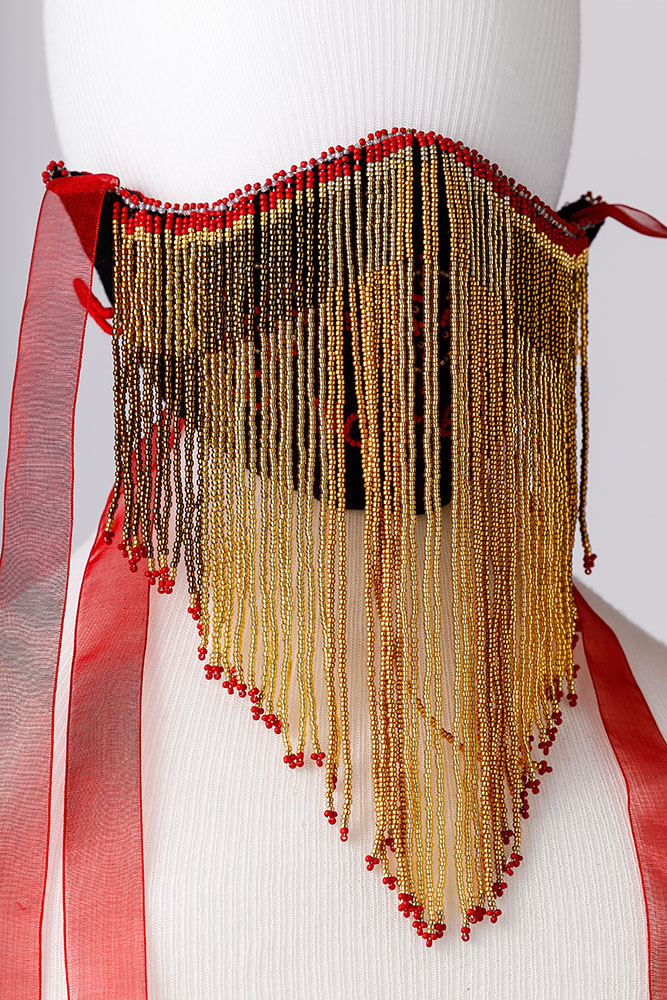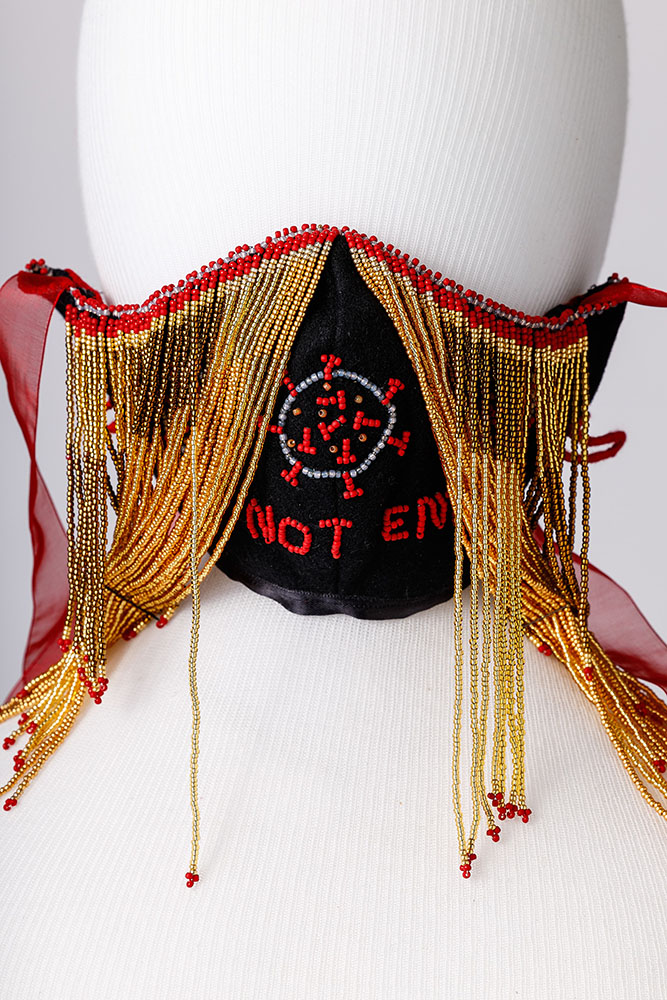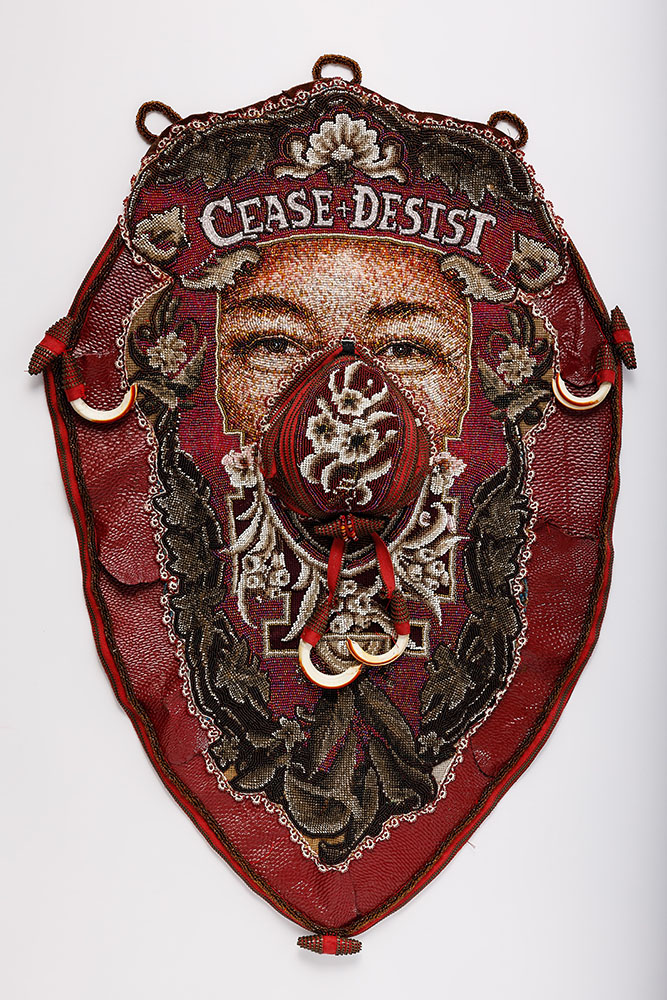 Cease and Desist: the Bearded lady Mask
Teresa Burrow
Materials
Glass beads, silk, leather, tanner beaver tails, beaver teeth, zippers
Following my mom's death on Remembrance Day 2019, I did not bead for three months and found myself in a media explosion of pipeline protests, followed by a shutdown due to covid19 and a world questioning systemic racism.
Over the past couple months I returned to beadwork but with plans to create masks and mixed media lungs. I create multiple works simultaneously so I have a badger mask, caribou and raven lungs works in progress. But these are story and portrait masks.
Over the years Sandra Alfoldy , professor, art historian and curator (who included my beaded works in the Cheongju Biennale, Vancouver Olympics and tours of Scotland and Canada ) succumbed to cancer, also in 2019.
The Scottish play (Macbeth) introduces us to three women (witches) with beards who are said to know when something wicked this way comes!!! How much pricking is known to beaders!
I had been working on templates for the tree of knowledge and tree of life. Something was chewing at the roots. Pandemics are cease and desists? In history and still where superstition overwhelms, witches are blamed for pandemics.
In history the bearded ones were accused of witchcraft when we wanted to "unsex" power, of traditional medicinal knowledge and take away land based healing to then masculine worlds of medicine and science. Those who were eccentric or outspoken were often labelled witches. Nowadays corporations have alternative means to silence whistleblowers and wisdom keepers.
In the English language a beaver is an obsolete term for a full beard. It also has slang associations to women. Canada was born of a beaver. Corporate greed and fashion had already made the beaver extinct in Europe and nearly did again following the HBC exploitation of the animal here in North America. 350 years to protest beaver lives matter and land back. I literally live adjacent to beaver lodges. But we don't listen to the creatures anymore- those sacred languages lost.
Sandra Alfoldy has written books and done lectures about Canadian Craft. She has a humorous ironic take on artisans as "bearded". She had been questioning the corporate appropriation of words like "artisan" and "craft" to sell mass produced products. She had lamented that in 2016 Maple Leaf Foods had trademarked the words "Canadian Craft TM" for their apple whiskey flavoured bacon, as if all the textile, wood, metal, glass and other media makers across Canada did not produce "real" Canadian Craft! For a chapter in her book she inquired and was slapped with a "cease and desist" to discuss, lecture, reference etc. their use of this apple whiskey trademark.
I had discussed making Beaded apple whiskey beavers for a exhibition that subsequently was cancelled following her illness/death. I had told her I was creating works around the true Canadian artisan- the beaver.
Artists who truly produce Canadian Craft leave their DNA in their works. These are the Dam Nation Artists who do not observe the cease and desist terrorism of corporations. They are the "land back" originators. I have been working on a full beaded DNA genome for beaver teeth as part of my embroidered confessions and other collaborations series funded by Manitoba Arts Council and Canada Council for the Arts. Part of the series expands into another work cease and desist: the sin eater, a fully beaded beaver fur cape about northern Manitoban beavers taken in 1946 to Argentina (and are now invasive species)-Adored but now damned too!
Years ago the Suffragettes used stitching as part of the Victorian underground to promote health and human rights. I have reclaimed damaged pieces of antique Needlecraft. -Neatly stitched in a orderly pattern - sometimes the revolution needs us to take things apart before we recreate new beginnings. In burial histories we would deflesh and sit with the bones- we would bury and dig up the bones a year later before a final ceremony to honour the spirits and release our memories. A new set of clothes took us away from mourning attire. There will be a time when we no longer need the mask but will we have learned from those spirits and bones how to live new lives. Do we honour those we mourn with new science, new medicines, new relationships with others and our world?
Sometimes we can remake the world if we listen to the whispers. Maybe a mask is meant to tell us to shut up and listen to the needs of our world, our climate, our peoples, our creatures (flora and fauna) I cut up antique beadwork to create with new additions, a bearded lady mask. (BLM) Hidden under a N95 mask is Sandra's smile, that while no longer seen, is well remembered by those who shared her time.
I believe in giving the mask some art with teeth so the work will feature beaver tail leather, beaver teeth, zippers, and as I have time I hope I can add a DNA dam nation artists manifesto based on Sandra's lectures and what language I can create with zipper teeth. This may be added behind or as part of the PPE gloves with more beaded sections, beaver tail leather, fur etc.
Through this pandemic it has been the makers that have helped others survive changes as they happened. Artists have gifted their talents and continue to leave a legacy that is our true Canadian Craft.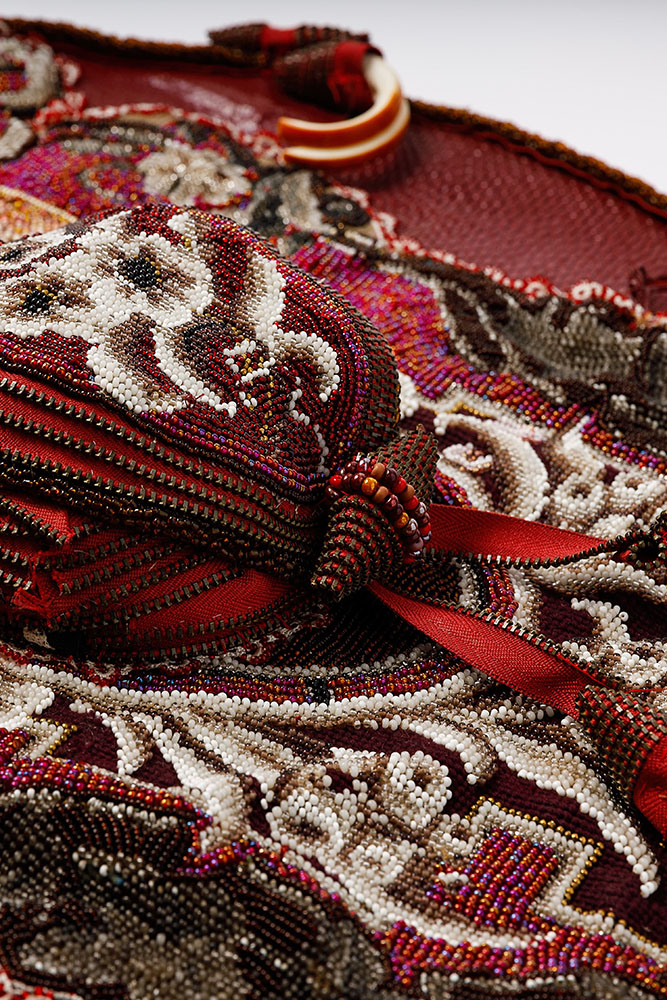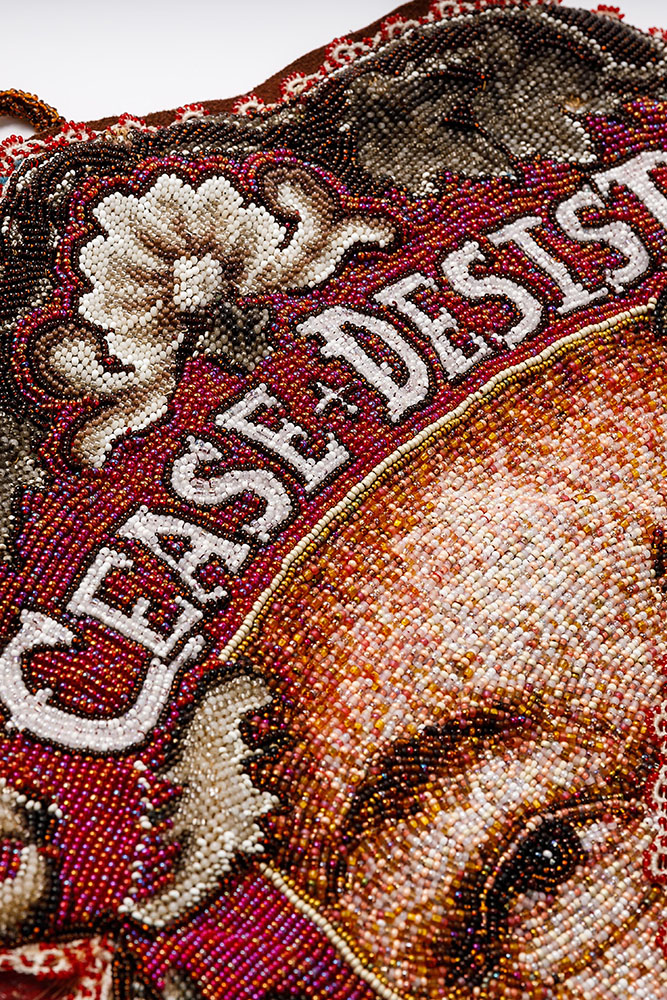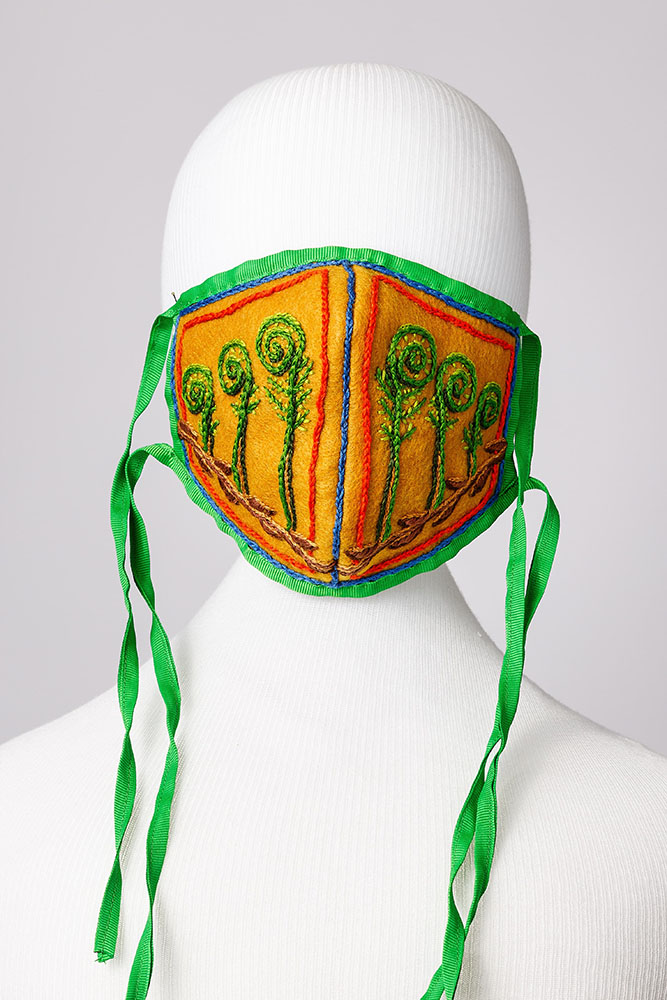 Fiddleheads
Jean Marc Raymond
Materials
Embroidery, felt, ribbon
As a painter, I typically I don't work on embroidery projects. Breathe. was the inspiration to start work on a mask that drew on my interpretation of all that was happening with the pandemic. What hasn't changed in my art making practice is that I let myself be inspired by stories and histories. My mask is inspired by stories that were shared with me by my family. I remember learning about how fiddleheads were used to clean out the body after a long winter. Flash forward a few decades, I was working in the garden, transplanting some ferns and I was really interested in the root system and thought it was so beautiful. This immediately transported me back to learning about the powers of this plant and how connecting with the fiddleheads connects me to my heritage and my ancestors. By honouring the cleansing properties of the young fern, I'm embracing the aspect of renewal in this pandemic, choosing to focus on the earth trying to heal herself.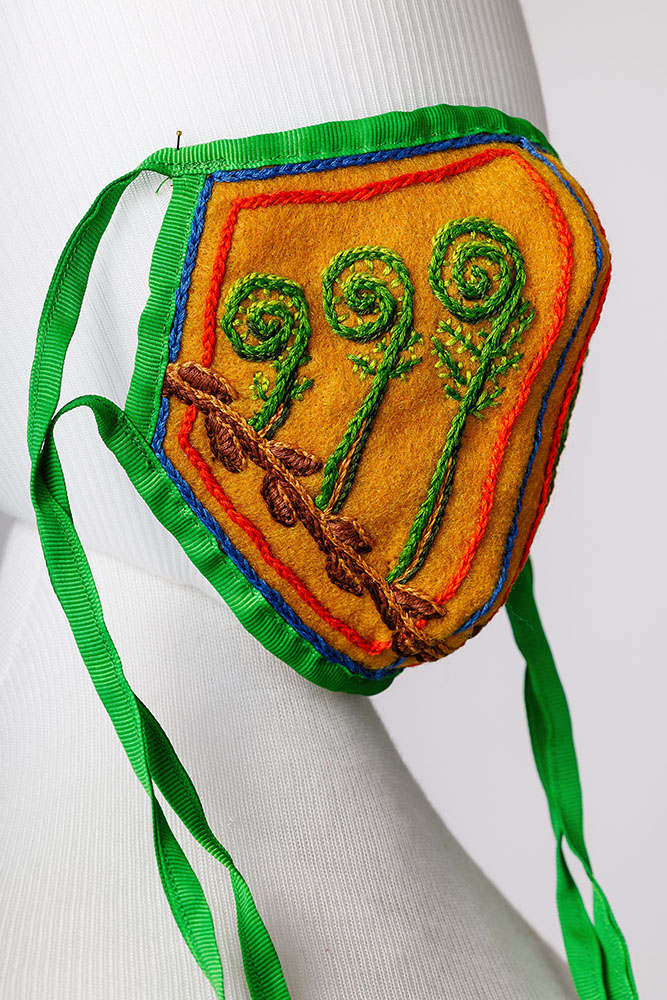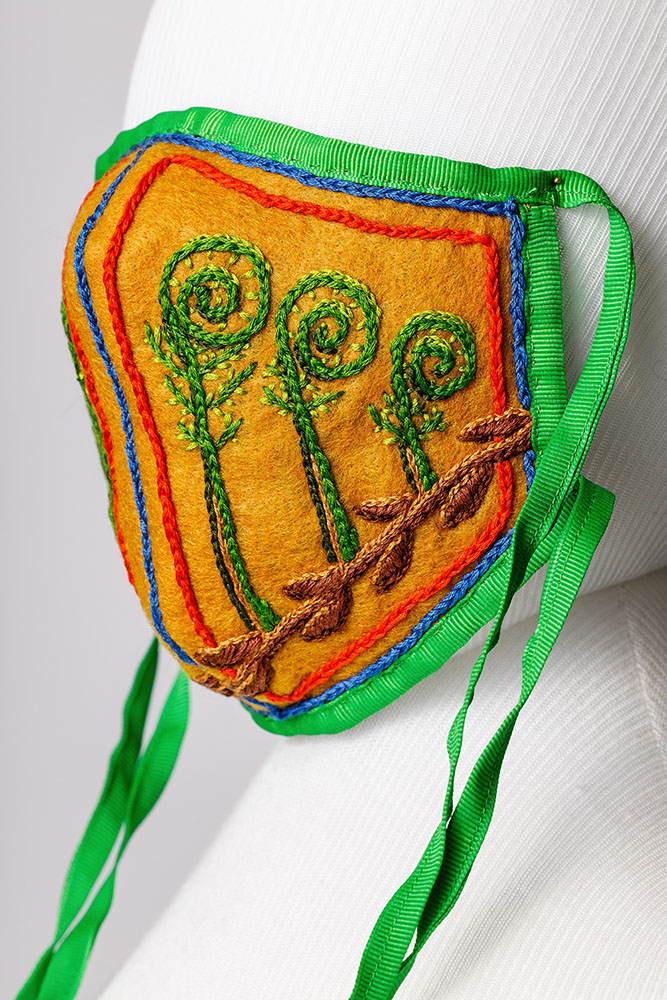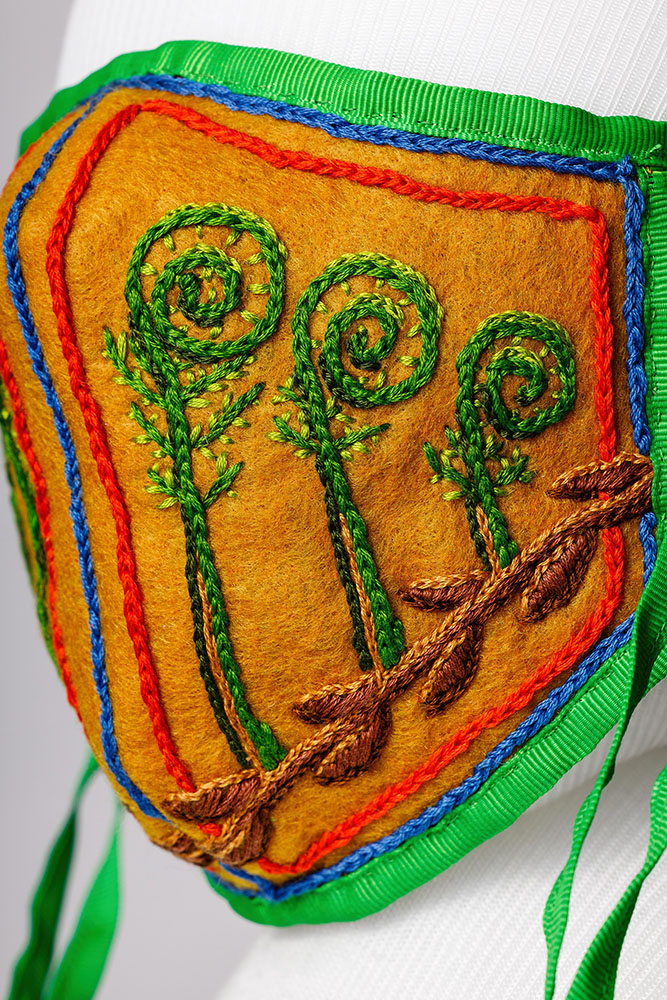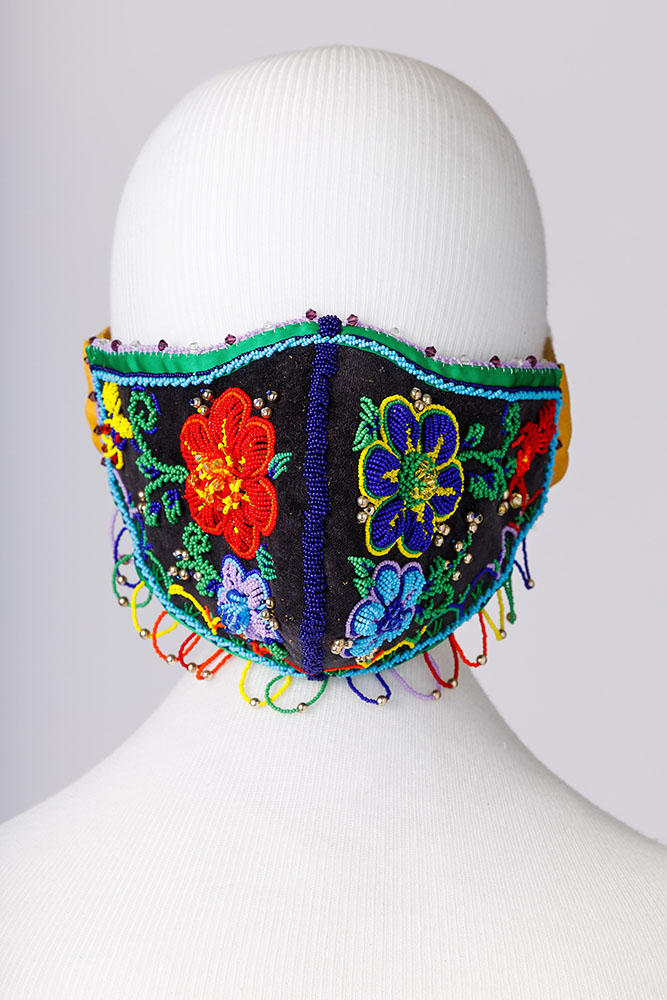 Rainbow (The Calm After the Storm – Covid 19)
Janice Patton
Materials
Toho beads size 15, Toho beads size 11, Swarovski crystals, Grey velveteen, Silver beads, Deer hide, Cardboard
I've always been in awe with the art of beading. Beadwork is considered old form of artwork and has taken on a revitalization in the past few years. I was taught the art of beadwork from my sister-in-law and a friend of mine approximately 10 years ago. After seeing all the beautiful masks that people created on Facebook and Instagram. I felt compelled to create my own mask. 
 I am a nurse and have been taking care of the people in my community for more than 26yrs 
After the Pandemic hit, everything changed, we now live in a different world where the mask has taken on a new meaning. The mask has become part of our everyday life both at work and leisure. I chose the colours of the rainbow for my mask because a rainbow after a storm (Covid19) brings calming winds, beautiful blue skies and the sun, which to me means a renewed humanity, that there will be days ahead, that there will be a vaccine in the future BUT until then this is our new normal.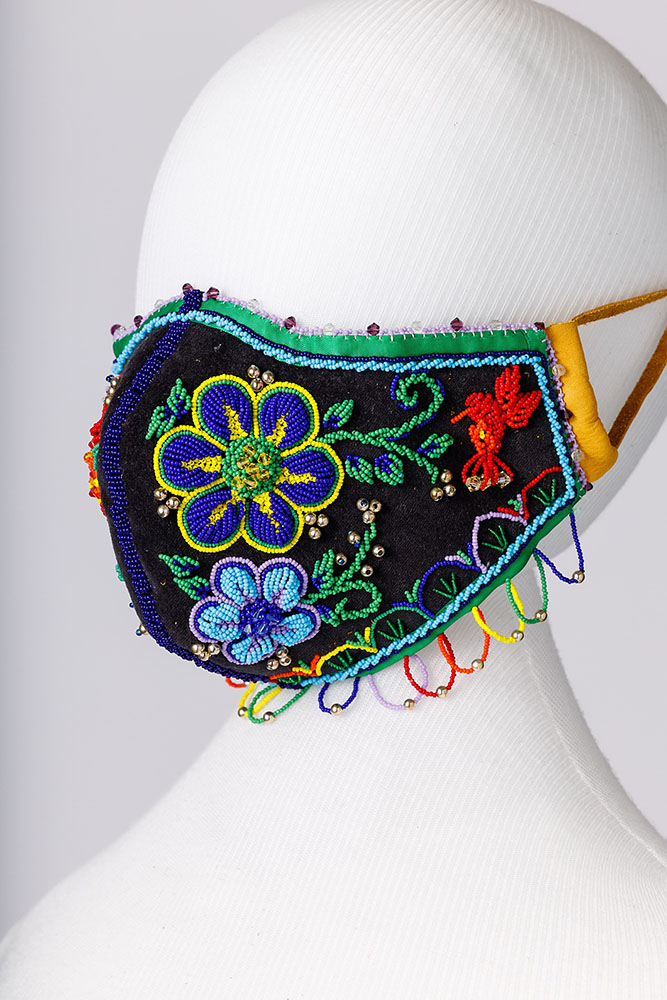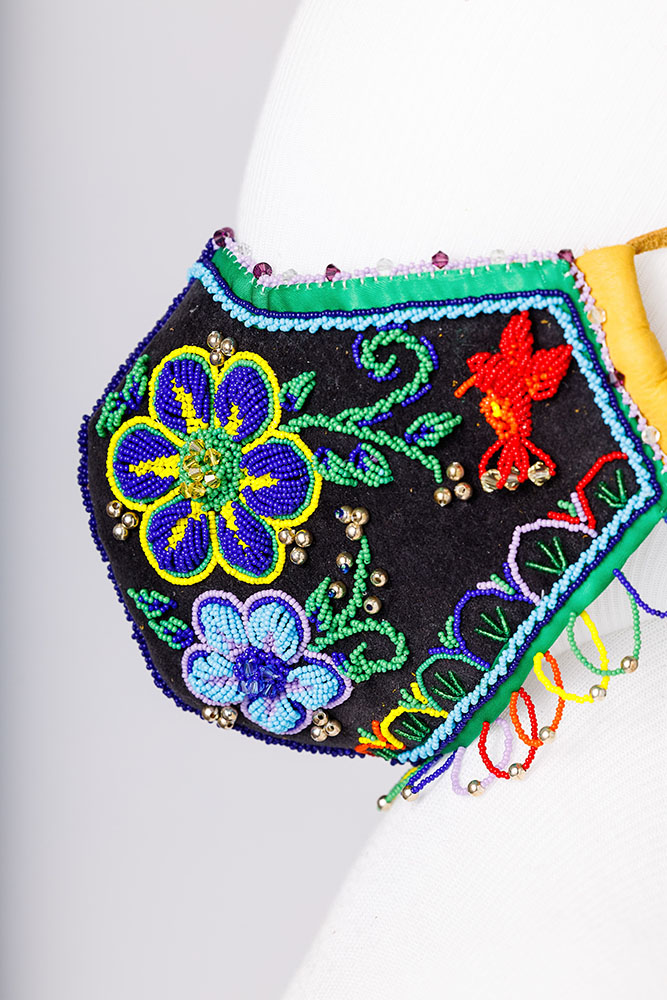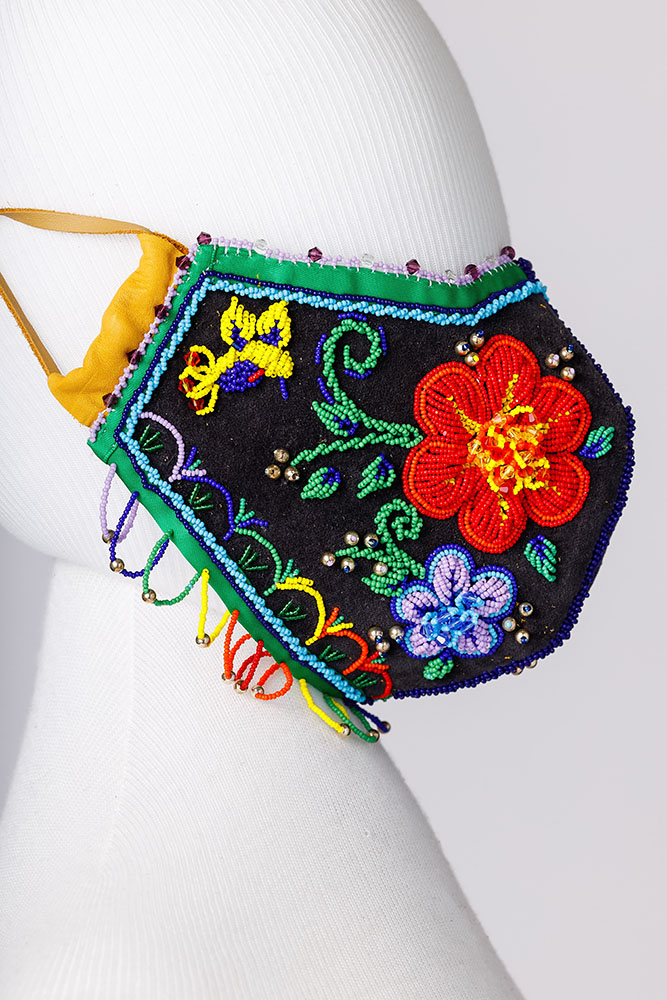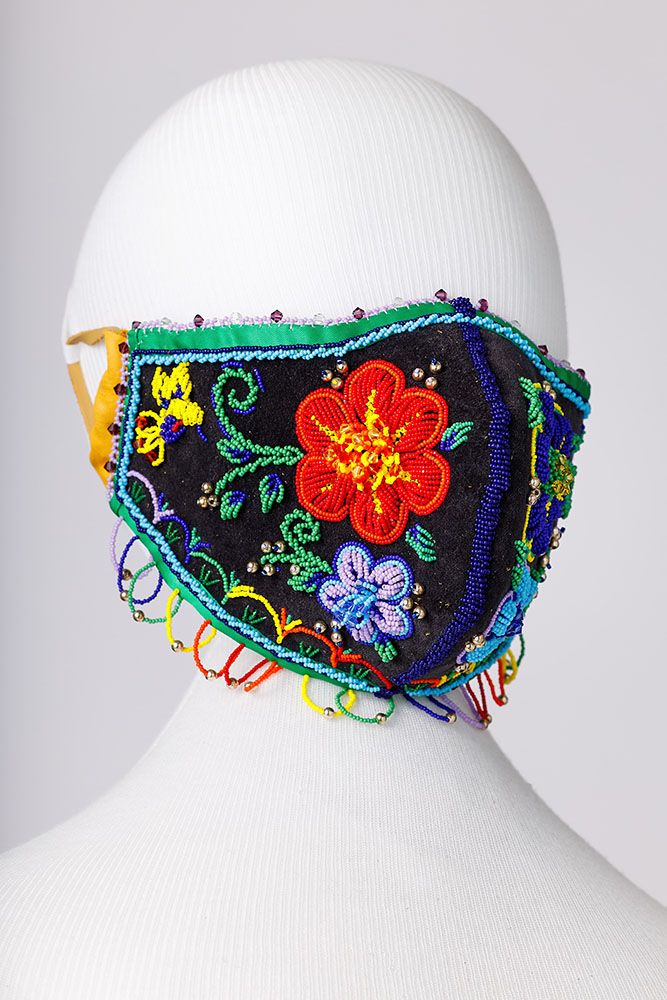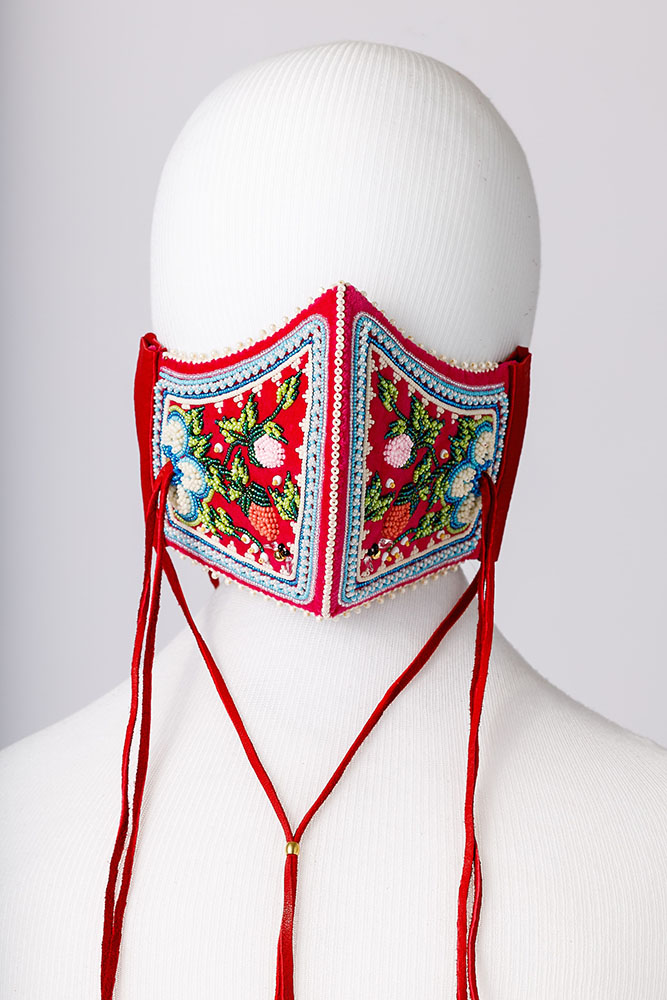 Honouring Our Medicines
Naomi Smith
Materials
Glass beads, cloth foundation, cotton velveteen, paper, red deer hide, brass sequins, nylon thread, cotton calico, metal beads
This project began as a reflection of things that are important to me. As a Woodlands Indigenous person one of my favourite things are Strawberries. Strawberries are the first fruit that nourishes us after the long winter. As a child some of my fondest memories revolve around walking in the meadows collecting up the tiny wild Strawberries that were abundant during the early weeks of summer. I recall always looking forward to picking farm fresh Strawberries. These were such happy days.
The teachings I was gifted with tell how plants are our Medicines. They bring us nourishment and healing. Strawberries signal the end of winter into the season of abundance. Ancestors knew the Strawberries were important. I also wanted to honour the bees and I included tiny bees on each side of my mask. We cannot survive without our plants. Bees help the plants which in turn helps us. The enduring cycle of life is what I was thinking of while creating my piece. My mask was constructed during the Strawberry season, and moon. I wanted to honour this by adding Strawberries into my design along with a white bloom that is represents the Strawberry flower. The summer is such a beautiful time of the year.
Many of us are missing some of summer due to Covid19. I have been inside our house for months. I like that I can preserve our Traditions from a contemporary perspective, I think our Ancestors would have made their own masks too if this was an important part of life.
Thankfully I have my beading to keep me in a good mind. Beading is relaxing for me, it feeds my Spirit and acts as a canvas of expression, where I can tell my stories and share the traditions of my people. Our Indigenous art is meant to preserve and remind us of these important acts of life.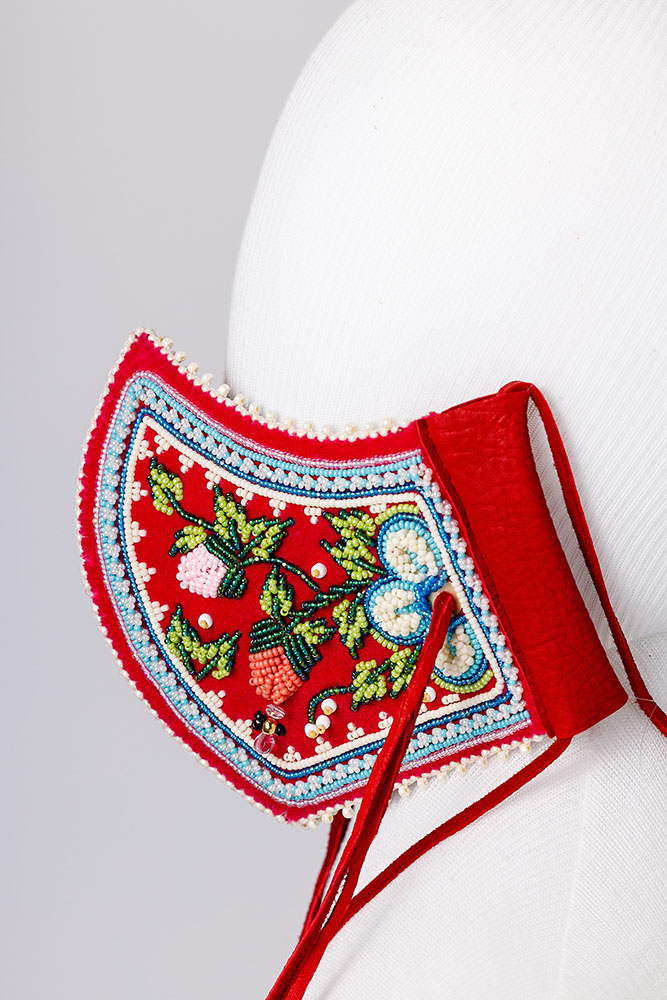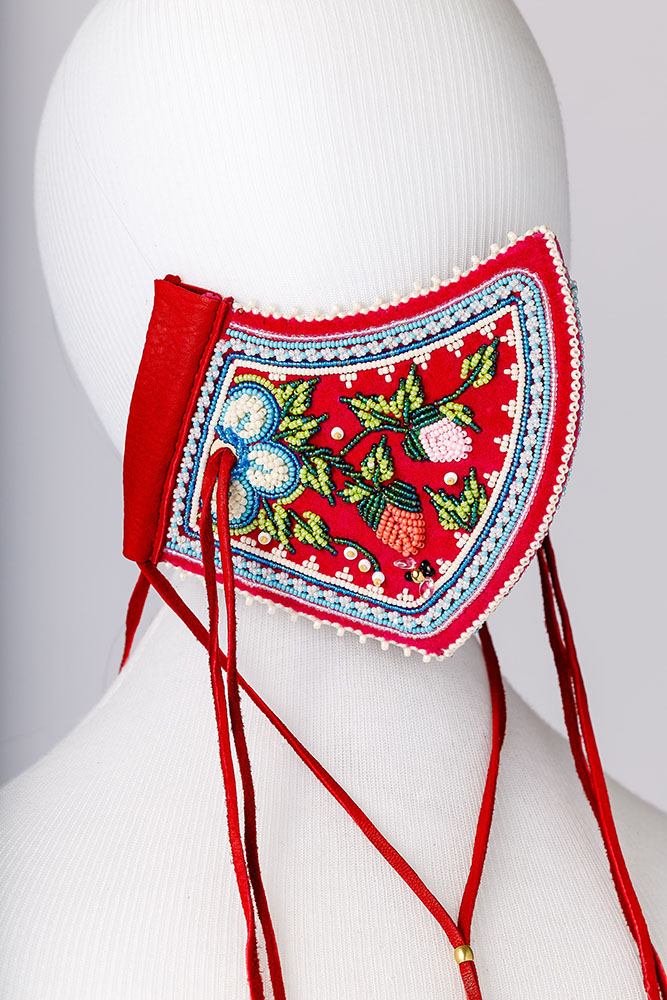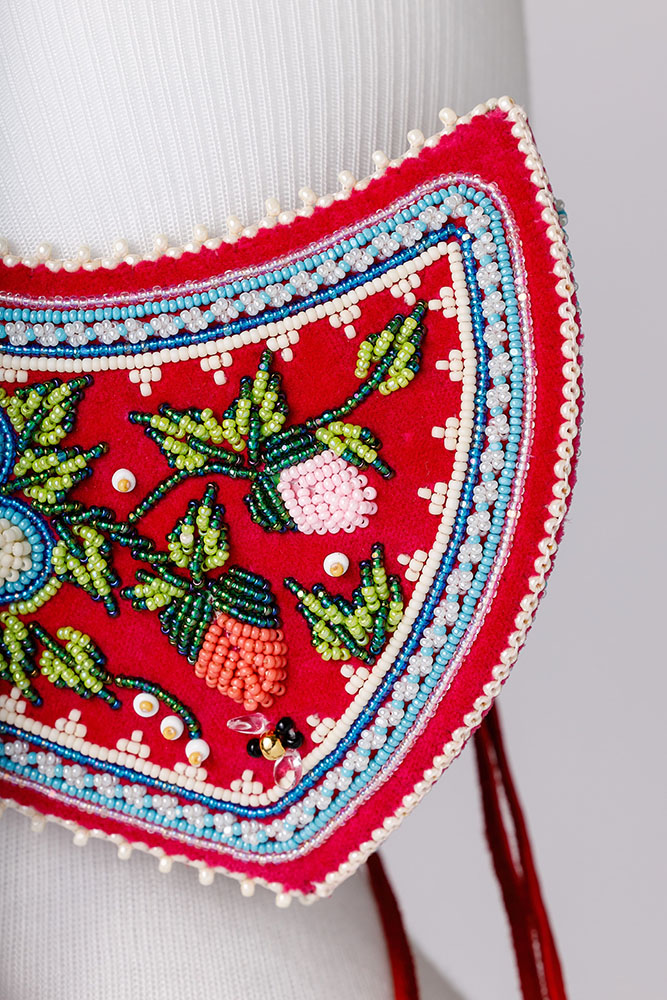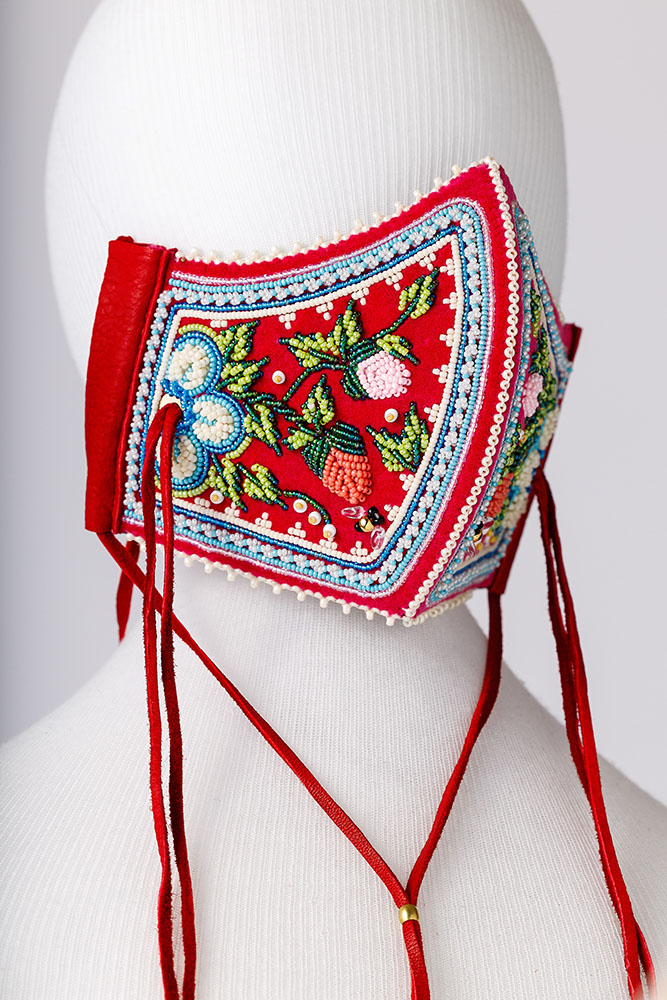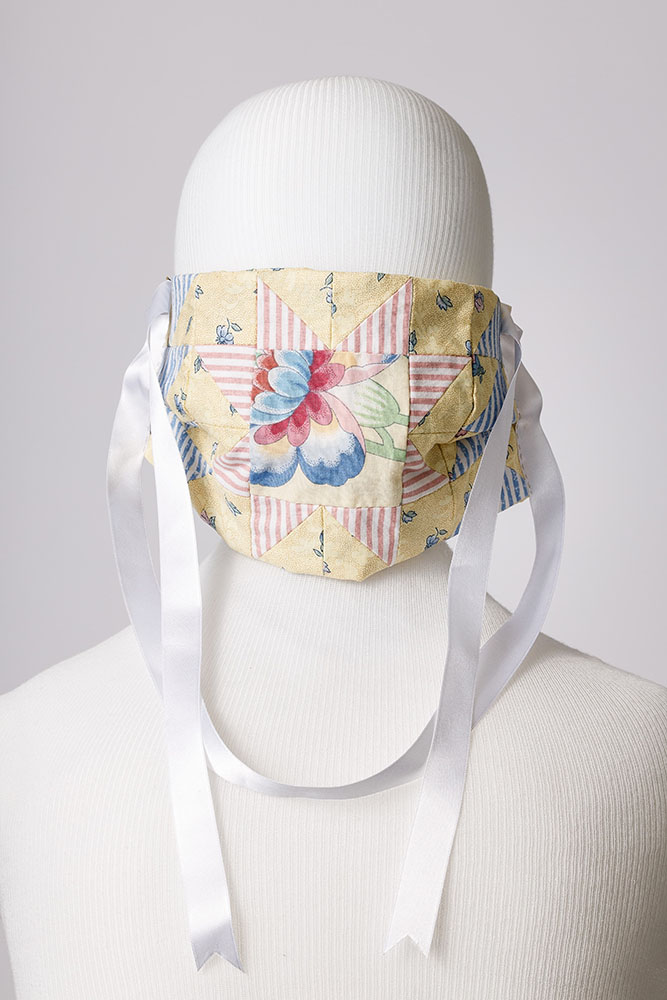 Flying Geese and Morning Star
Beverly McNabb
Materials
Fabric, ribbon, thread
Quilting is a traditional art form in my family history. Both grandmothers were settler Canadians who were skilled in sewing techniques and produced beautiful quilts as part of their creative repertoire. 
Mom's mom embroidered beautifully, and Dad's mom, my Oma, cross-stitched many quilt tops for her own home use and as lovingly made gifts. Oma, who after emigrating to Canada and learning to sew as an adult, became a professional seamstress, and from her I learned both the art of pressing and sewing. 
I chose to use vintage materials that would be traditional for a baby quilt, both in colour and scale. The quilt square, originally created for a baby quilt, to lovingly swaddle a newborn, has been repurposed now to offer loving protection from the virus that has been ravaging the world. 
The flying geese design honours the Canada Goose, a creature whose babies we have enjoyed watching this spring. The star design pays tribute to the Morning Star quilt in the recent Call to Action #83: Round Two art exhibit. Satin ribbon secures the mask, recalling the satin edging on blankets that have tucked children into bed for generations. 
It has been a blessing to create alongside this online community of artists during the pandemic, giving me purpose and meaning. It has been a way to honour the strength, resilience and creativity of my grandmothers and given me appreciation for the heritage and resilience of my Canadian sisters and brothers.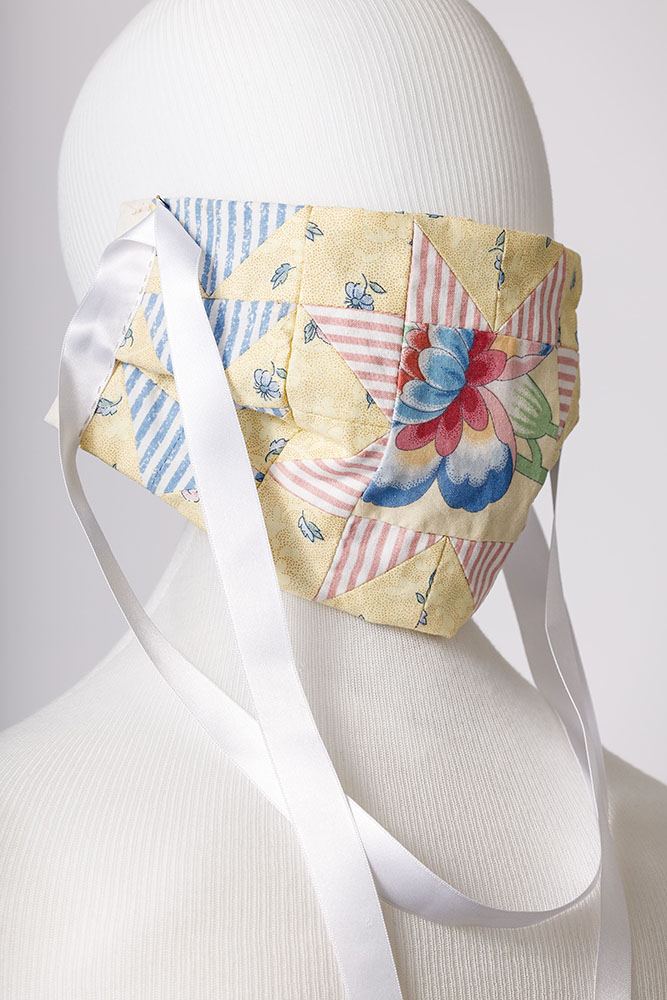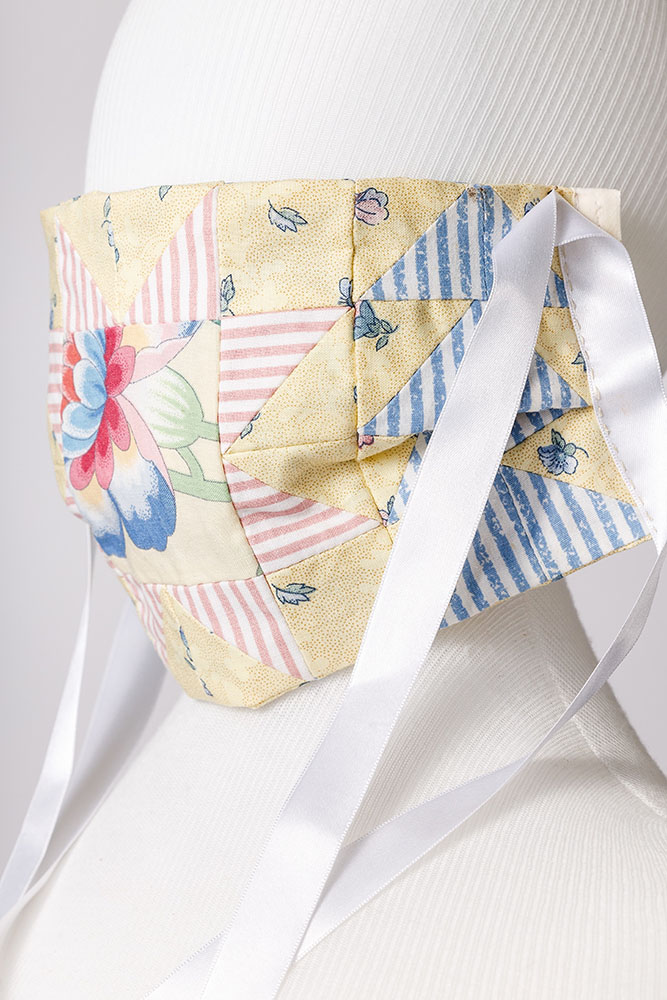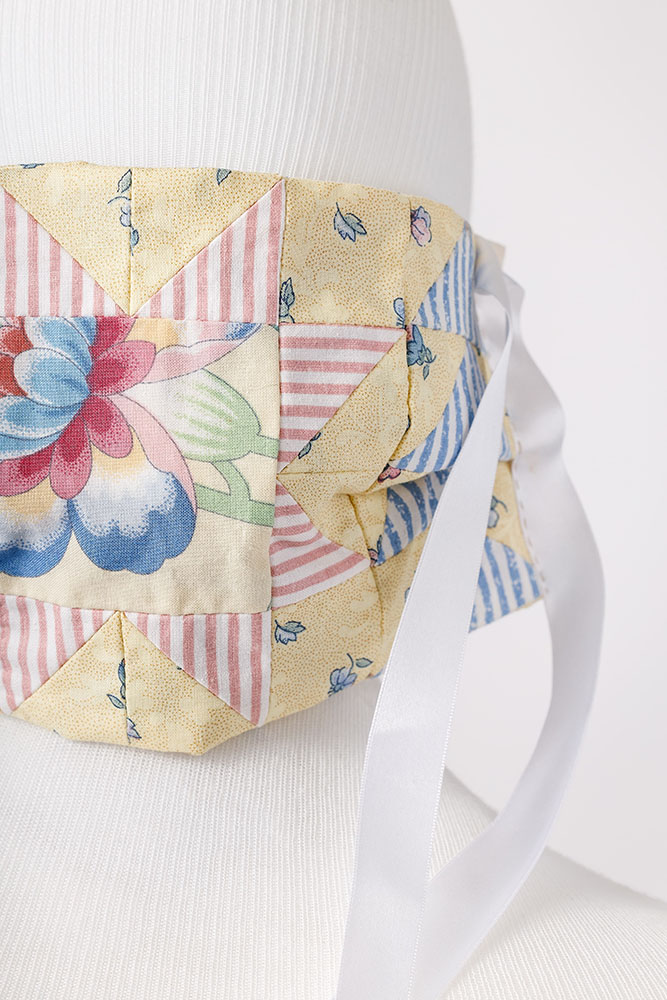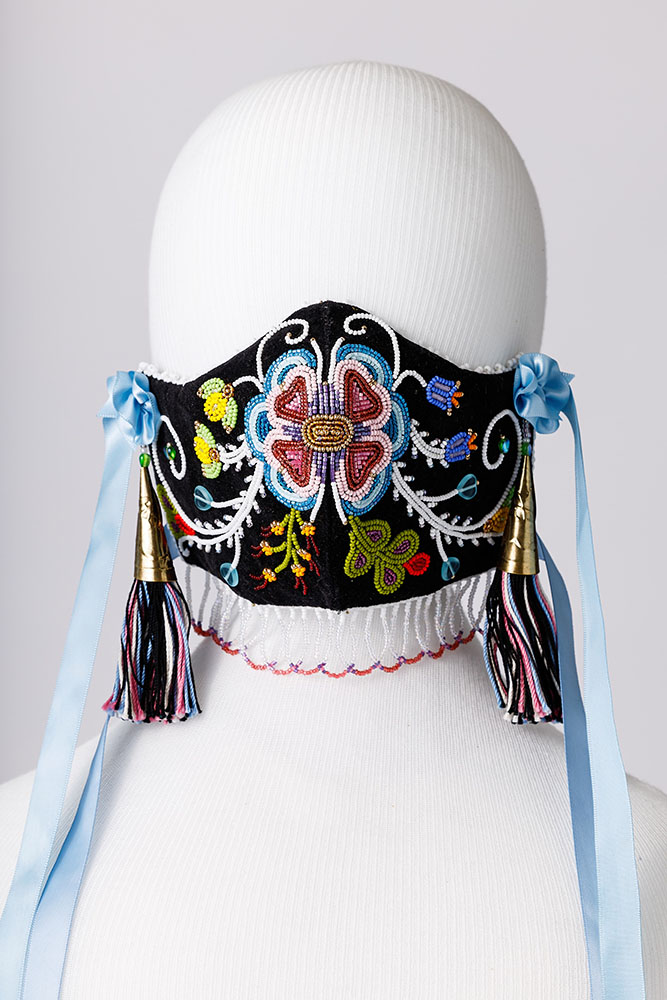 Wahkohtowin
Lisa Shepherd
Materials
Velveteen, beads, ribbon, cotton fabric, tin jingles, hand-tied yarn tassels
I think about our interconnectedness. To each other. To nature. Our family has been going to the forest to make offerings to the water. It's a time of feeling small; a release of so much that we carry every day. Strangely, there is comfort with some loss of control. We are isolating and realizing the deep need that we have for each other. For connection to all living beings.
Our city has slowed down to the pace of the small prairie town from my childhood. Colours seem brighter, sounds more crisp, the air is clean and - oh, that sky! How could we have taken such everyday miracles for granted? There is much to be grateful for. Never has an art project been so full of paradox, in a time of fear, uncertainty, and loss.
We head into a long weekend, but we will stay home and say our gratitudes. To Creator, to Mother Earth and to each other. Covid19 has happened fast and many have gone to hospital alone and passed on to the next world. What was left unsaid?
And so, I will keep open to all the vivid beauty of the world and not to take a single moment for granted. I will tell the people dear to me that I love them. I've been saying this a lot lately to every friend I speak with by phone or video chat, because I do.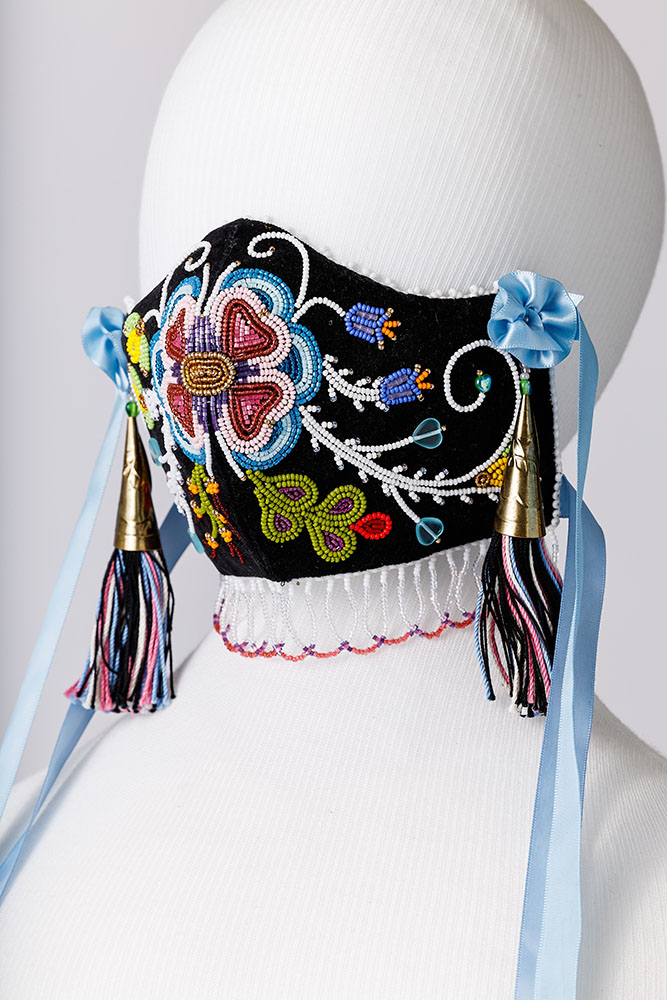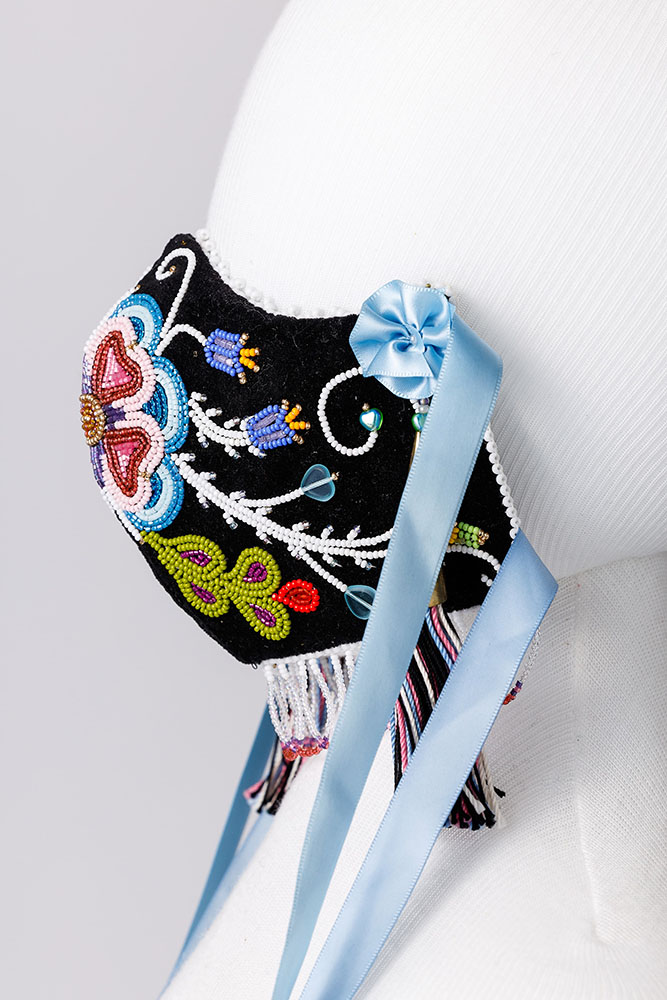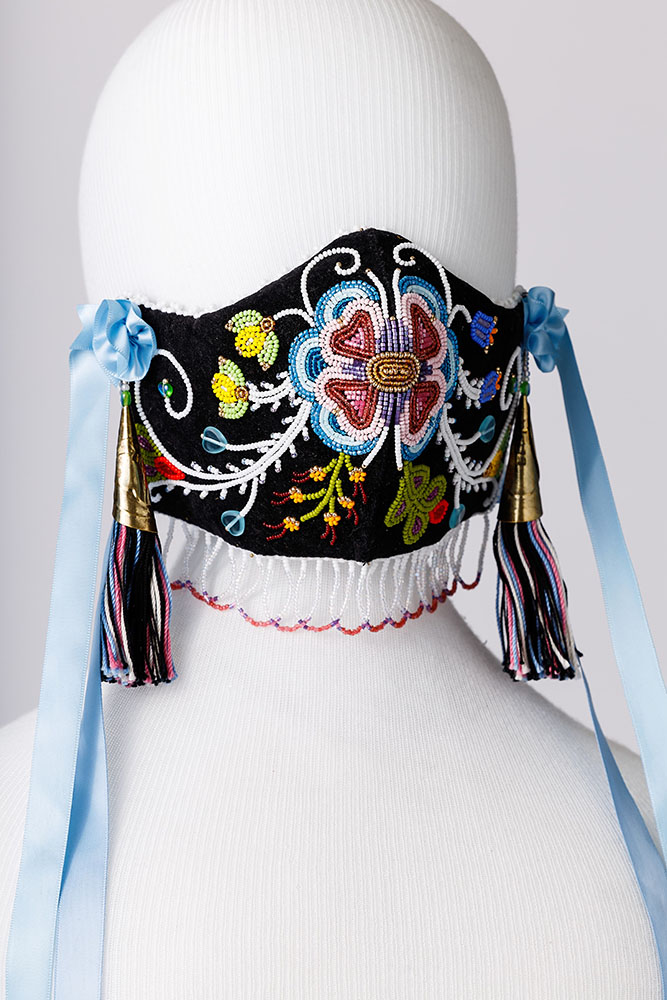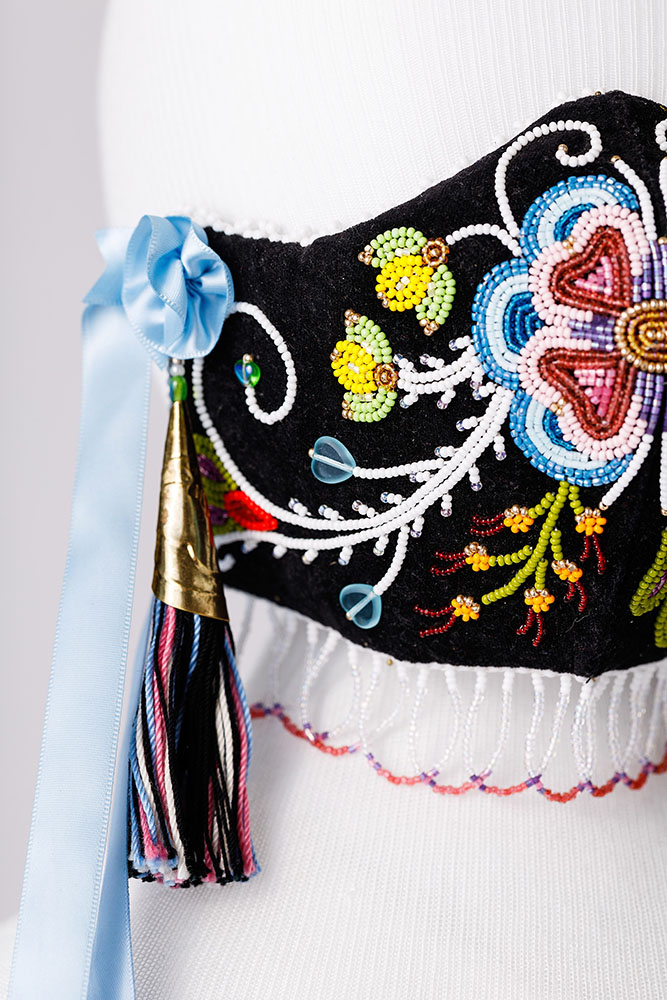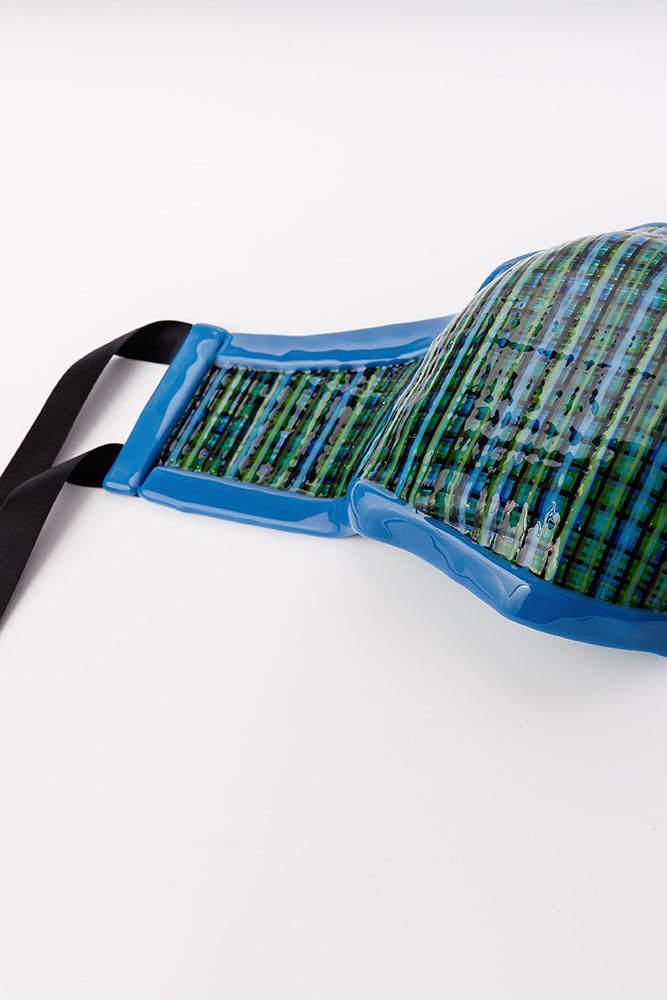 Stronger Together
Cheryl Broschell
When I saw the Breathe project I was intrigued to try to make a mask out of glass. I placed individual stringers of glass side by side, horizontally and vertically to represent how we are all so tightly weaved together in this. I chose blues and greens to emulate a feeling of the globe. The black stringers are the virus that is spreading across the globe, touching us all in some way. Individual stringers are very fragile, fused together they become stronger, however the finished glass is still weaker than most pieces of glass. COVID showed me this is true in our lives, our normal routines and things we take for granted are so much more fragile than we realize!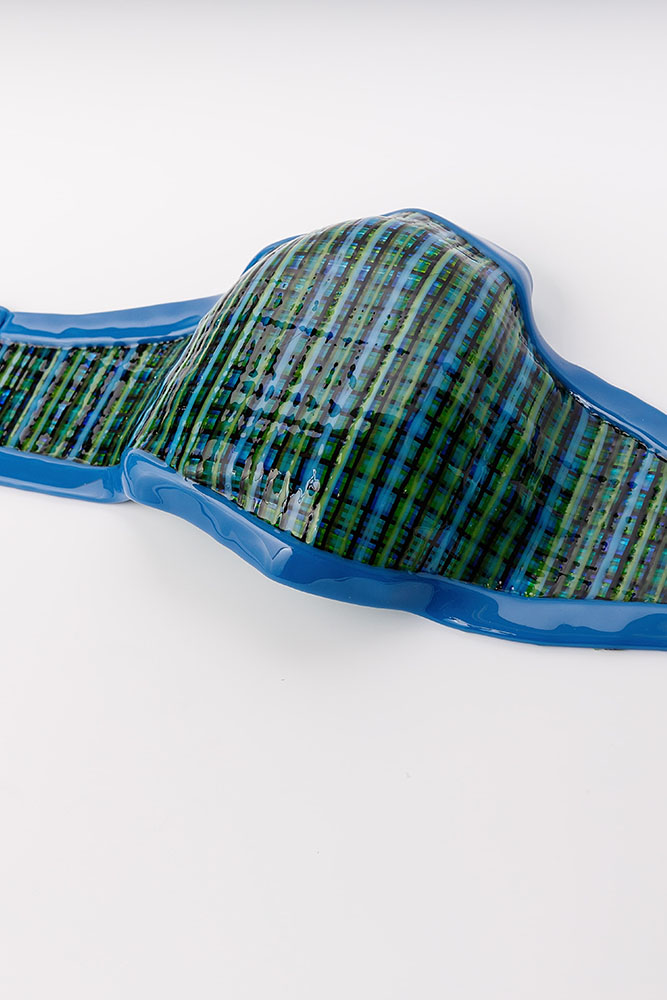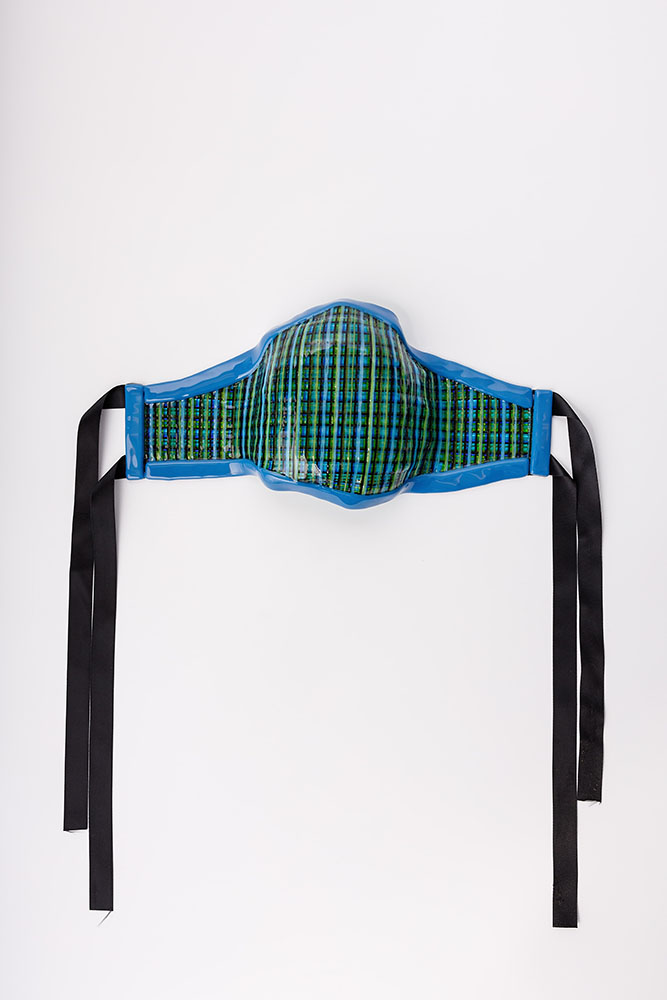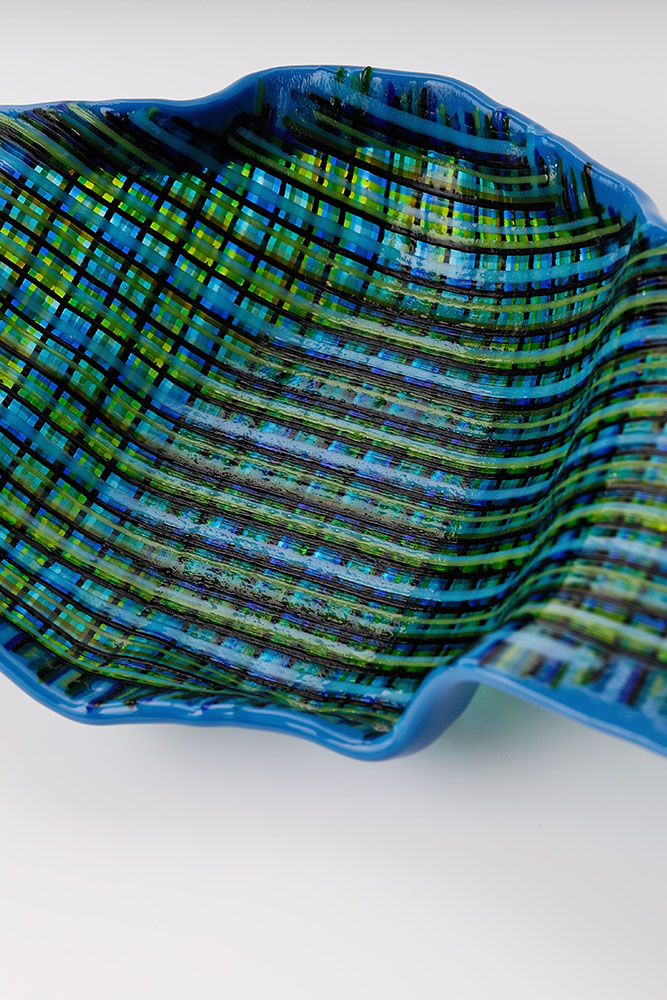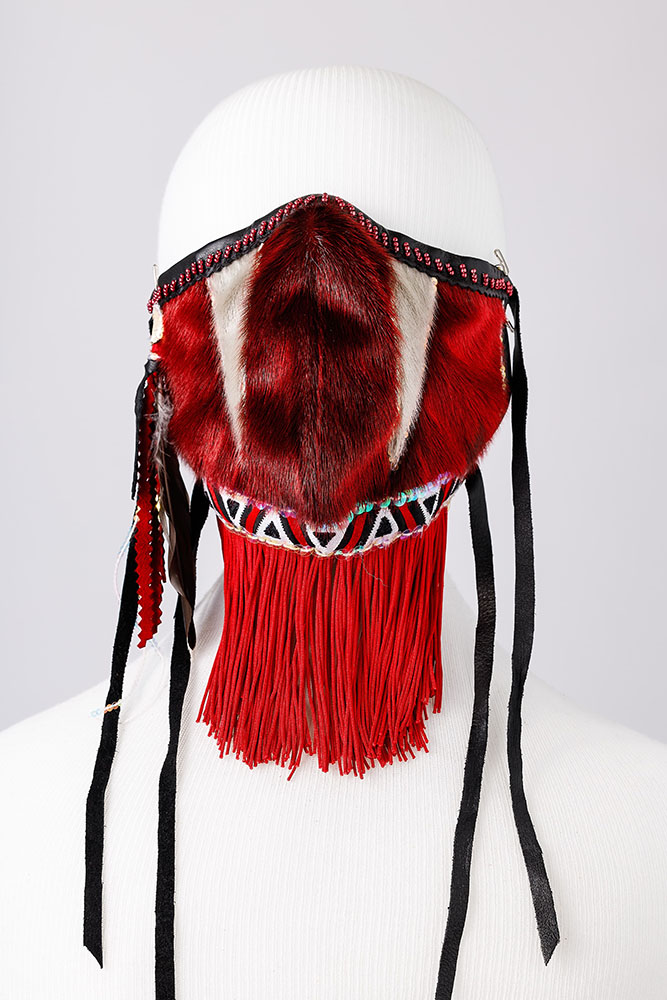 'Inuvialuit Fortitude,' Sealskin Pandemic Mask Set
Taalrumiq | Christina King
Materials
Sealskin (Red and Natural), Leather, Ptarmigan feathers, Birch bark, Sequins, Glass Seed Beads, Fabric, Ribbon, Chainette Fringe, Reclaimed metal bag tie
Inspired by the resilience and fortitude of Inuvialuit, I created a Sealskin mask set in response to COVID-19, with recognizable Inuvialuit design elements such as walrus tusks and fringe.
With the pandemic and travel restrictions, my children and I worried we may not see family again, how might this affect people with health issues, or we could get sick. To ease their worries, I told them we descend from the strongest Inuvialuit, those who survived the Flu Epidemic approximately 100 years ago. The flu epidemic and small pox decimated our population, wiping out over half of Inuvialuit to the verge of extinction. Inuvialuit living today descend from survivors.
My maternal grandparents were young children at that time, helping the sick and dying by fetching water from the river.  Ataatak Eddie's adoptive mother passed on during this time. To know that my grandparents survived, plus residential schools, colonization, tuberculosis isolation, government imposed rules and regulations on hunting and fishing, given numbers as government identities - yet they still went on to have a family and full life; this gives us hope that we too will survive.
To have created these masks, to make something beautiful in such uncertain times, mixing traditional with modern, helped me to feel connected to my ancestors; to honour them, including those who didn't survive. And to maintain cultural identity and values no matter where I am in the world, far from my ancestral homeland and no matter what I'm living through, even a global pandemic.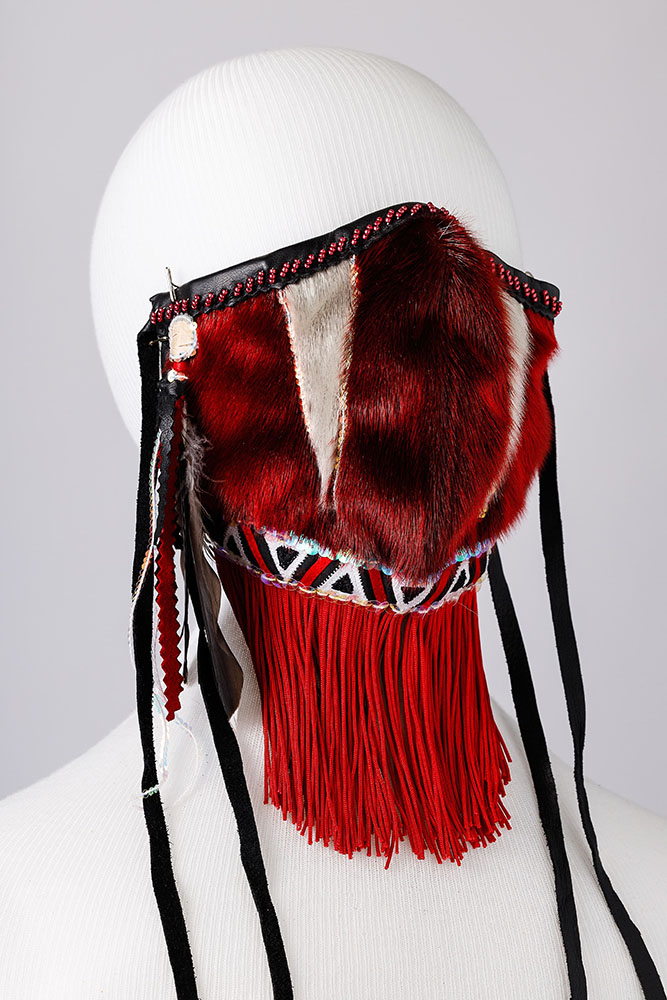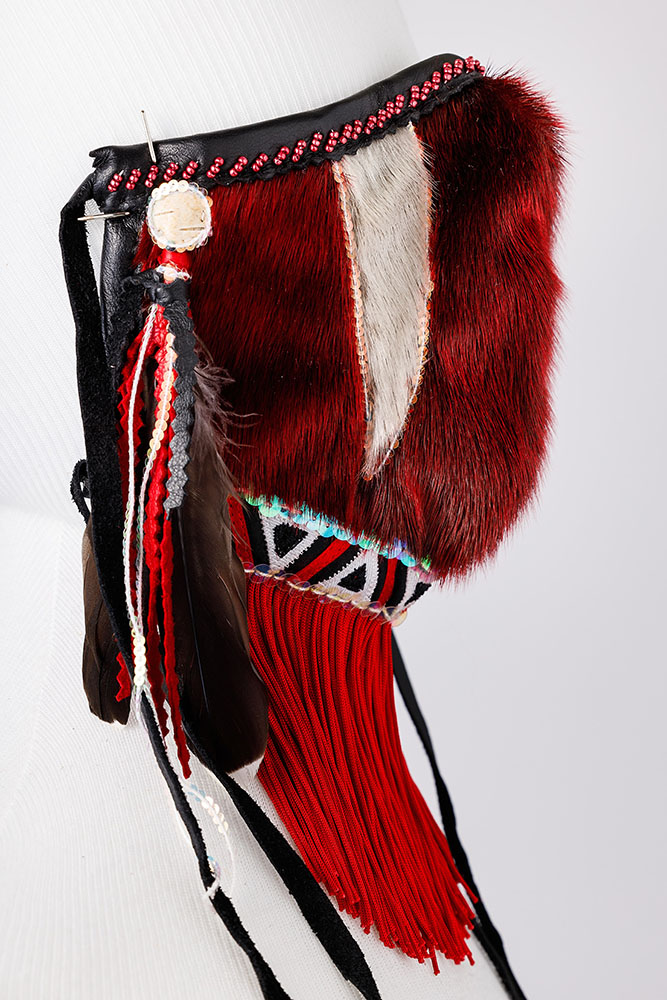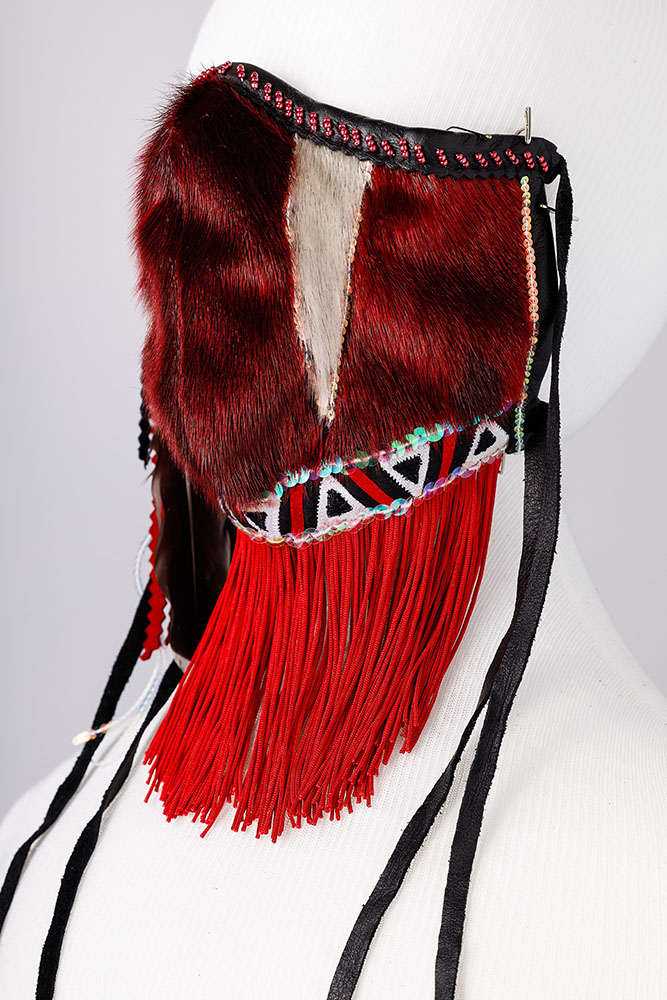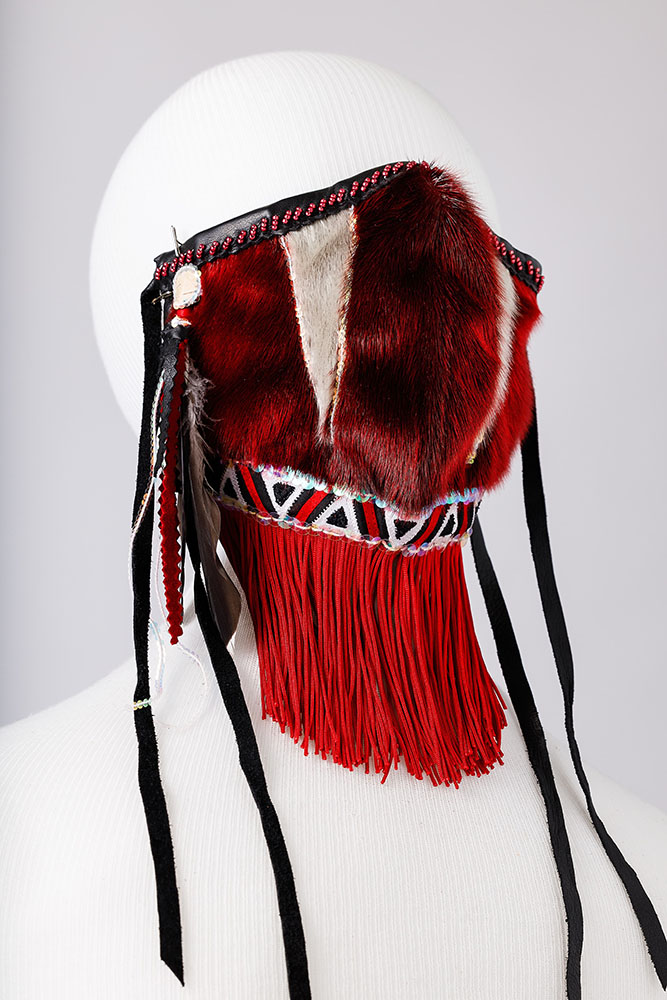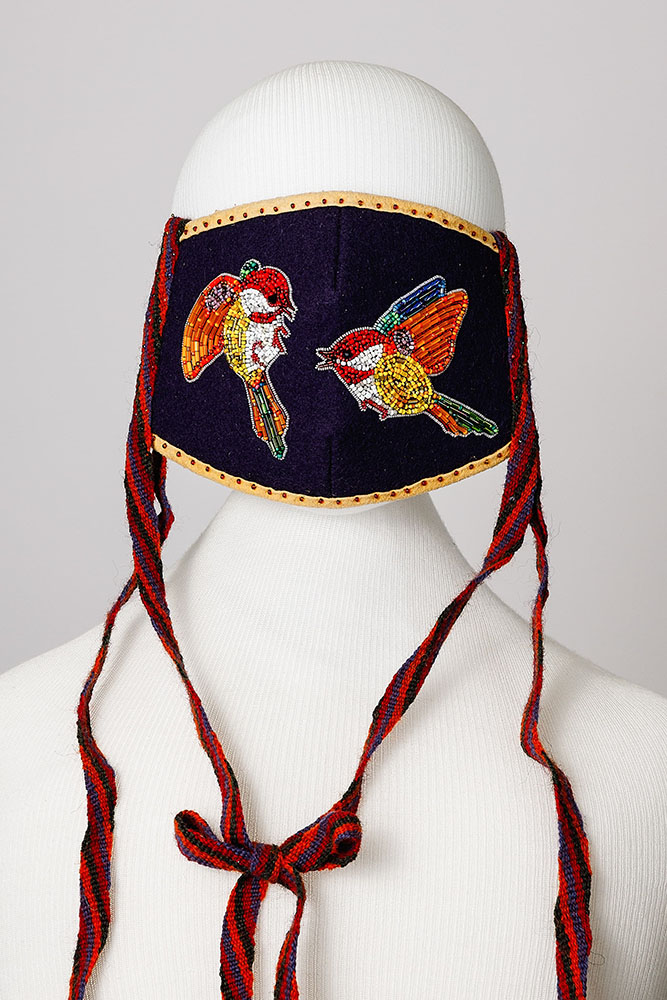 Fighting Chickadees
Krista Leddy
Materials
Glass beads, wood, deer hide, cotton
These chickadees are in battle, with the image being inspired by the fighting and hoarding of goods we experienced and are experiencing during this time of Covid. Items that were available in sufficient quantities, such as toilet paper, yeast, and soap were hoarded by some, creating artificial shortages that were completely unnecessary. How we were fighting over these resources reminded me of chickadees fighting over a feeder with plenty of seed. Really, fighting over nothing when if we could set aside our greed and fear so we could share, there would be enough for everyone.
The design elements of the mask are also a statement of the selfishness, lack of cooperation, and lack of sense we have experienced. The pattern for the mask is ineffective for reducing the spread of the virus. The straps do not tie the mask on securely, but rather are placed for visual appeal and for display. The back of the straps, where they are attached to the mask, is beaded to create a hidden vanity that would be very uncomfortable to wear and have no effective purpose.
The straps are finger woven in the traditional style of the Métis sash, and the mask is trimmed with hand tanned deer hide.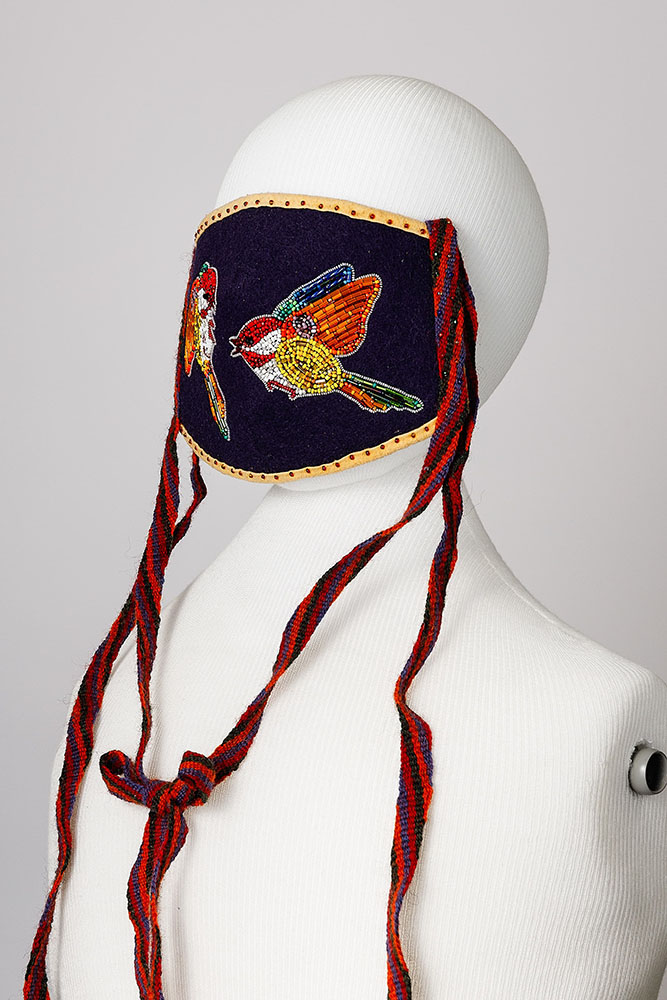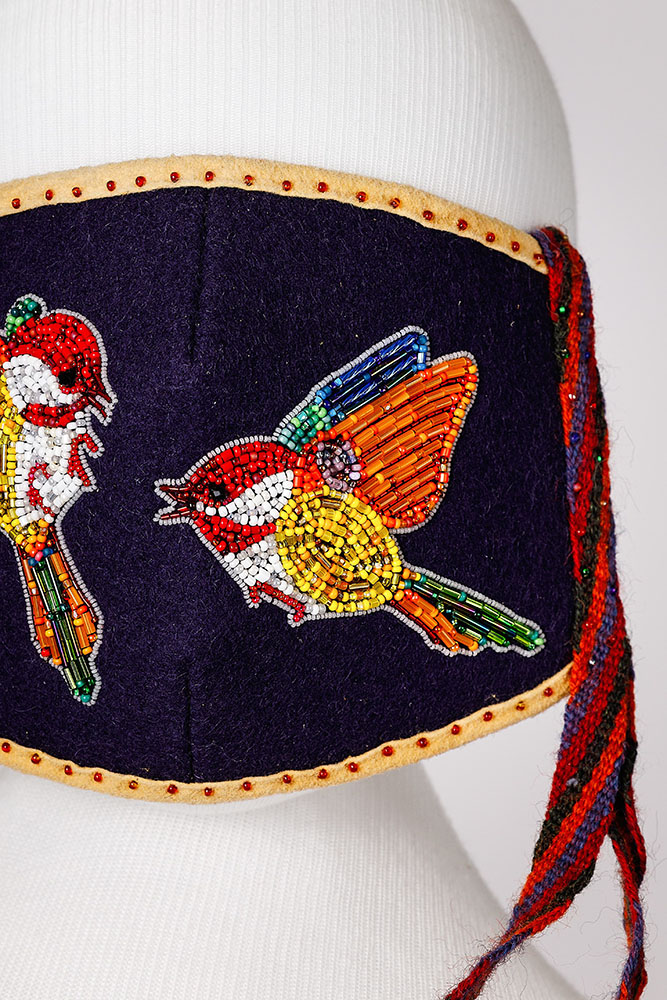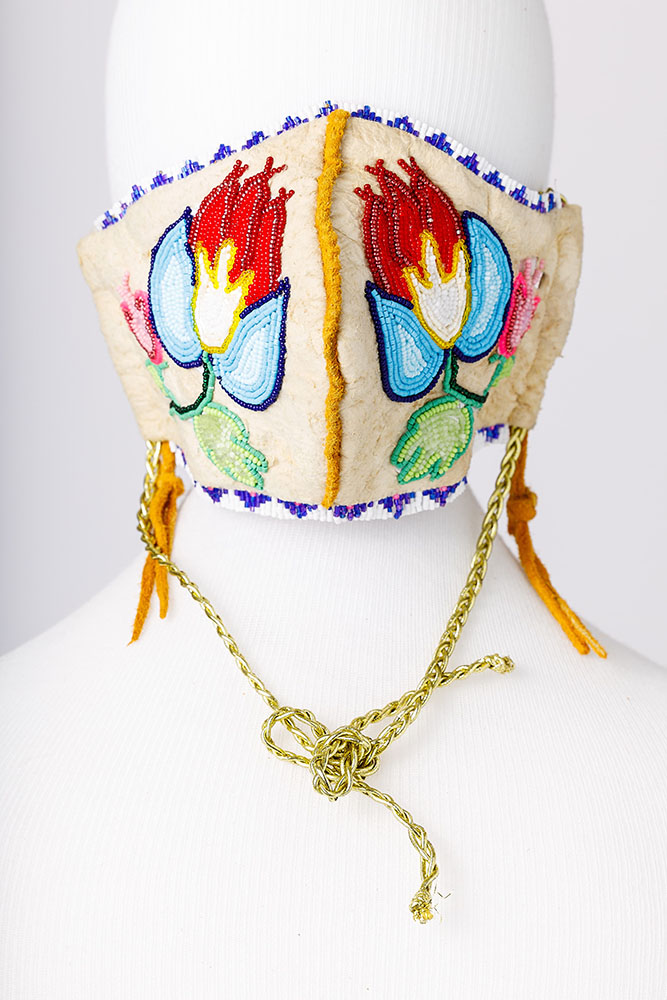 Resilience / nêyihaw pimatisîwin
Candace Longjohn-Constant
Materials
Commercial buckskin, beads, elastic cord, cotton fabric, interfacing
I'm Plains Cree mom of 6; we were already self isolated, 3 of my kids have autism, quarantine helped us connect with the world through masks. My culture/worldview are present in this mask appliqué beadwork. Blue to bring  autism awareness, so much of my mask design includes compliments of my sons, who by routine will say   "mom I see you are working so hard" Also blue represents water,  cleanses, it's what we need to wash our hands and to drink often to fight this virus. Red represents resilience of women, grandmothers, mothers, daughters. Those who shape us, teach us and remind us of our gentleness when we are front line workers in our own homes and usually extend our helping hands further then our curbs. Yellow- the sun rises in the east. Each bright day brings a gift to be thankful for another day. Green is to show us that we must treat the earth respectfully and to reconnect as much as possible. Pink because it's a nice colour. White - reminds that we have an almighty Creator, the colour reminds us to pray in thanks and hope for our families. The leathers are commercial and worn buckskin hide. Inside are interfacing, a floral cotton pocket. The beaded edging to matches my daughter's leggings. It's designed to look like princess pow wow crown. I appreciate all the love and care from my family supporting me make this mask.  kinâskomitin thank you for reading.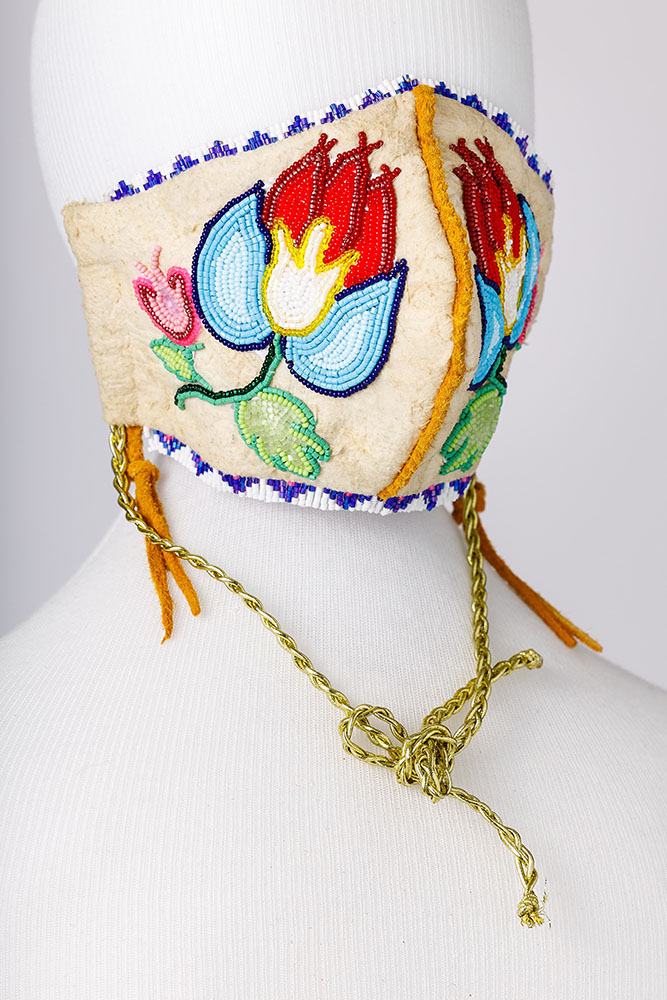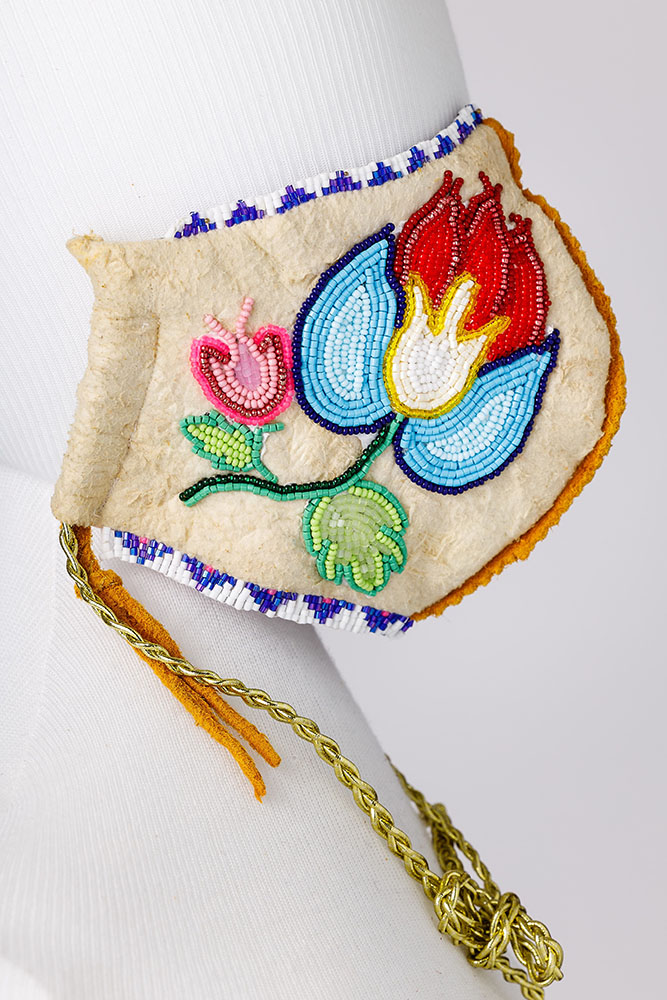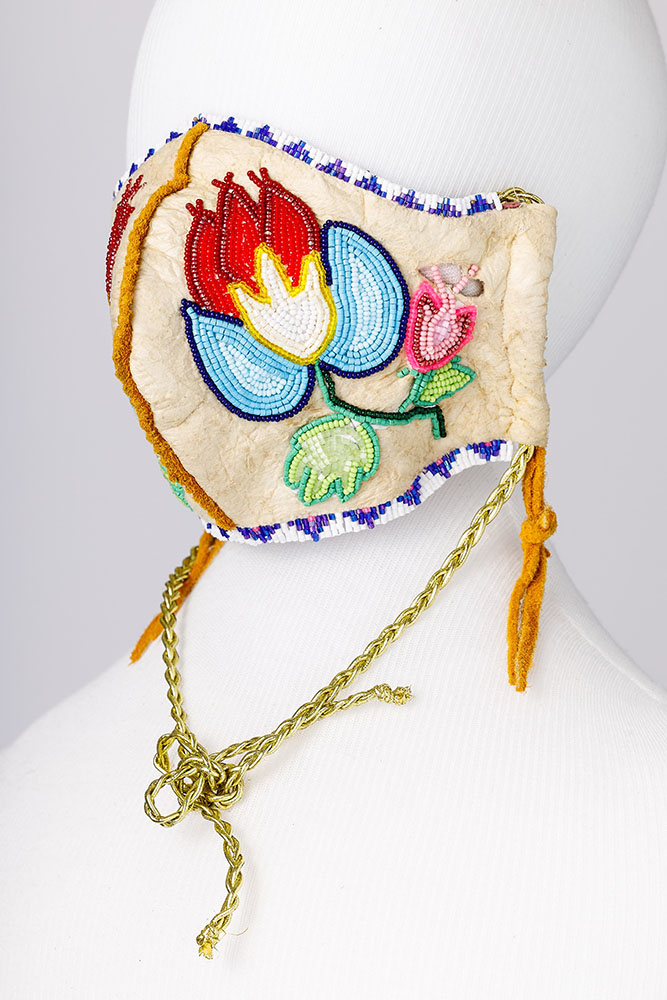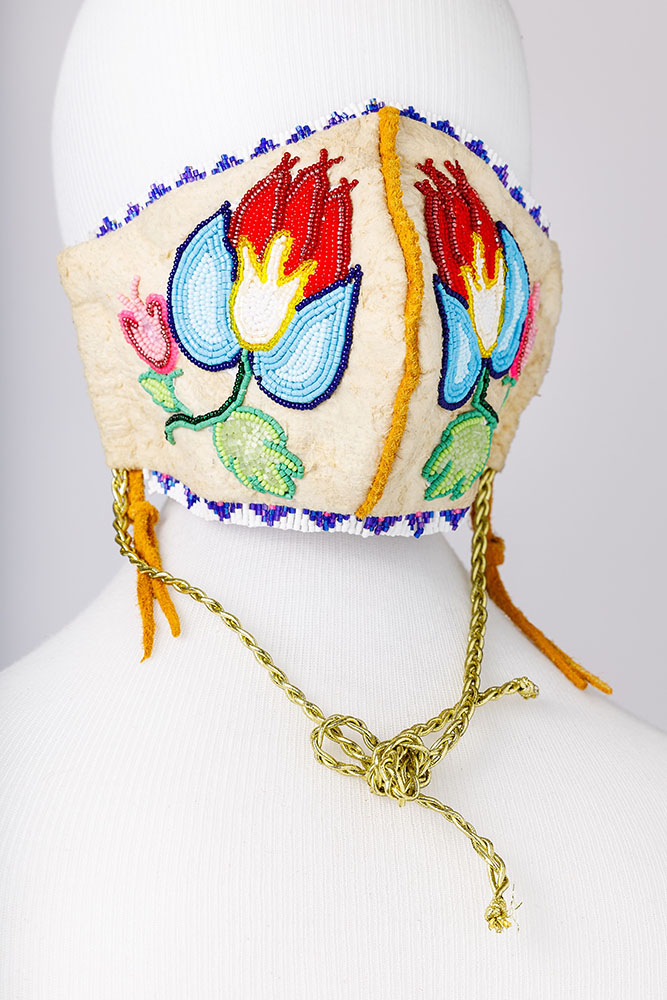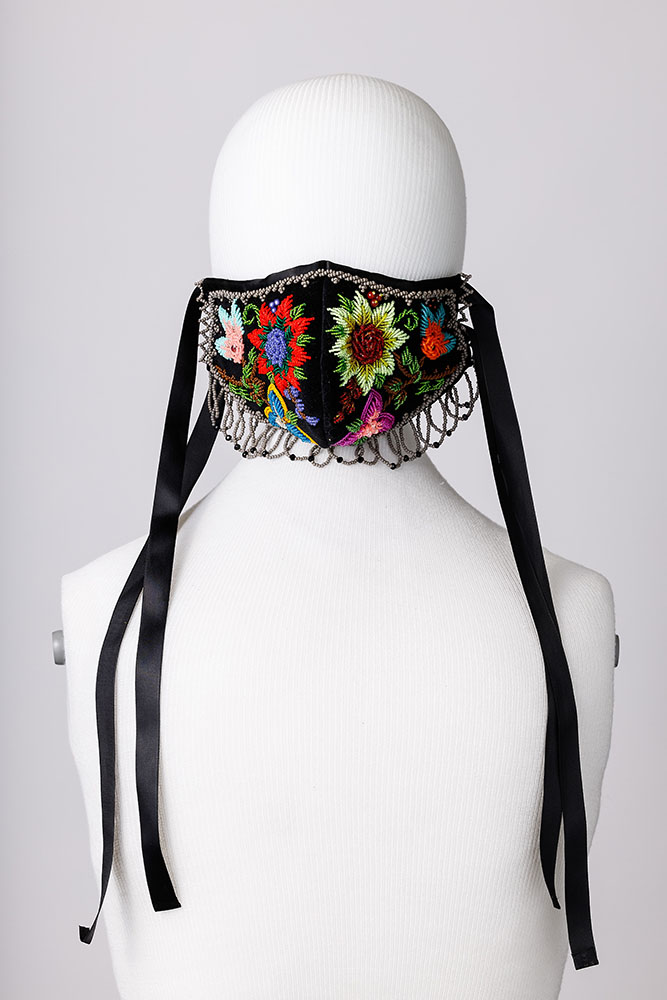 Covid Contrast
Terri Thomas
Materials
Cotton Velvet, Cotton Calico, glass beads, satin ribbon
My mask is called "Covid Contrast." I used colours that contrasted with each other because that's how this pandemic has been thus far - a contrast. Happy to be home with family but sad because of all the unknowns. I used cotton velvet to bead on, and lined the mask with cotton calico fabric. Satin ribbon was also used around the edging as well as for ties. Miyuki seed beads in size 11 & 15 were used and other various beads for embellishment. I am a Mohawk from the First Nations territory of Kahnawà:ke in Quebec. My style is Iroquois (Mohawk) raised beadwork.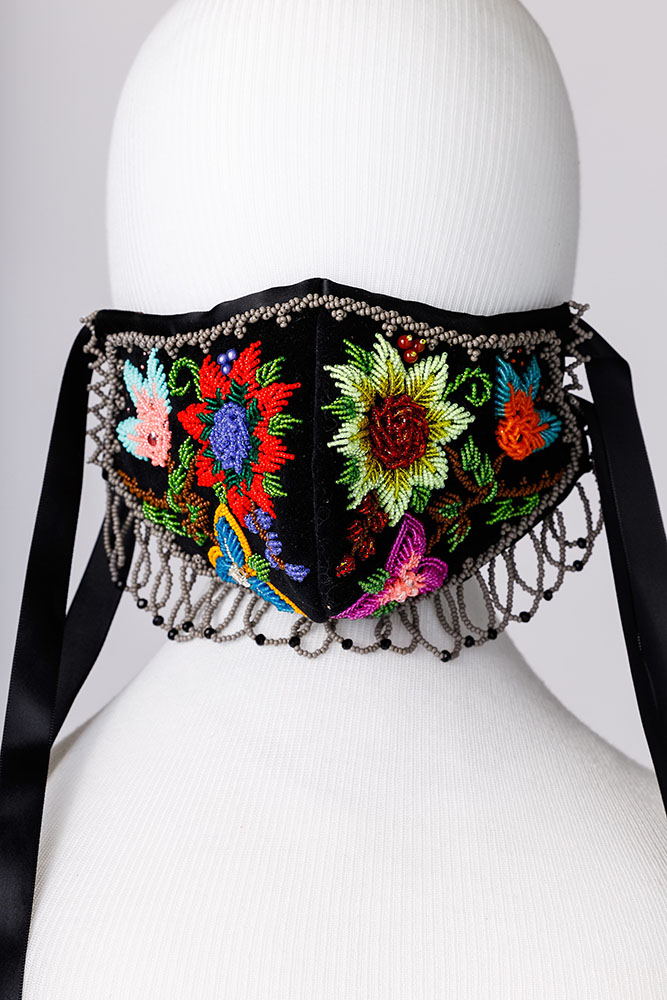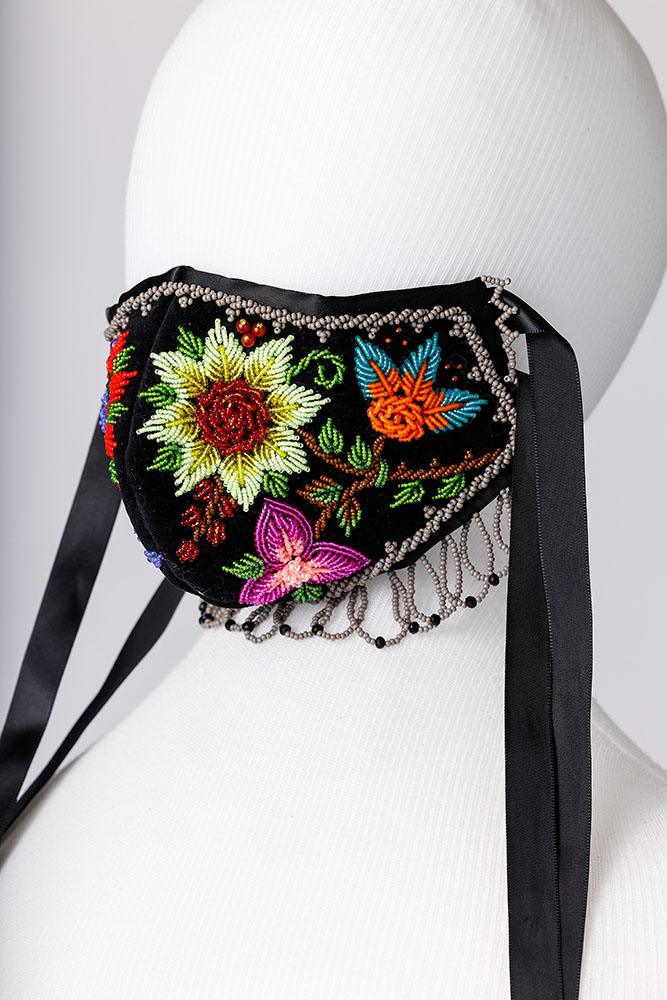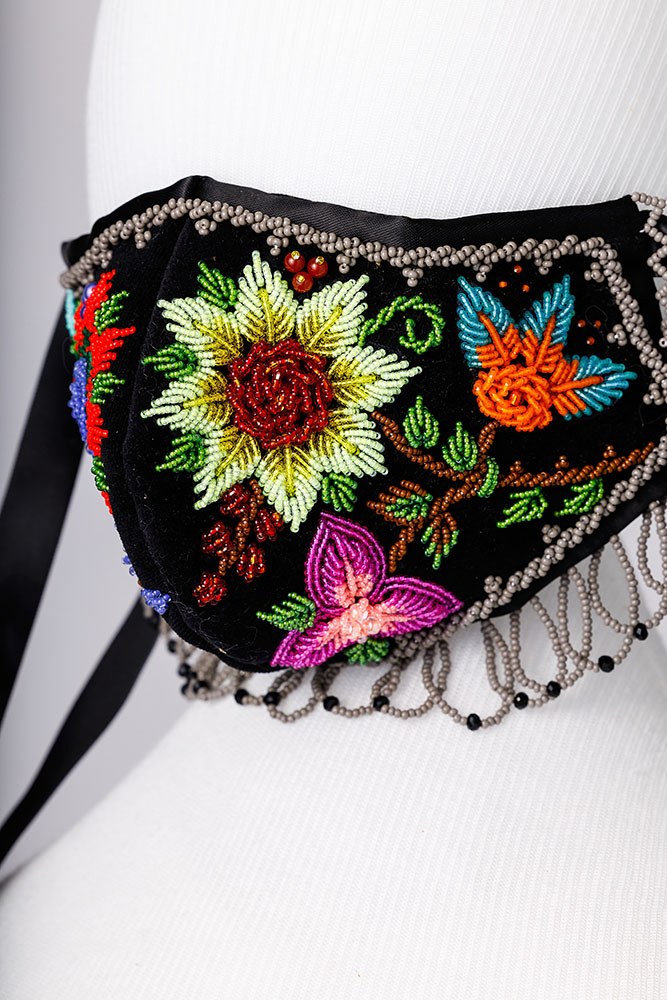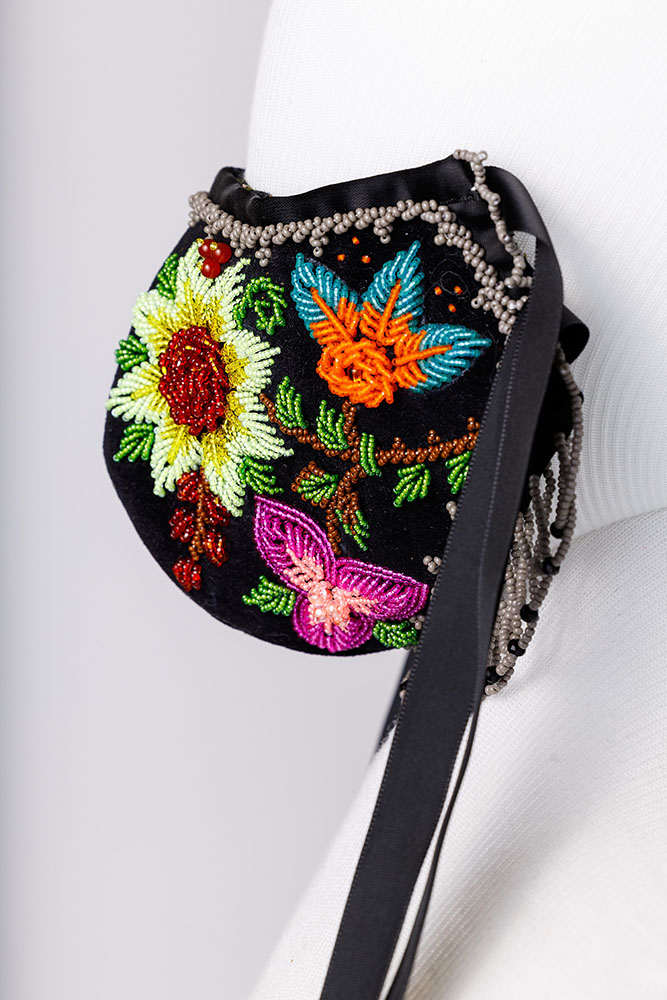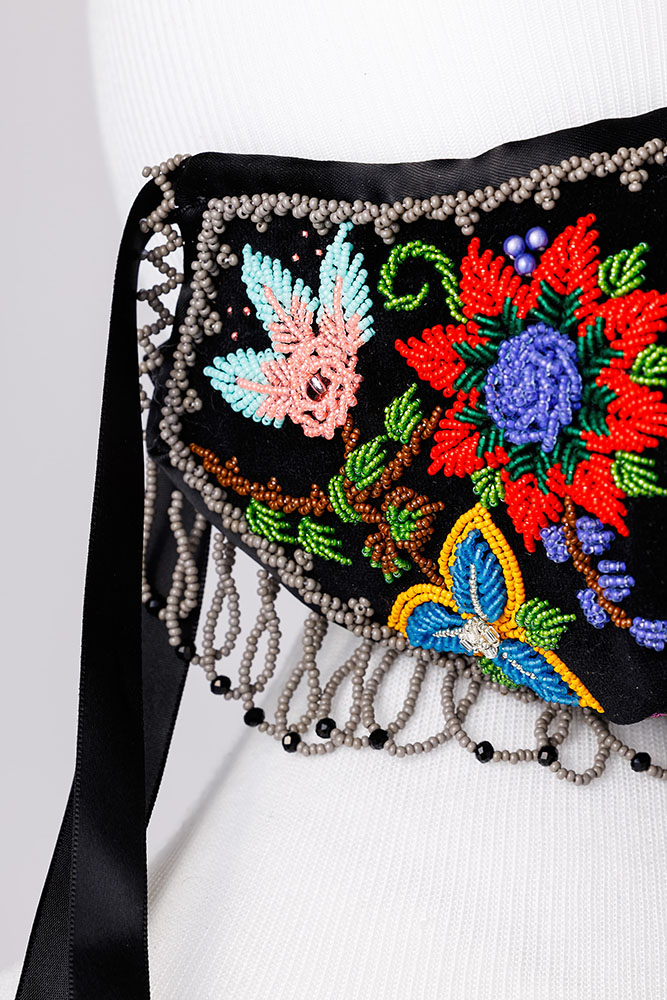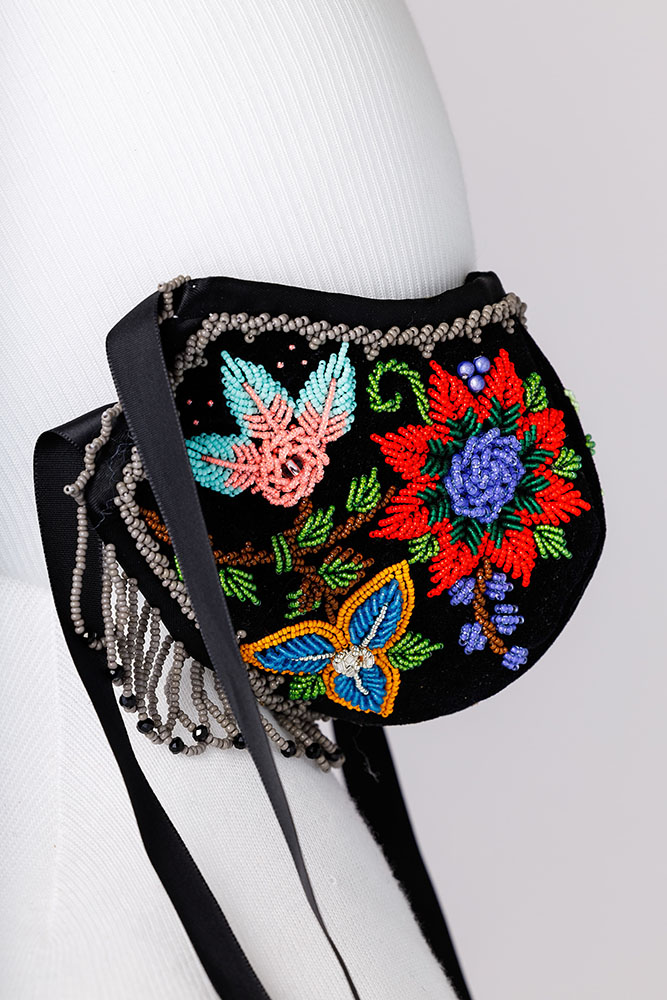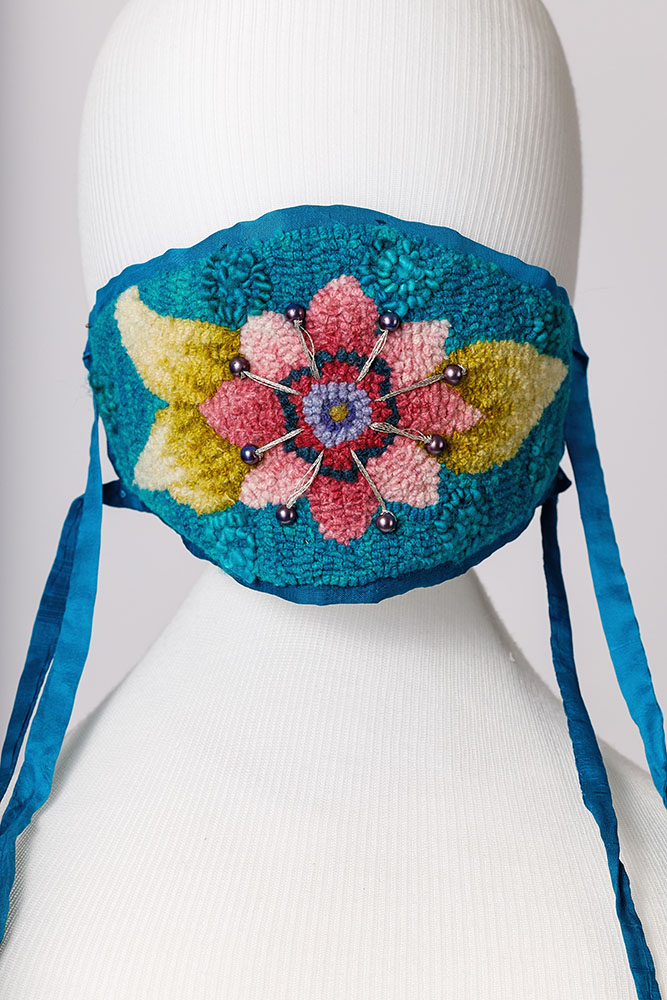 Passion Flower
Jennifer Curran
Materials
Wool, yarn, sari silk, beads, metallic embroidery thread, cotton canvas
My hooked mask is a passion flower which is used to alleviate anxiety. There is also a representation of snails for patience. Turquoise, on the colour wheel, fits between green and blue - radiating the peace and tranquility of blue and the balance and growth of green. The design represents my thoughts and needs during this time. Rug hooking is both an art and a craft -- craft being a 'useful' piece of art. This mask certainly fits that definition. The piece is made by pulling loops of fabric (cut into strips) or yarn through a woven backing using a hook. For this piece I wanted to use only material I had in my stash-- the backing, the wool, and the yarn were all left over from previous projects. The Passion flower is hooked in a fine shading technique, with strips of wool fabric in 6 values of pink and of green. It was embellished with beads and silver metallic embroidery thread. The snails were created using yarn that matched the wool fabric used for the background. The ties, made with sari silk, were machine stitch around the mask before hooking, and then hand-stitched over the light cotton canvas lining. I am a Canadian rug hooker with Canadian teaching certification from the Ontario Hooking Craft Guild and American certification from the National Guild of the Pearl McGown Hookrafters.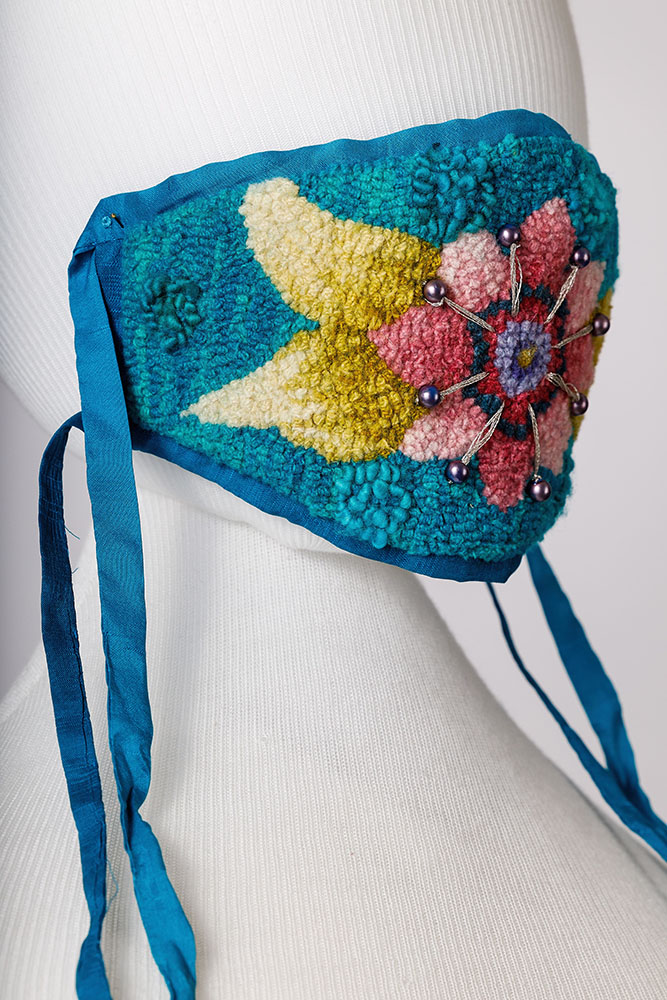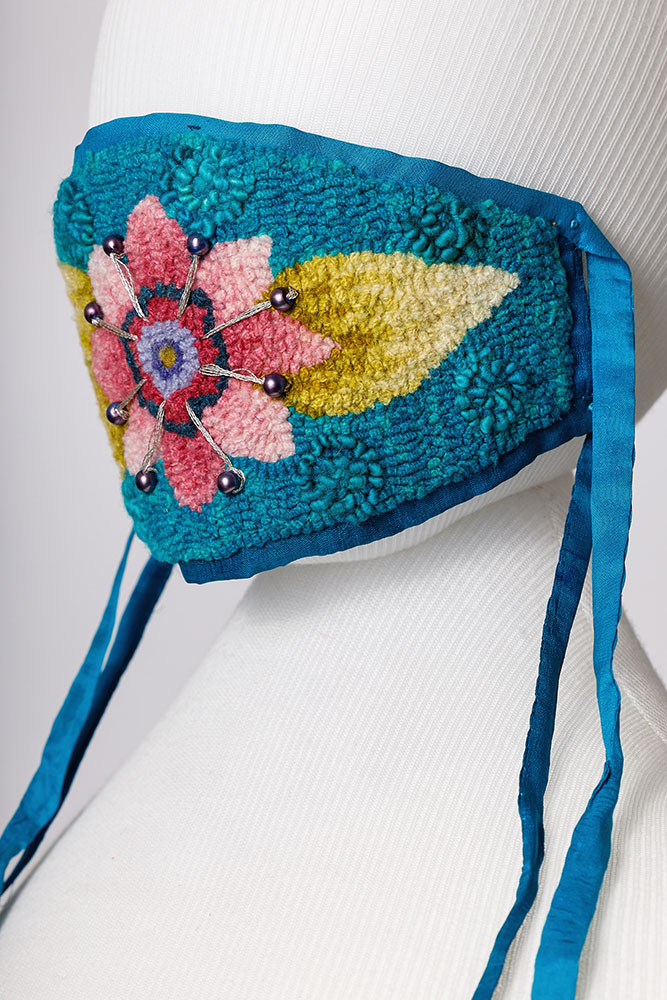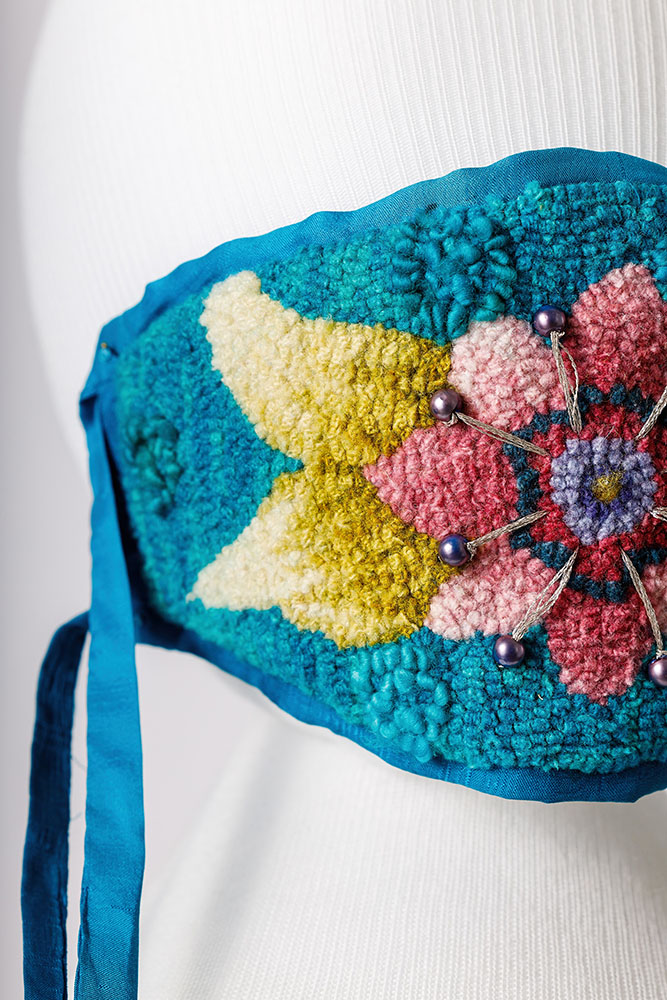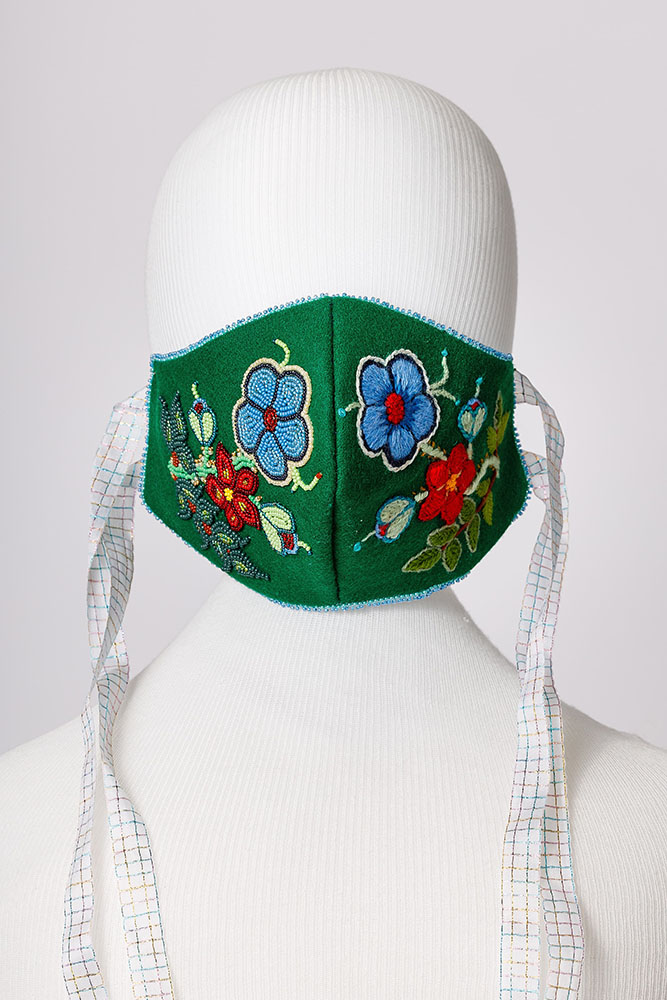 For Annick
Margaret Semple
Materials
Melton cloth, beads, wool, cotton lining
I have entitled this mask « For Annick » in honour of my almost one year old granddaughter whose mother is of French Métis heritage and whose father is of mostly British Isles heritage. I have done embroidery for almost 50 years, although it has been a while since I worked with wool. I learnt how to bead in the 70's but didn't really bead until about 5 years ago when I went to my first workshop with Lisa Shepherd. The mask represents both of Annick's heritage joined together. Done on Melton cloth, the right side is beaded with #11 seed beads and the left side is embroidered with different types of wool. I was in BC visiting with my mother when the pandemic hit and borders closed so all of the wool and some of the beads are what friends here gave me to help. A wonderful example of how friends and community will help each other when the need arises.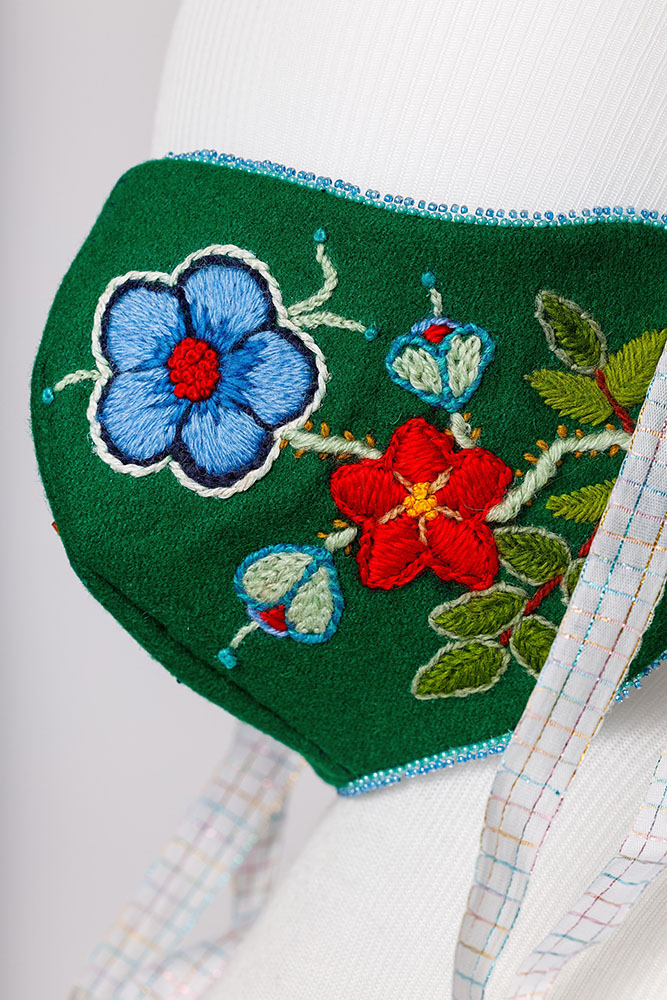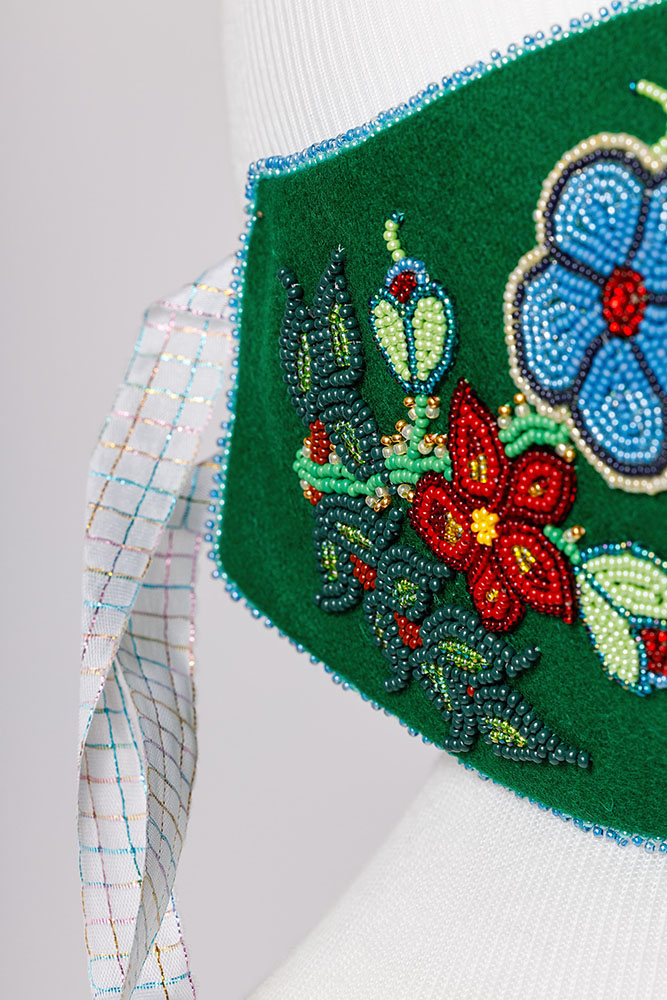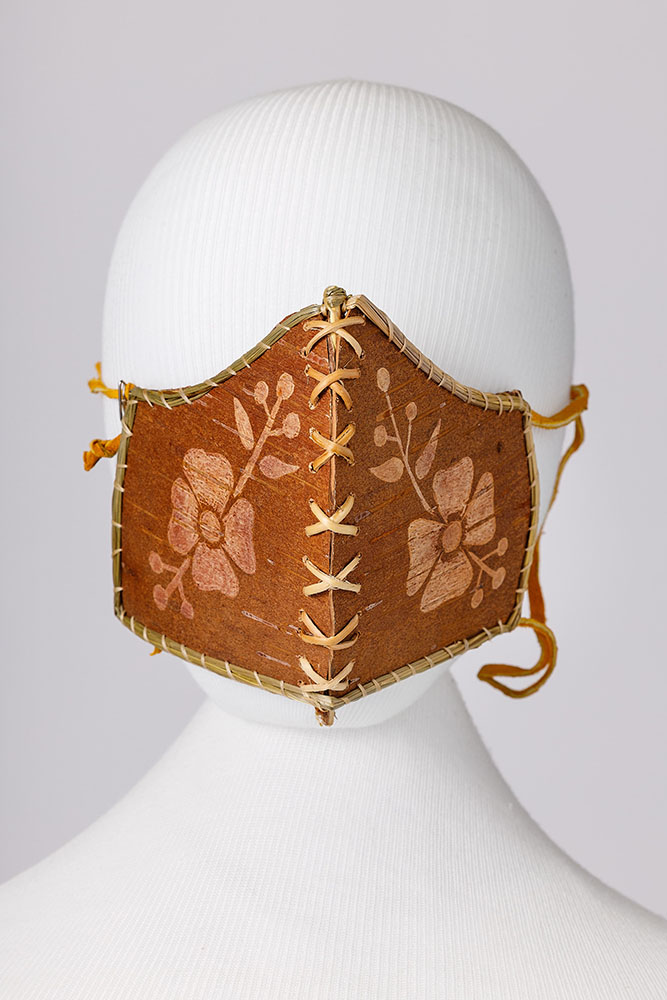 Wild Roses
Amanda Roy
Materials
Birch Bark, sweetgrass, pine sap, sinew, bear fat, deer hide, spruce root
Boozhoo, my name is Amanda Roy and I am Anishinaabek, bear clan from Wiikwemkoong Unceded Territory on Manitoulin Island where I was born and raised. I currently live and work in Mooniyaang/Montreal, Quebec, on Mohawk territory.
I had participated in building birch bark canoes previously so I had some knowledge of working with birch bark, spruce roots, and pine sap. This mask featuring a wild rose is my first attempt at birch bark etching and mask making. I was struck by how the profiles of masks looked like canoe bows. The challenge was accessing materials while being in a city shut down by the pandemic. I started thinking of green places close by and set out for the park by my apartment and the walking trail so little by little I found what I needed.
All materials with the exception of the hide were foraged from downtown Montreal and include birch bark, cedar from hedges, sap and roots from the nearby walking trail, deer hide from my mother, and sweetgrass for the edging. Roots were used to sew the two parts together with a sap/bear fat mix to seal the seams and further support the shape of the mask. I chose a wild rose because all along the walking trails there are wild roses growing wherever the city left spaces between their manicured gardens. It's an interesting contrast to these manufactured spaces to have wild roses growing wherever they please, how they please, despite attempts for uniform spaces.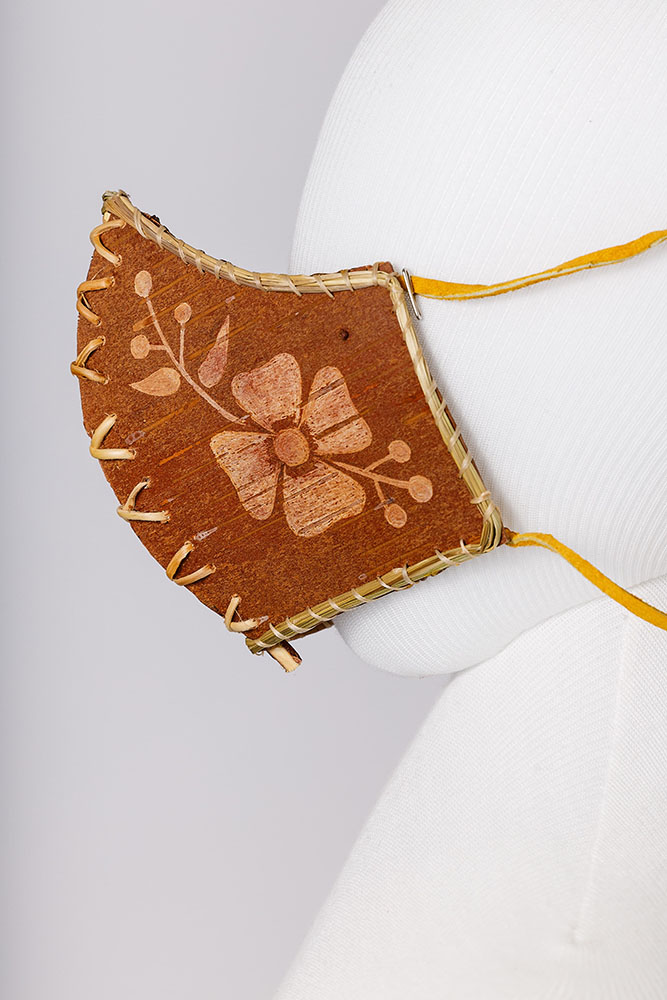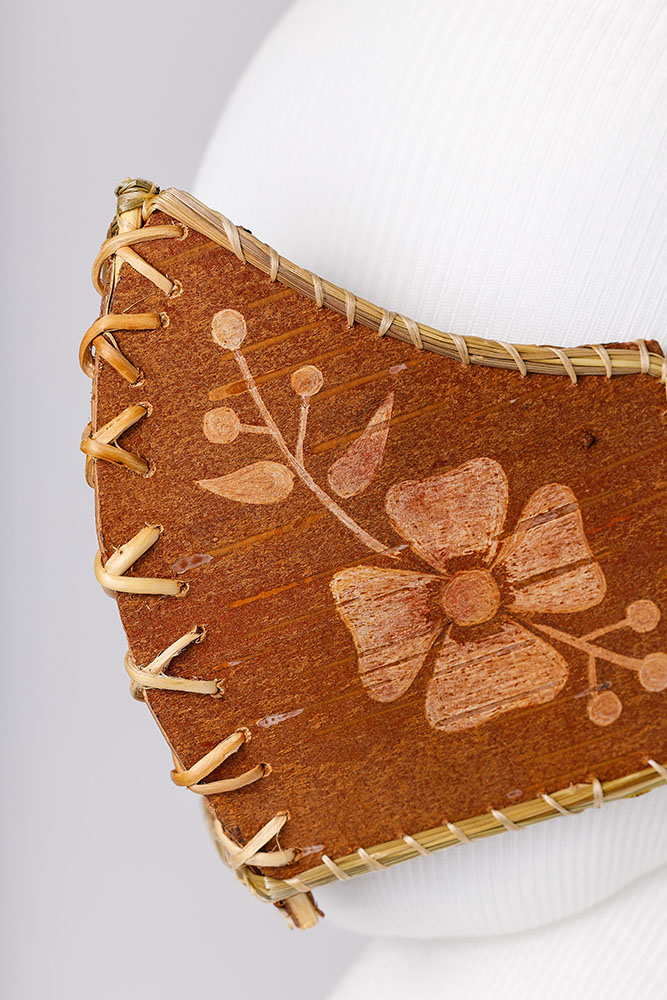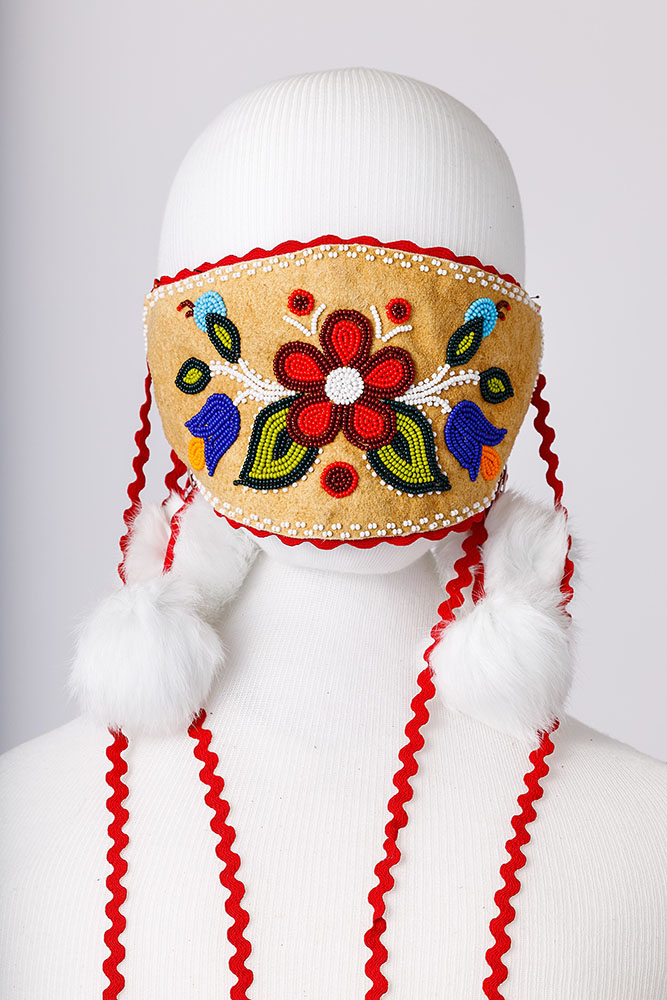 Optimism
Cynthia Boehm
Materials
Beads, smoked deer hide, rabbit fur, red lace, melton wool
"Optimism" a mental attitude reflecting a belief or hope that the outcome will be positive. When I made this mask the word optimism came to my mind. Wanting to share a positive message during these uncertain times "optimism" expressed my feelings and gave me hope. The inspiration for the mask came from all the elaborate, exquisite mukluks that were created in Norway House. Grateful for the makers of the many stunning mukluks that I personally knew through immediate family, one maker being my lovely great grandmother. The mask is made with smoked home tan deer hide accented with decorative red lace and rabbit fur pom poms that was common in Norway House mukluk designs. The beadwork represents the bright, bold floral beadwork that I remember and is forever instilled in my memory. The Cree/Métis women of northern Manitoba, in particular Norway House are known for their bright bold silk embroidery often referenced as the "Norway House Style". Through my studies of beadwork, I have noticed that the bright bold embroidery patterns have been carried over into the beadwork patterns of Norway House beadwork designs, and is what my mask represents.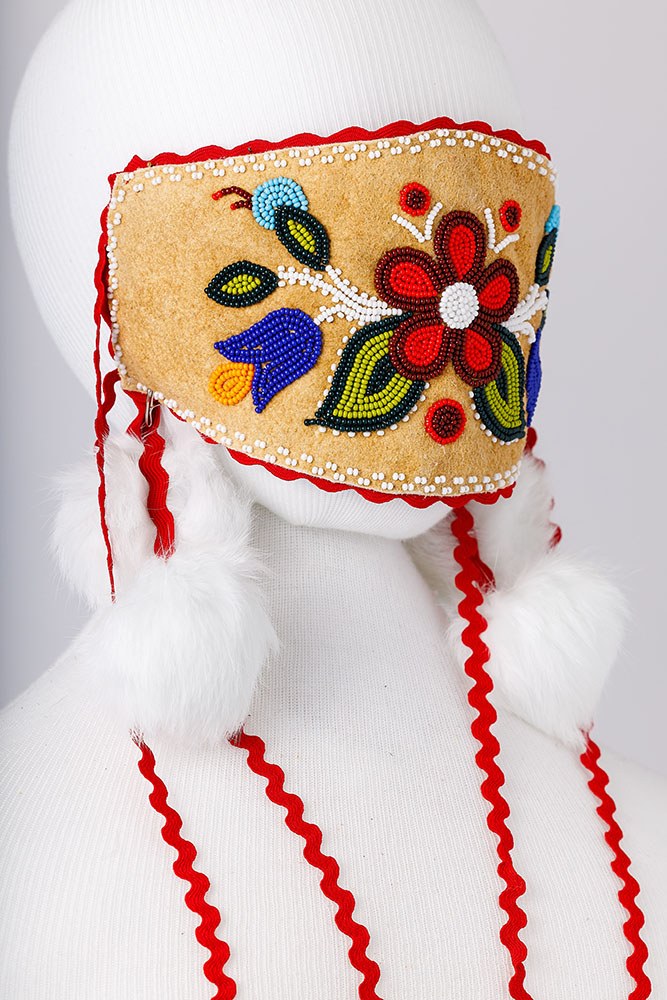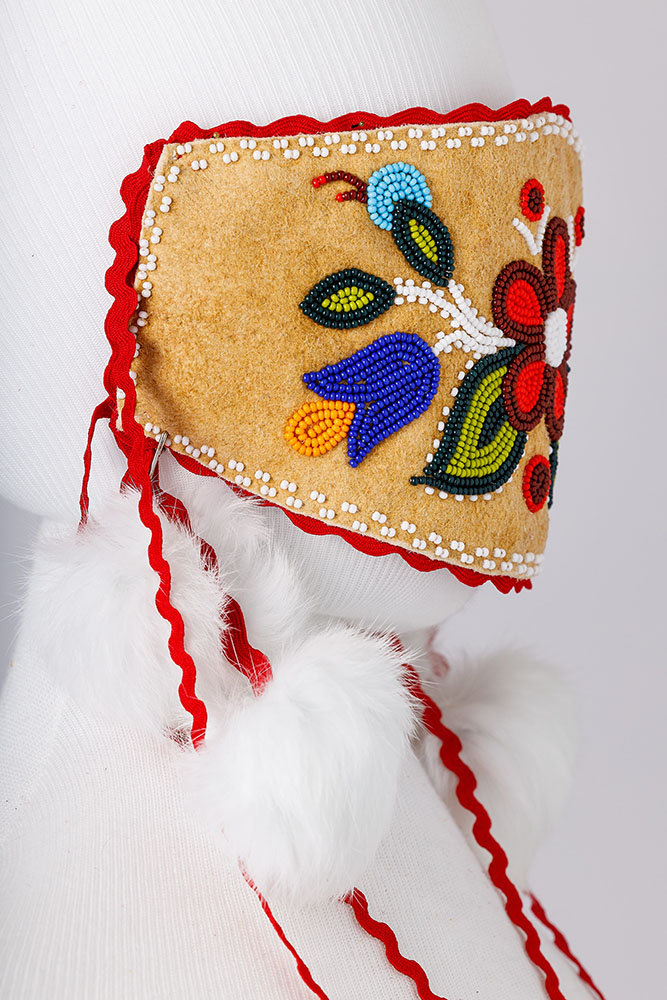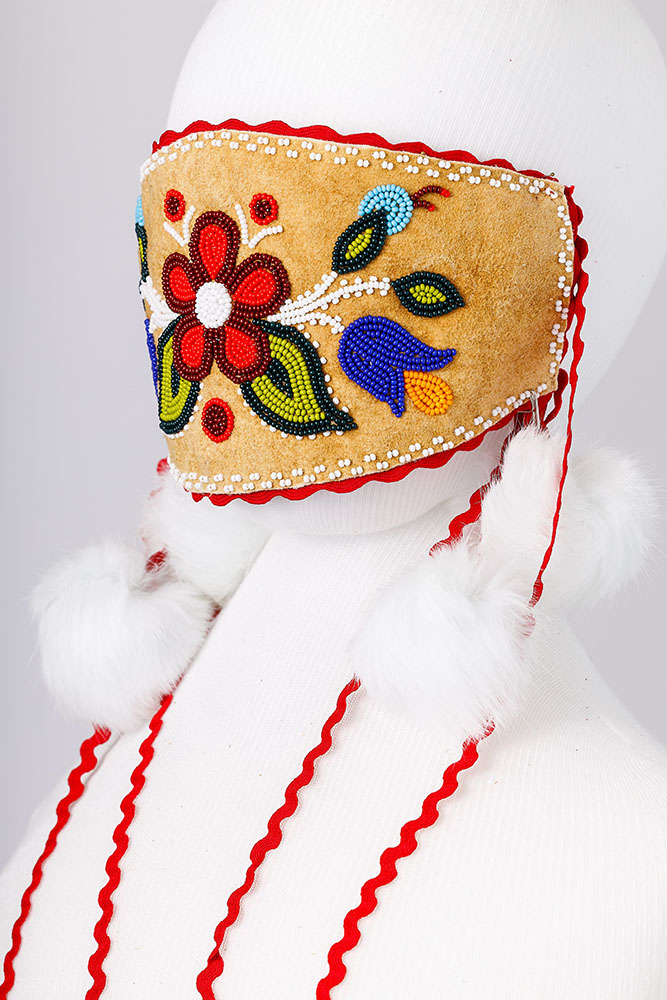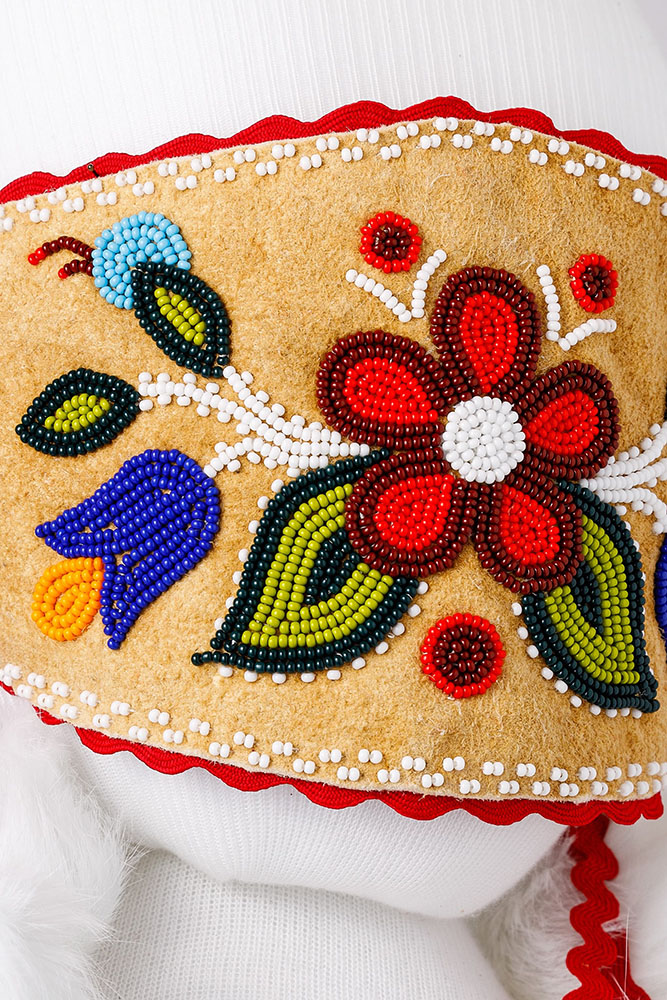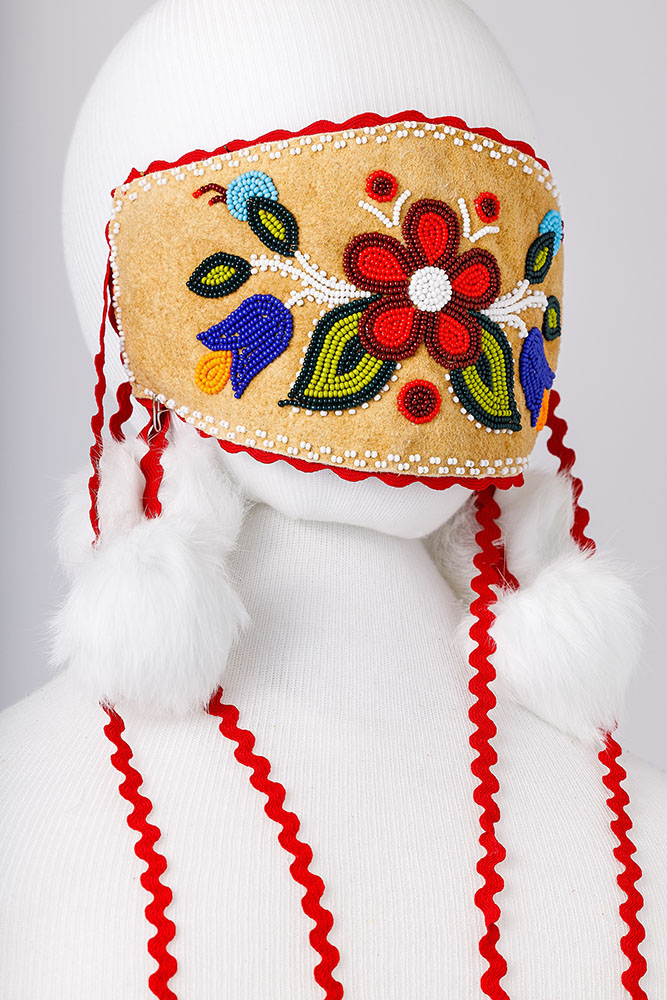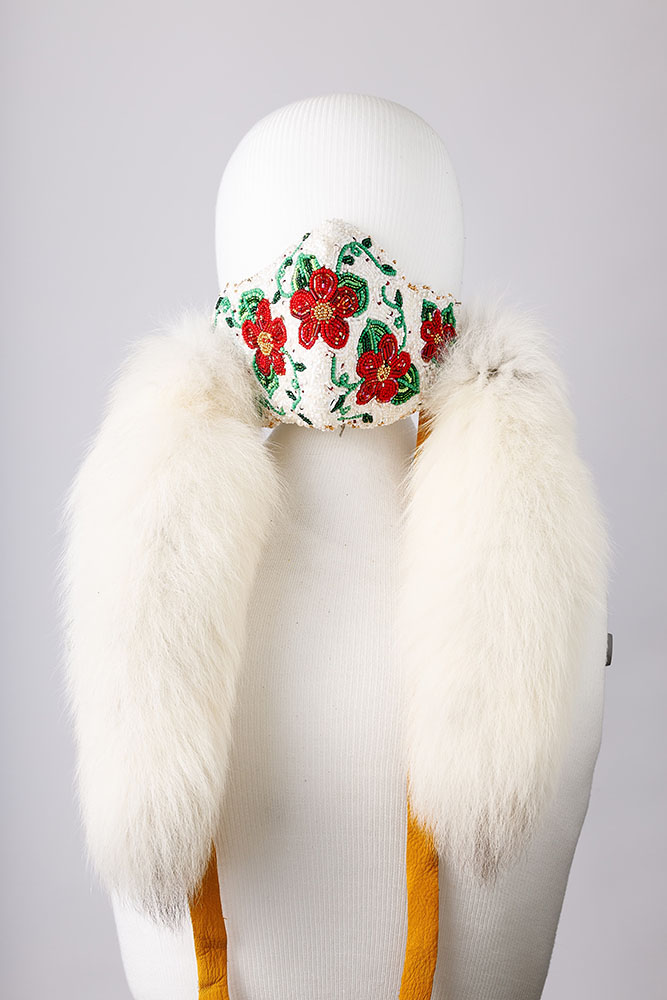 Untitled (5 Family Members Mask with Fox Tails)
Marcy Friesen
Materials
Arctic fox tails, beads, pellon, white felt, moose hide
My fully beaded mask with arctic fox tail "ties". I based five flowers representing the 5 members of my family. We are all under 1 roof again since Covid 19 brought 2 of our children home from furthering their education. Each petal of every flower is different because we are all processing this time differently. And it is our "new normal". Red is my go-to bead color naturally and I used a bead soup to fill the mask in. I love the sparkle and beauty of the bead and fur combo. So many thoughts and prayers while creating this mask.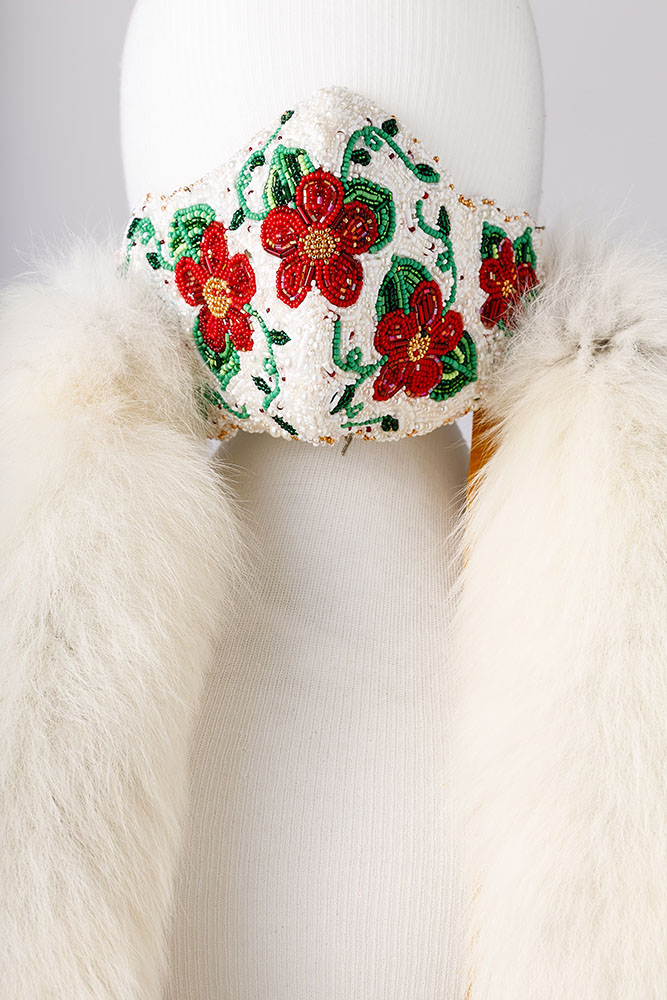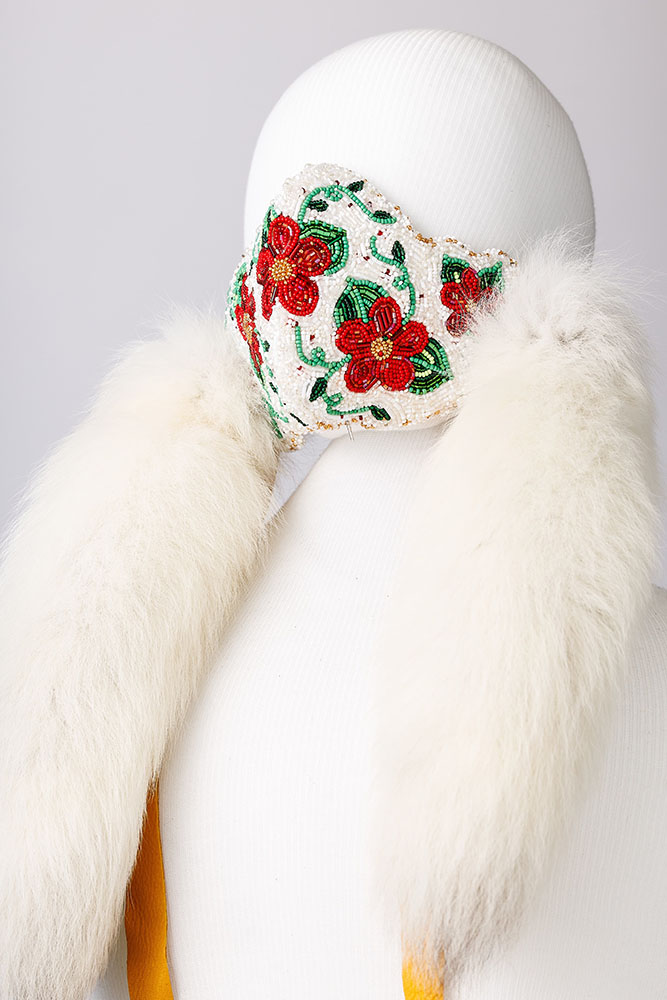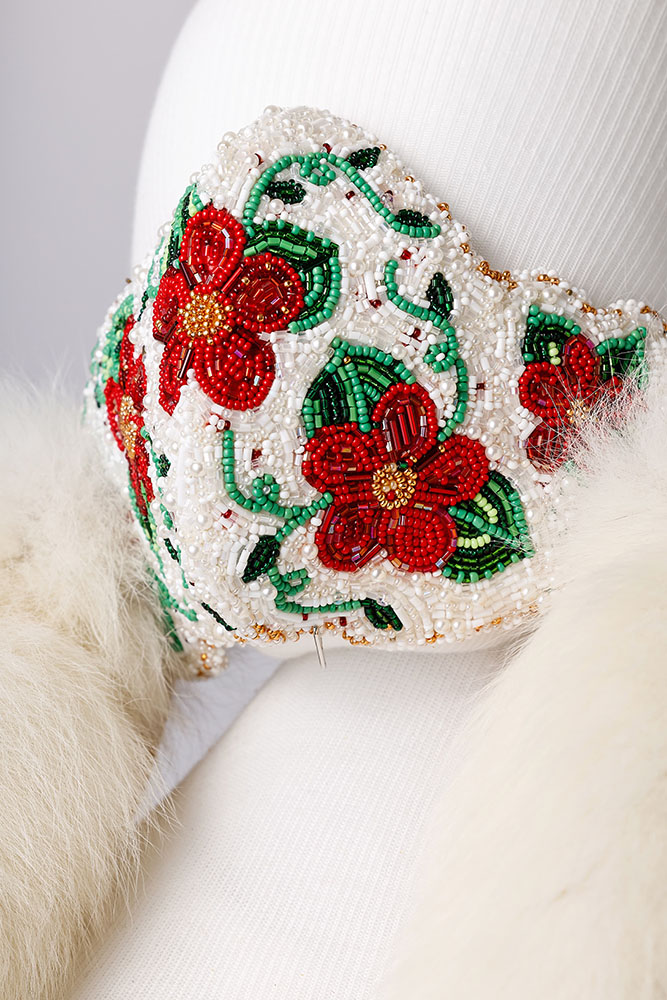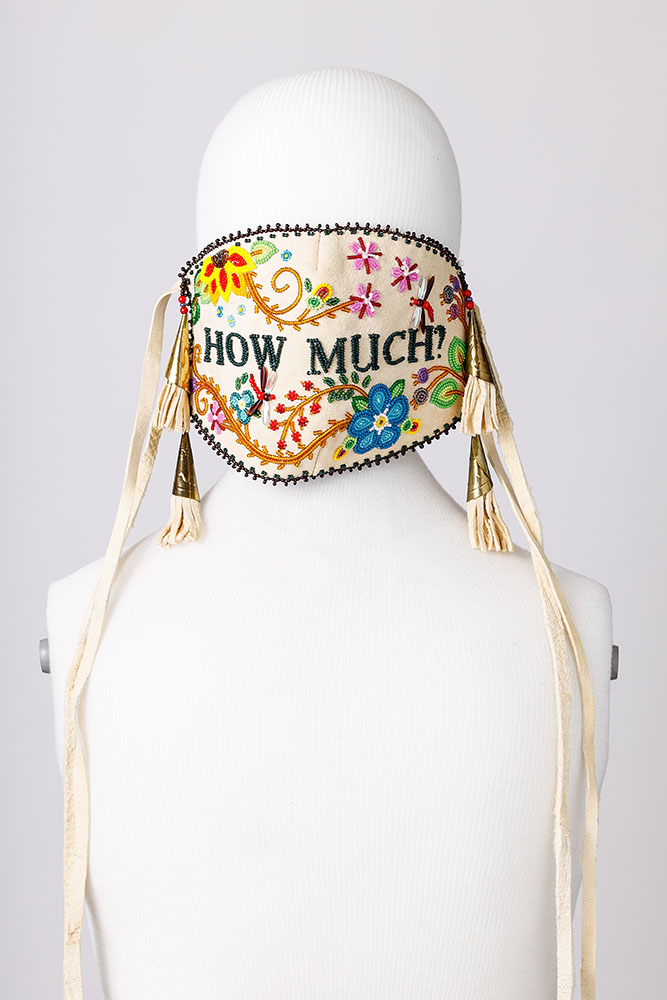 How Much?
Lisa Shepherd
Materials
Brain tanned buckskin, glass beads, tin jingles, cotton fabric
The Covid19 pandemic first shows itself locally with the emptying of stores. Only social media is well stocked, of images of empty shelves. Supply and demand brings opportunity for the ethically-devoid few who buy up pallets of hand sanitizer, N95 masks and other essential medical supplies to sell on Amazon at 400% margin. Healthcare and emergency workers are forced to reuse personal protective equipment and risk their lives to save our loved ones.
After two weeks of nothing – no sewing, no creating – I crack open my chest and begin to weed through the juxtaposition of all that is happening. Heart fully exposed.
Through all, the birds can be heard more clearly than before. The air is crisp and clean. No traffic sounds. There are sightings of animals where people no longer monopolize space. Bit by bit, the inspiration to create returns.
I wonder, when we get through this, will we be better than before? Will we have learned what is truly important? Is this hope?
I post my art mask. Private messages. Lacking introduction. Two words.
How much?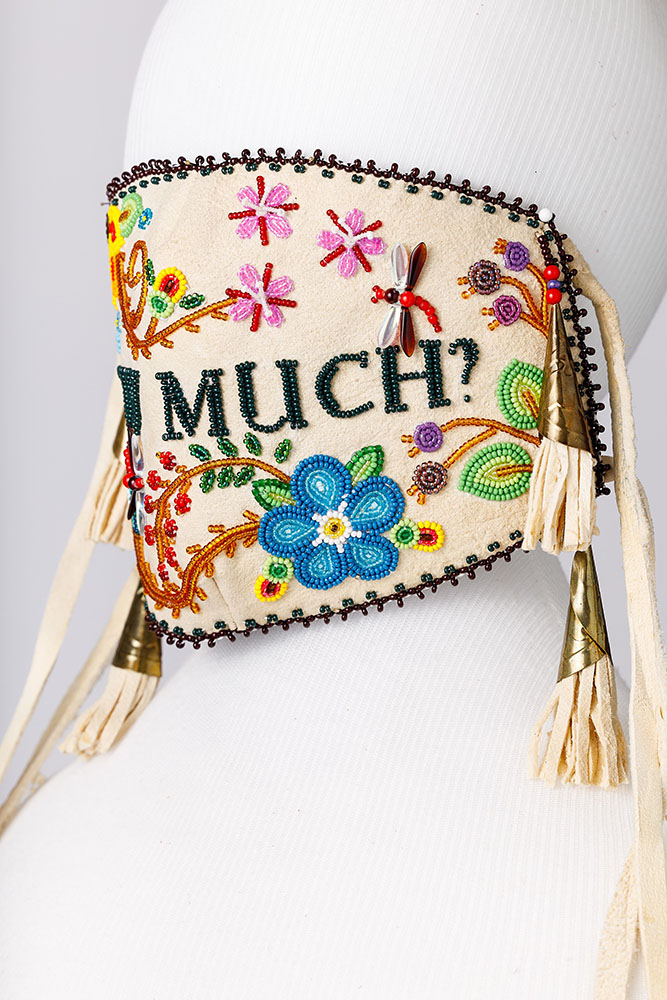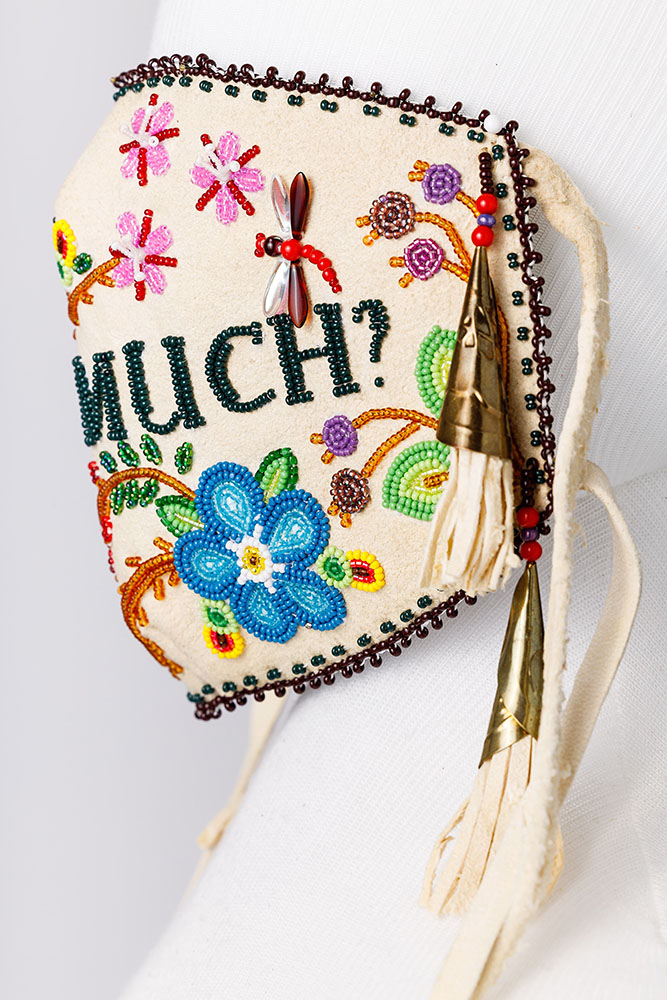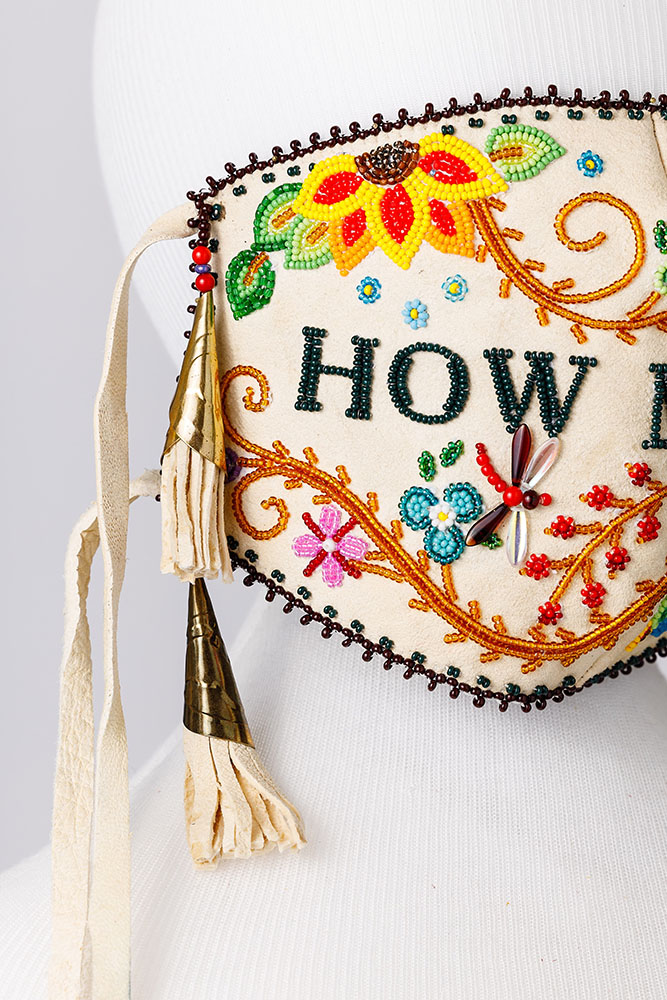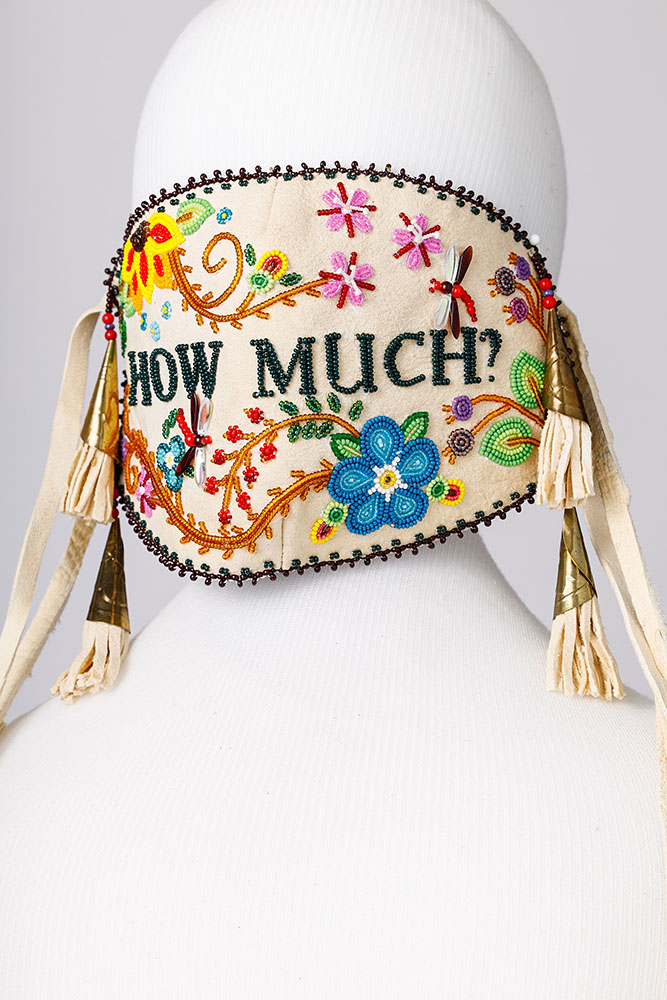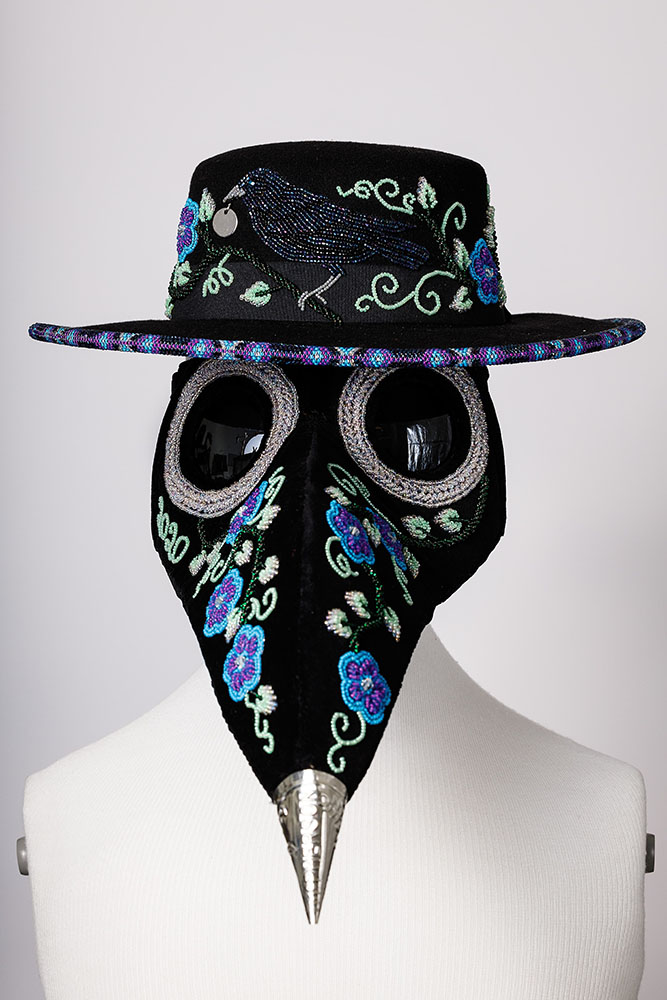 Corona Covid
Towanna Miller
Materials
Pleather, felt, sunglass lenses, velveteen, beads, hat, buckles, jingle cone
Mask created during the 2020 Corona Virus Pandemic. Beaded using flat style, peyote stitch and Iroquois raised beadwork. The inside is made of pleather, has holes underneath to breath and beak is open to place medicinal herbs inside. The middle layer is a thick felt. The outside is made of velveteen adorned with Iroquois beaded vines and purple flowers outlined in turquoise blue. The muse of inspiration was a crow which was beaded flat style in the center of the hat. The brim of the hat is peyote beaded. A pair of sunglasses were used for the tinted round eyes. The mask has three straps to secure to the head with buckles on the side for adjustment. Jingle Cone used for the tip of the beak. I have to admit that I have a dark side. I enjoy horror movies and the paranormal. I wanted my mask to reflect the time. For me, I have always incorporated the past into my work. Long ago they had plague masks with medicinal herbs put inside. To me they always look like birds. The Crow was now my muse. I like that face that my mask has a darkness to it sprinkled with beauty, just like the time we are now in. Surrounded by so much darkness like death and sickness yet if you look around we do have beauty in our lives such as kindness and generosity.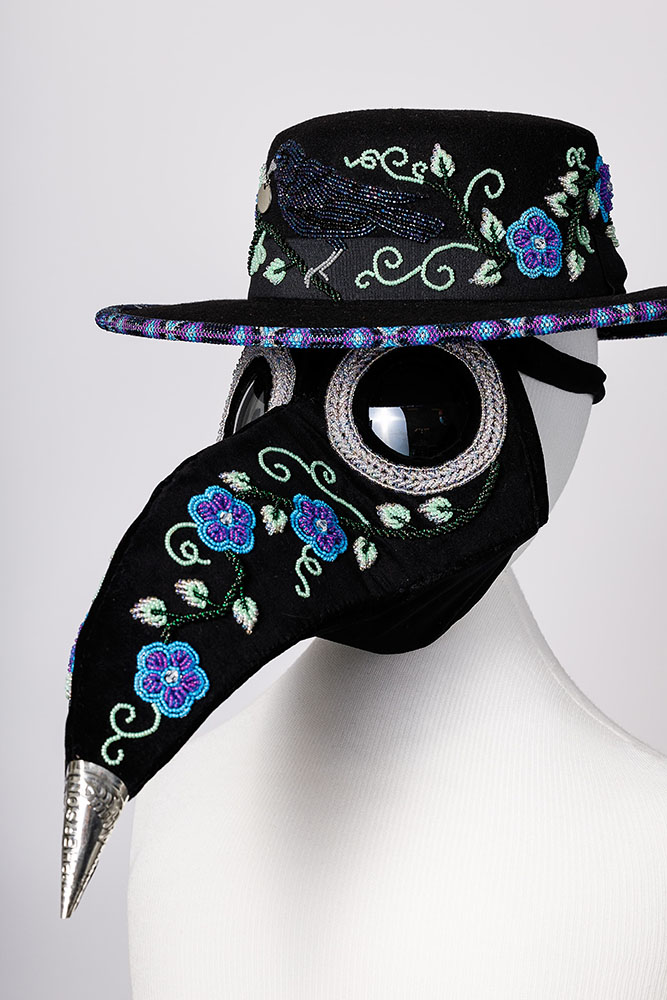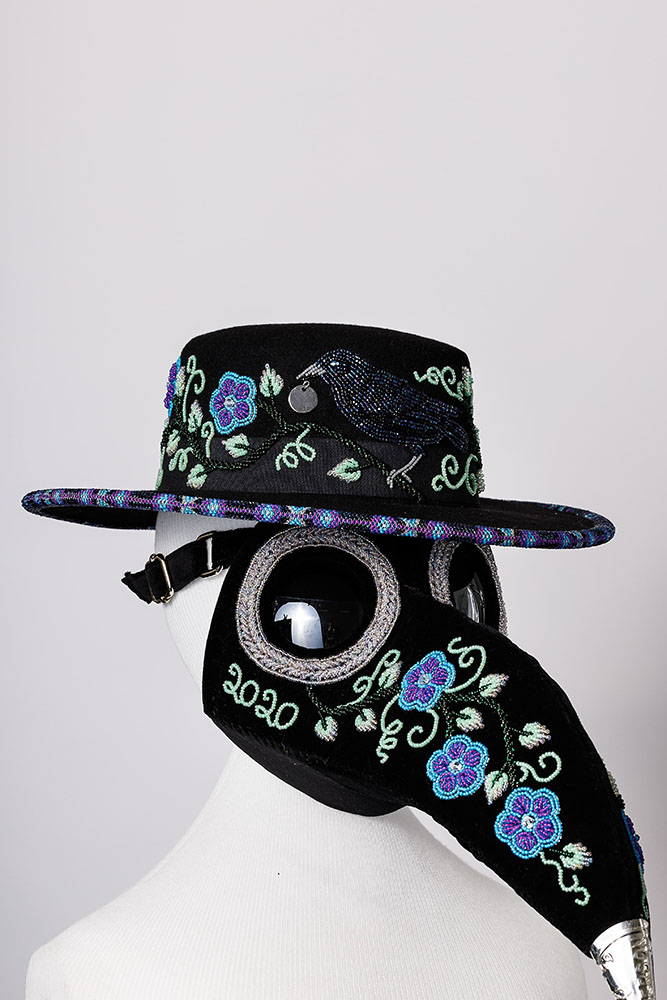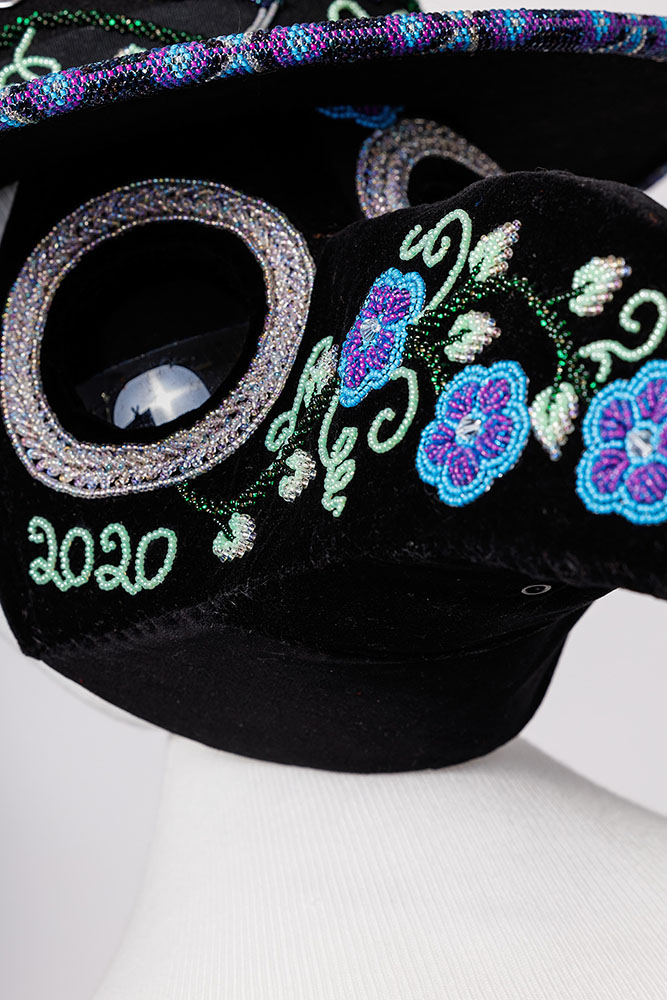 'Inuvialuit Fortitude,' Sealskin Pandemic Mask Set
Taalrumiq | Christina King
Materials
Sealskin (Red and Natural, Leather, Sequins, Beaded Trim, Glass Seed Beads, Fox Fur, Fabric, Metallic Elastic, Reclaimed metal bag tie
Inspired by the resilience and fortitude of Inuvialuit, I created a Sealskin mask set in response to COVID-19, with recognizable Inuvialuit design elements such as walrus tusks and fringe.
With the pandemic and travel restrictions, my children and I worried we may not see family again, how might this affect people with health issues, or we could get sick. To ease their worries, I told them we descend from the strongest Inuvialuit, those who survived the Flu Epidemic approximately 100 years ago. The flu epidemic and small pox decimated our population, wiping out over half of Inuvialuit to the verge of extinction. Inuvialuit living today descend from survivors.
My maternal grandparents were young children at that time, helping the sick and dying by fetching water from the river.  Ataatak Eddie's adoptive mother passed on during this time. To know that my grandparents survived, plus residential schools, colonization, tuberculosis isolation, government imposed rules and regulations on hunting and fishing, given numbers as government identities - yet they still went on to have a family and full life; this gives us hope that we too will survive.
To have created these masks, to make something beautiful in such uncertain times, mixing traditional with modern, helped me to feel connected to my ancestors; to honour them, including those who didn't survive. And to maintain cultural identity and values no matter where I am in the world, far from my ancestral homeland and no matter what I'm living through, even a global pandemic.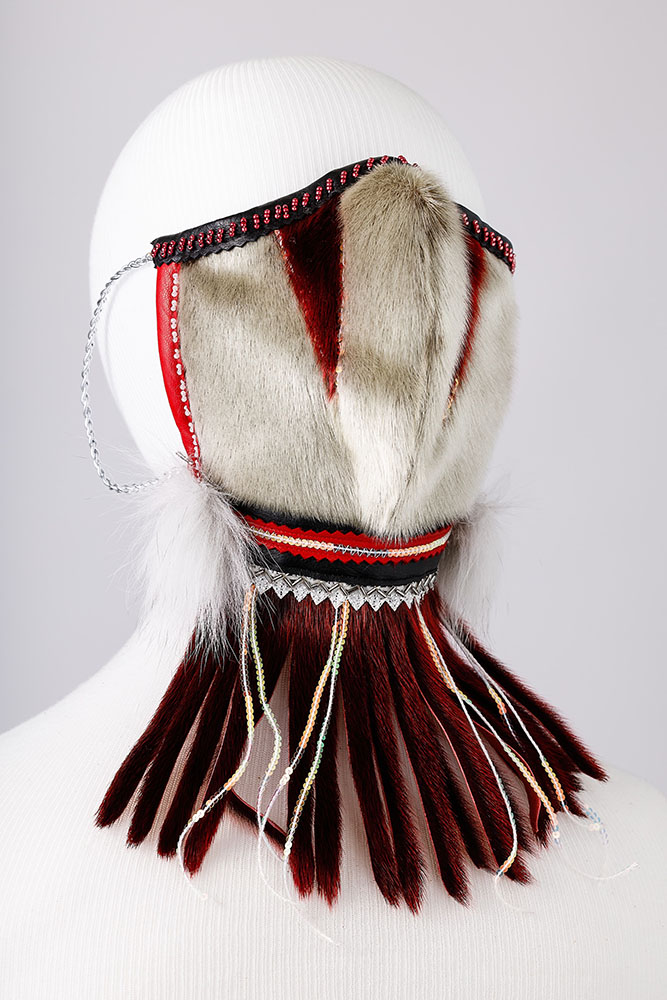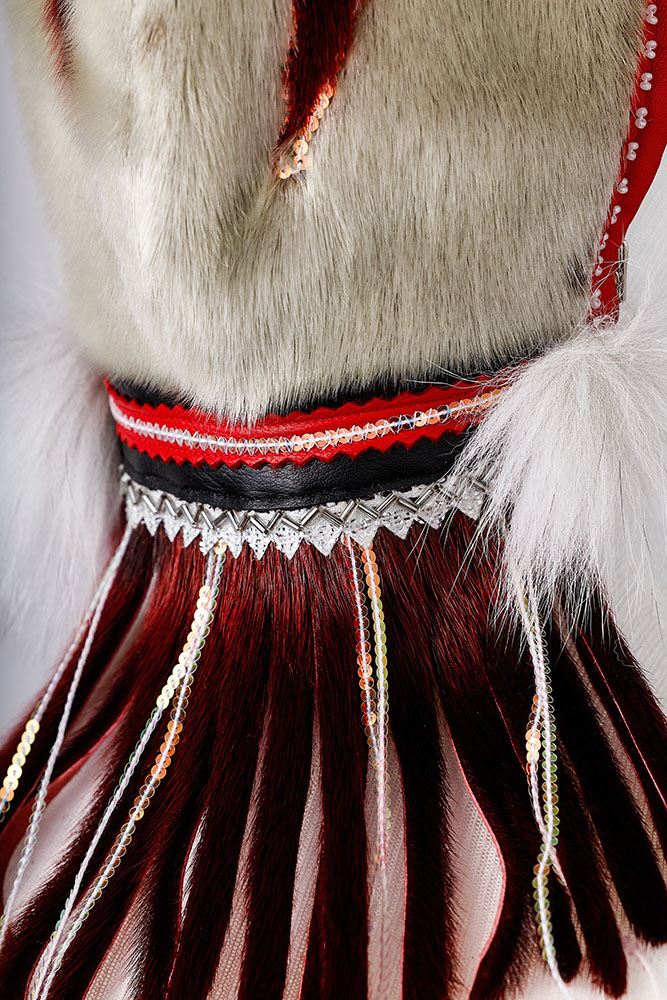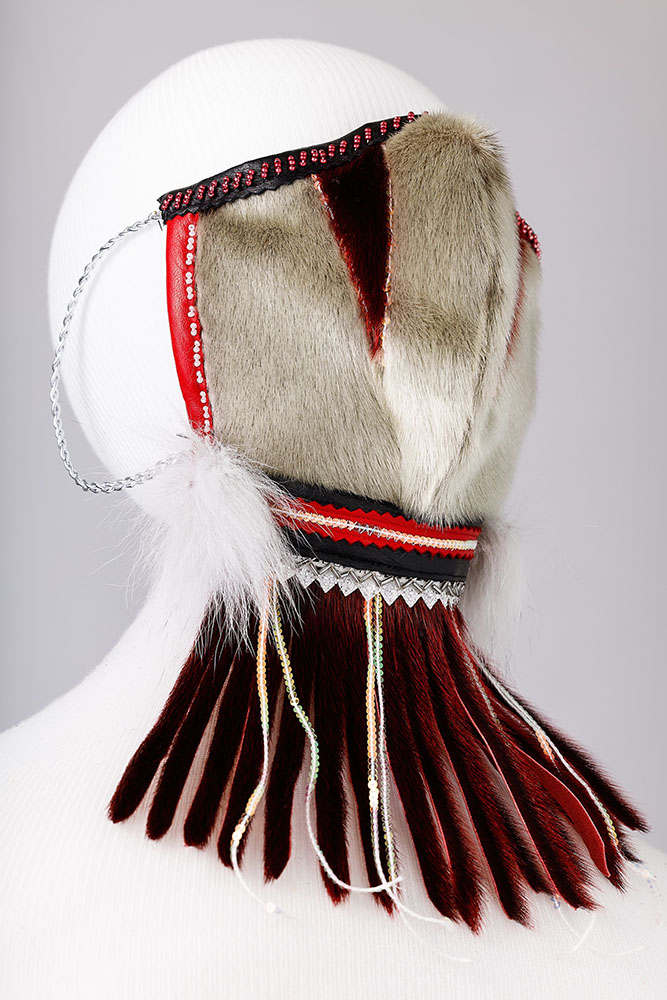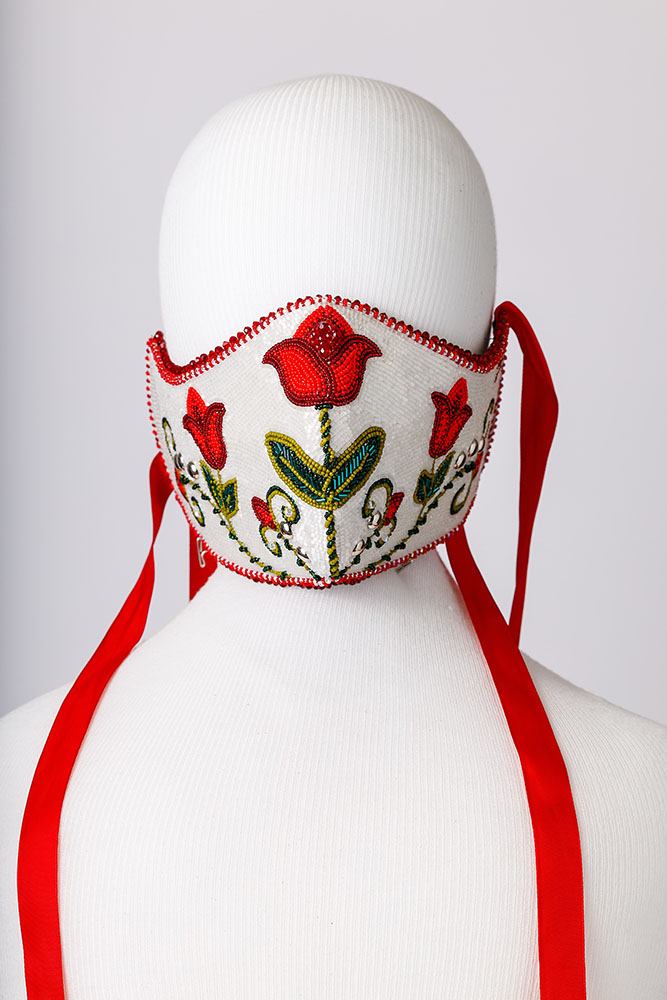 Resilient Flowers
Tania Clute Jacobs
Materials
Pellon, beads, ribbon
My cousin saw the open call for beadwork for Breathe back in the beginning of April. I was working on looming several replica wampum belts and started thinking about some concepts. I drew up my initial design, and it took me a while before I actually started the project. I kept putting it off and wasn't sure I was going to make the mask. I knew I wanted to create something that would reflect me as an artist. That I wanted it to be a fully beaded face mask, because I love to bead. It's a passion. But I couldn't get into this particular project. Then we found out that my husband's family who live in another community had COVID-19. Thinking about them and my own family here, I just started to work on the mask. A lot of emotions went into the creation of this mask. It was a challenge to make and I almost gave up a few times, because it wasn't coming out quite right. Finally, I knew exactly what I wanted and I went into a happy place with focus. In total it took me about two-weeks to complete. After I was done, my husband helped me to pick my fingers up off the floor. I made a structured mask out of Pellon and card stock to bead with vinyl backing, representing how precious the N95 masks have become during the pandemic. Running along the bottom of the mask are strawberry plants, which is a good medicine in our culture stemming from our creation story. There are three flowers on the mask representing my children and hope that our medicines will keep them protected, just as a mask helps to protect the healthcare workers on the front line.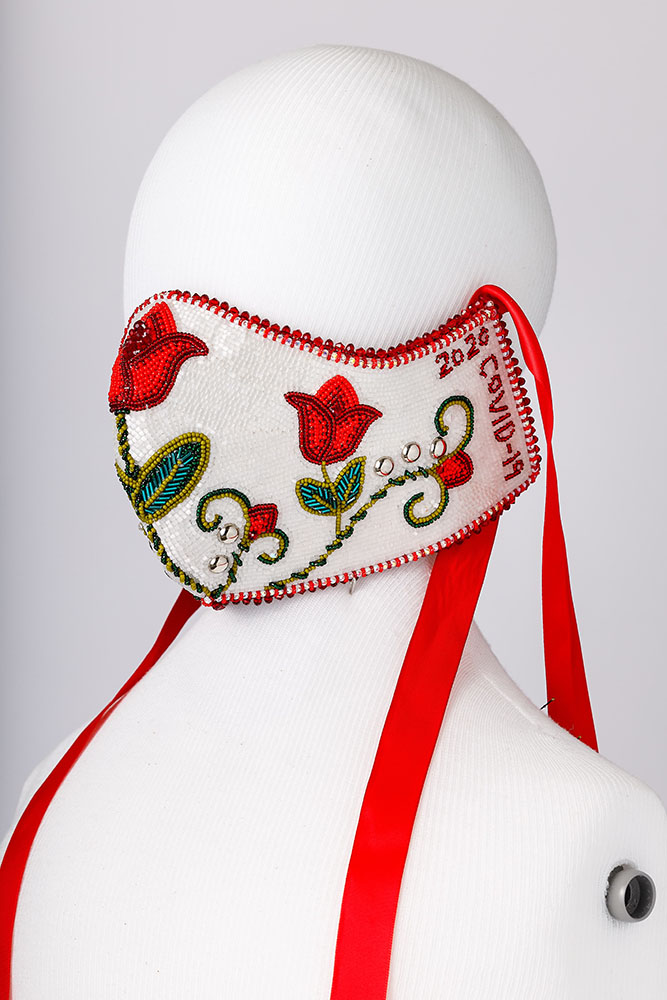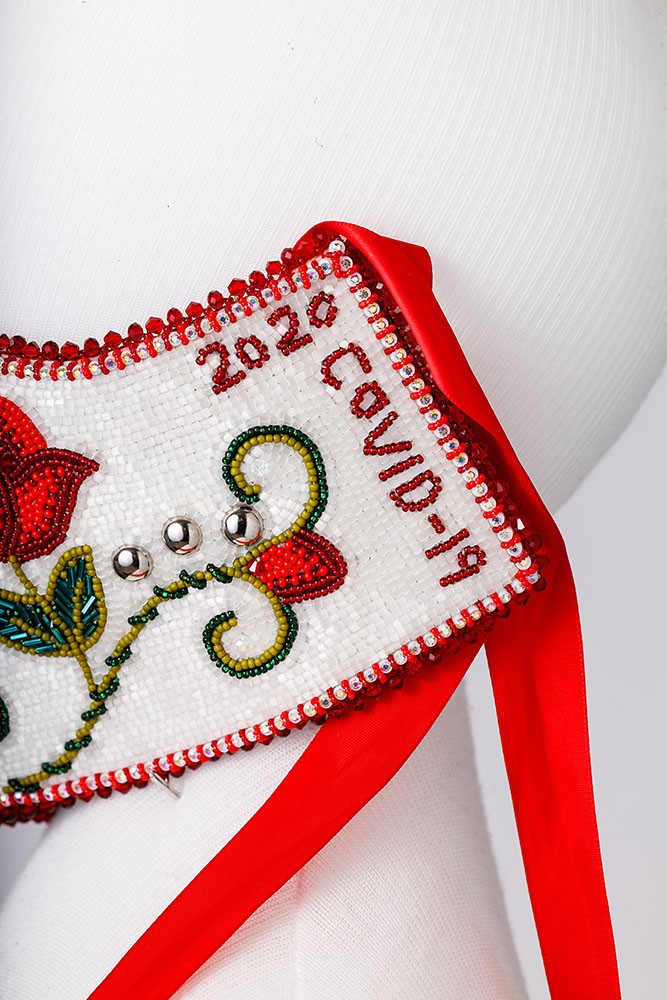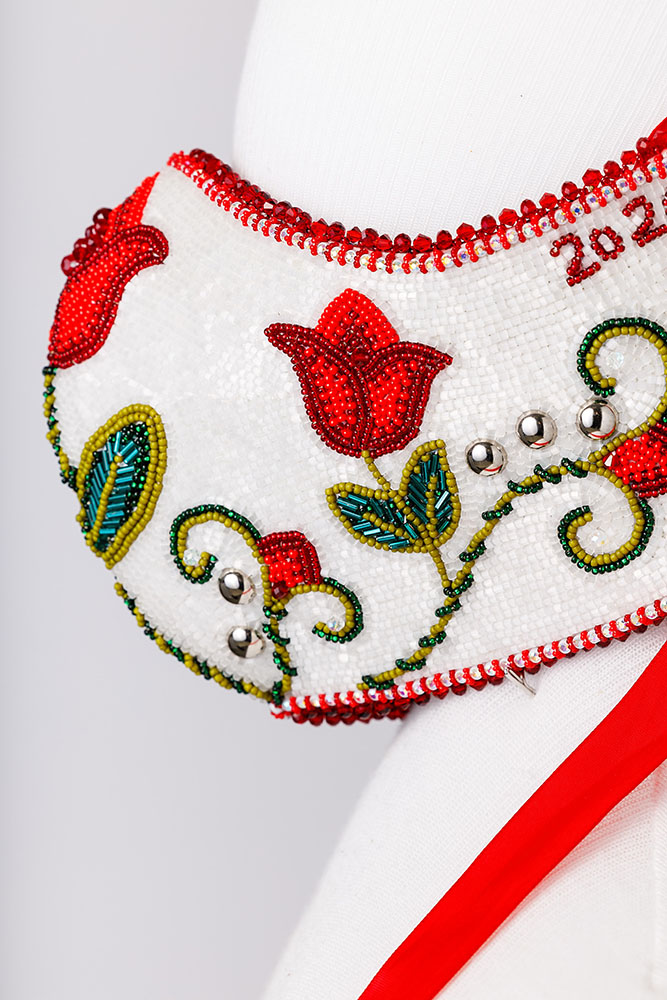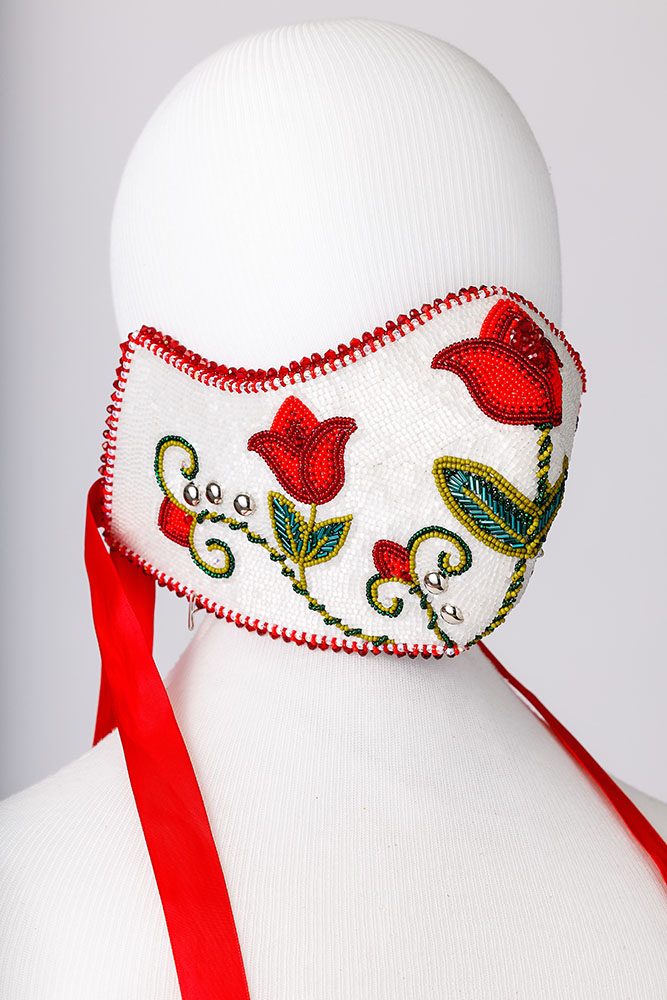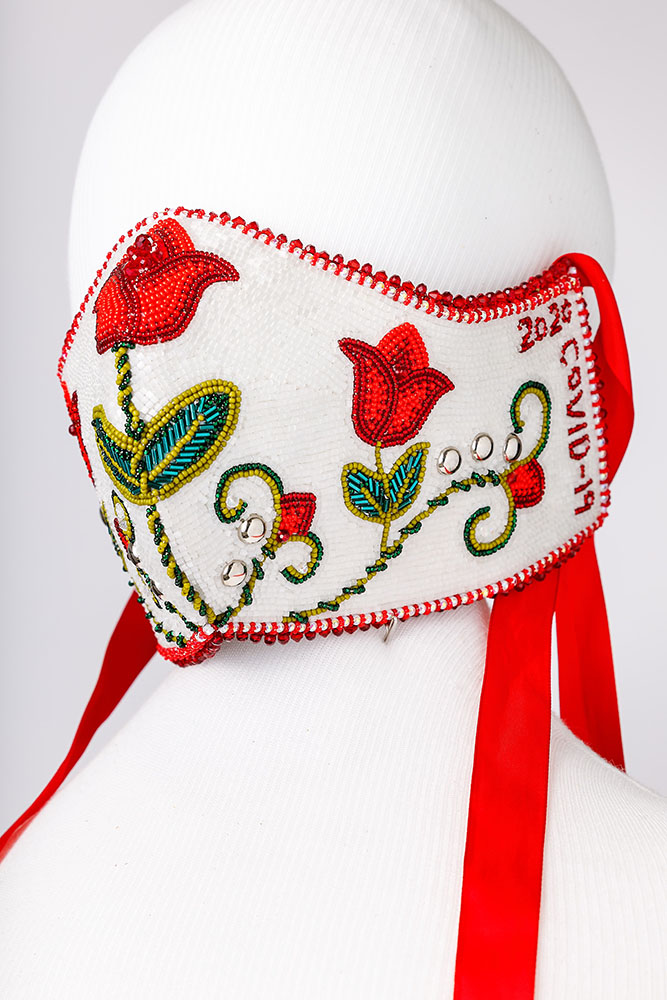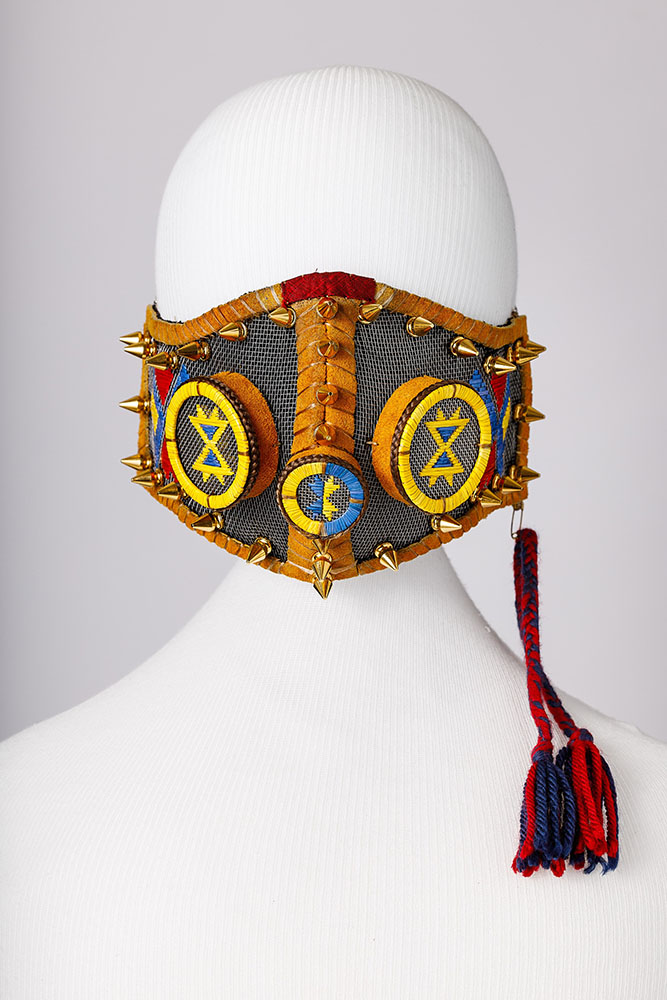 Quillpocalypse Now
Graham Giniw Paradis
Materials
porcupine quills, moose hide, velveteen, cloth, aluminum screen, rawhide, sinew, 24 kt gold spikes, silk ribbon, braided yarn, cedar
This Covid mask is an Indigenous futurism inspired by a nightmare of a post-apocalyptic world where the birch bark population (one of our traditional materials used for quillwork) has been decimated by settler resource extraction and we quill on whatever we can.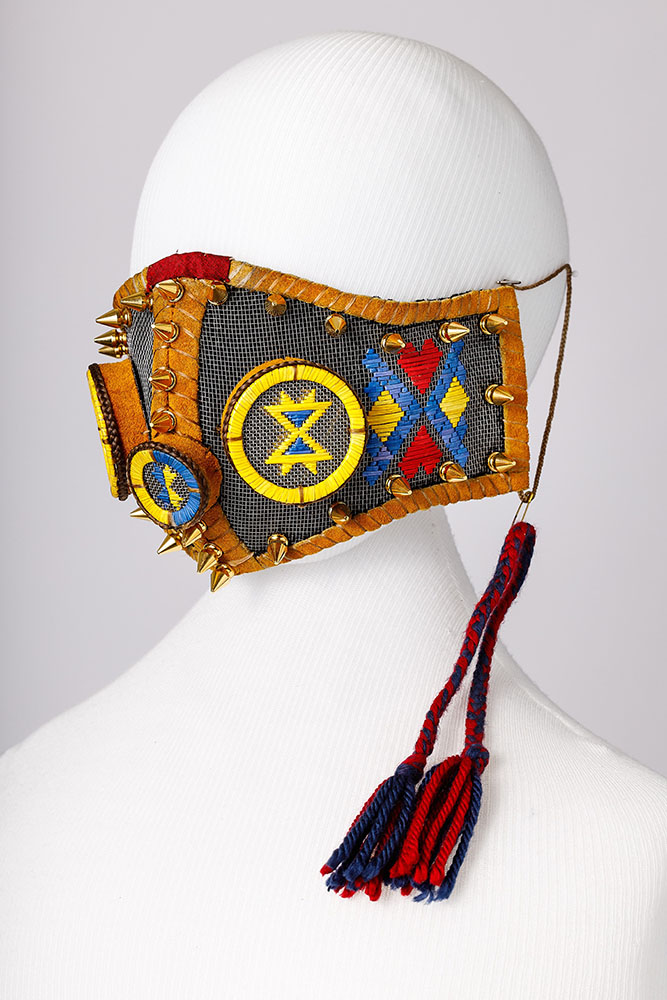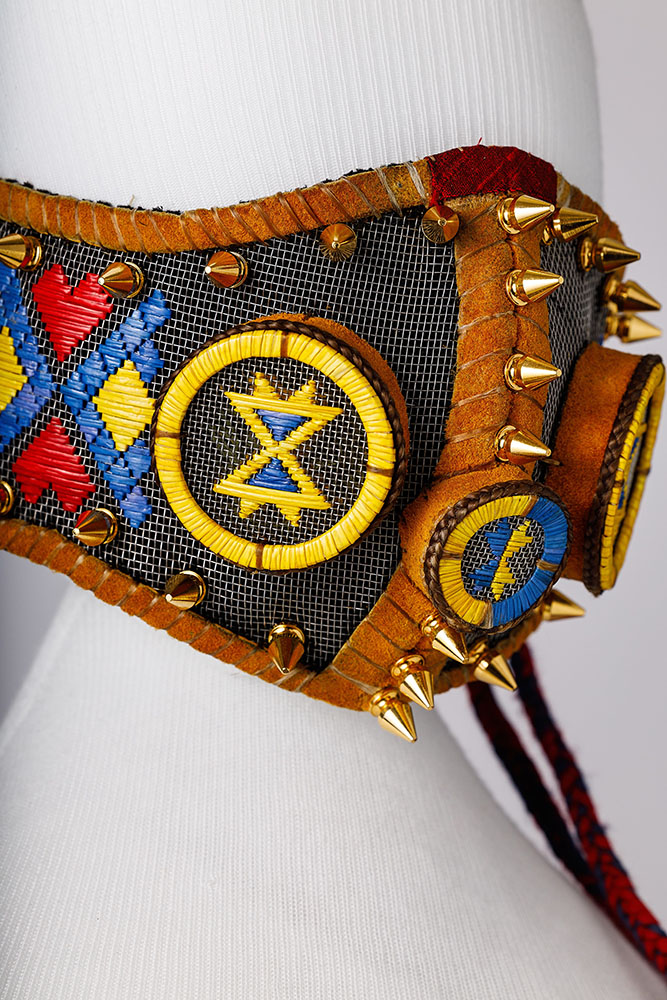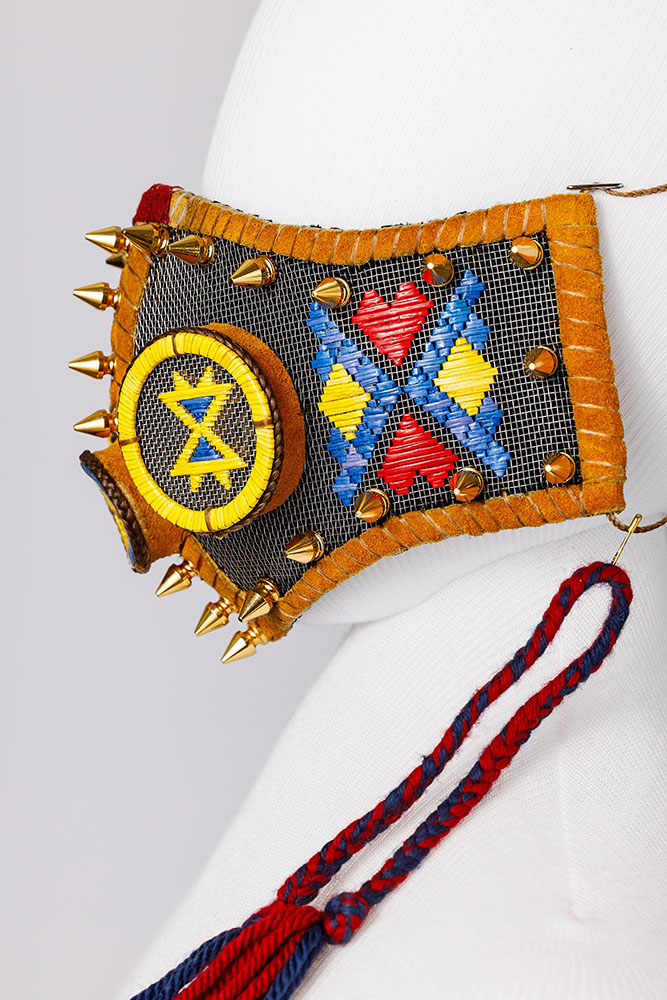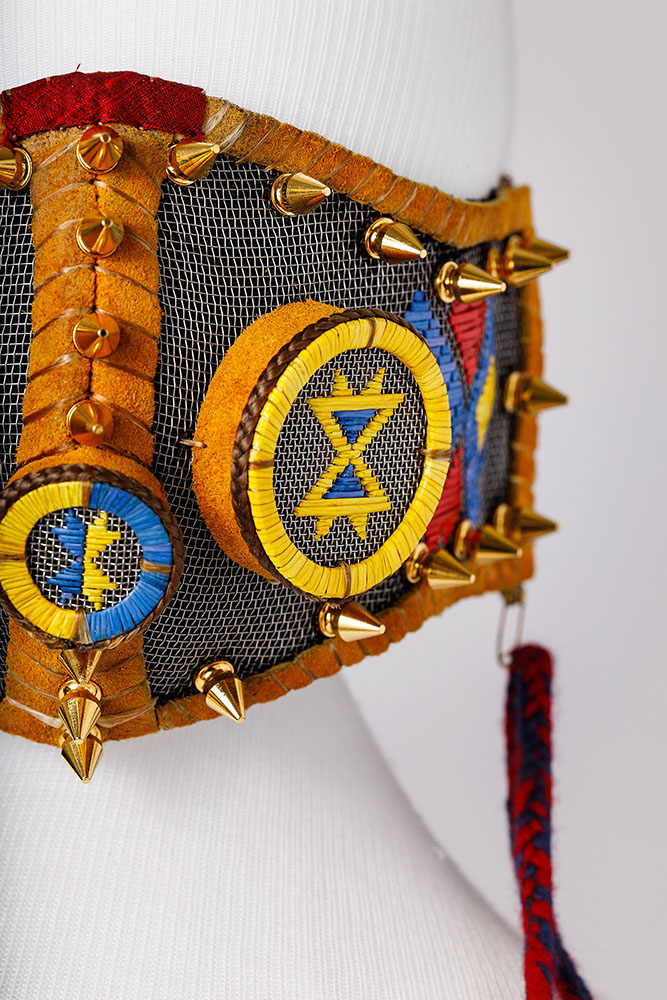 HERO
Louise Vien
Materials
Red silk ribbon, black cashmere, beads, dentalium shells, metal cones, cotton fabric
This mask is to honor my sister who is a front-line worker at the General Hospital as a nurse in the ER.
I used 15 size beads to remind us that the success in the ER is in the details. I used small jingles on both side to remember the healing story of the jingle dress, and how as a nurse her purpose is to help in the healing process. There are 7 jingles per side to honor the 7 teachings that my sister embodies at work. I added dentalium shells which are spaced to represent the distance we must share between us to maintain health.
The flower was to be a rose but I realised it looks ironically more like a poppy and for good reason, because as a front-line worker she battles an invisible enemy which in my books makes her a veteran to her trade and a hero. At the bottom of the mask you will find 3 glass tears. First tear is of exhaustion and sweat. The second tear of loss and despair while the third tear is of happiness and hope. 
I greatly admire my sister for her ethics and care she puts in her work. Not only is she concerned for her patients but also for her co-workers. While working at the hospital she also works at home doing masks for the staff she works with.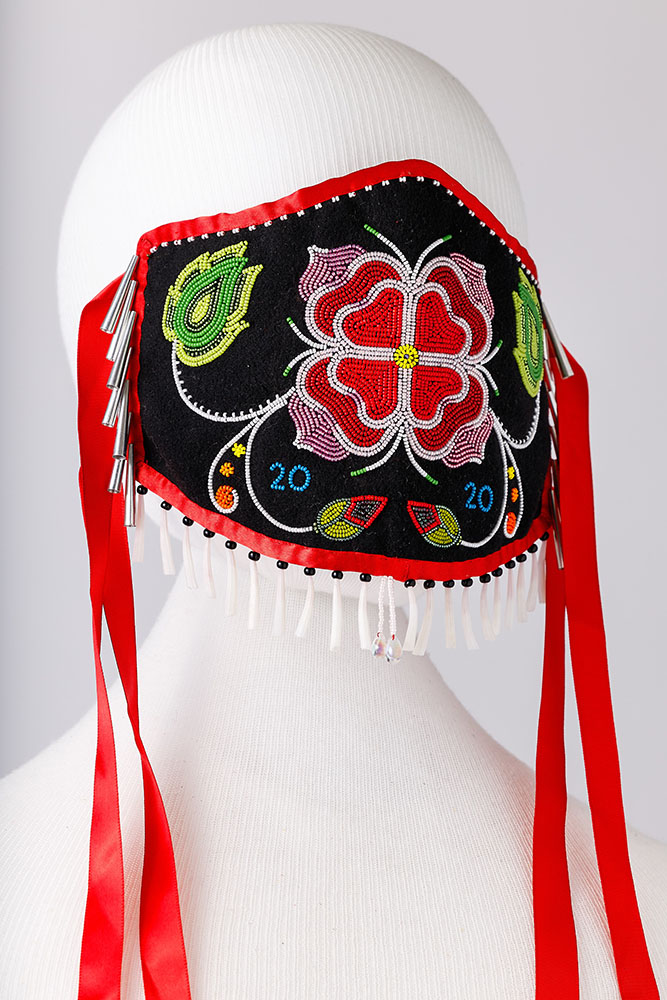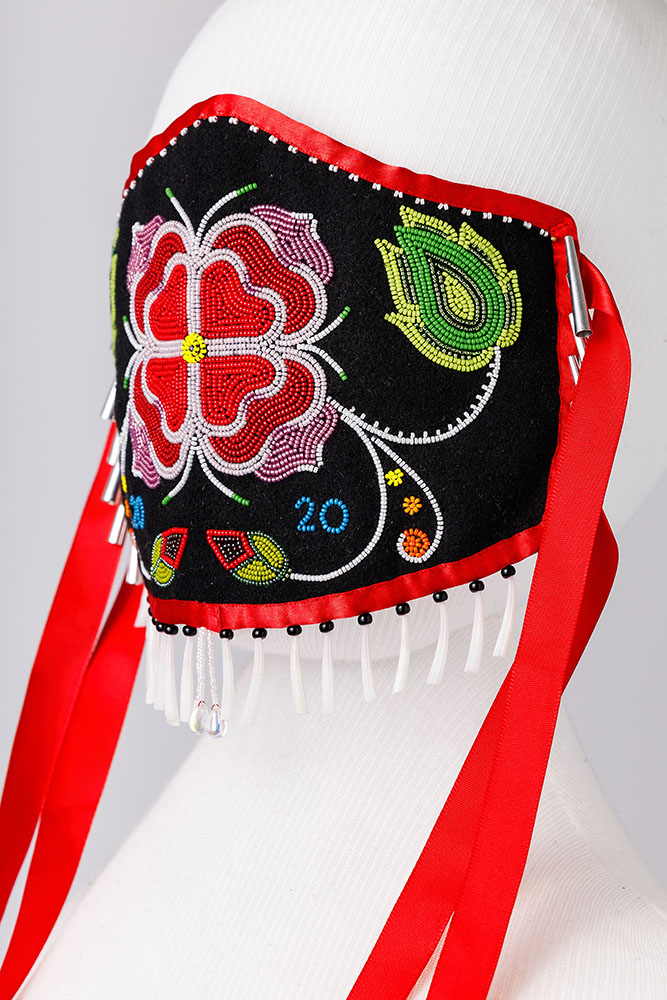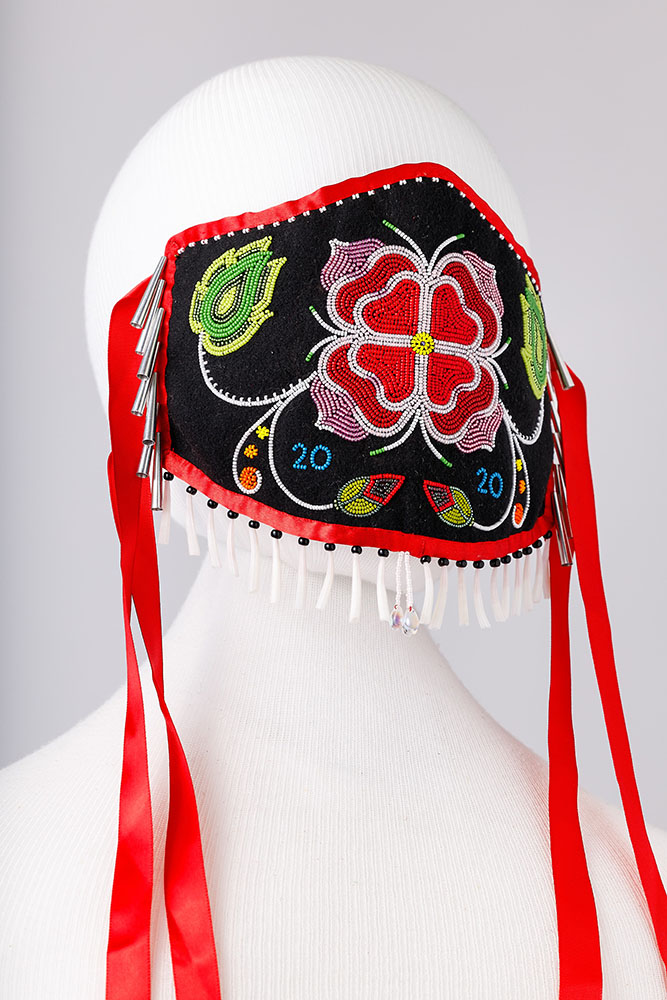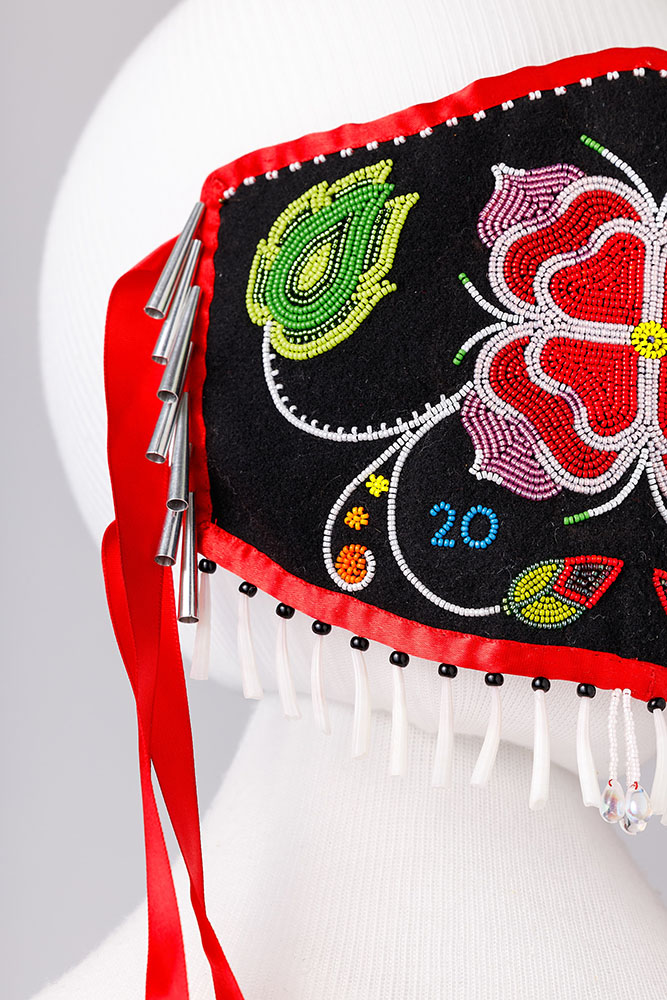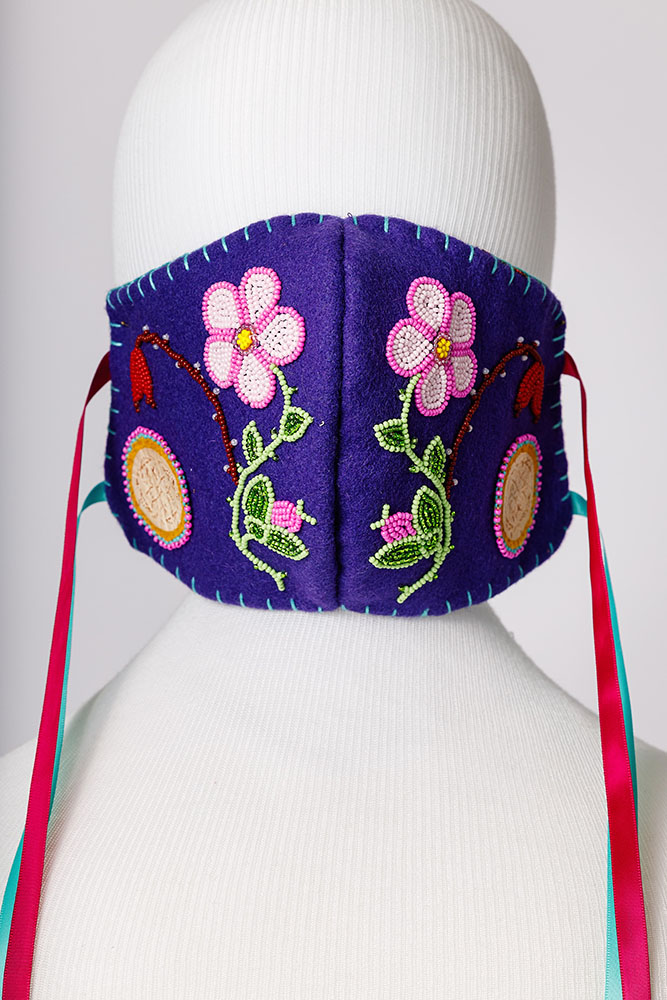 My Girl
Brenda Davidson
Materials
Melton wool, beads, embroidery thread, birch bark, moose hide, cotton fabric
I am Red River Metis living in Thompson, Manitoba. The tradition territory of the Nisichawayashk Cree Nation. 
For "My Girl" … like the Wild Rose she is strong and resilient. 
I made this mask for my daughter. I chose the wild rose for it embodies strength, resilience and healing.  My mother's favourite flower, as well as mine and now my daughters too.  The rose petals and hips are very medicinal. Julia and I bonded over many cups of rose hip tea in her Great Gramma's teacups while we stayed safe at home. I wanted to make a mask that would symbolize hope and healing…physically, emotionally and mentally.   
I am forever grateful to the two wonderful artists who have shared their knowledge with me over these past few years in which I learned to bead and birch bark bite.  
Thanks to Beading Artist Cynthia Boehm and Cree Artist Pat Bruderer (Halfmoon Woman), carrier of the traditional art of Birch Bark Biting. I have been blessed to reclaim these pieces of my culture.  So happy I can pass them on to my daughter. 
While I did not learn the art of silk embroidery my Mother and Grandmother were so talented at, they were with me as I made this mask.  My Grandmother left my Mother her sewing basket when she passed away.  When my Mother passed, my Dad gave it to me.  It contained my Grandmother's embroidery needle that I used to finish my mask with the blanket stitch.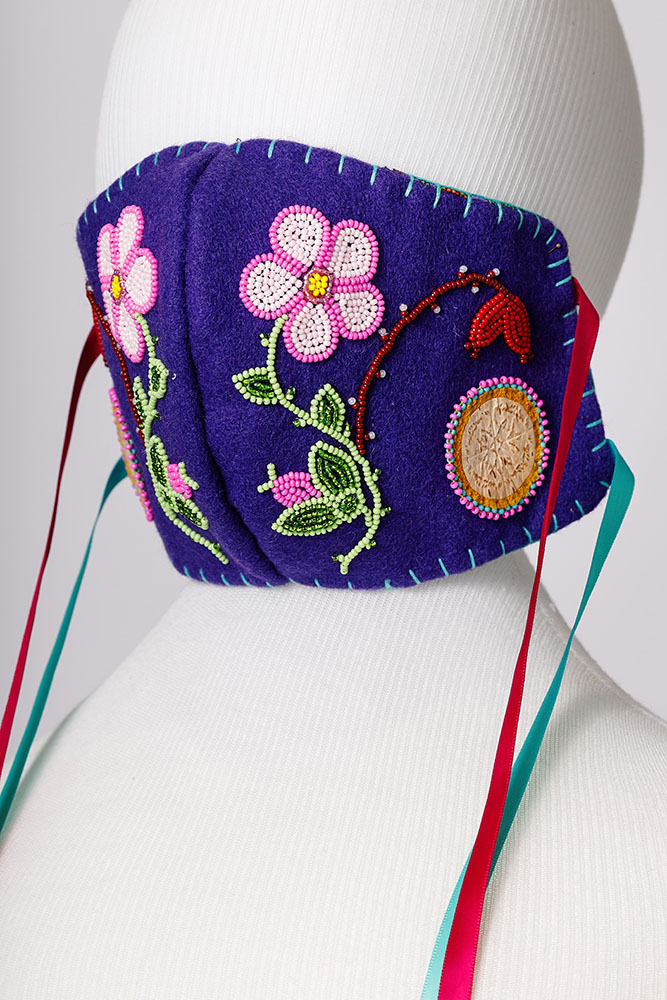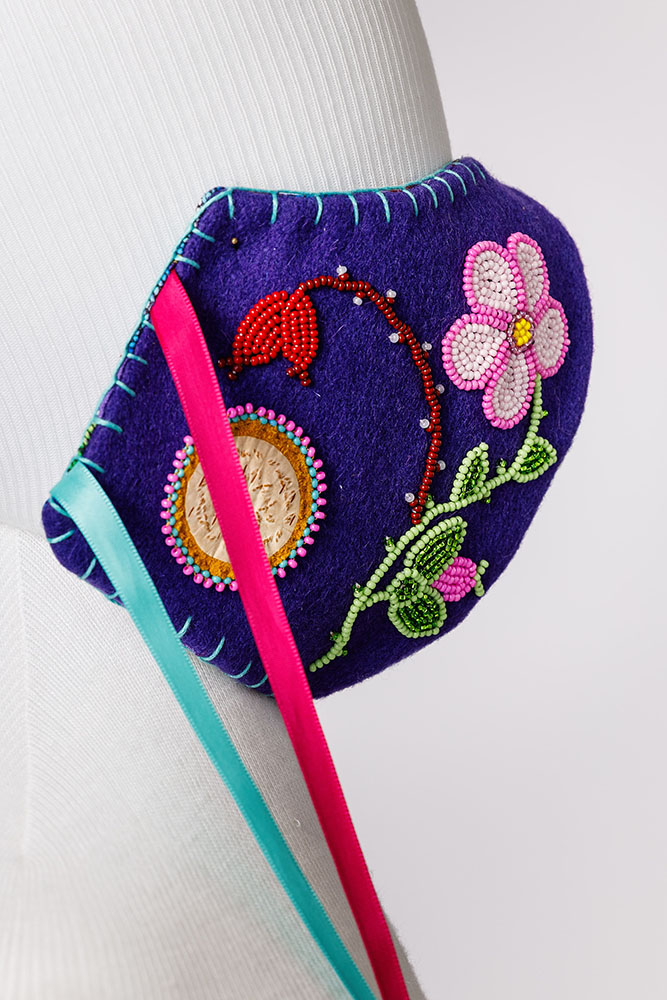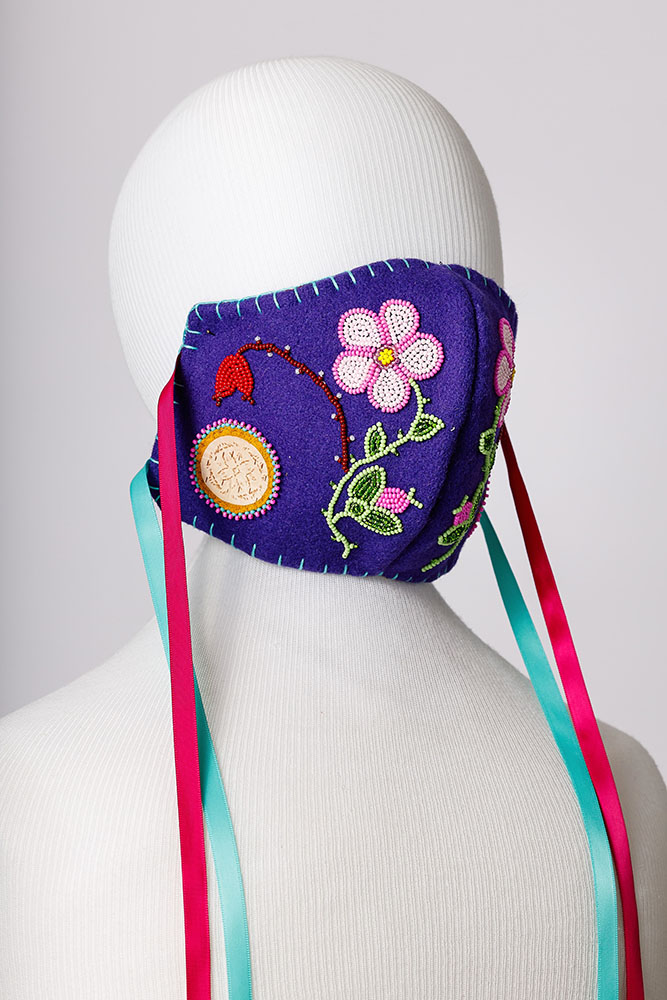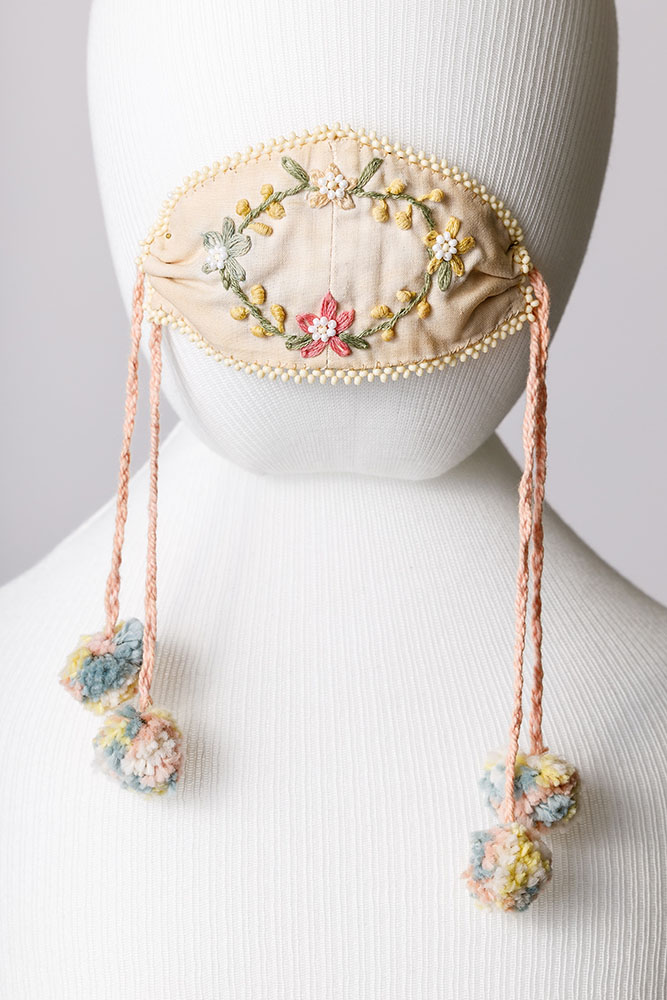 Newborn and Child
Kristi Bridgeman
Materials
Cotton, glass beads, sweetgrass
The Newborn and Child mask acknowledges our children's experience during the pandemic.
For many children life has taken a surreal shift. Left behind are the daily routines of walking to school, the corner store, seeing friends, birthday parties, swimming lessons and travel to see family. A child's experience is now schoolwork at the kitchen table, yellow tape around the playgrounds, masked faces, measuring distances between each other, or in many cases, losing loved ones. Living close to my grandson as caregiver and teacher, I have lived this experience alongside him. While home is a safe haven from frightening things, there has been sacrifice. We do this for our elders and those who can't fight off the virus.
During the pandemic, our family has welcomed the arrival of a new baby. During COVID, hospitals limit visitors, so I was unable to be there with my daughter. I sympathize with how awful it must be for those millions of people who are unable to be with their loved ones during these times. 
The fabric of this piece has been given an antique over dye to simulate a mask worn during the 1918 Spanish Influenza. The tiny newborn face mask, cupped in the mother's hand, convey our contemporary experience with children during the pandemic. The piece includes pastel medicine wheel colours, yellow mouse tracks, and is lined with sweetgrass, for the children. 
* Please note: Art installation piece only, not meant for a child to wear.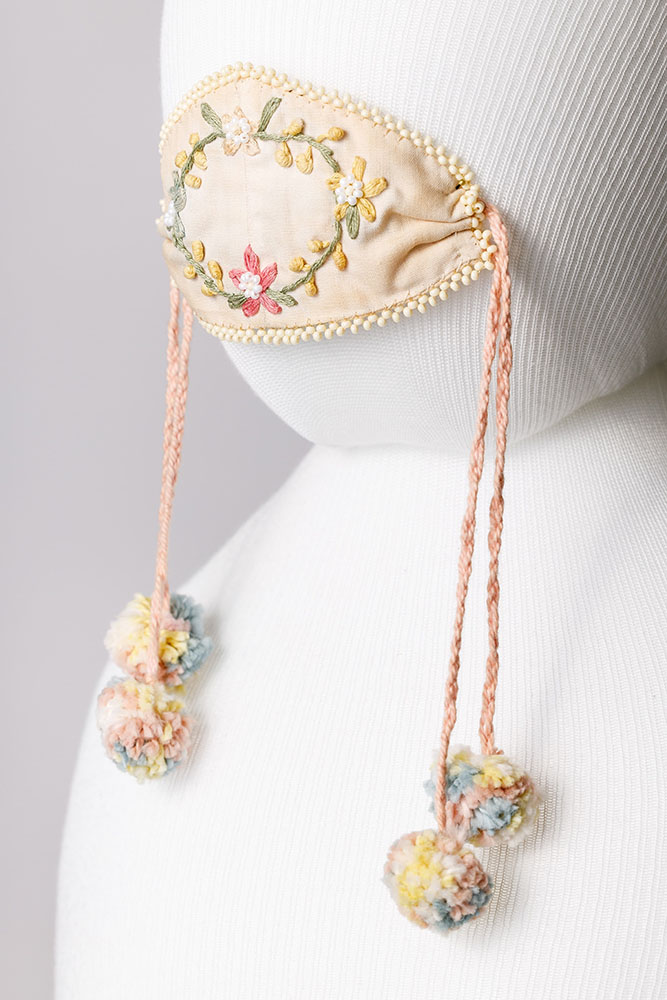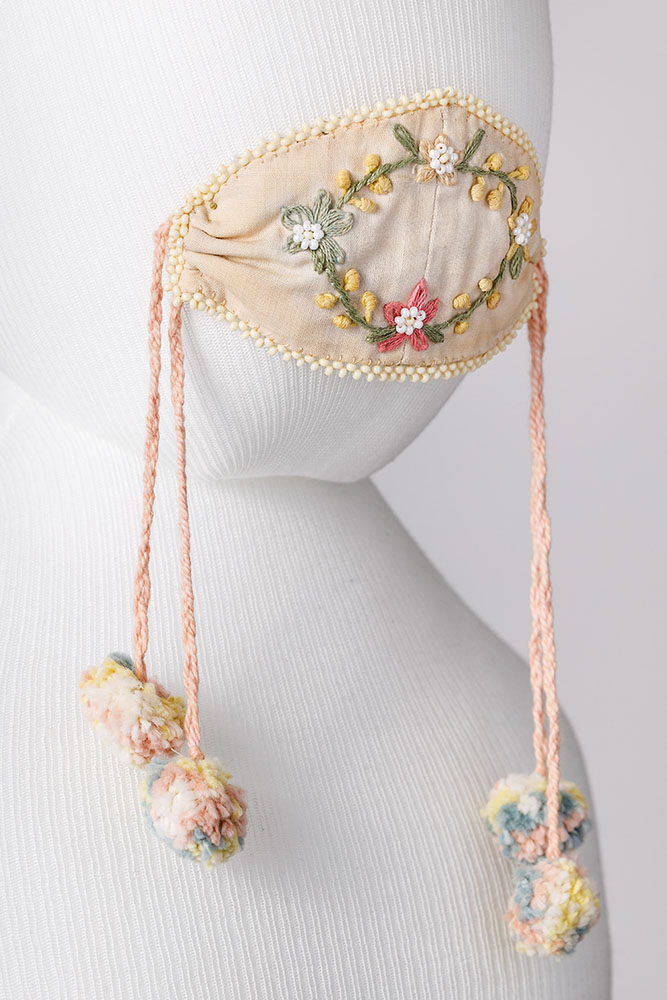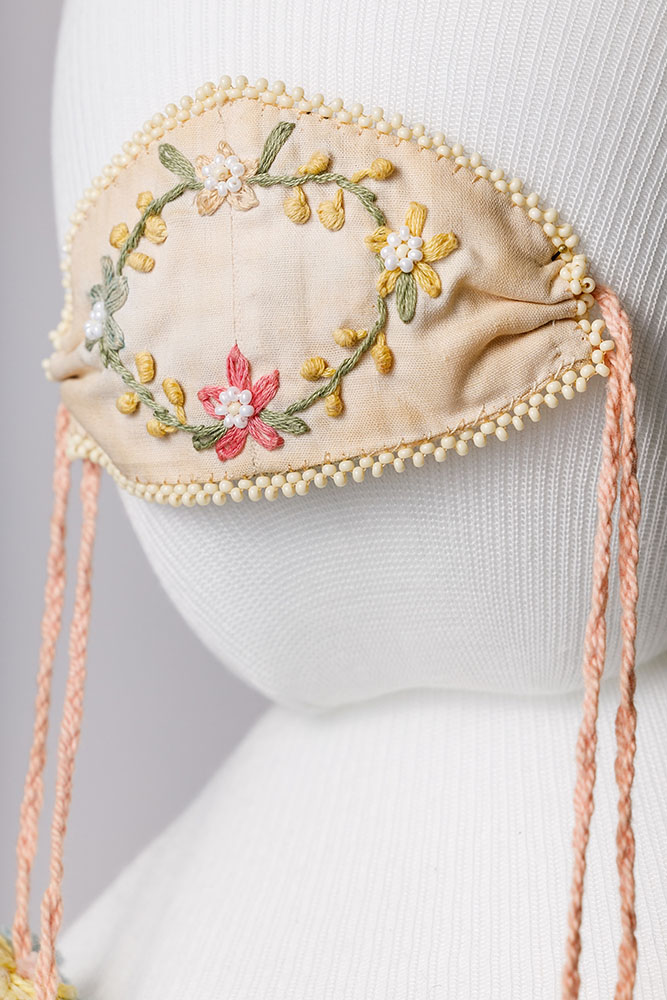 Buffalo, Resilience, Breathe
Joely BigEagle-Kequahtooway
Materials
Buffalo parfleche, sinew, ribbon, acrylic paint, buffalo leather
I am a multi-disciplinary artist and I created this mask from buffalo parfleche. My husband, Lorne and I work with buffalo hides to create parfleche and robes. I painted my version of crocuses and buffaloes. I stitched the two parfleche pieces together using red sinew and ribbon. The inside of the mask is lined with red buffalo leather. Maria Linklater shared a story about how when a baby buffalo is born a crocus sprouts up in the spot where the baby buffalo belly button drops. I love this story and incorporate crocuses with my buffalo whenever I can. I love using red because it reminds me of strong, resilient Indigenous women and it is associated with passion and fire. Joely BigEagle-Kequahtooway, Nakota/Cree/Saulteaux from the White Bear First Nations in Saskatchewan.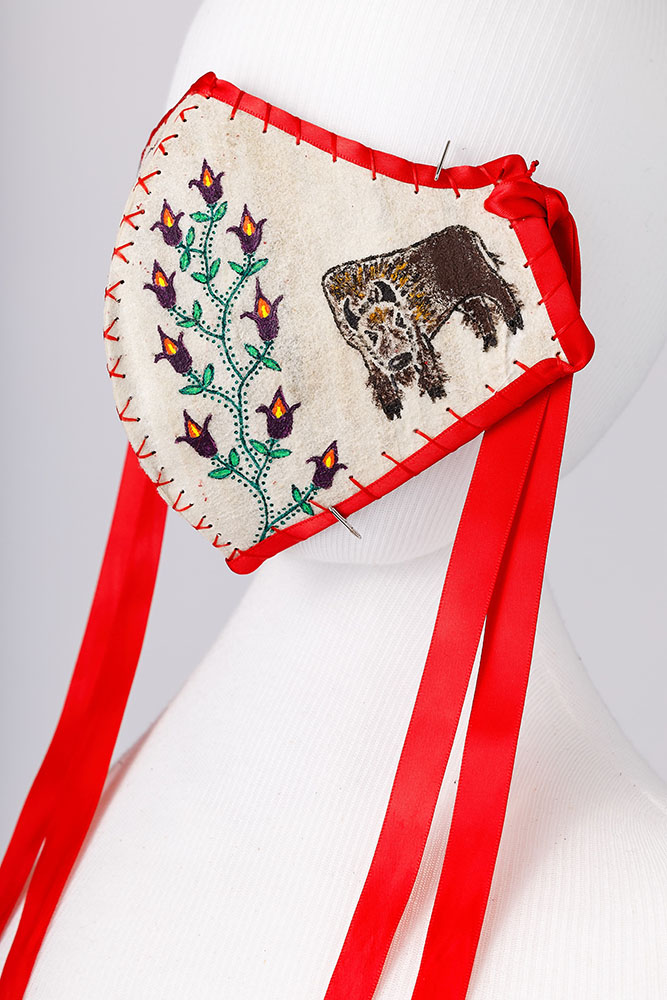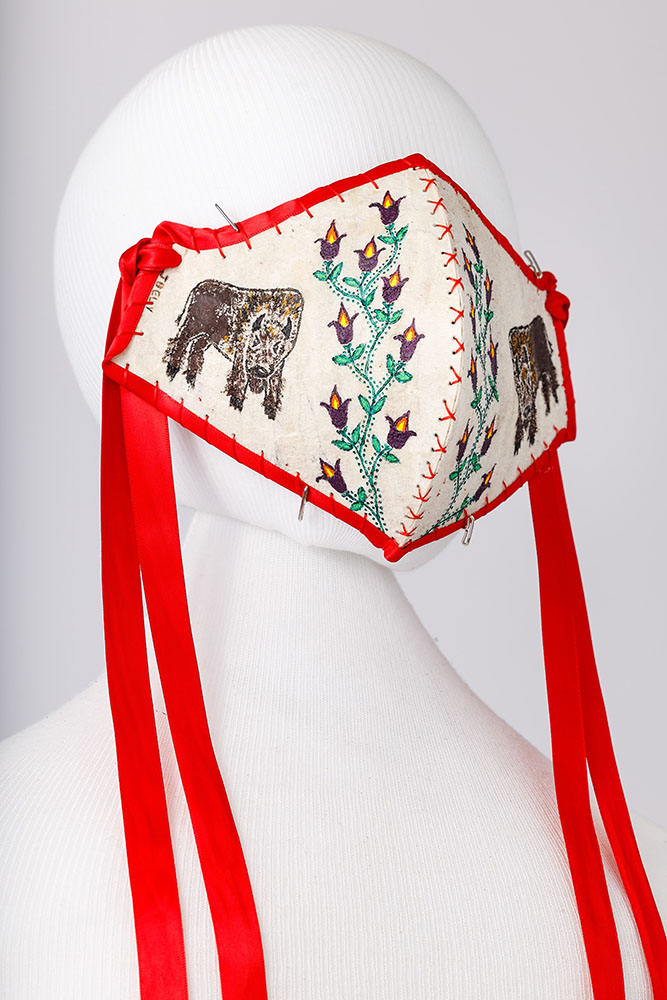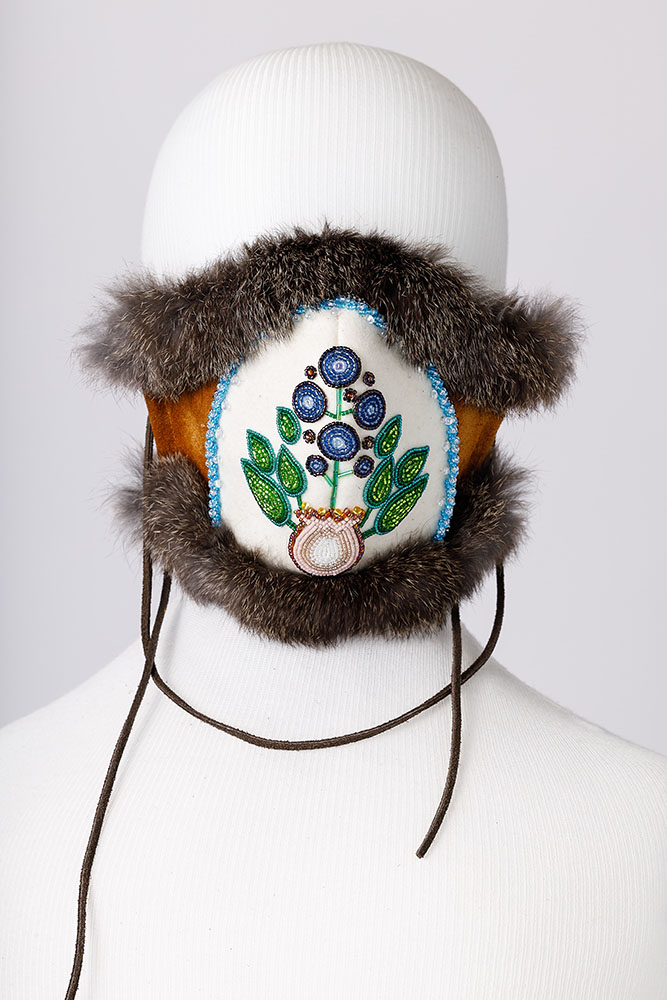 Blueberries
Nathalie Bertin
Materials
Moose hide, beads, Melton wool, cotton fabric, rabbit fur, leather
Here is my first pandemic mask. It's a concept piece that was inspired by a telephone conversation I had with my mother a week or so ago (late March 2020). She had already been self-isolating alone in her condo for a couple of weeks with only the rare trip out for necessities and some drop offs from my brother. During the conversation, I realized her anxiety levels had increased thanks to too much TV and the snowbirds that were returning from the south, going about their daily lives as if everything was normal. She was so worried about going out even to check the mail box but didn't have any masks. She went through her recycling, found an empty, plastic blueberry container from the grocery store and cut the lid off. She stuffed tissues in the lid, got some elastic and fashioned herself a mask. Then, with rubber gloves and a couple of q-tips to push the elevator buttons, off she went to check the mail. (I've since mailed her some masks.) When she first told me about her make-do solution, I laughed! You have to know my mother. If nothing else, she's always been resourceful. This was genuinely funny. On the other hand, she's also very mistrustful thanks to a lifetime of experiences. Just as I wondered at the level of insecurity and paranoia that a person could reach, she recalled how her grandmother – my great grandmother -- had died of "consumption" (aka tuberculosis) at a fairly young age. It caused us to pause for a moment because that wasn't really that long ago. And then we were hit with the realization that we knew nothing about our common matriarch. We don't even know where she was buried except she went into a mass grave somewhere in North Bay, ON. Other than a census record showing she lived on Nipissing with my great grandfather, there is no other documentation of her except a general death notice. Without these two records, and some relatives' memories, she almost would never have existed. I have to wonder how many other people are feeling this same sense of loss...?
I chose blueberries atop a blueberry flower surrounded with silver beads to represent the container my mother used. Blueberries are also great anti-oxidants. She had noted that after a while it was hard to breathe through that hard plastic with all the tissue and could feel condensation build up by the time she was back in her own space. This is represented by the blue and clear beads. I used moose hide to represent our matriarchal clan. I used fur as edging to symbolize further filtration of air that could get in through the sides. This isn't what I would have done from a design perspective but my mom definitely would have for the perceived practicality. There are also tiny beads on the moose hide symbolizing the free born particles that float around us all the time. Unless you look carefully, you can't see the "one" that might just infect you. On the inside, there is a pocket for cedar. Another good medicine used for the prevention of chest infection and irritation.