Content
Get outside with Naturelynx
By Terje Snow, Marketing Officer
June 7, 2020
Imagine being out on a walk, and coming across a strange bug you don't recognize. Curious, you take a tool out of your pocket to snap a picture to be analyzed by a scientist. The scientist takes a look and confirms – it's a pseudoscorpion! Sounds like something from a spy movie, right?
Well, the future is now, and you can access this tool right from your back pocket! Naturelynx is a free app for Apple and Android phones that allows you to take photos and upload them to a feed for other users to view, like and share. Once your photo is uploaded, scientists and experts from the Alberta Biodiversity Monitoring Institute (ABMI) and RAM can take a look and verify what you've posted. How cool is that?!
Image

The app – created and supported by ABMI – is heading into its second summer now, and they've noticed the public using the app for some very cool projects! For example, the Town of Okotoks has been using the app for their own urban deer counts. These counts give an idea of where the concentrations of deer are, and give insights into how the public and animals interact. 
NatureLynx has also been collaborating with other researchers and citizen science projects here in Alberta. From monitoring Alberta frogs, toads and salamanders with the Alberta Conservation Association, or sharing sightings of Saskatoon flowers to track annual spring bloom. There is a group or mission for everyone – or, create your own! You can even set up your very own "missions," like your very own backyard bio-blitz.
Image

Bee photo by Naturelynx user RLW

Image

Wood frog photo by Naturelynx user J Miller
NatureLynx puts surveying tools into the hands of the public, who may have access to areas not visited by formal surveys. It's a powerful biodiversity monitoring tool that can help build a better understanding of our province's living resources. 
If you live in Edmonton, download the app and join the Alberta BiodiverCity Challenge!This challenge runs June 11 -14, and challenges Edmontonians to use NatureLynx to document as many species of birds, plants, mammals, moss, lichen, mushrooms and insects as possible. The contributions will be used to help understand more about the species that call Edmonton home.
Image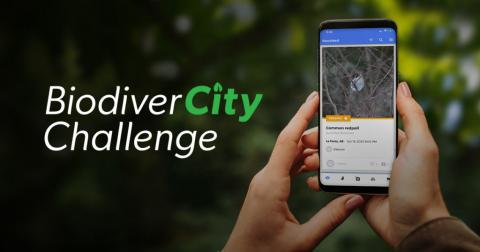 Download the app here: